Gluten Free Baked Korean Chicken Wings
Published on Feb 12, 2023
by
Kristina Stosek
Prep Time:

5 minutes
Cook Time:

30 minutes
Serves:

6 +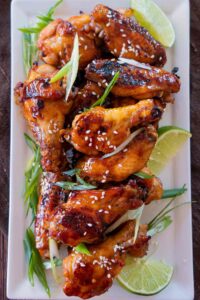 ​This post may contain affiliate links, please see our
privacy policy
for details
These baked gluten free Korean chicken wings are the perfect appetizer, finger food or main dish. They are coated in a sticky, sweet, and spicy sauce and baked until they are nice and crispy. The wings are topped with sesame seeds, green onions, and lime wedges to help balance out the spiciness of the chicken.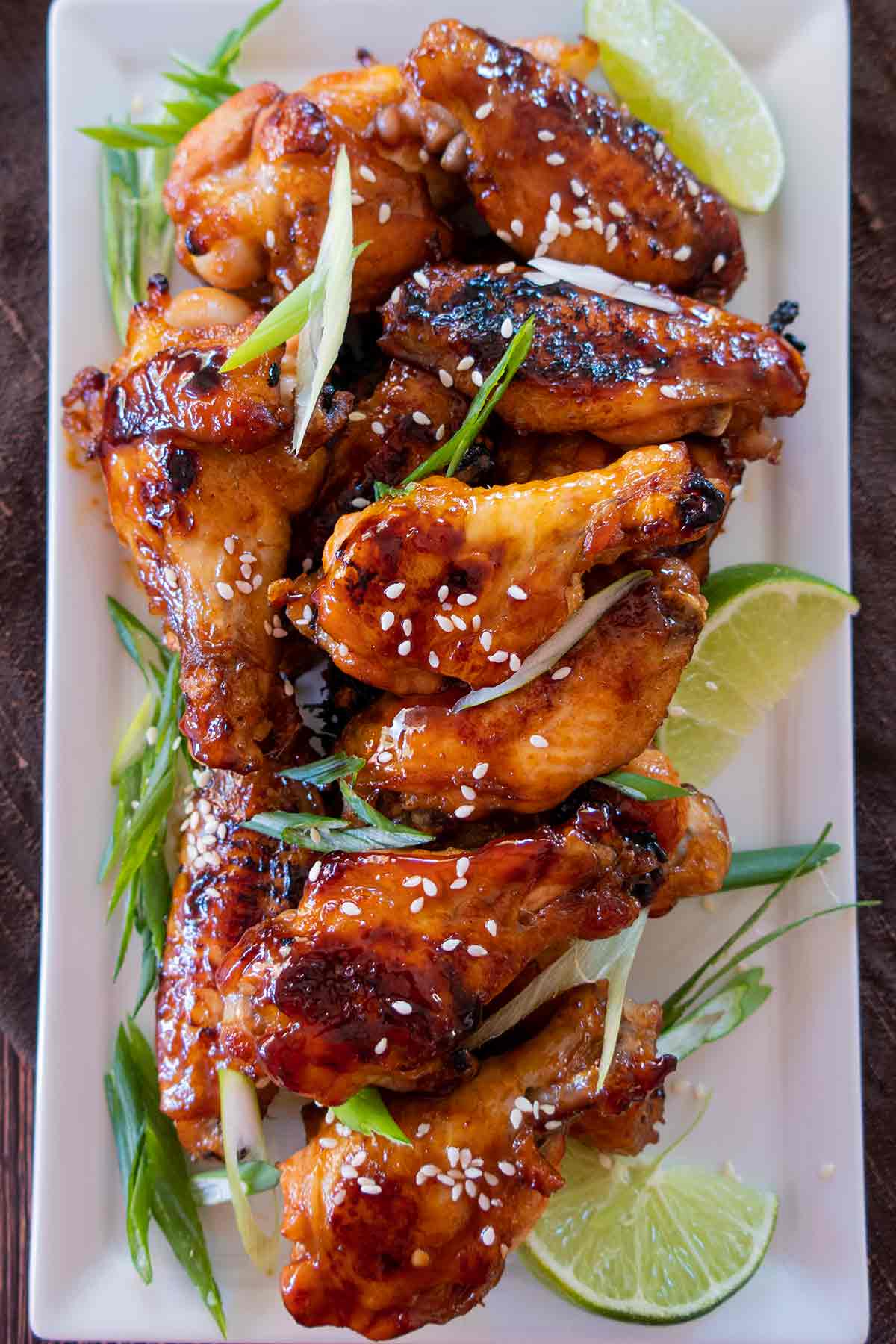 35-minute baked gluten free Korean chicken wing recipe
If you have 35 minutes, you can make baked gluten free Korean chicken wings. This is one of the easiest and tastiest crispy chicken wing recipes and without frying. For last-minute party food, these wings are ones to try. And only 6 ingredients plus wings, great right?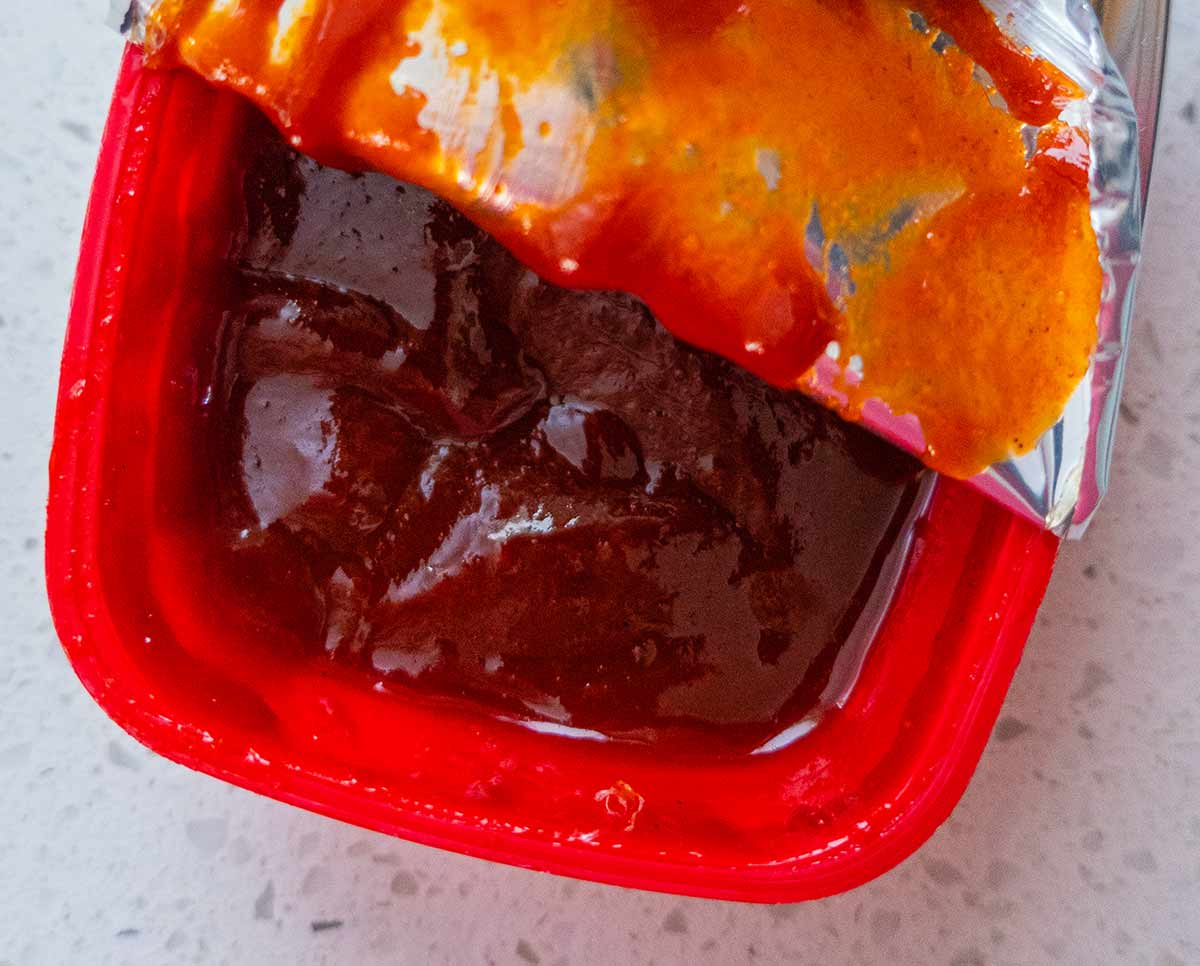 What is gochujang?
Gochujang is a thick and sticky fermented chilli paste. It's made primarily of chillies, soybeans and glutinous rice. Unfortunately, there isn't a good substitute for this chili paste since many Asian chili pastes are either saltier, spicier or oilier than gochujang. And not all brands are gluten free, so be sure to read the label.
This Korean glaze is made from a combination of gochujang, sesame oil, soy sauce, honey, lime juice and garlic. The glaze can be used on meat, poultry, or fish. It adds exceptional flavor and color to the food and helps to keep it moist during cooking.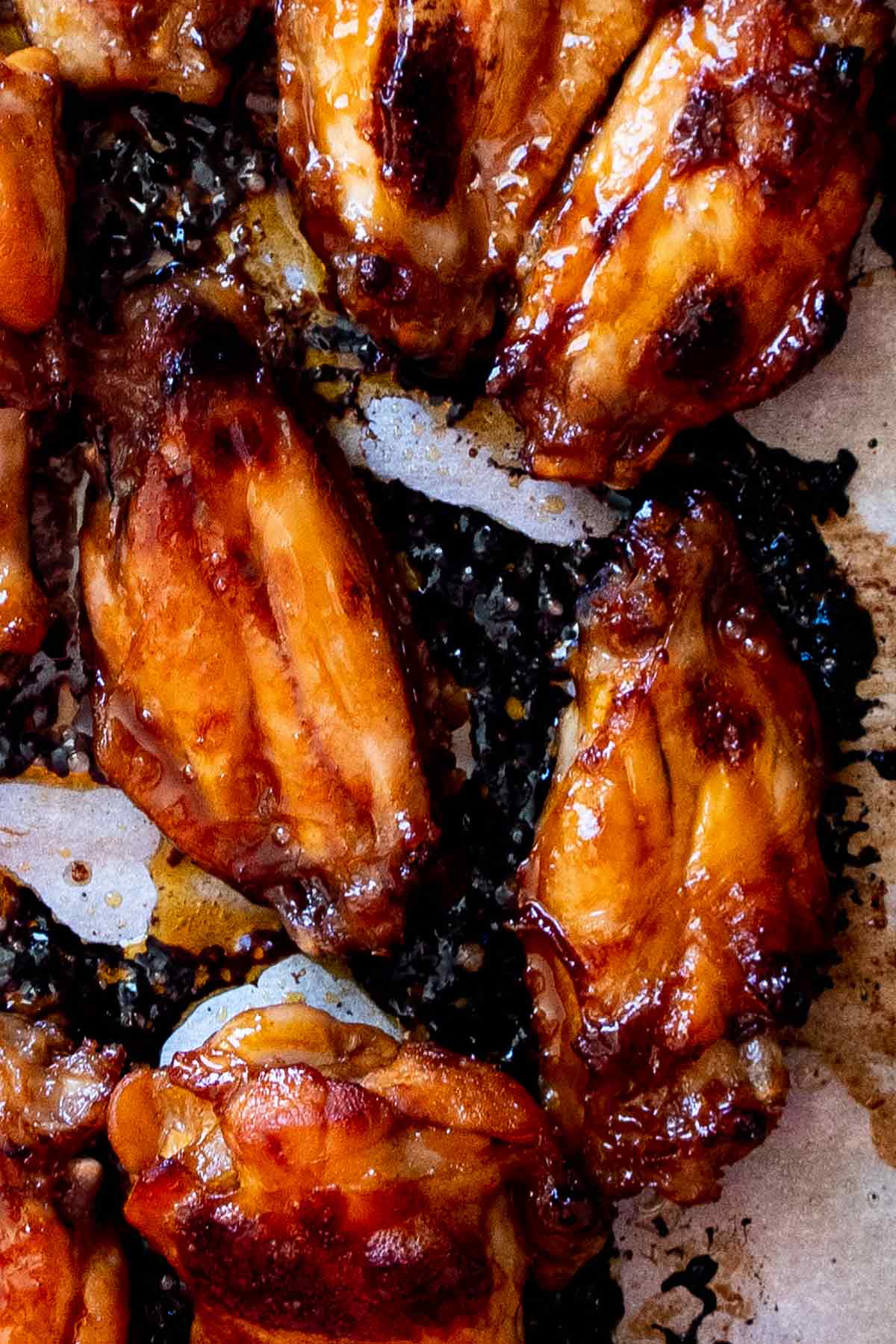 How long should you bake wings?
How long you bake your wings will depend on a few factors, such as the size and thickness of the wings and your desired level of doneness. For smaller wings, or if you prefer them on the crispier side, around 20-25 minutes should do the trick.
If you're looking for medium-sized wings cooked through but still moist, aim for 30-35 minutes.
And finally, for larger wings that are fall-off-the-bone tender, you'll need to bake them for 40-45 minutes. No matter which route you go, keep an eye on your wings, so they don't overcook! Overcooked wings are dry and tough.
How to make Korean chicken wings crispy without frying?
There are a few things you can do to make sure your chicken wings turn out crispy without frying them:
Preheat your oven to a high temperature, between 400 – 425 degrees Fahrenheit. This will help ensure that the outside of the wings gets nice and crispy.
Cook the wings on a wire rack over a rimmed baking sheet lined with foil or parchment paper. This allows the hot air to circulate around the wings and helps them get nice and crispy all over. I baked these on top of a baking sheet lined with parchment paper and they turned out just as good.
And finally, for a better flavor, make sure they are dry before you marinate them. That way, they will absorb the marinade better. You can pat them down with a paper towel or even let them air dry in the fridge before adding them to the marinade.
These all help add flavor and crunch to the chicken wings.
Can you freeze cooked chicken wings?
Yes, you can freeze cooked chicken wings. Here's how:
Place the cooked chicken wings in a single layer on a baking sheet and place them in the freezer for 20 minutes. Then, transfer the chicken wings to a freezer-safe container or bag and place in the freezer for up to three months.
best way to reheat baked Korean chicken wings
If they were frozen, thaw the chicken wings in the refrigerator first.
The best way to reheat them is in the oven. Preheat your oven to 350 degrees Fahrenheit and line a baking sheet with foil or parchment paper. Place the chicken wings on the baking sheet and bake for about 10 minutes or until they are heated through.
You can also reheat chicken wings in the microwave, but they will not be as crispy as reheated in the oven.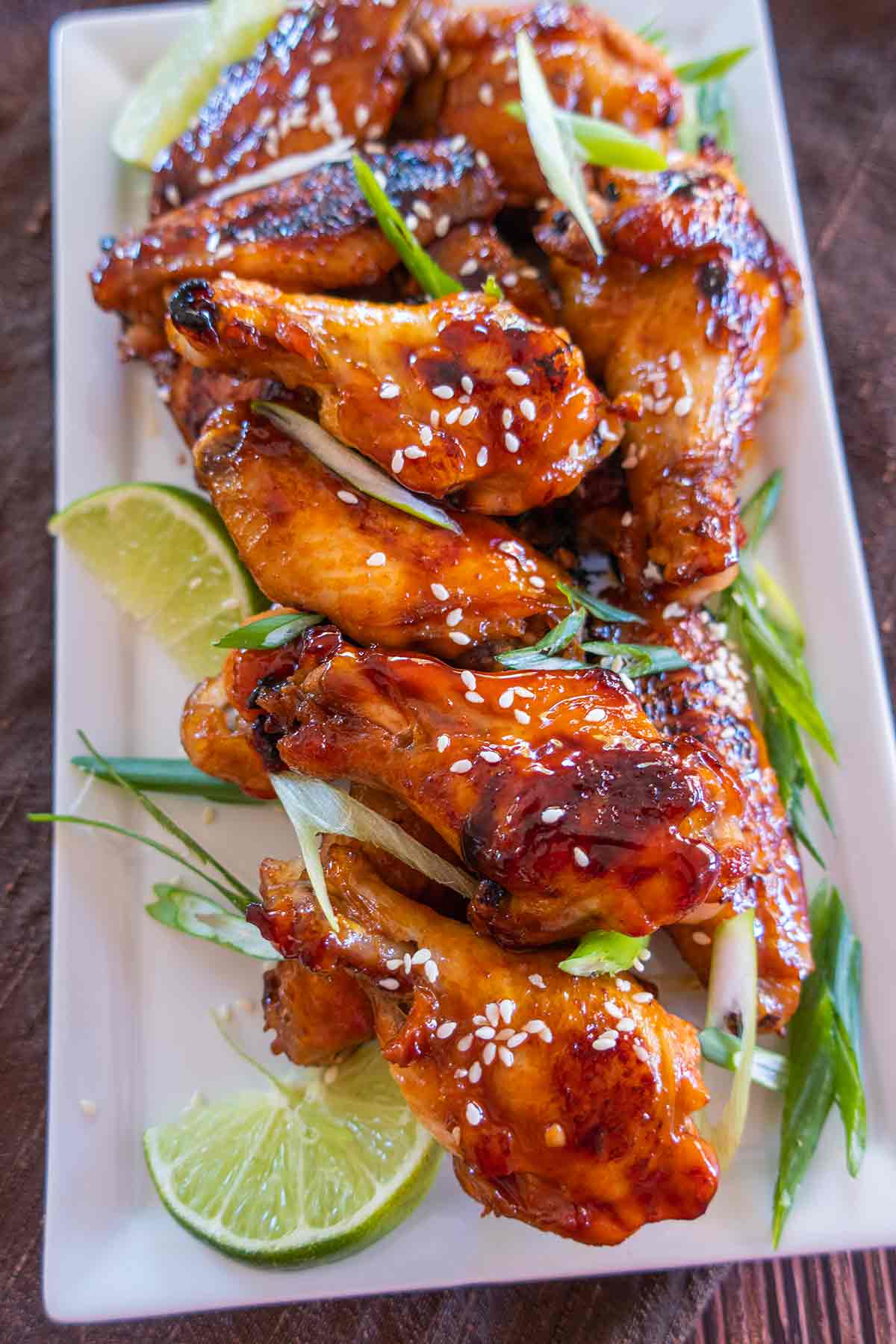 Why are wings so popular?
There are a few reasons why wings have become so popular:
— They are great finger food that you can enjoy without utensils. This makes them perfect for parties and casual gatherings.
— They can be cooked in a variety of ways to suit any taste. Wings can be fried, baked, or grilled, and you can serve the wings with various sauces and toppings.
— Wings are relatively inexpensive, making them a great option for budget-minded diners.
Are chicken wings low-carb?
Yes, chicken wings are low-carb! One chicken wing without a glaze has approximately 0.7 grams of carbs, making them a great option for low-carb diets. Chicken wings are also high in protein and fat, making them a filling and satisfying food.
How long will cooked chicken wings keep in the refrigerator?
Cooked chicken wings will keep in the refrigerator for up to four days.
What to serve with Korean chicken wings?
One of the best things about chicken wings is that they can be served with various sides. Or, serve them as is with sesame seeds, green onions, and lime wedges.
For an appetizer, serve them with fresh veggies and a dip.
To make them into a meal, here are our five favorite sides to add to the Korean chicken wings: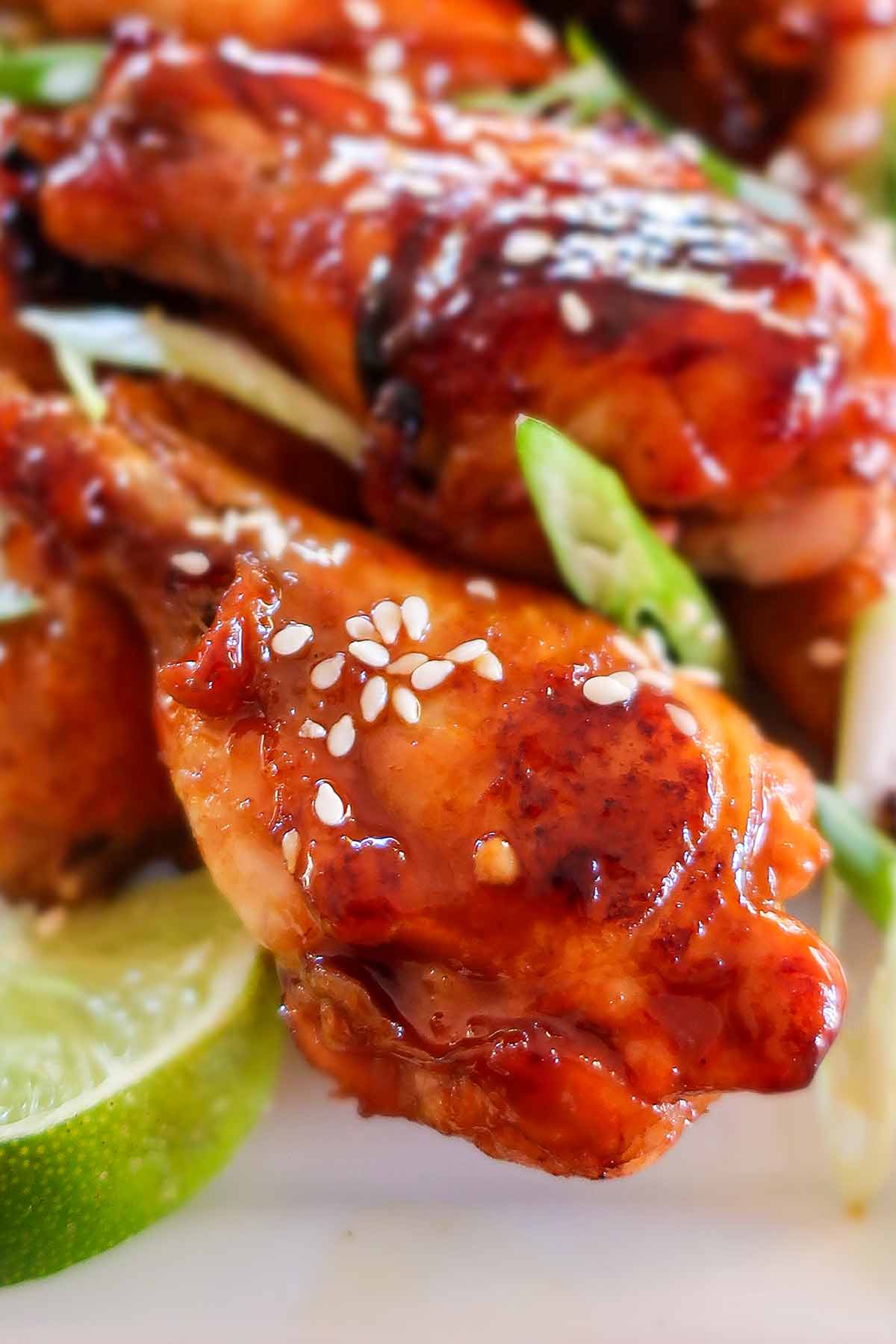 What do Korean chicken wings taste like?
There are different Korean chicken wings recipes, but they all have one thing in common — deliciousness! The most common type of Korean chicken wing is called yangnyeom tongdak, which is fried and then coated in a sweet and spicy sauce, like the one in this recipe.
Other popular varieties include dakgangjeong (sweet and crunchy fried chicken) and chimek (fried chicken with a sweet and savory sauce).
No matter what type of Korean chicken wing you try, you're sure to enjoy the unique flavor that can only be found in Korea!
summary
Korean chicken wings are a delicious, gluten-free option for your next party or family gathering. These wings are coated in a sweet and spicy Korean sauce, sesame seeds and green onions. The wings are baked to perfection and served with lime wedges. Enjoy!
Gluten Free Baked Korean Chicken Wings
Published on Feb 12, 2023
by
Kristina Stosek
Instructions
1.

Place wings into a glass bowl, add 2 tablespoons sesame oil, 1 tablespoon tamari sauce and juice of one large lime. Mix and set aside for 10 minutes

2.

Preheat oven to 425 F and line a rimmed baking sheet with parchment paper

3.

Place wings on prepared baking sheet and bake for 20 minutes

4.

5.

While the wings are baking, In a small saucepan, whisk together the glaze ingredients and cook over medium heat for about 8 -10 minutes until the glaze thickens. Taste and adjust the spiciness as needed.

6.

Once the wings have baked for 20 minutes, brush both sides of the wings with the glaze and continue baking for 8 - 10 minutes or until the wings are shiny and sticky and the ends are crispy

7.

Place hot wings on a serving platter and top with sesame seeds, green onions and lime wedges