Soups That Don't Skimp On Flavor
Soups are a great way to get a hearty, satisfying meal ready without spending too much time in the kitchen. Soups are often budget-friendly and will feed a crowd of hungry appetites. In addition, they keep well and often taste better the next day.
However, soup can often be bland and uninspiring. That's why we've compiled a list of delicious soup recipes that don't skimp on flavor or nutrients.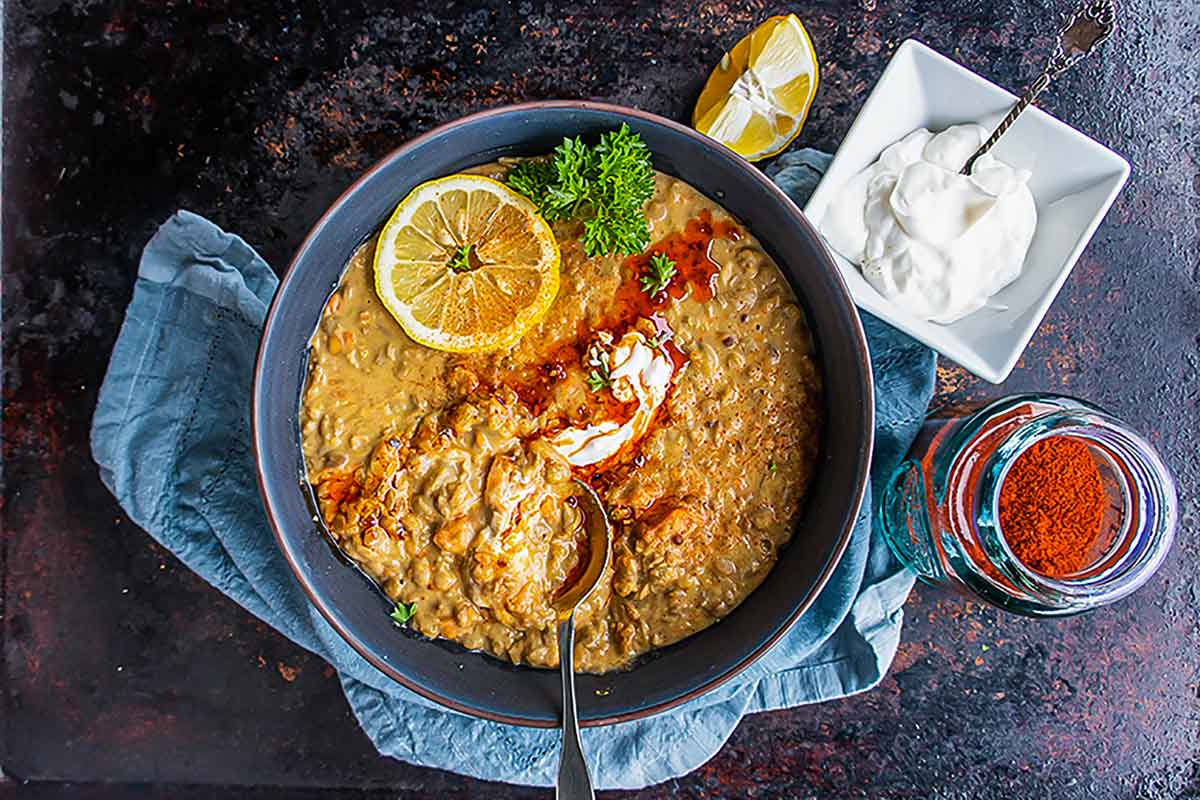 What adds flavor to soups?
A few key ingredients can add amazing flavor when it comes to soups. First, consider using fresh herbs. Rosemary, thyme, and sage are all great options that will add a rich depth of flavor to your soup.
Whether you are making a plant-based soup or need to add extra flavor to chicken or beef based soup, using good quality stock can bring the soup to another level of deliciousness.
The most popular stock or broth added to soups is chicken or beef. However, I highly recommend mushroom broth if you make a plant-based soup because it adds more flavor than vegetable broth.
Another option is to add some diced bacon or pancetta, especially in bean or potato soups. Not only will this add flavor, but it will also add some nice texture to your soup.
Finally, feel free to experiment with different types of cheese. For example, a bit of grated Parmesan or Gruyere will add creaminess and extra flavor.
Are soups healthy?
There is no question that soups are healthy. The primary ingredient in most soup recipes is vegetables. So, are soups healthy or not?
There are many different types of soups, each with its own benefits and drawbacks. However, overall, soups are a healthy addition to your diet.
Homemade soups are packed with nutrients and fiber and can help you stay hydrated. Plus, they can be a great way to get in your daily servings of vegetables.
Not all soups are created equal.
Store-bought soups are often loaded with starches, heavy creams, sodium, and preservatives. And are not considered that healthy.
If you want to ensure your soup is healthy and gluten free, make one at home using fresh ingredients, healthy fats and plenty of herbs and spices.
Are soups gluten free?
Most soups made from scratch are gluten free. However, once you start adding thickeners, flavorful cheese, and condiments, be sure to use only gluten free ingredients.
Most canned or store-bought soups are NOT gluten free. So be sure to check the label.
Are soups good for weight loss?
Soups can be beneficial in weight loss for a few reasons. First, they are generally lower in calories and have a high water content, which helps to fill you up.
They also tend to be packed with nutrients and fiber, which help keep you feeling satisfied.
And finally, many soups are lower in fat, making them a good choice if you're trying to watch your calorie intake.
Is Instant Pot Soup Healthier?
Instant Pot cooks food quickly and under high pressure. This means more vitamins and minerals are retained in the food, making the soup more nutritious.
As per Farm Forum Vitamin Loss by Cooking Method (vitamins C, B1, B2 and B6)
boiling 35 – 60%
steaming 10 – 25%
Microwaving 5 – 25%
Roasting 10 – 47%
Frying 7 – 10%
Pressure cooking 5 – 10%
In addition, the Instant Pot seals in all the flavors, so the soup's flavor is often better than one made on a stovetop.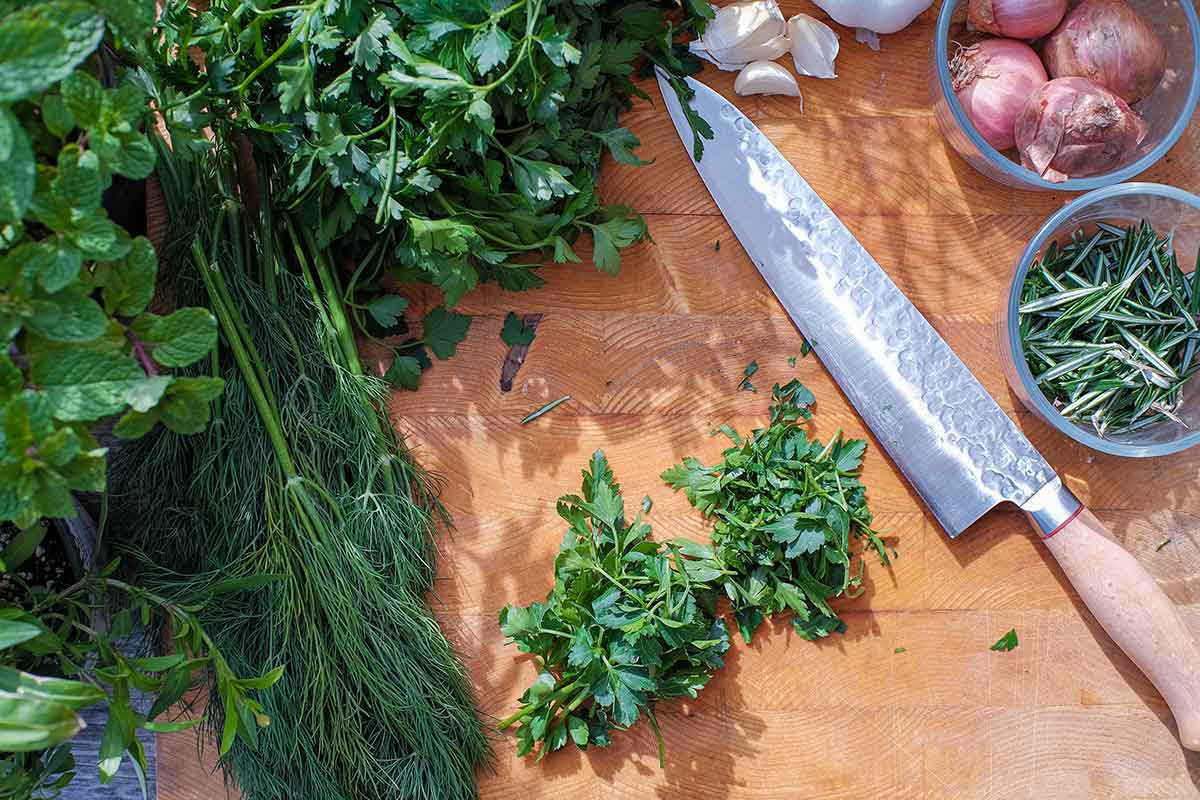 Best herbs for soup recipes
Herbs are an essential part of soup's flavor. However, there are a few that work exceptionally well in soup recipes. These include parsley, thyme, rosemary, sage, and bay leaf. Each of these herbs has a unique flavor that will enhance your soup's taste.
Parsley is a versatile herb that can be used in various soups. It has a mild flavor that won't overwhelm other ingredients.
Thyme is another great option for soup recipes. It has a slightly earthy flavor that goes well with many different types of soups.
Rosemary is another herb that works well in soup recipes. It has a strong flavor that adds depth to your soup and should be used sparingly.
Sage is another excellent choice for soup recipes. It has a slightly minty flavor that can freshen up your soup.
Bay leaf is one herb often used in soups because it deepens the flavor. One bay leaf is usually enough per recipe.
Why are soups healing?
There are many reasons why soup is considered a healing food. For one, soup is easy to digest, essential when feeling under the weather.
Soup is hydrating and can help to replenish fluids and electrolytes that may be lost due to sickness. In addition, soup can help to soothe an upset stomach.
Most soups are packed with nutrients and can help boost the immune system and promote healing. For example, many soups contain vegetables rich in vitamins and minerals like vitamin C, beta-carotene, and zinc. These nutrients are essential for good health and can help shorten the duration of illnesses like colds and flu.
Don't Skimp On Flavor Instead Add Toppings
To increase flavor, texture, and nutrients, add some toppings. Our favorites are sour cream, yogurt, fresh herbs, seeds, nuts, pomegranate, gluten free croutons, coconut cream, hot sauce or corn chips.
The best part about soups? They taste so good!
Gluten Free Soups That Don't Skimp On Flavor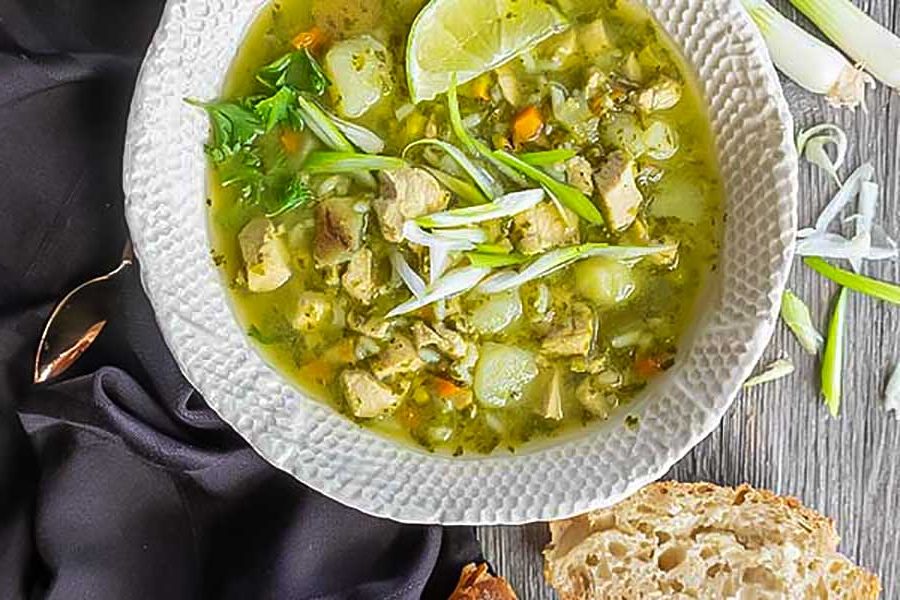 Peruvian Chicken Soup, known as aquadito de pollo, is a traditional rich flavored Peruvian chicken soup made with potatoes, poblano peppers, rice, lime juice, carrots, peas, sometimes corn and plenty of fresh cilantro. The naturally gluten free soup is a lighter version of chicken chowder.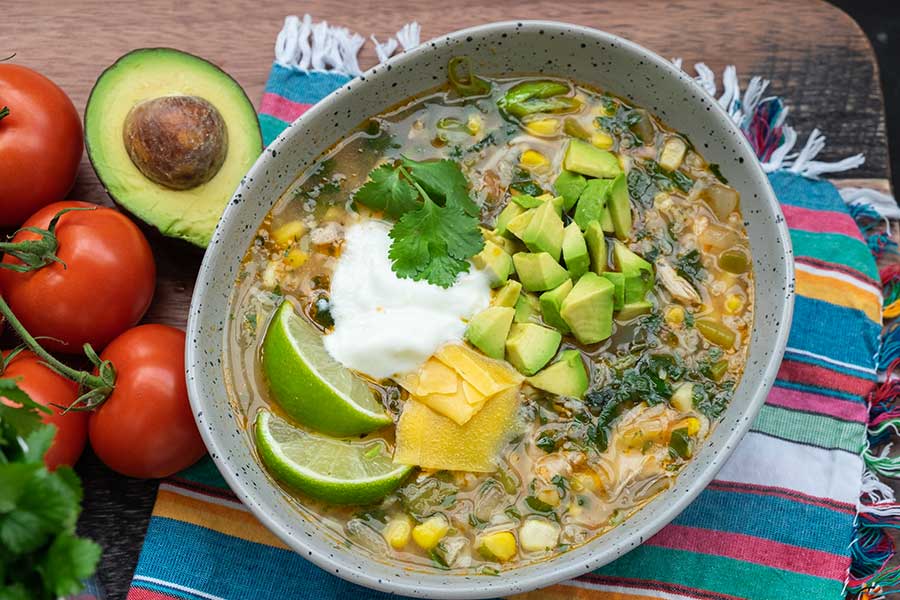 This Mexican Chicken Rice Soup is anything but lacking flavor – The soup is made with fresh poblano peppers, tomatoes, chicken, corn, onions, garlic, jalapeno peppers, fresh spinach and rice.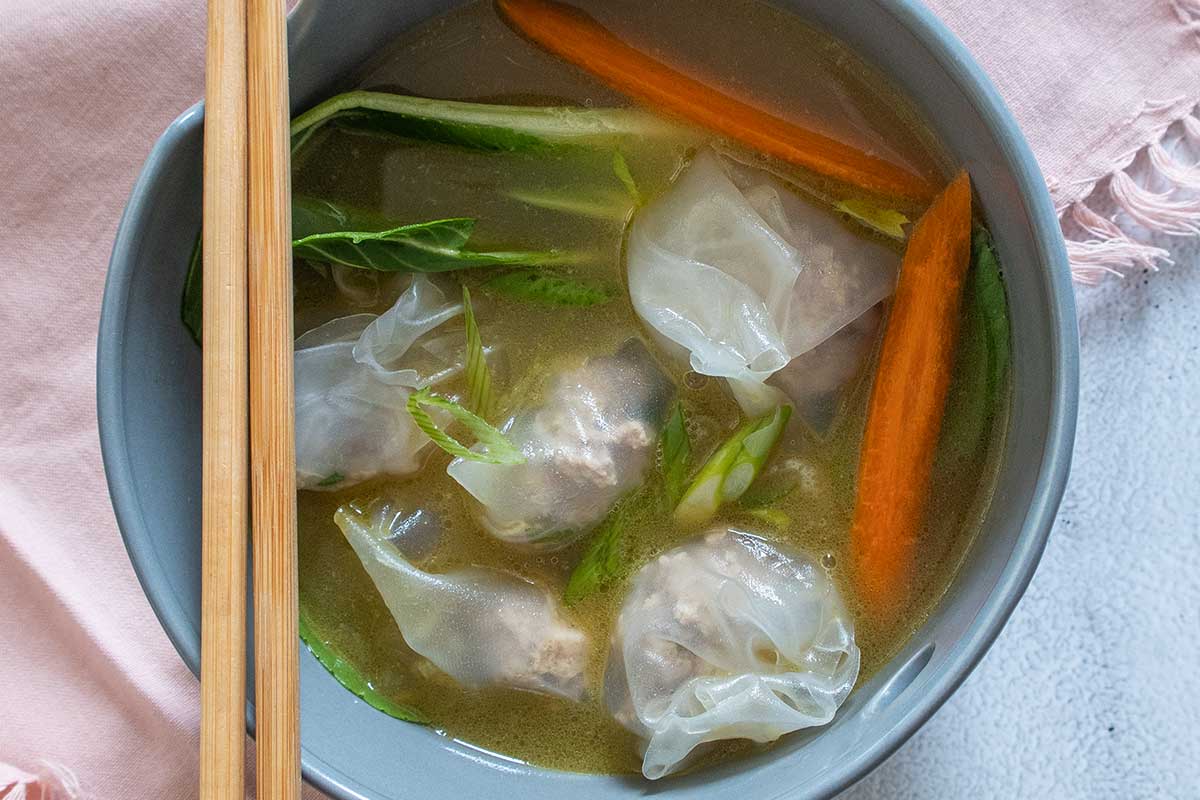 If you have 30 minutes, you can make this EASY GLUTEN FREE WONTON SOUP. The rice paper wontons are filled with flavorful chicken filling and served in a delicious ginger-infused broth. Add some veggies, and this soup becomes a healthy meal in a bowl.
Silky smooth, exceptionally flavourful Thai Green Chicken Soup. This Thai soup is made using a whole chicken, butternut squash, bell peppers, carrots, onions, coconut milk and Thai spices.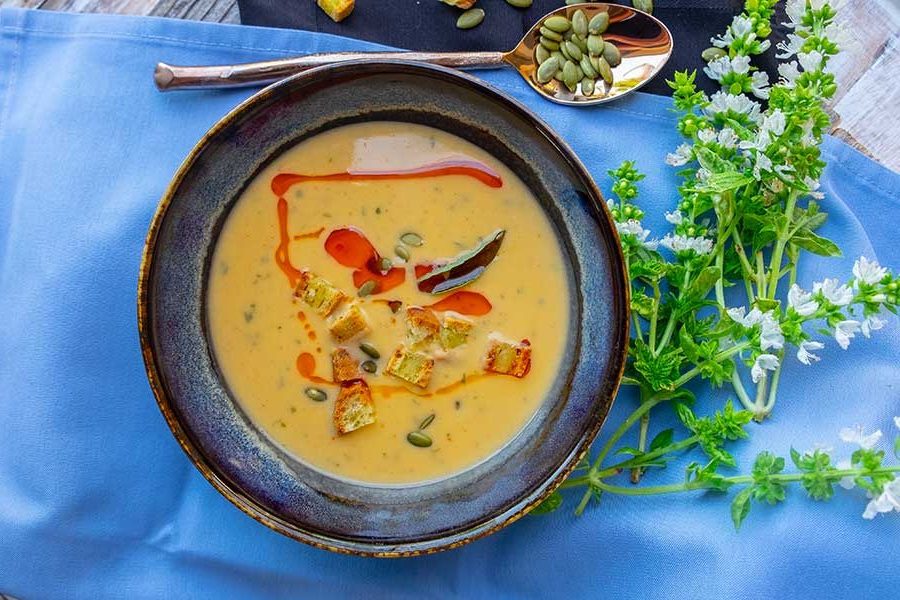 Instant Pot Buffalo Sweet Potato Soup – spicy and savory flavour, with creamy texture. This soup is made in under thirty minutes and with only a handful of ingredients. Fresh herbs, hot sauce and toppings, make this soup unforgettable.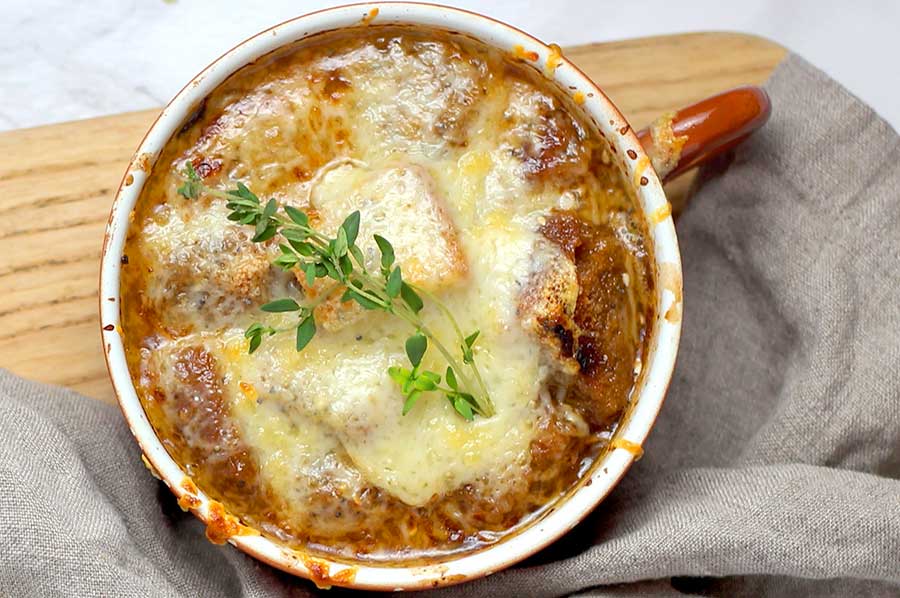 Gluten-Free Rustic French Onion Soup with Gruyere Cheese — imagine slow-cooked caramelized onions and bubbling Gruyere cheese in the most flavourful broth! No skimping on flavor here!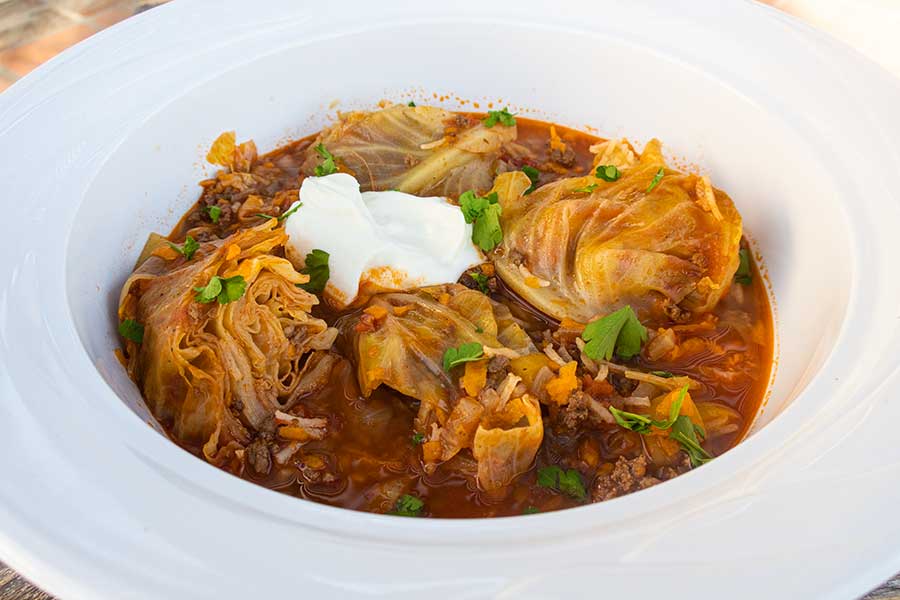 A lot of flavor in this insanely delicious Cabbage Roll Soup comes from lean ground beef, grated sweet potatoes, bell peppers, cabbage wedges, crushed tomatoes, onions, garlic, and spices. YUM!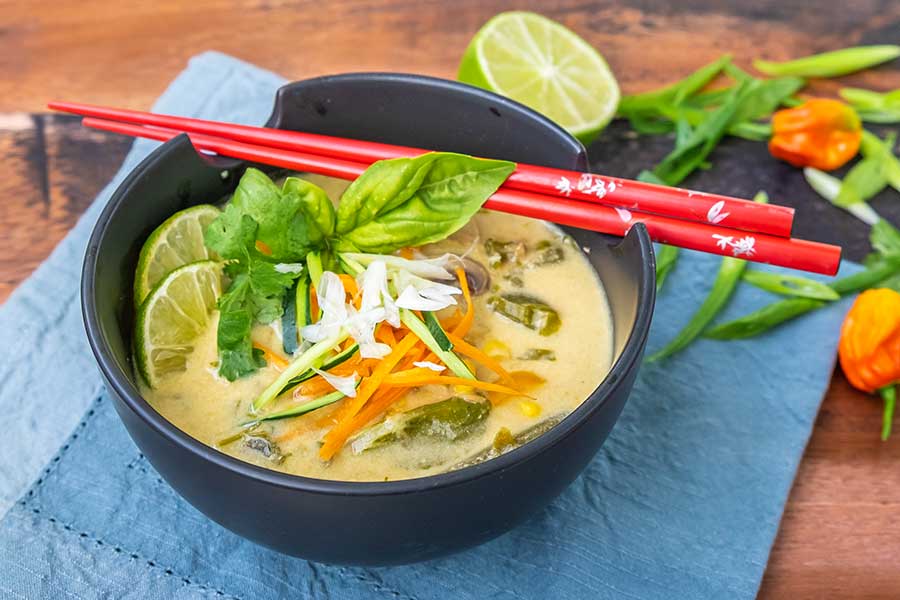 This Thai Chicken Vegetable Soup is made in an instant pot with a blend of Thai spices, mushrooms, green beans, fresh sweet corn, young carrots, bell pepper, and lean chicken. This is a healing, soothing and naturally gluten free soup.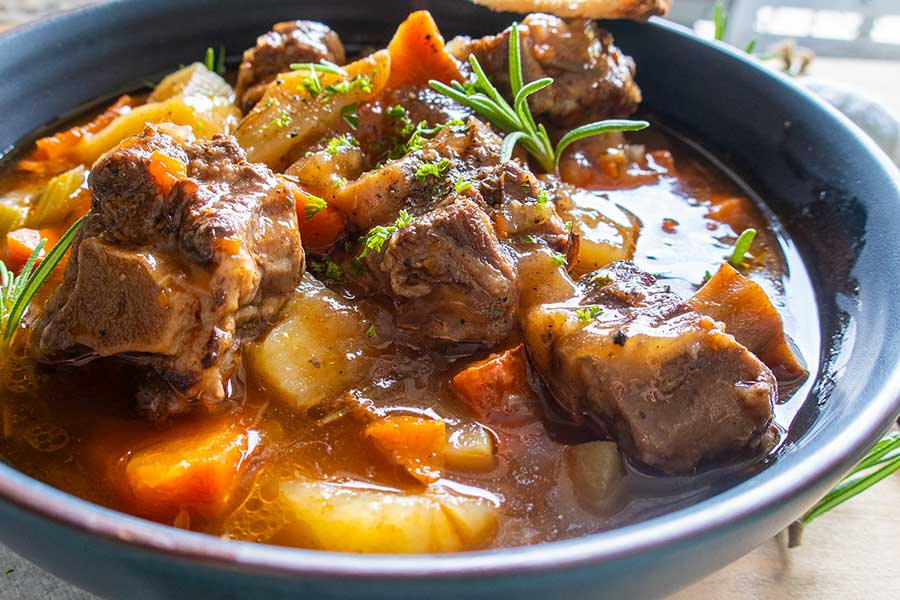 Tender falling off the bones beef, herbs and spices, potatoes, celery, onions and carrots cooked in the most flavourful broth. The incredibly tasty Oxtail Soup made easily in an Instant Pot, has a kick of balsamic vinegar and Worcestershire sauce.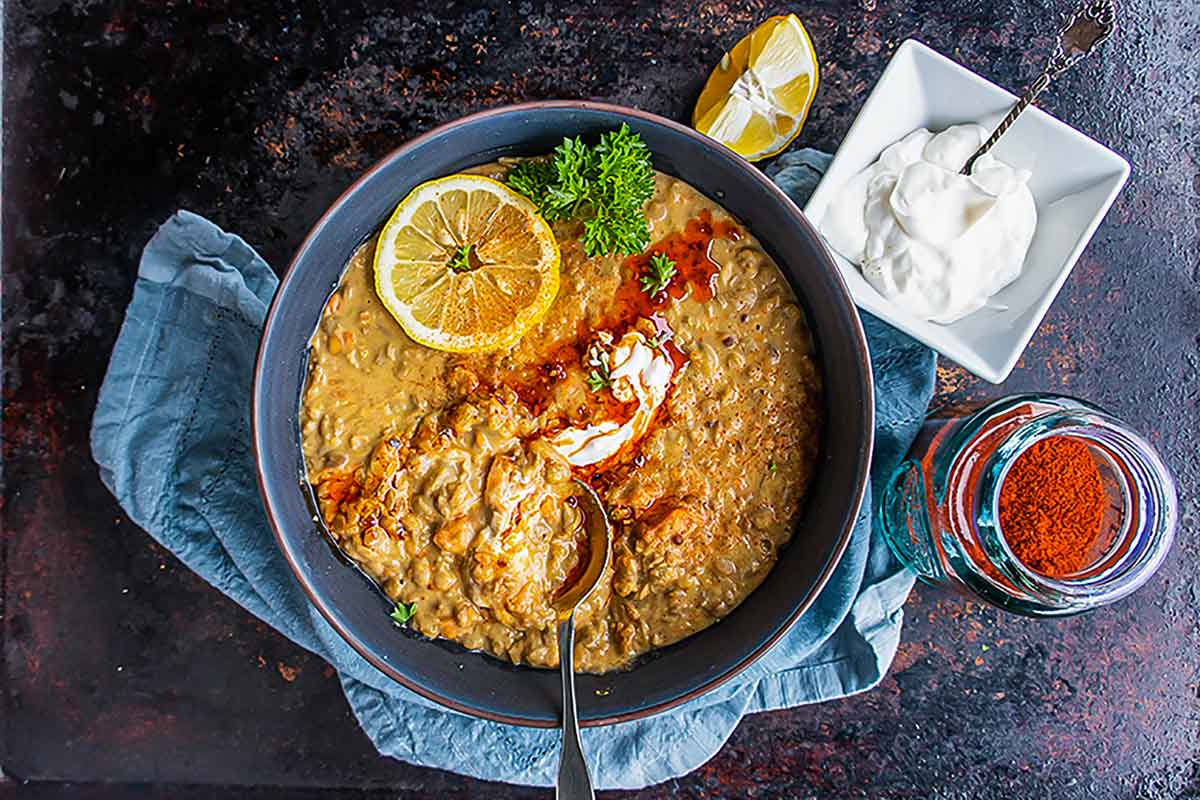 There is something about Moroccan food, the spiciness, the vibrant colours and the rich flavours. This Moroccan Beef and Lentil Soup is outstanding!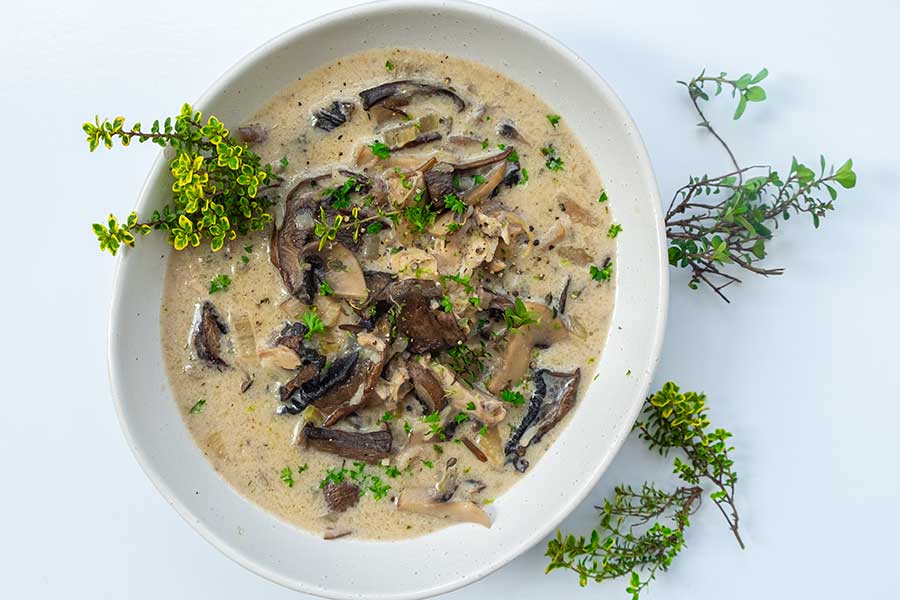 The tender chicken is cooked in the most flavourful mushroom broth, with a hint of thyme and lemon zest. For added creaminess, this Creamy Chicken Mushroom With Rice Soup has parmesan cheese and cream.
And if you enjoy a side of bread or rolls with your soup, we have chosen ones you will enjoy!