Instant Pot Oxtail Soup Recipe
Published on Oct 15, 2020
by
Kristina Stosek
Prep Time:

15 minutes
Cook Time:

60 minutes
Serves:

4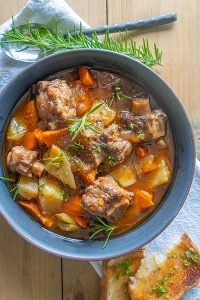 ​This post may contain affiliate links, please see our
privacy policy
for details
Today I am sharing the very best Instant Pot Oxtail Soup, also known as hearty cold weather soup. Tender falling off the bones beef, herbs and spices, potatoes, celery, onions and carrots cooked in the most flavourful broth.
The incredibly tasty Oxtail Soup broth has a kick of balsamic vinegar and Worcestershire sauce. This cold weather soup is the perfect bowl of rich broth filled with veggies and tender beef. I call this beefy soup a meal in a bowl for soup weather.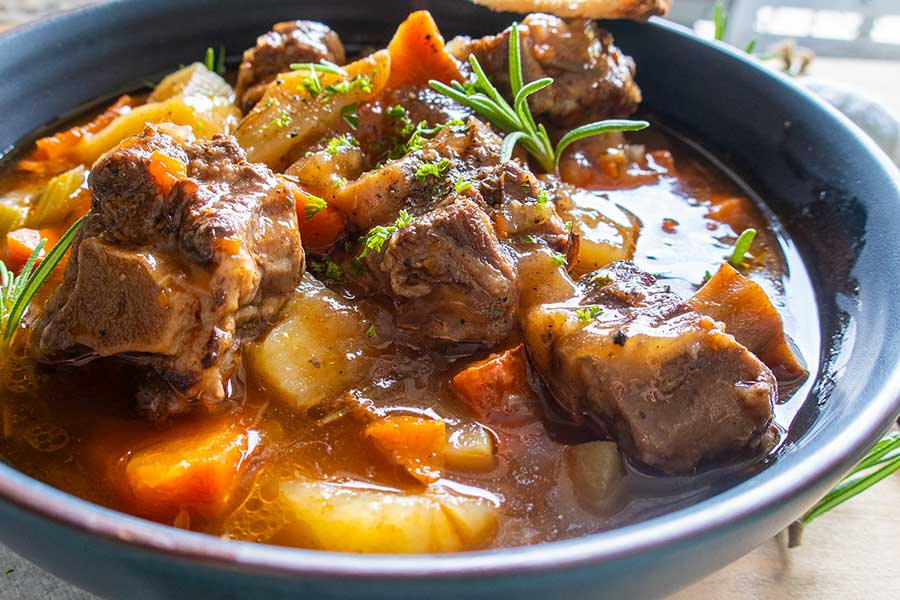 oxtails are well known for their health benefits
Now that we know how delicious the Oxtail Soup is, we also know that there are some health benefits to eating oxtails. Oxtails are rich in gelatin and collagen. Both are important to keep our joints and tendons healthy.
As our body ages, we produce less collagen. This affects our joints, which start becoming stiff. We also start noticing wrinkles and sagging skin. Collagen is essential to help our skin to renew and repair.
Oxtails are also a good source of minerals such as calcium, iron, selenium and phosphorus, and they are not shy on protein either. One serving has approximately 30 g of protein.
By adding veggies to Oxtail Soup, you can be sure that you are getting a healthy, hearty bowl of delicious soup.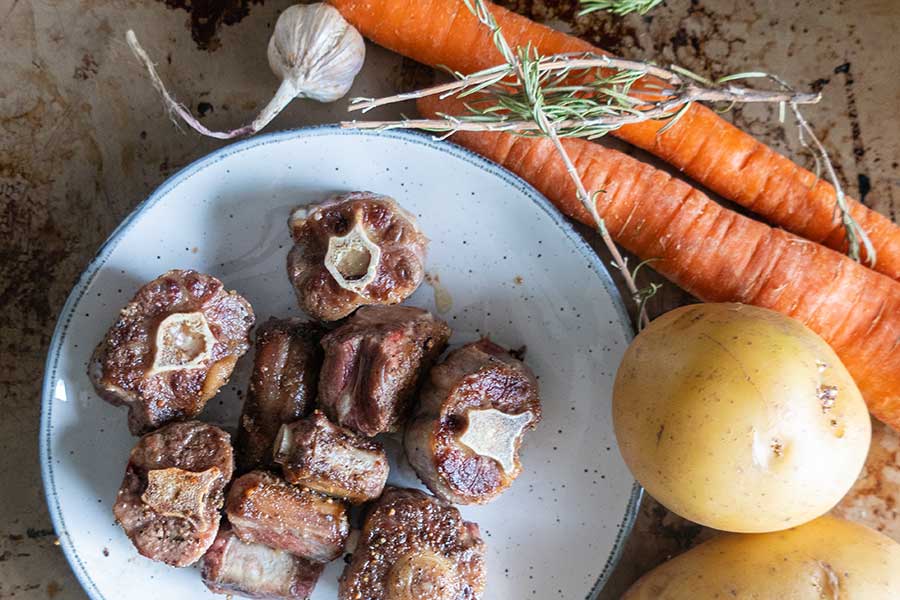 Why use an Instant Pot for making oxtail soup?
The most obvious reason is the cooking time. Cooking oxtails on the stove takes about three hours. By using Instant Pot, you can have a delicious Oxtail Soup in about an hour.
The other advantage of using Instant Pot is that you can walk away without worrying about the soup boiling over or burning.
When I make the Oxtail Soup, I put the soup on in the morning and keep it warm in the Instant Pot until dinner, making the soup even more flavourful.
And lastly, by using Instant Pot, you retain more nutrients than if you cooked the soup on top of the stove and reduce energy consumption.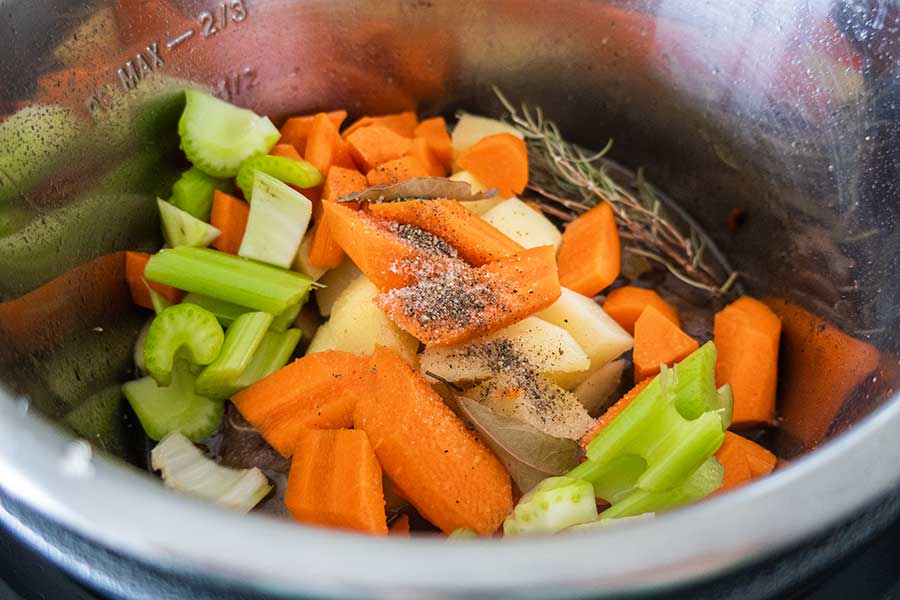 What to serve with Oxtail Soup?
This hearty, delicious soup goes exceptionally well with Gluten-Free Garlic Cheese Monkey Bread or a freshly made Gluten-Free Cheese and Garlic Flatbread. Nothing beats a freshly made bread with Oxtail Soup. Or, you may want to add delicious Gluten-Free Butter Rolls. No matter how you serve the Oxtail Soup, you will love it.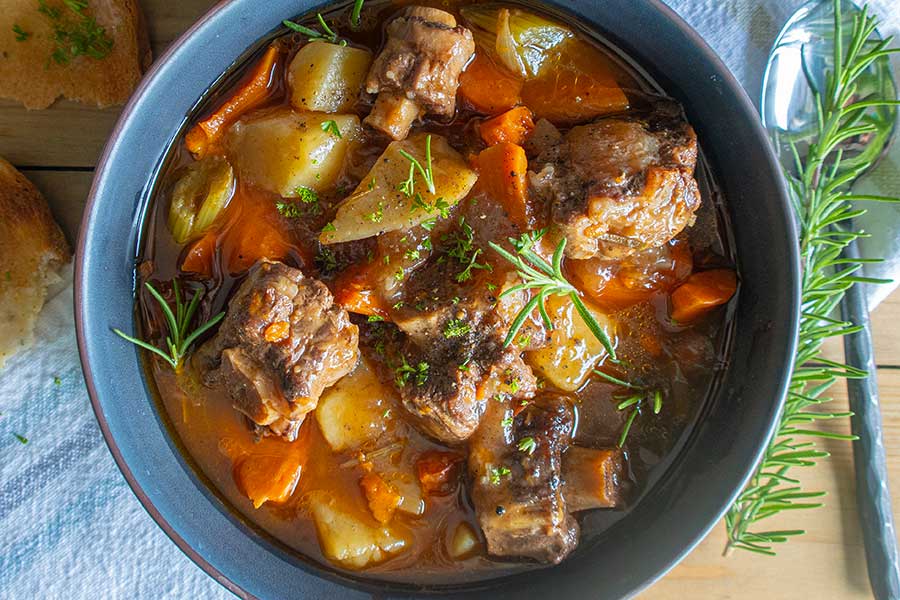 If you are thinking of purchasing an Instant Pot, I love and have this Instant Pot version, it has all the features you will need, from making soups to making yogurts and desserts.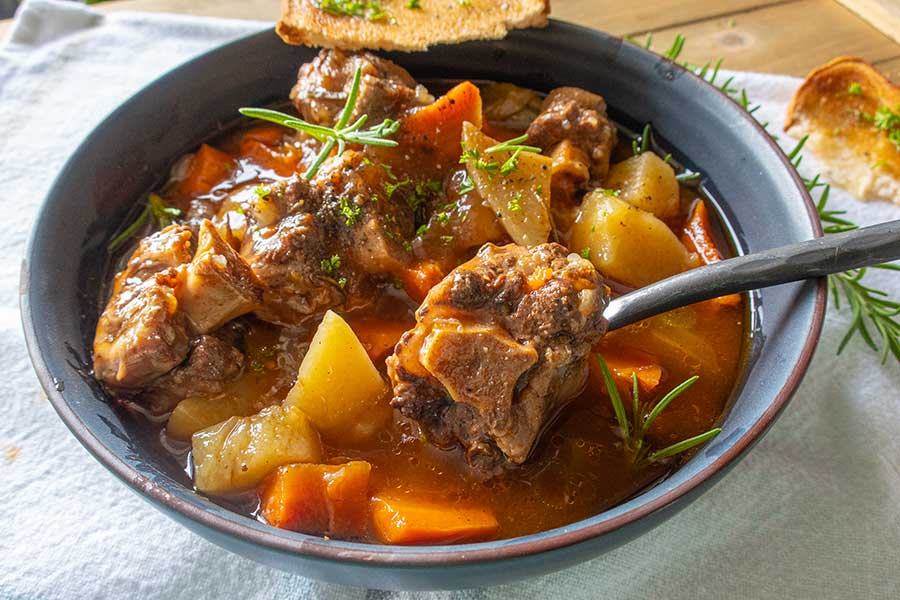 Let's Connect!
Be sure to FOLLOW US on FACEBOOK and PINTEREST.
Many thanks!
Kristina xx
Instant Pot Oxtail Soup Recipe
Published on Oct 15, 2020
by
Kristina Stosek
Instructions
1.

Dry oxtails with paper towels and generously season with salt and pepper

2.

Set Instant Pot to sauté. Add olive oil, once heated and the oil is shimmering, add oxtails. Allow the oxtails to be brown on one side without disturbing them—about 4 minutes. Turn them over and brown on all sides. Transfer oxtails to a plate and set aside

3.

To the IP, add in onions and cook for 2 - 3 minutes until they start to brown. You may need to add a splash of olive oil. Stir in garlic, bay leaves, rosemary and cloves until fragrant, about 30 seconds

4.

Add diced tomatoes, water, balsamic vinegar, Worchestershire sauce, vegetables and oxtails. Season with salt and pepper

5.

Cover, select the manual setting and cook on high pressure for 55 minutes. Allow the steam to release naturally. If you are short on time, you can use the quick release function to release the pressure. Gently stir the soup and enjoy!

6.

Chefs note; The soup can be served with or without bones. To remove bones, when oxtails are cool enough to handle, use a fork, separate the meat of the bones and place the meat back in the soup.
Leave a Comment
Kristina
add as per recipe 3 cups Kathy, or, to desired consistency.
Kristina
Sorry about that, the veggies go in at the same time as the tomatoes. I have revised the instructions. Thank you for letting me know!
Just a question in the recipe you do not mention when you add the veggies and the potatoes?