Gluten Free Rustic French Onion Soup
Prep Time
20 Minutes
Difficulty
Intermediate
Cook Time
80 Minutes
Serves
4
Average Rating: 5 | Rated By: 1 users
Just imagine slow cooked caramelized onions and bubbling Gruyere cheese. There is something about slowly cooked onions, the flavour is magnificent. It is important not to rush the browning of the onions. I have used Gruyere cheese in this recipe, but you can also use Emmenthal or Swiss cheese. This French onion soup recipe may look complicated, but it isn't, it just takes time
Ingredients
3 Tbsp. butter
3 Tbsp. extra virgin olive oil
5 large onions, peel and thinly slice
1 garlic clove, minced
¼ cup of water
½ cup brandy or ¾ cup red wine (my preference is brandy)
1 GF bay leaf
3 sprigs fresh thyme
6 cups GF beef broth
Sea salt and freshly ground GF black pepper to taste
4 slices gluten-free bread, cut into rounds to fit bowls, toasted
2 cups freshly grated Gruyere, Emmenthal, or Swiss cheese
Instructions
Add butter, oil, onions, garlic and water into a large soup pot, cover with a lid and let the onions soften over medium-high heat, approximately 10 – 15 minutes.
When the water has evaporated, remove the lid, turn the temperature to low and start to caramelize the onions, stirring frequently, this will take about 45 minutes
When the onions are a golden colour, add brandy, bay leaf, thyme and broth, add salt and pepper to taste and let simmer for 15 minutes.
Preheat your oven's broiler. Remove bay leaf and thyme sprigs, ladle the soup into 4 onion soup or ovenproof bowls and fit a slice of toast over each bowl, sprinkle evenly with the cheese and place bowls onto a baking sheet
Place the bowls under the broiler and broil until the soup is bubbling and the tops are golden brown, serve hot!
Similar Recipes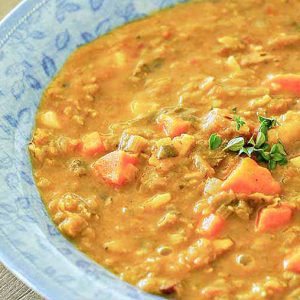 Country Split Pea Soup Recipe
This pea soup recipe is gluten-free and budget friendly. The peas are slowly simmered with vegetables and spices in a vegetable broth.  Split peas are high in fiber, protein, magnesium, and iron making them a healthy addition to a well-balanced diet. Read More
Prep Time
10 Minutes
Difficulty
Beginner
Cook Time
60 Minutes
Serves
6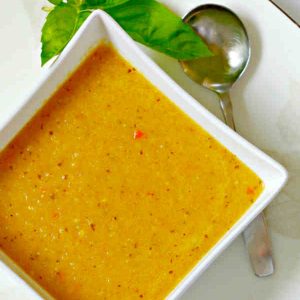 Curried Zucchini Coconut Soup (gluten-free)
This gluten-free vegetarian delicious zucchini soup is made with coconut milk and seasoned with curry and lime juice.  Zucchini is low in carbs and calories making this a diet friendly soup recipe. Read More
Prep Time
10 Minutes
Difficulty
Beginner
Cook Time
10 Minutes
Serves
4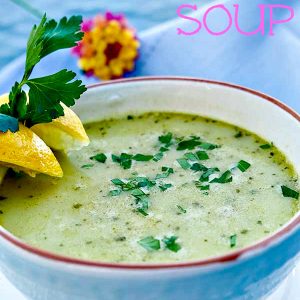 Immune Boosting Chickpea and Parsley Soup
This is a hearty gluten-free soup recipe to boost your immune system. The combination of chickpeas, parsley and fresh lemon juice create a rich and satisfying soup. These simple ingredients deliver powerful health benefits to your body. Parsley boosts the productivity of one of our liver's enzymes that detoxes our bodies. This delicate herb has powerful anti-inflammatory […] Read More
Prep Time
10 Minutes
Difficulty
Easy
Cook Time
90 Minutes
Serves
8