Gluten Free Rustic French Onion Soup
Published on Mar 15, 2014
by
Kristina Stosek
Prep Time:

20 minutes
Cook Time:

80 minutes
Serves:

4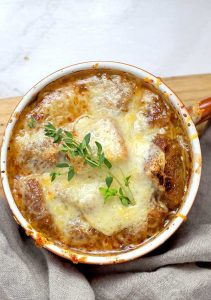 ​This post may contain affiliate links, please see our
privacy policy
for details
Gluten-Free Rustic French Onion Soup with Gruyere cheese — imagine slow-cooked caramelized onions and bubbling Gruyere cheese in the most flavourful broth!
There is something about slowly cooked onions, the flavour and the aroma is magnificent. When it comes to making the best French onion soup, it is all about not rushing the browning of the onions.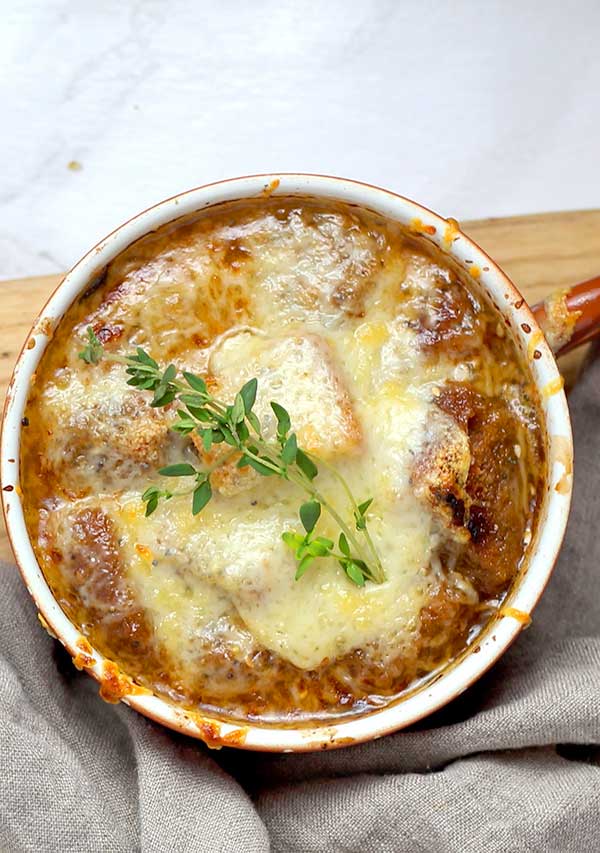 You may think that creating that flavourful broth with tender onions is complicated. But, honestly, this soup is one of the simplest soups. However, it takes time.
You can't rush the caramelization of the onions. This is where the flavour comes from and, of course, many onions.
It takes time to make French onion soup.
First, you add butter, olive oil, garlic, onions and some water to a large soup pot. Cover and cook for a few minutes until the onions soften. By now, the water would have evaporated.
Next, start the process of slowly getting to caramelize the onions.
To do this, keep the heat at a low temperature, and stir the onions frequently. Trust me on this… it is well worth the time.
Whenever I make the French onion soup, I also do some baking. Since I am in the kitchen anyway, keeping my eyes on the onions.
Once the onions turn into a golden colour, add the seasoning. Some brandy, bay leaf, thyme, beef broth, salt and pepper. Now all you have to do is, simmer the soup for an additional 15 minutes, infusing the broth with the flavours of caramelized onions, brandy and spices.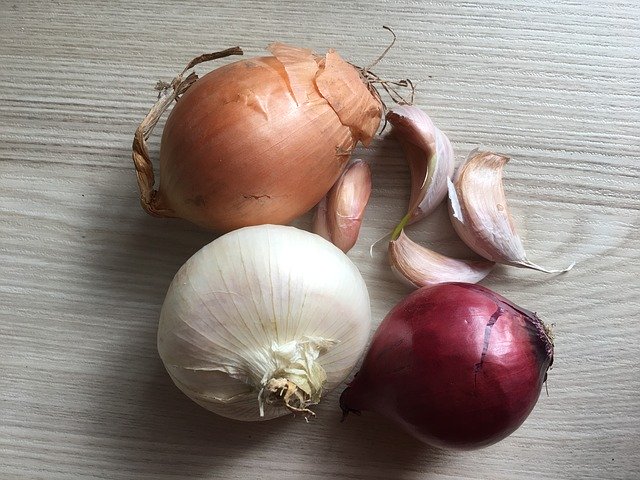 best onion for French onion soup
First, any onion will do. However, for a classic French onion soup, the best onion is sweet yellow onion. The onion needs to caramelize and remain sweet. White onion has a strong onion flavour, and red onion tends to become bitter when caramelized.
finish with a slice of bread and cheese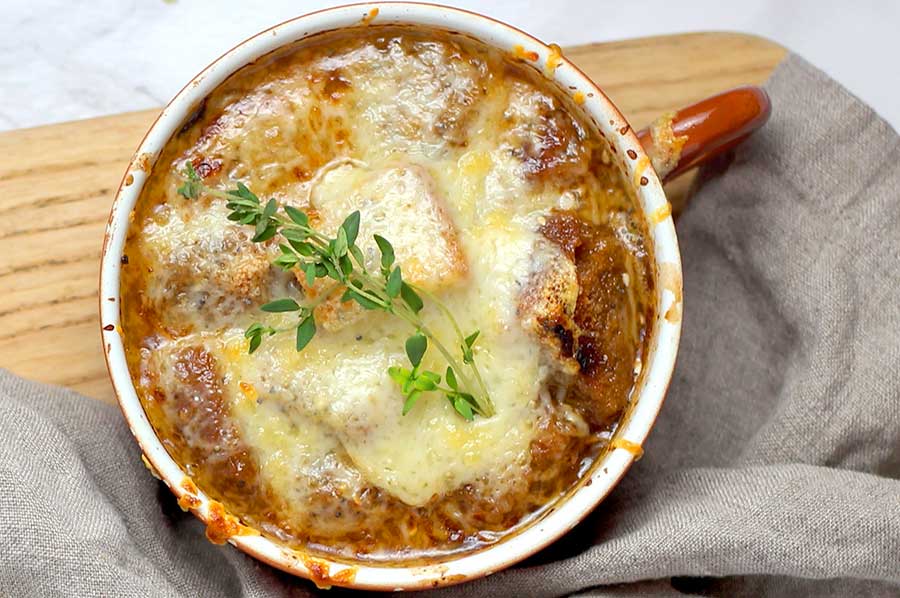 Nex is the easy part, ladle soups into oven-proof bowls, top with a round slice of toasted gluten-free French bread and plenty of Gruyere cheese or a good melting cheese of choice.
Place bowls on a baking tray under a broiler, and cook until the cheese has melted and is bubbling. That's it! Not complicated, but it takes time. And, as I said before, it is well worth it, because the soup is outstanding.
I find the soup is so hearty that it can replace the main dish.
What region of France does French onion soup come from?
It has been documented that this flavourful soup goes back as far as the 18th century, first enjoyed in the champagne region. Interestingly it has been used as a hangover cure.
The modern version of this soup originates in Paris. Serving this soup in the Classic Fine White Porcelain Lion's Head Bowl makes it elegant and extra special. Because I wanted to give the soup a rustic look, I served the soup in French Onion Soup Crocks.
Let's Connect!
Be sure to FOLLOW US on FACEBOOK and PINTEREST.
Many thanks!
Kristina xx
Gluten Free Rustic French Onion Soup
Published on Mar 15, 2014
by
Kristina Stosek
Instructions
1.

Add butter, oil, onions, garlic and water into a large soup pot, cover with a lid and let the onions soften over medium-high heat, approximately 10 – 15 minutes.

2.

When the water has evaporated, remove the lid, turn the temperature to low and start to caramelize the onions, stirring frequently, this will take about 45 minutes

3.

When the onions are a golden colour, add brandy, bay leaf, thyme and broth, add salt and pepper to taste and let simmer for 15 minutes.

4.

Preheat your oven's broiler. Remove bay leaf and thyme sprigs, ladle the soup into 4 onion soup or ovenproof bowls and fit a slice of toast over each bowl, sprinkle evenly with the cheese and place bowls onto a baking sheet

5.

Place the bowls under the broiler and broil until the soup is bubbling and the tops are golden brown, serve hot!