Creamy Chicken Mushroom and Rice Soup
Published on May 01, 2020
by
Kristina Stosek
Prep Time:

15 minutes
Cook Time:

45 minutes
Serves:

6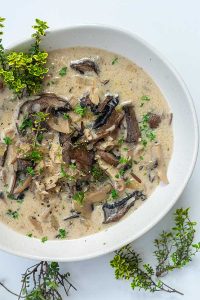 ​This post may contain affiliate links, please see our
privacy policy
for details
Creamy Chicken Mushroom and Rice Soup – the rich yet perfectly balanced flavours make this incredibly delicious soup outstanding. If you ask me, nothing beats a creamy chicken and mushroom soup.
The tender chicken is cooked in the most flavourful mushroom broth, with a hint of thyme and lemon zest. To make this soup thick and creamy, I added parmesan, cream and rice. There is so much flavour going on in this decadent creamy soup.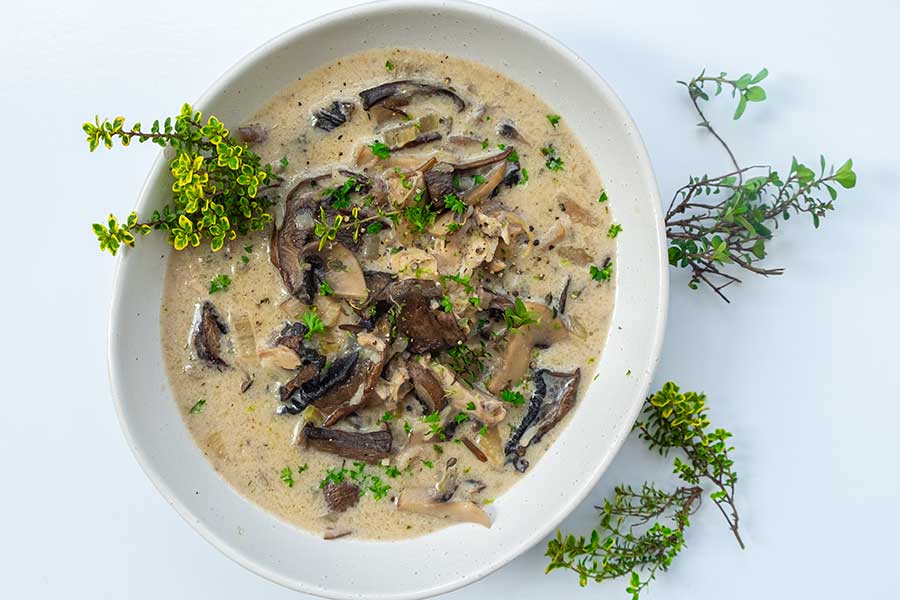 How is this mushroom soup different from most creamy soups?
First, the soup is made from scratch, so you don't have to add store-bought broth. The rich flavour in this soup comes from a combination of fresh and dried mushrooms. But it is the dried mushrooms that add earthy savoury flavour to the broth. You can't beat it.
For the rice, I wanted to add something different, so I used two varieties of rice, wild and long grain. The wild rice takes time to cook, so it is excellent rice to add to soups while the soup is cooking.
The long-grain rice is cooked separately because I did not want to take away from the flavour of the broth. If you have any leftover rice, this would be a good way to use up leftovers.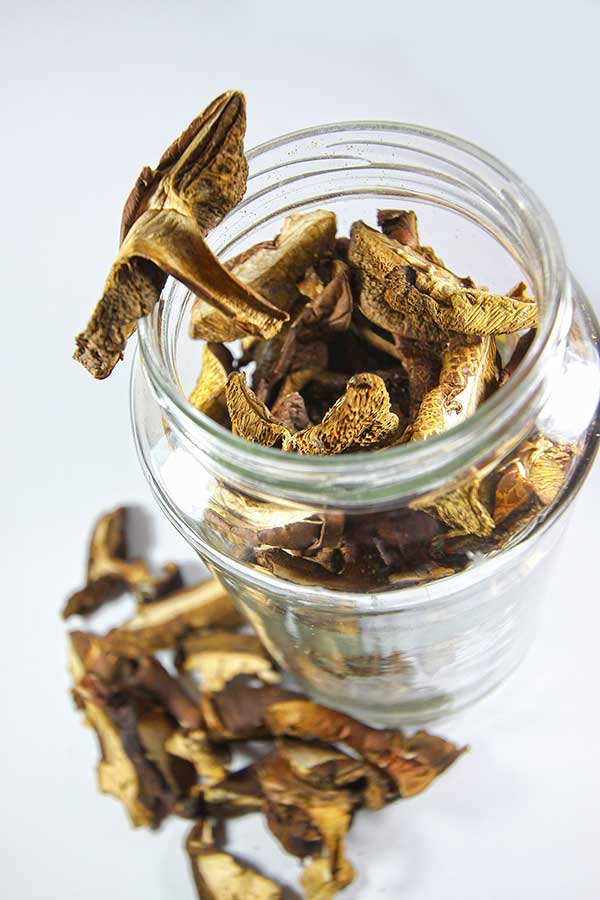 For the creaminess, it is the parmesan that is the star in this recipe. The cheese adds flavour and makes the soup creamier in addition to the cream. And I always throw a piece of parmesan rind into the soup while it's cooking, it adds extra flavour.
For the herbs, I used thyme. Thyme is one of those herbs that you just have to add to mushrooms because it brings the natural earthiness out of the tasty mushrooms. If you have lemon thyme, even better.
Another ingredient that may be unusual in creamy soups is the lemon zest. The zest makes all the difference in terms of flavour in this soup. It is a must add ingredient. I promise you the flavour in this soup will exceed your expectations!
Need more soup recipes? No problem, we have plenty of delicious gluten-free soup recipes for you to check out!
Let's Connect!
Be sure to FOLLOW US on FACEBOOK and PINTEREST.
Many thanks!
Kristina xx
Creamy Chicken Mushroom and Rice Soup
Published on May 01, 2020
by
Kristina Stosek
Instructions
1.

Soak dried mushrooms in 1 1/2 cups of very hot water for 15 minutes

2.

In a large soup pot, heat butter over medium heat. Add onions, garlic and celery. Cook for 5 minutes, stirring as needed

3.

Add thyme, fresh mushrooms, lemon zest, salt and pepper and cook over medium-high heat until the mushrooms start to soften. About 3 minutes. Stirring as needed

4.

Add 5 cups of water, dried mushrooms with liquid, chicken, wild rice and parmesan rind. Cover and cook over medium heat until the wild rice is tender. About 35 - 40 minutes

5.

Transfer the chicken onto a plate, and using a fork shred it into small pieces. Return shredded chicken to the pot

6.

Whisk together the cream, parmesan, arrowroot powder, mustard and Worcestershire sauce and add it to the soup. Add the cooked rice and bring the soup to a boil. Give it a good stir and remove from the heat. Taste and season with salt and pepper if needed. Enjoy!
Leave a Comment
Kristina
thank you Joanna, I am so happy that you enjoyed it.
this is the best cream of mushroom soup I have ever made, so fresh and delicious. Thank you
Kristina