Beef Stroganoff Soup – Gluten Free
Published on Oct 22, 2022
by
Kristina Stosek
Prep Time:

10 minutes
Cook Time:

70 minutes
Serves:

4 - 6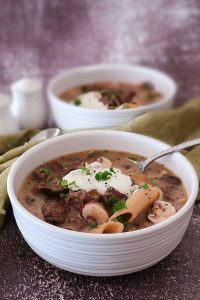 ​This post may contain affiliate links, please see our
privacy policy
for details
This hearty beef stroganoff soup is the perfect winter comfort food. The gluten-free hearty soup is filled with chunks of tender beef, mushrooms, and noodles, all in a creamy thick sour cream broth. Serve alongside crusty bread for dipping, and you've got a meal that will warm you from the inside out!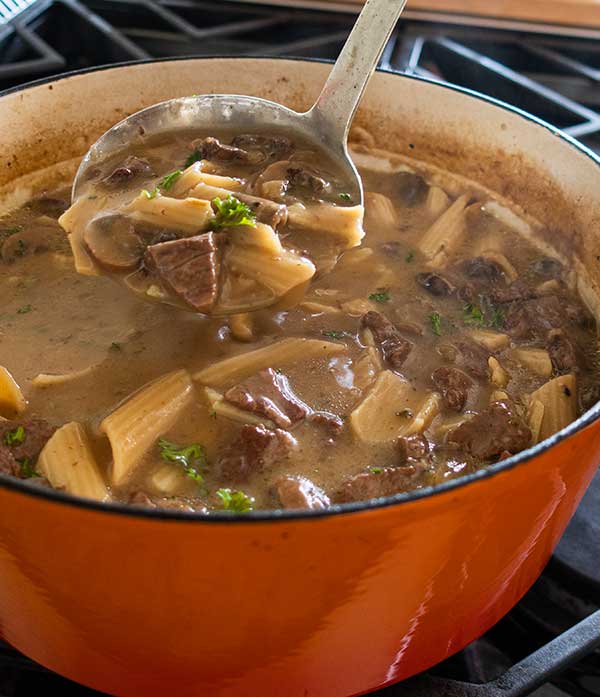 What is beef stroganoff soup?
There are many variations of beef stroganoff soup, but the most common ingredients include beef, mushrooms, onions, and sour cream. The soup is typically served over egg noodles or rice.
This particular recipe for beef stroganoff soup is gluten-free and can be made on the stovetop or Instant Pot. Either way, you make it, this hearty soup is perfect for a cold winter day!
best cuts of beef for stroganoff soup
There are many different cuts of beef that can be used for stroganoff soup. The best cuts of beef for this soup are chuck roast, short ribs, or stew meat.
Most of these cuts of beef are tough and require a long cooking time to become tender. This makes them perfect for Instant pot recipes.
Other cuts of beef that you can use include sirloin, flank steak, or round steak. These cuts of meat are less tough than the Chuck roast, stew beef or short ribs, and will cook faster and still provide plenty of flavor to the soup.
add-ins to beef stroganoff soup recipe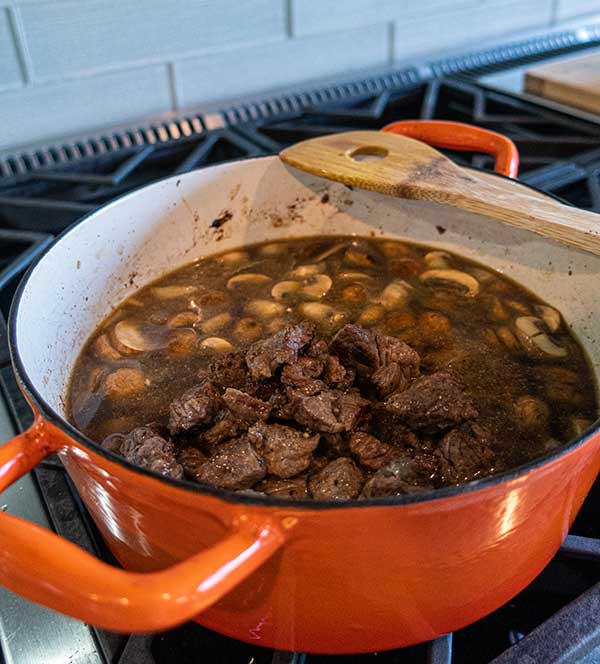 You can add flavors to your beef stroganoff soup recipe in many ways.
One way is to experiment with different types of meat. For example, you could try using ground lamb, chicken, or pork instead of beef.
Another way to add flavor is to use a variety of mushrooms in the soup. Or, add broccoli, carrots or corn.
Finally, don't be afraid to experiment with different herbs and spices. Try adding fresh rosemary, marjoram, thyme or cumin.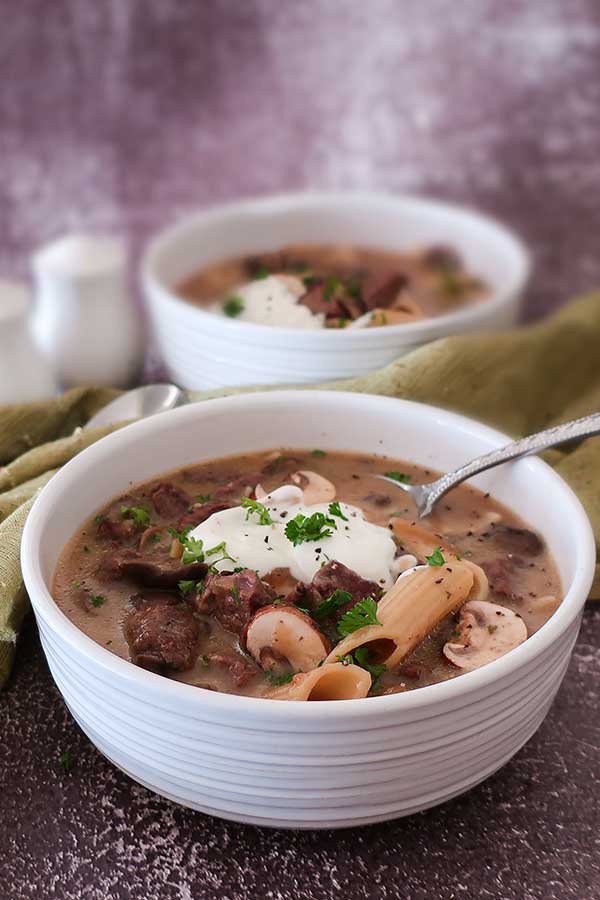 dairy free version
If you're looking for a beef stroganoff soup recipe that's both gluten and dairy-free, replace the sour cream with 1/4 cup of tomato paste, 1/2 cup of coconut cream and 1 Tbsp. apple cider vinegar.
instant pot version
If you love beef stroganoff soup but are short on time, this Beef Stroganoff Soup recipe can be made in under 30 minutes thanks to the Instant Pot.
Instant pot 30-minute beef stroganoff soup recipe
Brown the seasoned beef using a large skillet (see instructions in the recipe on how to prepare the beef)
While the beef is browing, using the IP on saute function, saute the onions, garlic and mushrooms in 2 tablespoons of olive oil until they start to soften. About 3 minutes.
Stir in Worcestershire sauce, mustard and bay leaf
Add the seared beef to the IP. Deglaze the skillet with 2 cups of water. Add the water to the IP with 4 cups of beef broth. Season with salt and pepper. Seal the IP and cook on high pressure for 25 minutes
Once done cooking, use the quick release function and release the steam.
Whisk tapioca with sour cream, 1 cup of water and 1/4 cup of parsley and stir in the soup. Cook on manual until the soups start to thicken, about 2 minutes. Do not cover the IP.
Serve over cooked gluten-free noodles.
sides to soups
Many delicious sides can be added to make soups a complete meal. Here are some of our favorites that go exceptionally well with beef stroganoff soup:
Gluten-Free Crusty bread: Slather on some butter or olive oil and toast in the oven until golden brown. Serve alongside your piping hot bowl of soup for dipping.
Roasted Sweet Potato: The healthy fries make an excellent replacement for bread
Rice, quinoa or mashed potatoes: These sides will satisfy even big appetites.
Cabbage salad: Need some freshness and crunch with your meal? Start with a salad.
Gluten-Free Naan Bread: This bread is the best for dipping in soups.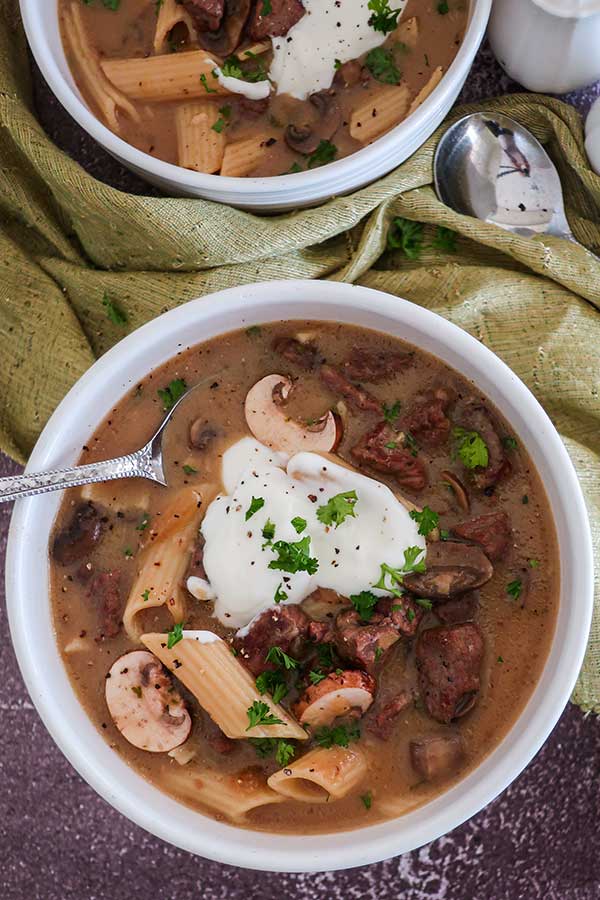 Why do we love beef soups in the fall?
There's something about beef soups that make them the perfect comfort food for chilly fall days. Maybe it's the rich, hearty flavor of the beef or the fact that they're so filling and satisfying.
Whatever the reason, we can't get enough beef soups during the winter months.
Here are a few of our favorite beef recipes to warm you up this season:
Instant Pot Spicy Dominican Beef Stew
So there you have it – our three favorite beef recipes to enjoy this fall.
storing gluten free beef stroganoff soup
Beef stroganoff soup is like a stew; it always tastes better the next day once the flavours develop even more. To store the soup, place it in an airtight container and refrigerate for up to 3 days. When ready to enjoy, reheat on the stove over low heat until warmed through.
I hope you will give this beef stroganoff soup a try. With a rich beefy flavor, this hearty and comforting dish is always welcome during gloomy winter weather.
Let us know your favorite soup to cozy up with when the weather gets chilly.
Let's Connect!
Be sure to FOLLOW US on FACEBOOK and PINTEREST.
Many thanks!
Kristina xx
Beef Stroganoff Soup – Gluten Free
Published on Oct 22, 2022
by
Kristina Stosek
Instructions
1.

Place cubed beef, 1 tablespoon of olive oil, 1 teaspoon salt and 1 teaspoon black pepper into a medium bowl. Using your hands, massage the meat with the spices until well coated. (If you have time, set aside for 1/2 an hour)

2.

Preheat a large Dutch oven over medium-high heat. Once hot, scatter the seasoned beef in the pot and brown for about 3 minutes without disturbing the meat. Then give it a good stir and brown on the other side without stirring until the liquids evaporate. Using a slotted spoon, transfer the meat to a plate.

3.

Add the remaining 2 tablespoons of olive oil, onions, garlic and mushrooms to the same pot. Season with salt and saute until they start to soften. Stir in Worchestershire sauce, mustard and bay leaf

4.

Add the beef back to the pot, beef broth and season with salt and pepper. Cover and simmer for 1 hour or until the meat is tender. Add 2 cups of water and the noodles and bring to a boil. Cook uncovered until the noodles are al-dente. 

5.

In a small bowl, whisk the sour cream, tapioca starch, 1 cup of water and 1/4 cup of fresh parsley, stir it into the soup and cook until the soup starts to thicken

6.

To serve, ladle soup into bowls and top with fresh parsley and a dollop of sour cream or Greek yogurt and extra noodles if you wish

7.

*Instant pot version is on the blog