15 Delicious Ways To Cook With Gluten-Free Noodles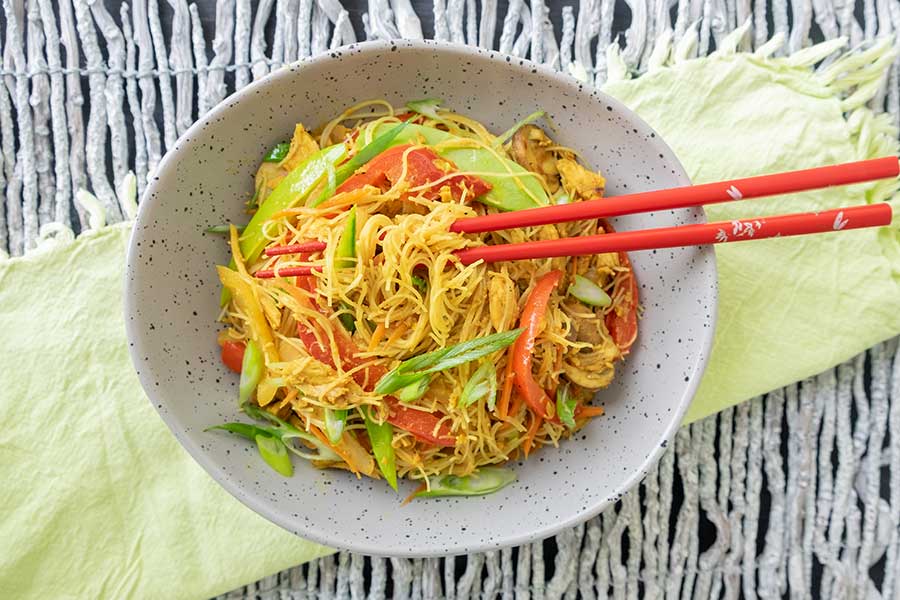 15 Delicious Ways To Cook With Gluten-Free Noodles
Do you need ideas for simple, delicious, comforting meals? Our best gluten-free noodle recipes are quick, tasty and satisfying. Even picky eaters will love them. When you need an easy, budget-friendly recipe, noodles are always on top of the list.
Whether you like stir-frys, soups, casseroles or skillet meals, you'll find a recipe here that you and your family will love. These dishes are healthy and leave you with that satisfying feeling. Our gluten-free noodle dishes are always crowd pleasers and never boring.
Gluten-free noodles come in various forms. For pasta dishes, the noodles can be a short cut or the classic long spaghetti. For soups such as ramen, vermicelli or rice noodles are always popular. For stir-frys, casseroles or skillet meals, all gluten-free noodles will work.
Browse these gluten-free noodle recipes, and you may find one that will become your new favourite!
Vegan Ramen Salad With Sesame Ginger Dressing → recipe
This is gluten-free noodle salad made with sesame ginger dressing plenty of fresh healthy veggies, cashews and sesame seeds. This vegan meal is particularly sought after in the cooler months when big, robust flavours are needed.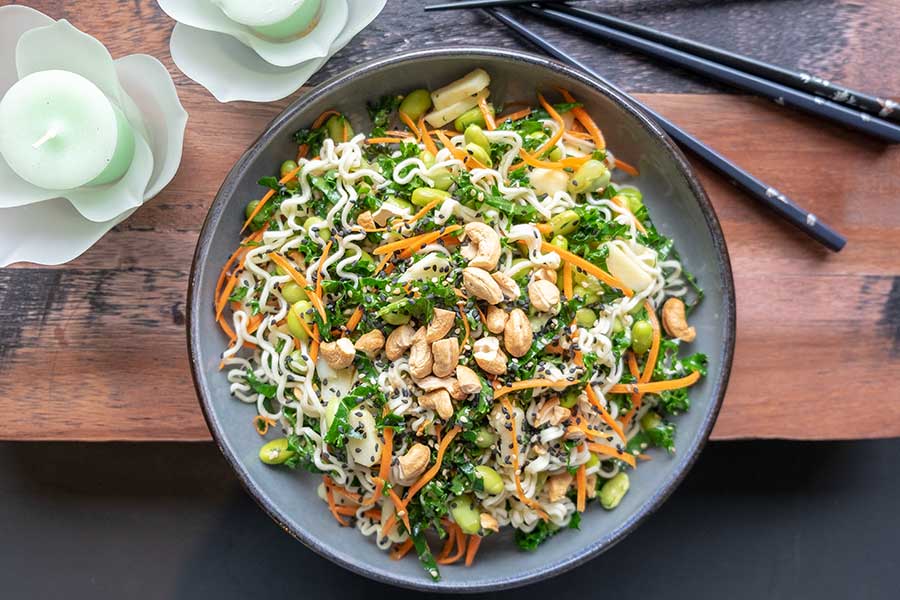 Gluten-Free Sticky Garlic Noodles → recipe
This is a subtle gluten-free noodle dish lightly sweetened and flavoured with fresh garlic. This satisfying dish is all about basic ingredients, simply prepared, yet delivering oodles of flavour. This is one of the all-time favourites, a take on a classic Asian noodle dish.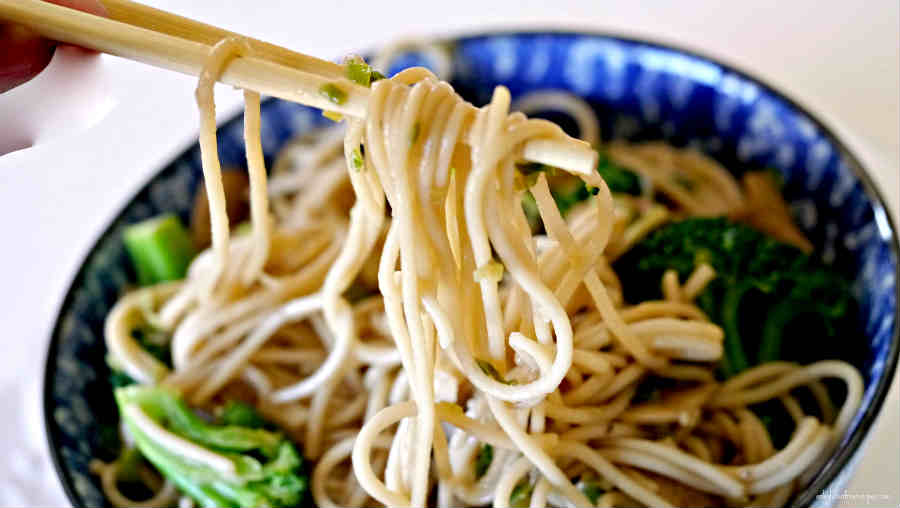 Vietnamese Rice Noodle Salad → recipe
This Gluten-Free Rice Noodle Salad is for one of those days when you need a refreshing salad low in calories and fat. The salad is made with gluten-free rice vermicelli noodles, cucumber, carrots, red bell pepper and plenty of fresh mint.
The light dressing that makes this salad taste so good, is made with fresh lime juice, pure maple syrup, sesame oil, and garlic. For extra spice, add some hot chilli pepper flakes.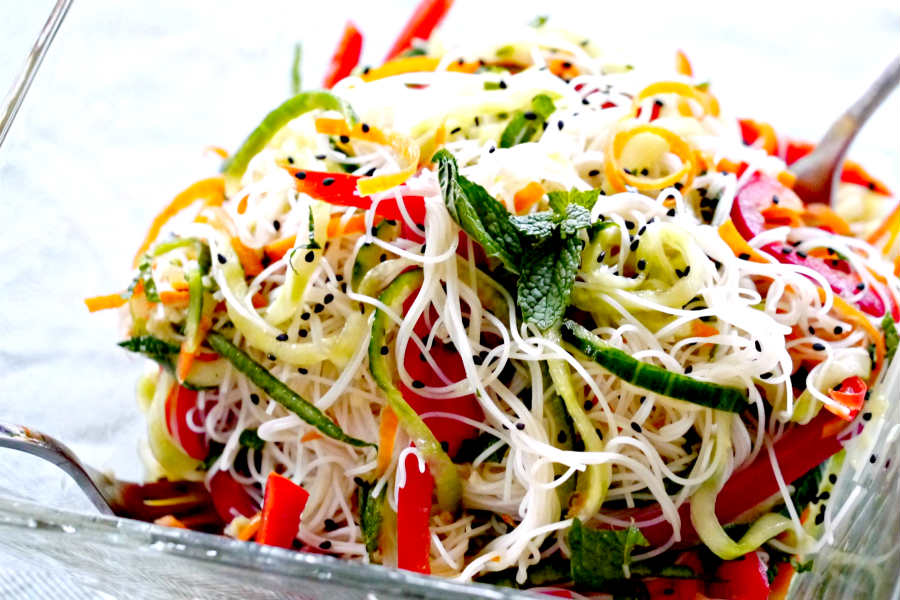 Coconut Curry Noodles With Fresh Vegetables → recipe
If I had to have a favourite gluten-free noodle dish, this Vegan Coconut Curry Noodles with Fresh Vegetables is probably on top of my list. Healthy ingredients, simply prepared delivering oodles of flavour in a nutritious way. Sooo good!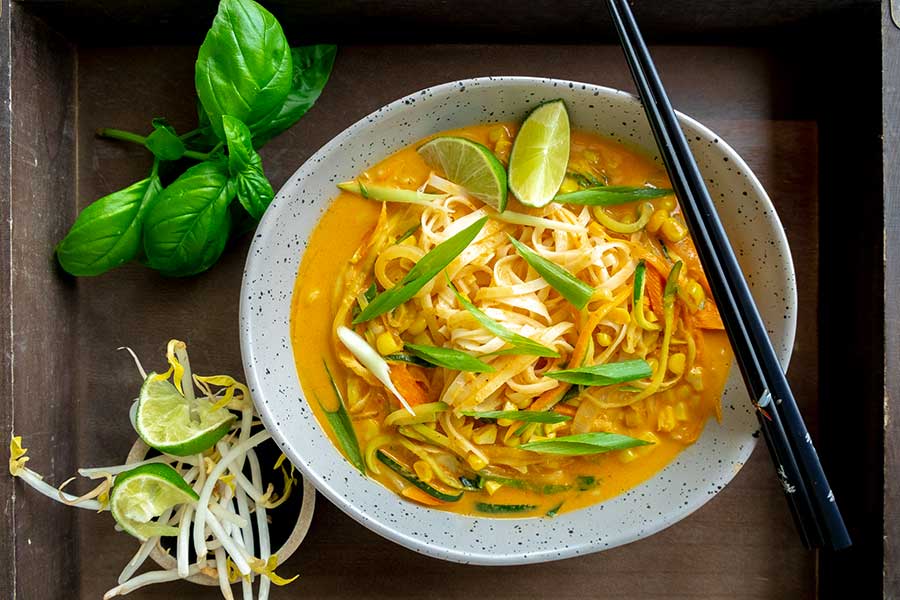 One Pot Creamy Tomato Pasta Bake → recipe
What I love about this gluten-free one pot creamy tomato noodle bake is the simplicity. The ingredients are pretty basic except for the Gruyere cheese, and it takes only 10 minutes to prepare.
The flavour is outstanding, and all you need is one pot, such as a large oven-proof skillet. If you don't have an oven-proof skillet, use a baking pan…easy!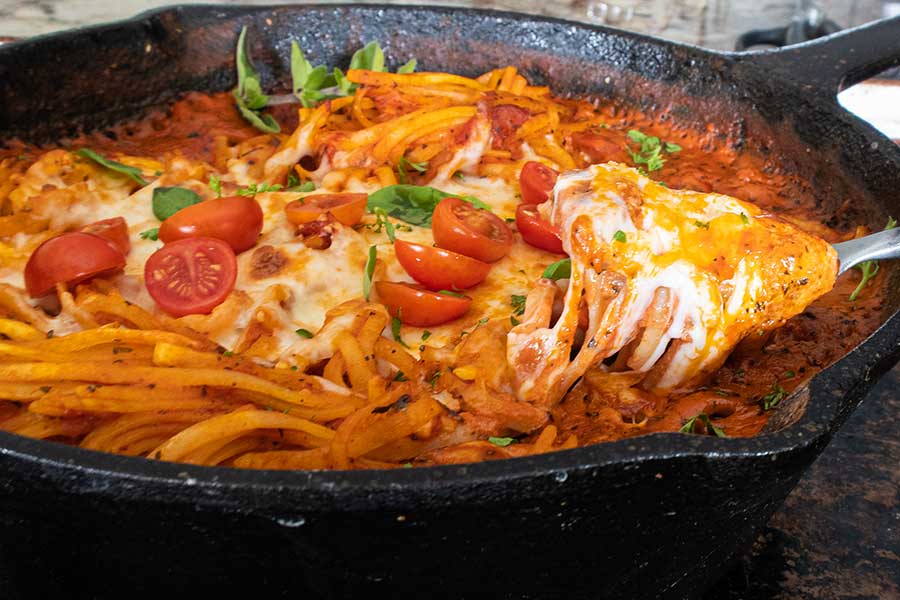 Monday Night Spicy Soba Noodles → recipe
This gluten-free noodle recipe is the simplest of simple. This healthy dish is made with soba noodles, chicken, miso, garlic, nut butter, veggies, herbs and spices and sesame seeds.
This mildly spicy noodle dish takes just minutes to prepare. The best part, this healthy meal can be easily converted into a vegan dish.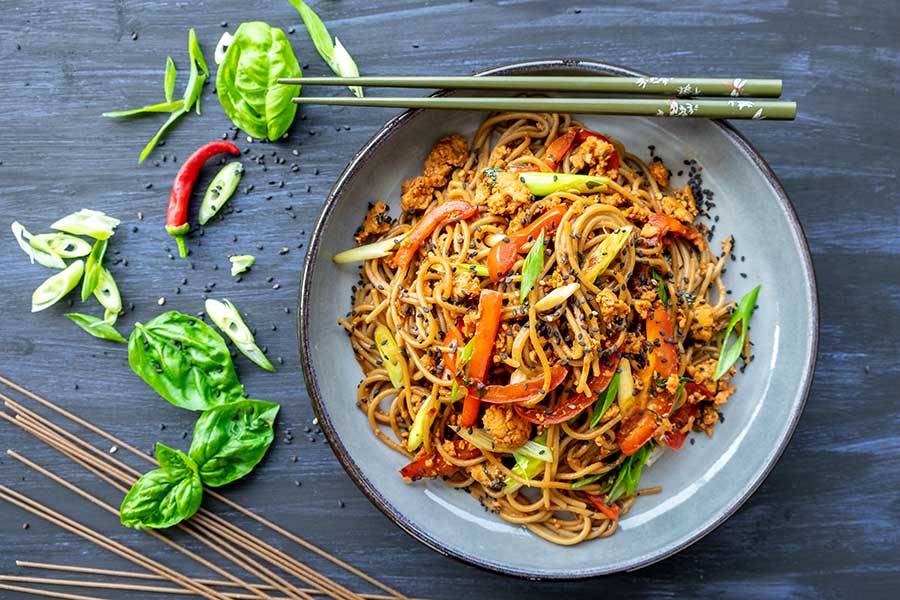 Parsley Black Beans & Tomatoes Pasta → recipe
This ridiculously easy recipe is all about fresh parsley, black beans, fresh cherry tomatoes, plenty of fresh garlic and olive oil tossed with gluten-free noodles.
There is nothing complicated about this recipe! This pasta dish makes for an unforgettable Italian gluten-free meal.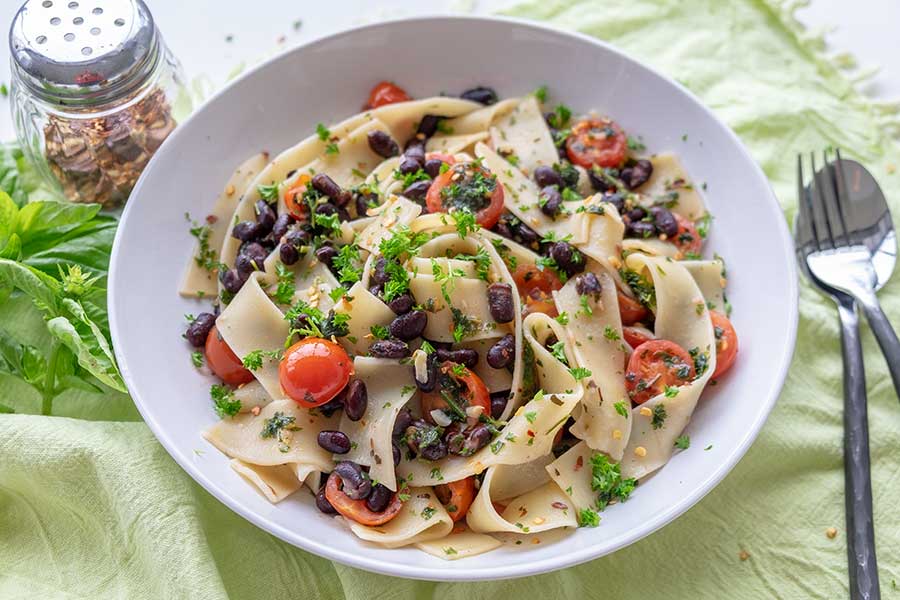 Saucy Thai Noodles → recipe
This gluten-free Saucy Thai Noodles dish tastes just like takeout Thai food. The rice noodles and fresh vegetables are coated in the most delicious sweet and spicy Thai sauce made entirely from scratch.
By adding tofu or chicken, you can make this into a hearty meal even for big appetites. This gluten-free noodle recipe is super easy and speedy, making it a perfect mid-week meal.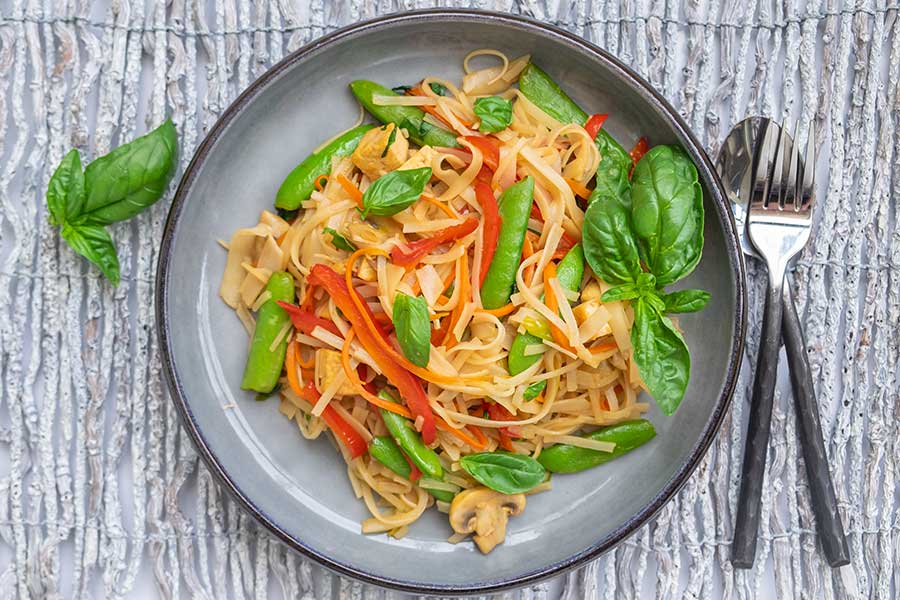 20 Minute Gluten-Free Tomato and Feta Pasta → recipe
Fresh tomatoes, olive oil, garlic, herbs, feta cheese and fresh parsley is what makes this Italian gluten-free noodle dish exceptional.
What I love about this tomato and feta pasta is, all you need is five basic fresh ingredients plus herbs and salt. The simplicity of this dish is what makes it so delicious, especially the saltiness of the feta cheese. The best part, all you need is 20 minutes from start to the table.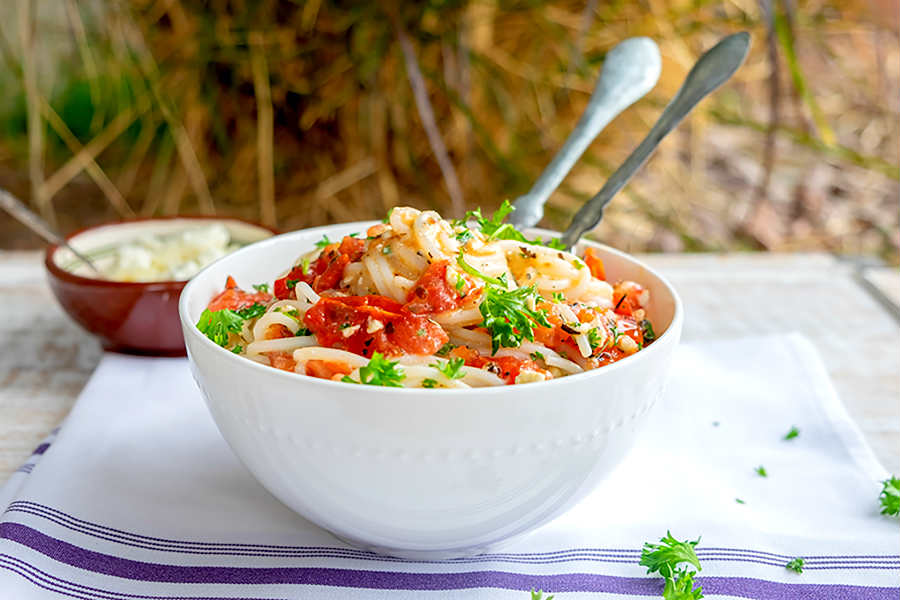 Gluten-Free Vegan Chow Mein → recipe
Stir-fries are a quick way to cook healthy meals because the ingredients retain most of their flavour, texture and nutrients. The idea is to toss the ingredients continually, so they stir-fry rather than fry.
You can vary the vegetables to your liking, but I found that Nappa cabbage, carrots, zucchini, bean sprouts and green onions bring out the ethnic chow mein flavour. In this gluten-free noodle dish, the deliciously flavoured veggies are mixed with chow mein noodles and tofu.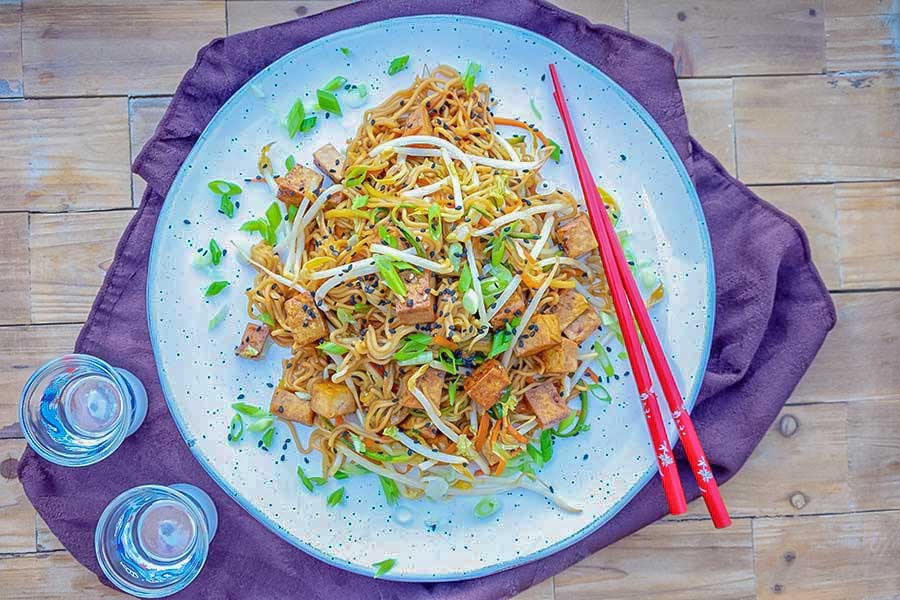 30 Minute Creamy Thai Chicken with Noodles → recipe
Any day is a good day to make a healthy gluten-free chicken dinner. This colourful creamy Thai chicken takes minutes to prepare and cooks under 15 minutes.
The sauce is thick, and creamy filled with healthy veggies and served with gluten-free rice noodles.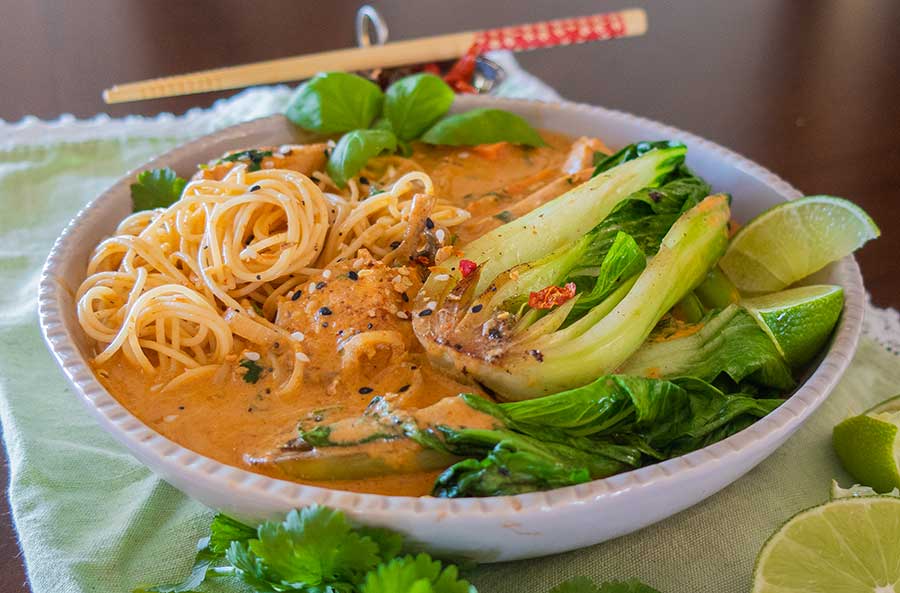 One Skillet Gluten-Free Alfredo Basil Pasta Dinner → recipe
The gluten-free noodles are smothered with creamy, cheesy, basil pesto sauce, then baked with mozzarella cheese. The best part, all you need is seven ingredients plus salt and pepper to make the tasty, satisfying gluten-free Italian pasta meal.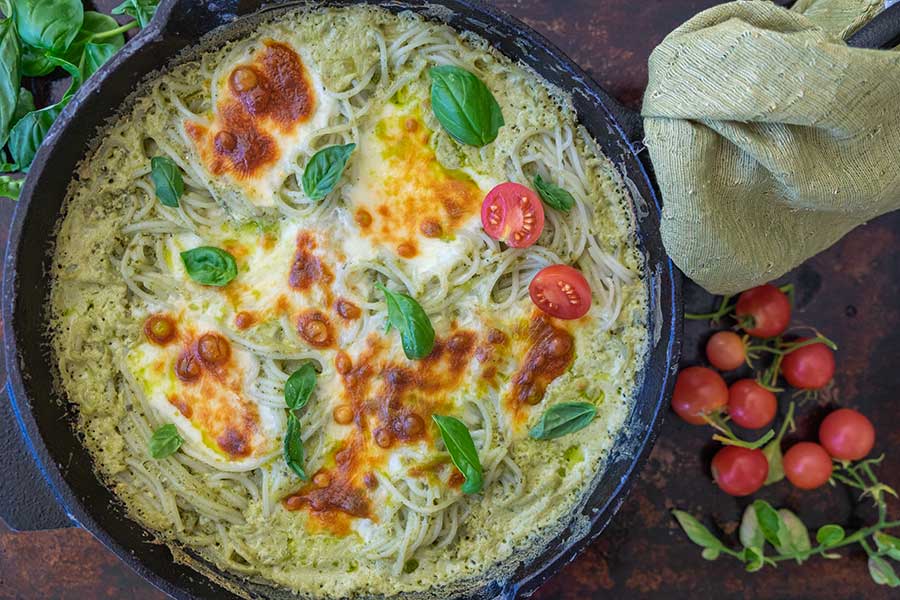 Easy Thai Cashew Chicken Ramen → recipe
A flavourful creamy Thai Cashew Chicken Ramen is a hot, hearty meal cooked under 30 minutes. This recipe is based on Japanese noodle dish called ramen with added Thai flavours.
The entire meal is made in one pot using healthy ingredients. Loaded with fresh veggies briefly cooked in a creamy lightly spiced broth with chicken and gluten-free noodles.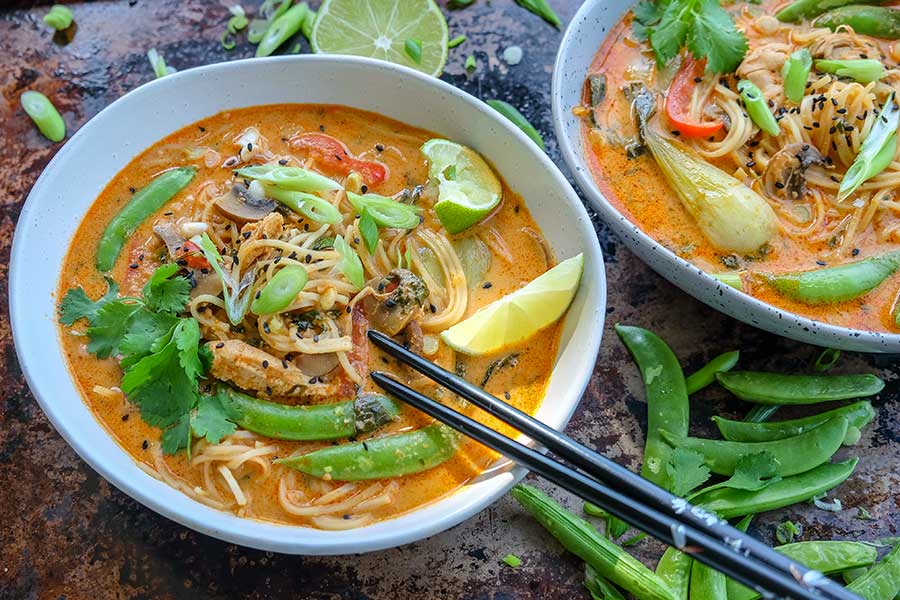 Gluten-Free Ground Beef and Mushroom Casserole → recipe
This Ground Beef and Mushroom Casserole is a thirty-minute weeknight noodle recipe. The gluten-free noodles are smothered with a cheesy, meaty sauce seasoned with basil and oregano.
This quick and easy gluten-free casserole is great for any night of the week because you can have it ready on the table in under thirty minutes.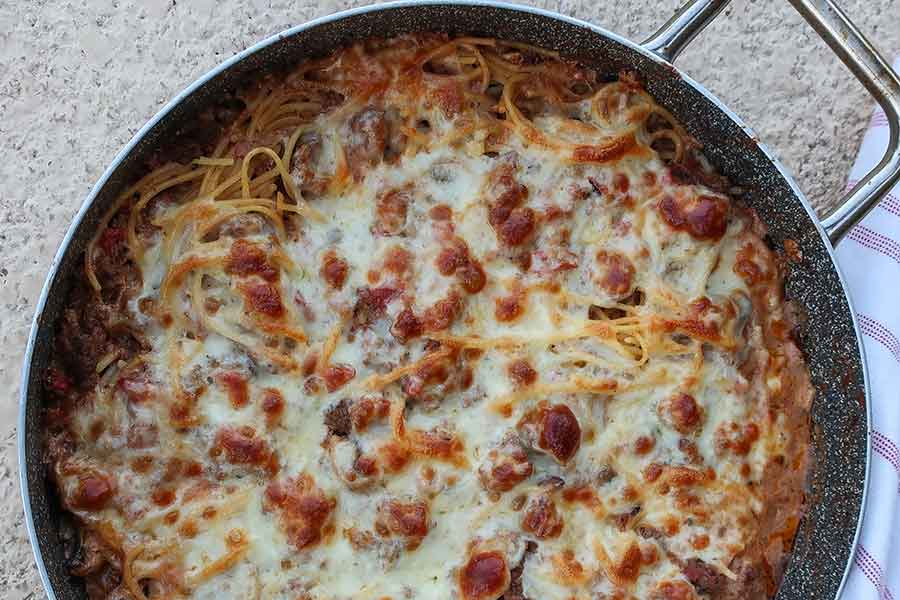 Leftover Chicken or Turkey Singapore Style Noodles → recipe
Let's talk about leftovers! Turn turkey or chicken leftovers into a Singapore style gluten-free noodle dish. This means snow peas, mushrooms, bell peppers, carrots, rice vermicelli and spices such as curry, garlic and ginger.
And at the end, all you have to add is leftover chicken or turkey. This is a delicious noodle dish made with leftovers.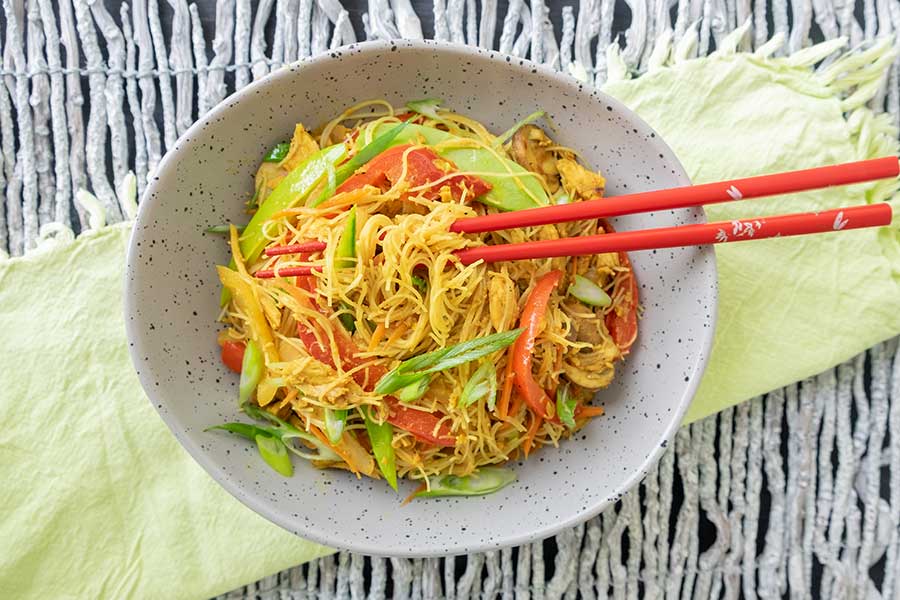 Affiliate Disclosure: Only Gluten-Free Recipes is a participant in the Amazon Services LLC Associates Program, an affiliate advertising program designed to provide a means for sites to earn advertising fees by advertising and linking to amazon.com. Please check out my sponsorship and disclosure policy page for more details