Coconut Curry Noodles With Fresh Vegetables (Vegan, Gluten-Free)
Published on Aug 13, 2018
by
Kristina Stosek
Prep Time:

15 minutes
Cook Time:

10 minutes
Serves:

4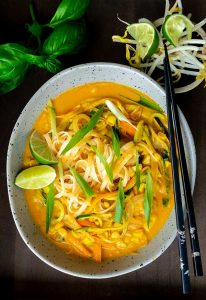 ​This post may contain affiliate links, please see our
privacy policy
for details
Gluten-Free Noodles with Vegetables in a Light Curry Sauce recipe made simply and healthily for today's needs. More and more people simplify their cooking and choose healthier ingredients to create well-balanced meals.
If I have a favourite gluten-free noodle dish, this Coconut Curry Noodle recipe with fresh vegetables is probably on top of my list. Healthy ingredients are simply prepared to deliver oodles of flavour in a nutritious way.
best vegetables for curry noodles
To make this coconut curry noodle dish, I used a mix of carrots, fresh corn, and zucchini. However, you can use any in-season vegetables you have on hand.
the spices that give this gluten-free noodle dish Thai flavour
I added onions, garlic, ginger, Thai curry paste, sesame oil, tamari sauce, lime juice, and fresh basil to add rich tastiest flavour.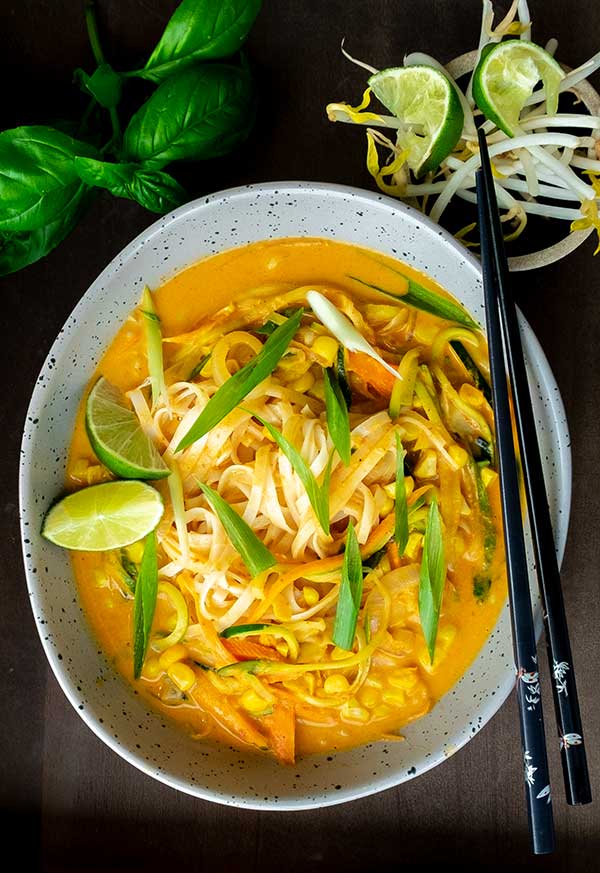 To make this gluten-free noodle dish extra creamy, I added coconut milk. The noodles with healthy veggies in a creamy coconut sauce is a hearty and satisfying dish.
This diet-friendly recipe is about fresh, tender veggies cooked briefly in a rich coconut curry sauce mixed with rice noodles. A gluten-free, vegan healthy recipe not to be missed!
this is a noodle dinner recipe under 30 minutes
With only minutes to cook, this gluten-free noodle dish is ideal for a weeknight meal. Its simplicity and delicious flavour make this vegan recipe a favourite curry noodle dish any day of the week. Serve as a vegan main or a side with your favourite protein.
Another noodle recipe you may enjoy is the 30-Minute Creamy Thai Chicken with Noodles.
Let's Connect!
Be sure to FOLLOW US on FACEBOOK and PINTEREST.
Many thanks!
Kristina xx
Coconut Curry Noodles With Fresh Vegetables (Vegan, Gluten-Free)
Published on Aug 13, 2018
by
Kristina Stosek
Instructions
1.

Heat coconut oil in a non-stick wok or cast iron skillet over medium-high heat. Add onions and cook for 3 minutes. Add corn, carrots, zucchini, ginger and garlic. Stir-fry for 3 minutes

2.

Stir in curry paste, then add coconut milk, tamari sauce, maple syrup and sesame oil. Bring the sauce to a boil and continue cooking 3 more minutes Remove from the heat and stir in lime juice and basil

3.

To serve, divide noodles between four bowls and pour the curry veggie sauce over the top. Serve with bean sprouts, jalapeno peppers, fresh basil and lime wedges