Parsley Black Beans & Tomatoes Pasta (Gluten-Free, Vegan)
Prep Time
5 Minutes
Difficulty
Easy
Cook Time
15 Minutes
Serves
4
Average Rating: 4.5 | Rated By: 6 users
Today it's all about fast and easy gluten-free pasta recipe. I believe that any day is a good day for delicious pasta dinner.
This ridiculously easy recipe is all about fresh parsley, black beans, fresh cherry tomatoes, plenty of fresh garlic and olive oil tossed with gluten-free noodles. There is nothing complicated about this recipe! This pasta dish makes for an unforgettable Italian gluten-free meal.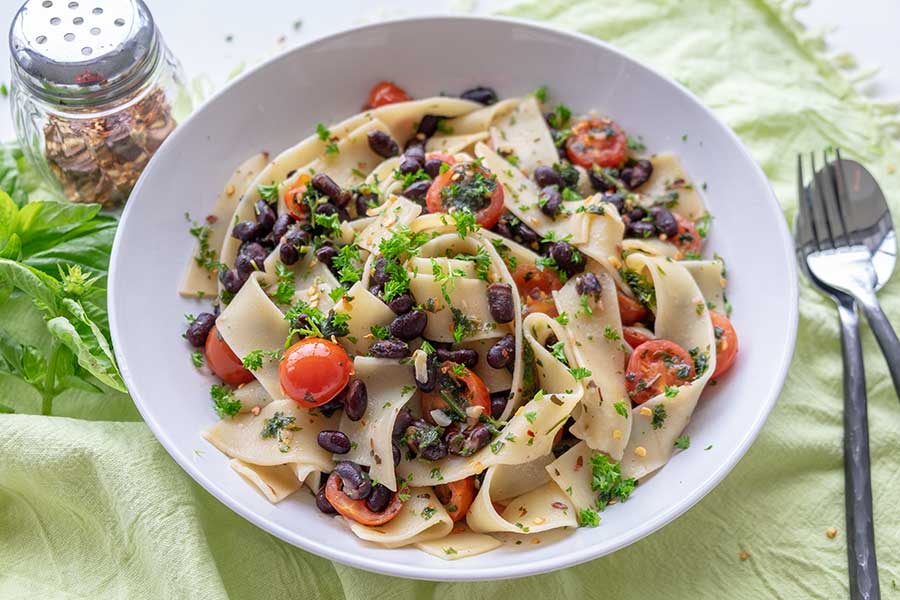 This is a vegan pasta recipe, but feel free to add some shredded leftover chicken in the mix or top with loads of grated Parmesan cheese. This is probably the easiest pasta recipe that I have made and packed with so much goodness and flavour. Feeling adventurous, add gluten-free garlic cheese monkey bread for that ultimate Italian experience
On a healthy note, I would like to add that not only does parsley enhance flavour in our food and is used for presentation, but it is also high in vitamin C, A, K and iron, all of which promote good health.
Ingredients
10 oz. gluten-free long pasta, such as spaghetti, linguini, fettuccini or pappardelle
1/3 cup extra virgin olive oil
2 cups chopped fresh parsley (about 1 large bunch)
5 garlic cloves, chopped
1 tsp. GF dried basil
1 tsp. GF hot chilli pepper flakes or to taste (I used 2 teaspoons)
8 oz. cherry tomatoes, halved
1 1/2 cups cooked black beans, you can use canned. Just drain and rinse the beans
Pure sea salt to taste
Optional garnish; fresh basil
*As an Amazon Associate and member of other affiliate programs, I earn from qualifying purchases. Please check out my sponsorship and disclosure policy page for more details
Instructions
Bring a large pot of well-salted water to boil. Add pasta and cook until al dente, firm to bite.
While the pasta is cooking, in a large non-stick pan heat olive oil over medium heat. Add garlic and cook for 1 minute. Stir in parsley and cook for 5 minutes, stirring frequently
Stir in basil, chili pepper flakes, tomatoes, and season with salt. Cook while stirring for 2 minutes
Stir in black beans and cook until the beans are heated through. About 2 minutes. By this time the pasta will be cooked. Drain the pasta and reserve 1/2 cup of the liquid
Add hot pasta with 1/2 cup of reserved liquid to the pan and gently toss until pasta is well coated and everything is heated through. About 2 minutes
Serve hot
Similar Recipes
Charred Red Pepper Spicy Pumpkin Sauce Pasta (Gluten-Free, Vegan)
A new twist on pasta sauce, but without garlic? All you need is charred peppers, steamed veggies all seasoned with miso and a little coconut cream to make this Italian-like meal. It's a bowl of fresh veggies turned into comfort food. An easy, healthy vegan recipe that can be on the table in less than […] Read More
Prep Time
15 Minutes
Difficulty
Easy
Cook Time
15 Minutes
Serves
4
Gluten Free Roasted Veggie Pasta
In this tasty gluten-free vegetarian pasta recipe, the vegetables are roasted al dente in their flavourful juices and then tossed with your favourite pasta. This simple pasta recipe takes just minutes to prepare, making this a favourite anytime vegetarian meal   Read More
Prep Time
5 Minutes
Difficulty
Beginner
Cook Time
20 Minutes
Serves
4
Vegan Lentil Bolognese
Lentil Bolognese is another delicious high protein vegan Italian dish. Simply to prepare with all the rustic flavours, you find in classic Bolognese sauce. This hearty vegan lentil bolognese sauce is also naturally gluten-free. Serve over spaghetti squash and keep it entirely grain-free or serve over gluten-free pasta or rice Read More
Prep Time
10 Minutes
Difficulty
Easy
Cook Time
35 Minutes
Serves
4