Gluten-Free Vietnamese Rice Noodle Salad
Prep Time
15 Minutes
Difficulty
Easy
Cook Time
5 Minutes
Serves
6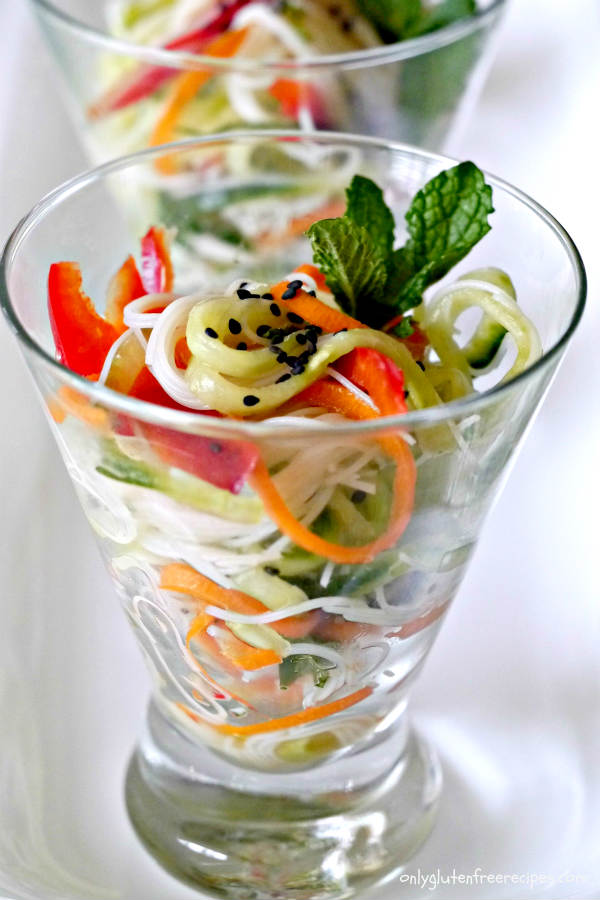 Average Rating: 4.5 | Rated By: 3 users
This is a light, refreshing salad low in calories and fat, marinated in Vietnamese dressing. There are many ways you can serve this tasty salad, such as a starter, side or as a vegan main
Ingredients
3 oz. uncooked gluten-free maifun noodles (angel hair rice noodles)
1 English cucumber, cut with a spiral slicer or cut into thin strips
2 carrots, cut with a spiral slicer or cut into thin strips
1 red bell pepper, thinly sliced
2 tbsp. chopped fresh mint
1 Tbsp. black sesame seeds and fresh mint for garnish (optional)
FOR THE DRESSING
1/4 cup fresh lime juice
2 Tbsp. agave nectar
1 Tbsp. fish sauce
1 tsp. sesame oil
2 garlic cloves, minced
GF hot chilli pepper flakes to taste (optional)
Instructions
Prepare noodles as per package directions
While the noodles are softening, prepare your dressing by mixing together the ingredients.
Place noodles, dressing and vegetables in a large bowl and toss until all ingredients are well coated with the dressing. Cover and refrigerate for an hour or overnight.
Toss just before serving, sprinkle with sesame seeds and garnish with fresh mint.
Similar Recipes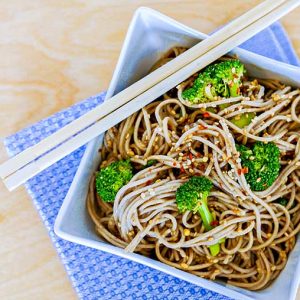 Gluten Free Spicy Soba Noodles And Broccoli Salad
During hot summer months, this delicious gluten-free vegan Japanese noodle salad is especially refreshing. Soba noodles are low in calories, high in fiber and protein. When following a vegan diet this gluten-free spicy soba noodle salad makes a nice change to typical green salads. Serve cold or warm Read More
Prep Time
10 Minutes
Difficulty
Easy
Cook Time
5 Minutes
Serves
4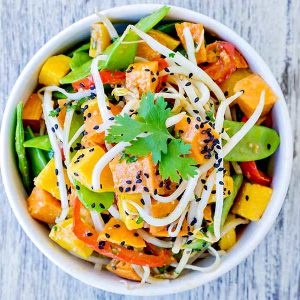 Roasted Veggies And Sweet Miso Noodle Salad
When it comes to a tasty, healthy salad, it is all about the dressing and balance, not too much of one thing. In the summer months particularly, this Japanese inspired salad is refreshing because it is served cold. The sweet miso adds tremendous flavour to this comforting salad that is enjoyed for its simplicity. Serve […] Read More
Prep Time
15 Minutes
Difficulty
Easy
Cook Time
15 Minutes
Serves
2-4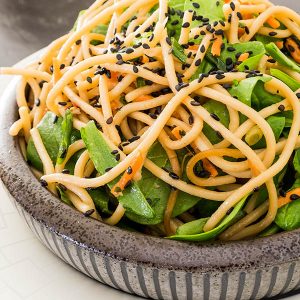 Soba Noodle Spinach and Carrot Salad
Soba noodles are made from buckwheat. Despite the misleading name, buckwheat is not wheat it is a fruit seed. This is a great substitute for those that must follow a gluten free diet. Buckwheat has a rich nutty flavour and is easier to digest than a grain. These traditional Japanese noodles are packed with fiber […] Read More
Prep Time
10 Minutes
Difficulty
Easy
Cook Time
10 Minutes
Serves
4