Vietnamese Noodle Salad Lettuce Bowl – Gluten Free
Published on Jul 04, 2019
by
Kristina Stosek
Prep Time:

15 minutes
Cook Time:

8 minutes
Serves:

4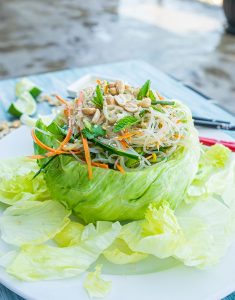 ​This post may contain affiliate links, please see our
privacy policy
for details
This Gluten-Free Vietnamese Noodle Salad is served cold in a crispy lettuce bowl. The salad is light, fresh and flavourful! Add the Vietnamese flavours like mint and cilantro, and you end up with an insanely satisfying Asian-inspired gluten-free noodle salad without the extra calories.
This Vietnamese noodle salad is served in a crispy lettuce bowl. So you know the salad is super fresh tasting.
A gluten-free noodle salad that is anything but boring! To keep the salad gluten-free, I used maifun noodles. Maifun noodles are gluten-free Asian angel hair rice noodles. They are light and sooo good, perfect for cold salads!
I chose these noodles because they are ideal for this cold salad since they are super thin and absorb the flavours from the light dressing, making everything in this Vietnamese dish extra flavourful.
When hot weather hits, salads are on our minds.
And spending time in a hot kitchen is, let's say, not appealing. This is why I love this cold Vietnamese noodle salad.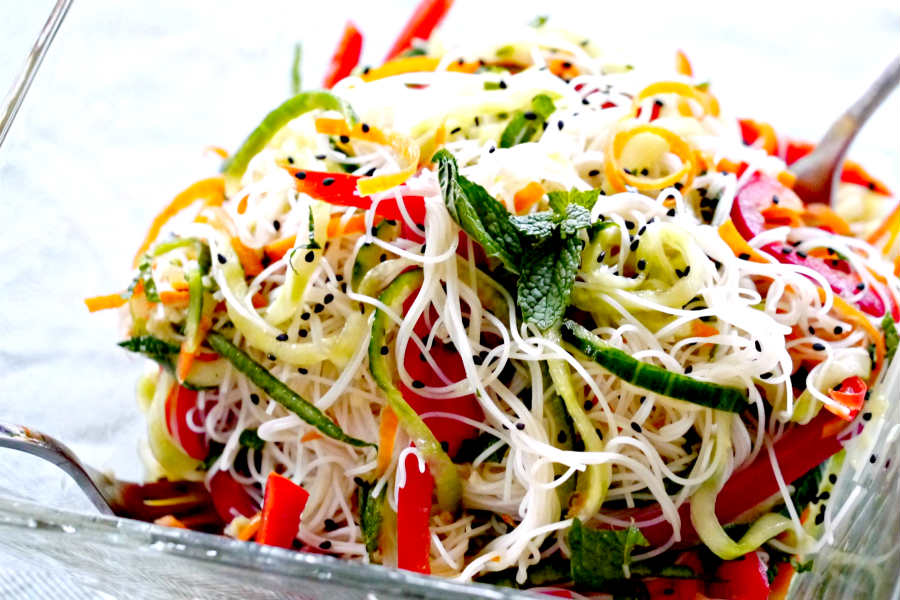 Why not double the recipe?
You can double the recipe and have it ready whenever you are craving some tasty noodles with veggies because this salad tastes even better the next day and the following days.
Since it is summertime, why not check out our selection of beautiful, healthy salads maybe get you inspired? They vary from hearty to light, a salad for every craving.
Like Vietnamese food? Check out these gluten-free Vietnamese recipes. These dishes are so simple that even novice cooks will love them.
Vietnamese noodle salad – the ingredients
This noodle salad is made with in-season vegetables, which makes the Vietnamese dish taste extra fresh. Think fresh crispy cucumber, julienned carrots, bell peppers, spring onions and the mighty snow peas.
And for flavour, mint, cilantro and the tartness of fresh lime juice. To enhance creaminess and add an Asian twist, sesame oil makes the dish.
This Vietnamese noodle salad is served in a crispy lettuce bowl. So you know the salad is super refreshing.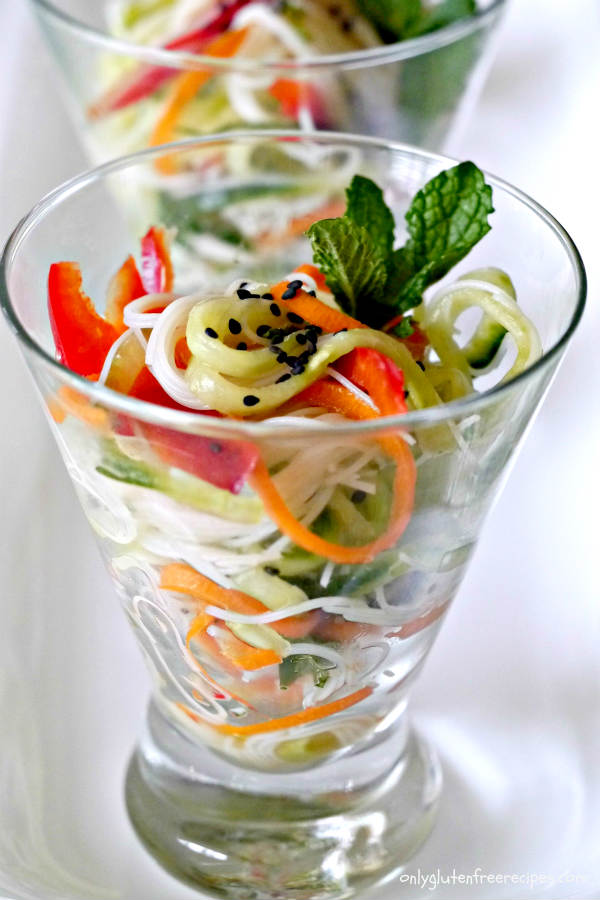 Can I serve the gluten-free noodle salad without the lettuce?
Absolutely, this salad can be served as a side, or as a main over your favourite greens. Or serve it up at large gatherings in a fancy glass.
Honestly, there is nothing not to like in this Vietnamese salad. And, as a bonus, this is a healthy salad lightly seasoned with deliciousness!
So here it is, a gluten-free noodles salad, super fresh, served in a lettuce bowl and filled with rainbow veggies and noodles. Add roasted nuts like peanuts or cashews for protein if you wish, and you are good to go.
Let's Connect!
Be sure to FOLLOW US on FACEBOOK and PINTEREST.
Many thanks!
Kristina xx
Vietnamese Noodle Salad Lettuce Bowl – Gluten Free
Published on Jul 04, 2019
by
Kristina Stosek
Instructions
1.

Prepare noodles as per package directions. Drain and rinse with cold water

2.

While the noodles are softening, whisk together vinaigrette ingredients

3.

Place noodles, cucumbers, carrots, bell pepper, onions, snow peas, cilantro, mint and sesame seeds into a large bowl. Add the vinaigrette and gently toss until everything is well coated

4.

Just before serving, create a salad bowl out of the iceberg lettuce. Using a sharp knife, cut out an opening in the lettuce head leaving about 3/4 inch border on the sides. Fill with the noodle salad

5.

To serve, cut the salad bowl into quarters, and top with peanuts, cilantro or mint
Leave a Comment
Refreshing and satisfying. I love noodles, this recipe has it all, flavour, heartiness and is low in calories.