10 Healthy Gluten-Free Recipes for Summer
Here are our quick and simple to make gluten-free summer recipes, that will keep you cool and energized.
I call this recipe simplicity in itself. This gluten-free, low-calorie kale with cumin chicken salad is packed with antioxidants, vitamins, fiber and protein.
When following a weight-loss diet, eating clean, well-balanced meals is essential. This delicious sesame chicken with sunomono salad has approximately 339 calories per serving. Enjoy!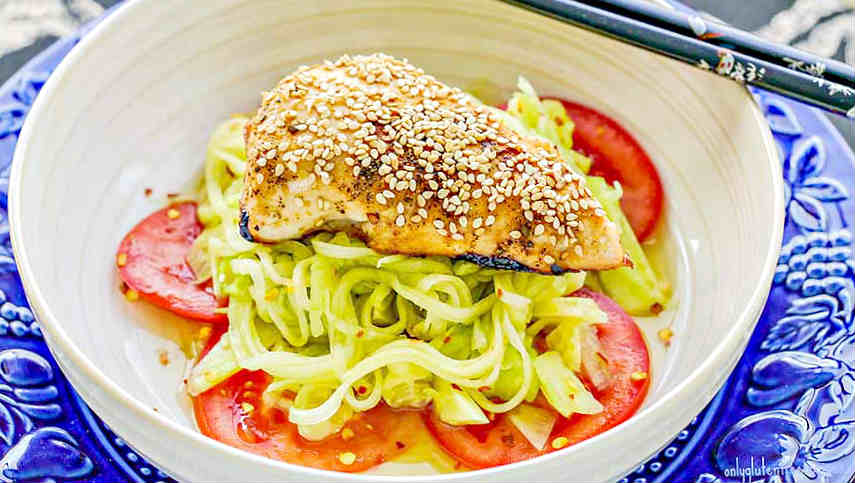 Smoothie bowls are delicious, healthy, satisfying and super easy to make. This nutrient dense smoothie power bowl takes only 5 minutes to prepare. Using fresh fruit as a sweetener with added flax and maca powder makes this smoothie a powerhouse of smoothie bowls.
I have chosen berries and grapes for the topping, but you can select any fresh fruit or nuts and seeds that you desire. Enjoy!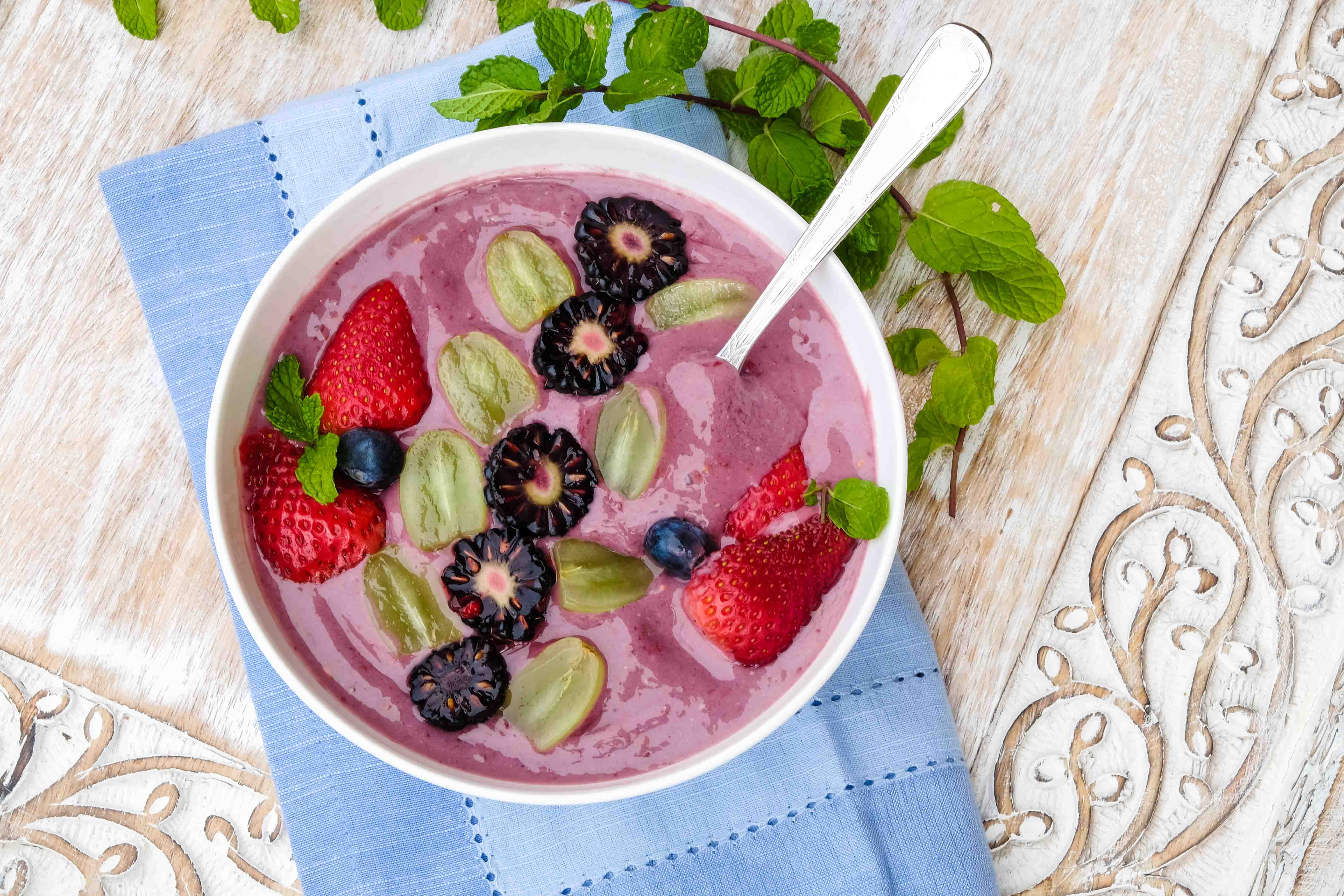 Ditch the traditional flour or corn wraps and bring on collard greens. This delightfully tasty wrap is filled with lightly flavoured roasted veggies and cashew spread. Roasting intensifies the flavour of veggies giving this wrap another dimension.
Collard greens are high in nutrition and low in calories. This green leaf vegetable contains protein, vitamin A, calcium and fiber. When following a healthy gluten-free diet, this wrap is a winner!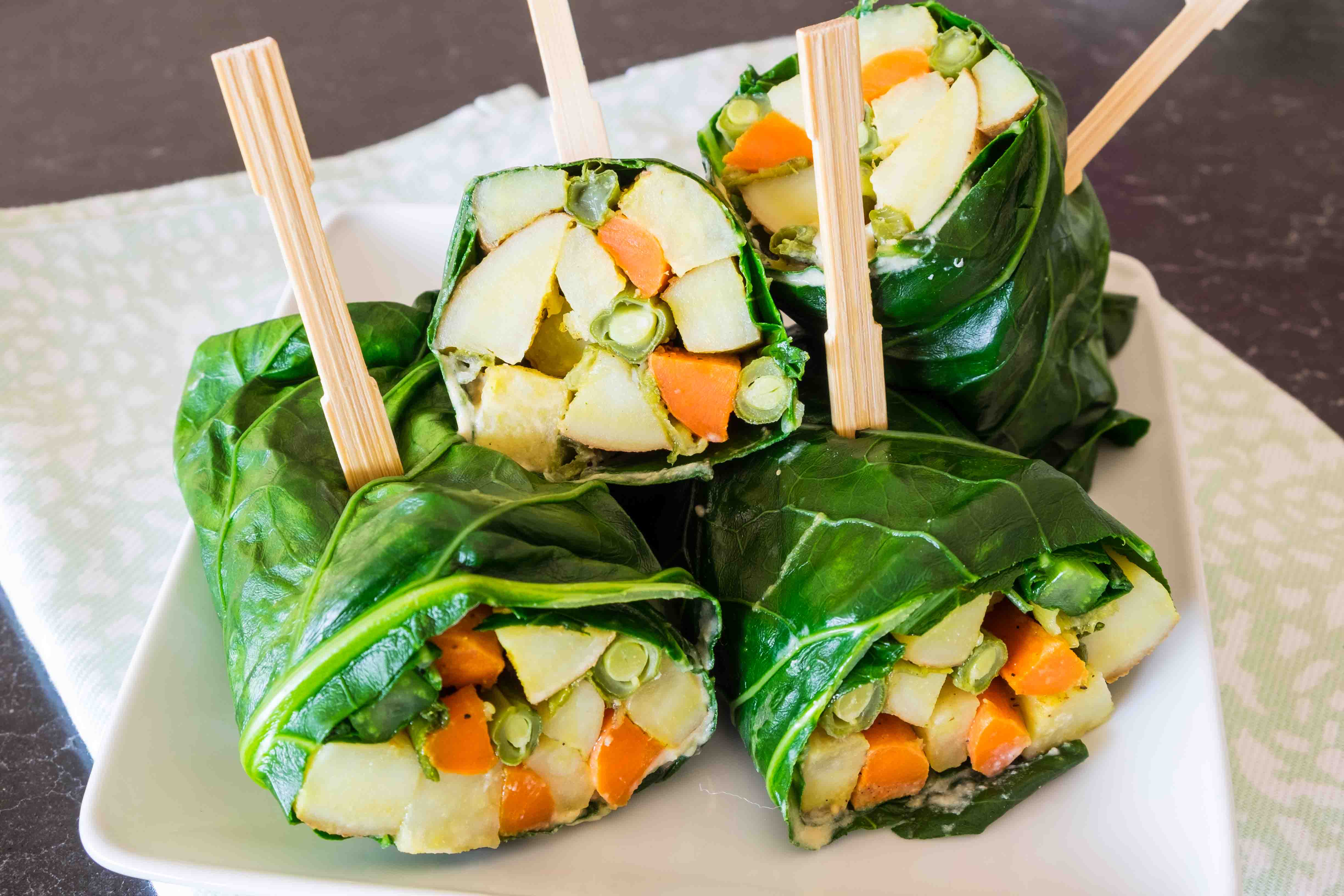 When it comes to a tasty, healthy salad, it is all about the dressing and balance. In the summer months particularly, this Japanese inspired salad is refreshing because it is served cold.
The sweet miso adds tremendous flavour to this refreshing salad that is enjoyed for its simplicity. Serve as a starter, side or a main. This salad has been voted the best gluten free summer salad recipe in our test kitchen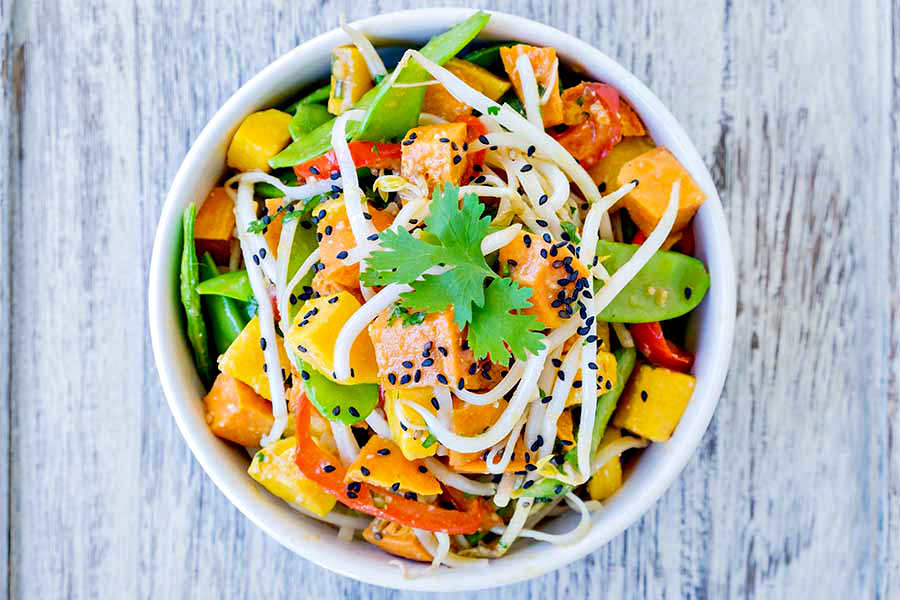 Here is another wonderful grain-free vegan recipe. This Vegan Spaghetti Squash Pad Thai is packed with veggies cooked in a delicious sweet and sour sauce. Adding chopped cashews as a topping is pure magic. This gluten-free recipe is low cal and low fat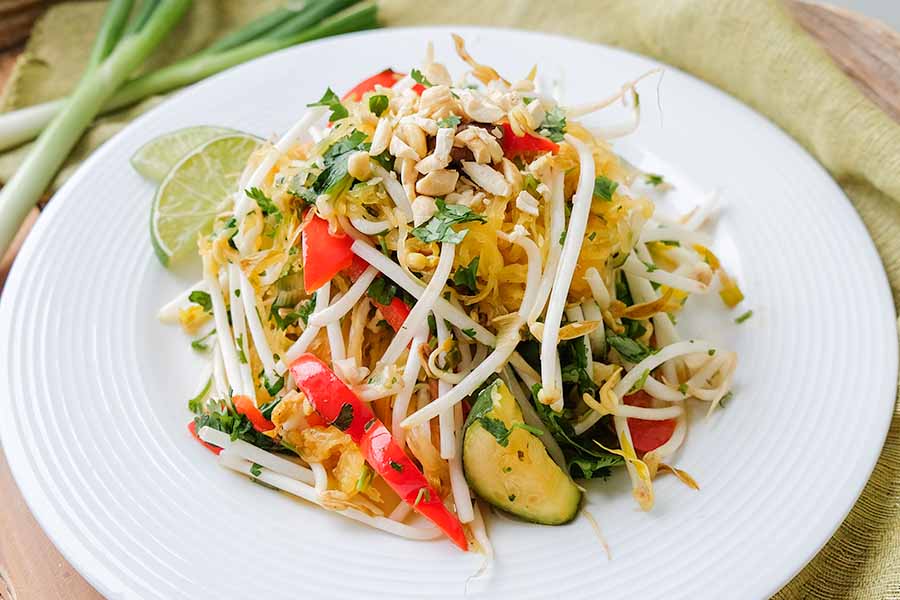 Super-healthy quinoa together with typical Greek vegetables, fresh herbs and the salty punch of feta makes for a delicious gluten-free quinoa salad.
This healthy salad is brilliant served alone or as an accompaniment to grilled meats or fish. Quinoa is well known as a superfood, high in complete protein, fiber, B vitamins, iron and calcium, just to name a few.
Quinoa seed is gluten-free, easy to prepare and has a slightly nutty flavour, making this salad an excellent addition to a well-balanced diet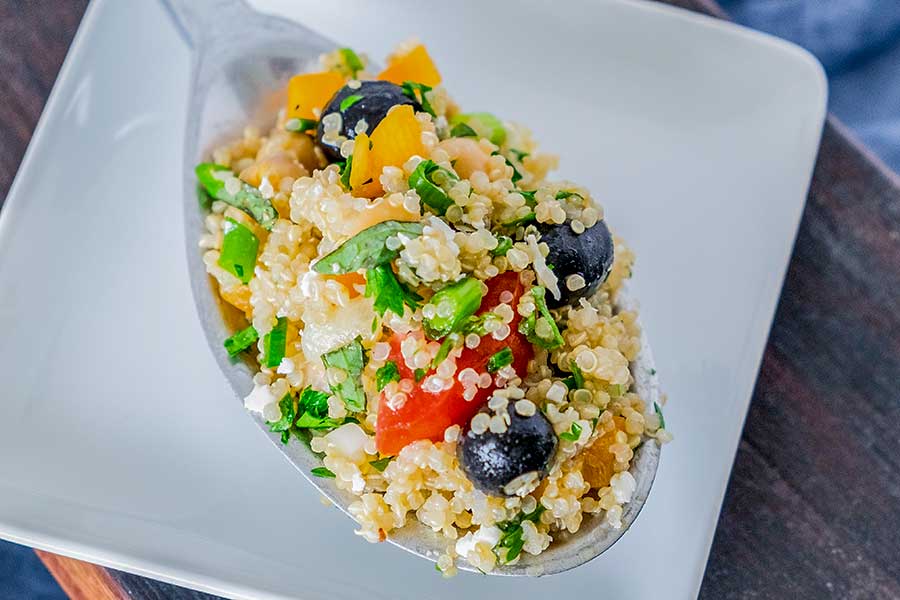 When it comes to salads, it is about textures and balance. In this salad, using interesting textures and a selection of healthy vegetables packed with antioxidants and fiber is what makes this salad spectacular.
For the finish, I added a delightful tamari honey vinaigrette tying everything together to perfection. Serve as a light lunch or a starter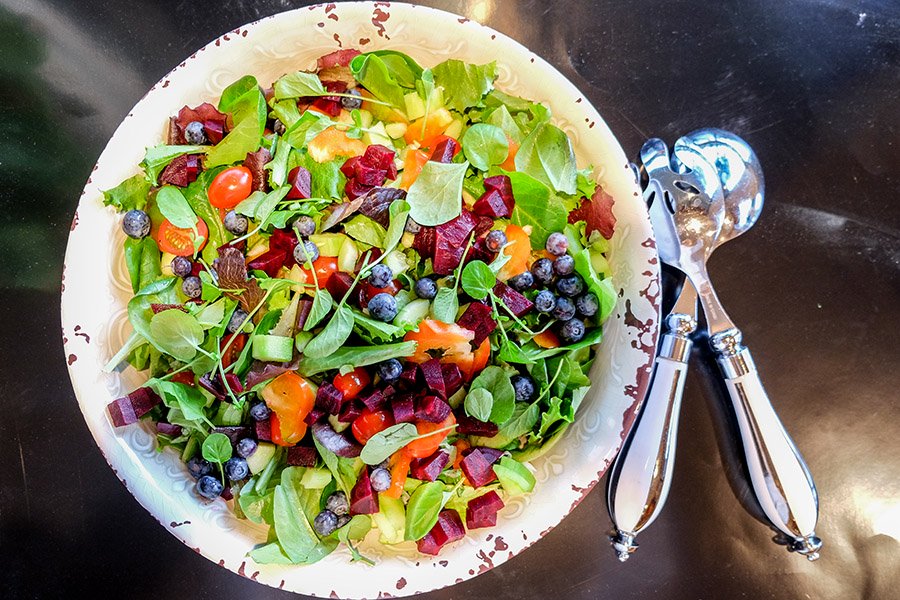 This recipe is a real reviver. The soothing, comforting and gentle flavours of clear broth, will remind you how very delicate, simple food can be. This tasty, healthy soup can be served as is or over rice noodles.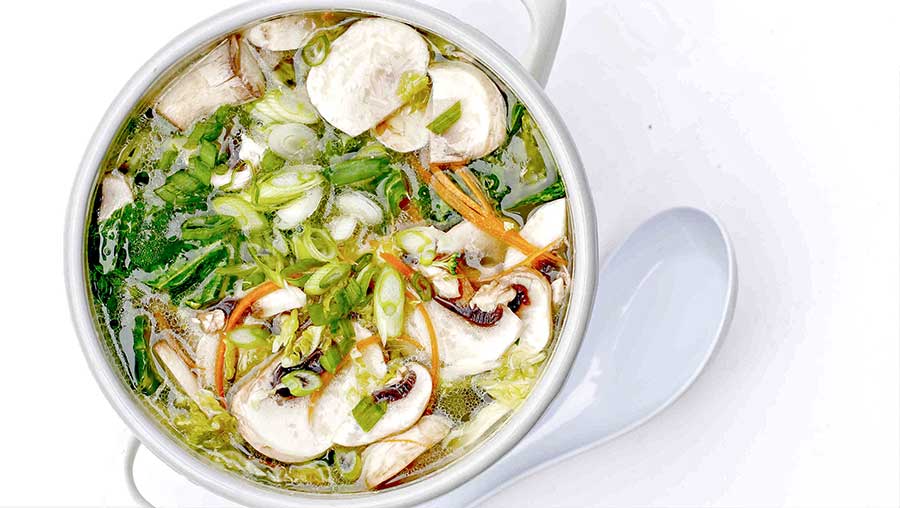 If you are looking for a healthy chicken recipe, look no further. Simple ingredients readily prepared to deliver complex flavour in a nutritious way. The chicken is marinated for ultimate taste, and then baked keeping the chicken tender and juicy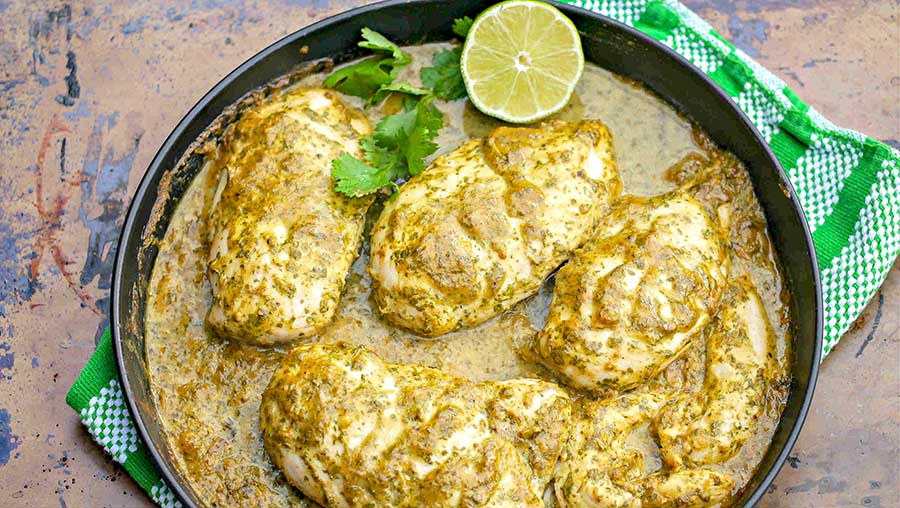 Turmeric and ginger are natures way of helping our bodies lower inflammation. Add chia to the mix and this refreshing apricot turmeric ginger chia smoothie will help to pull toxins from your body and improve your digestive tract.
Also, apricots are low in calories, are an excellent source of vitamin A, Fiber and packed with antioxidants. Enjoy!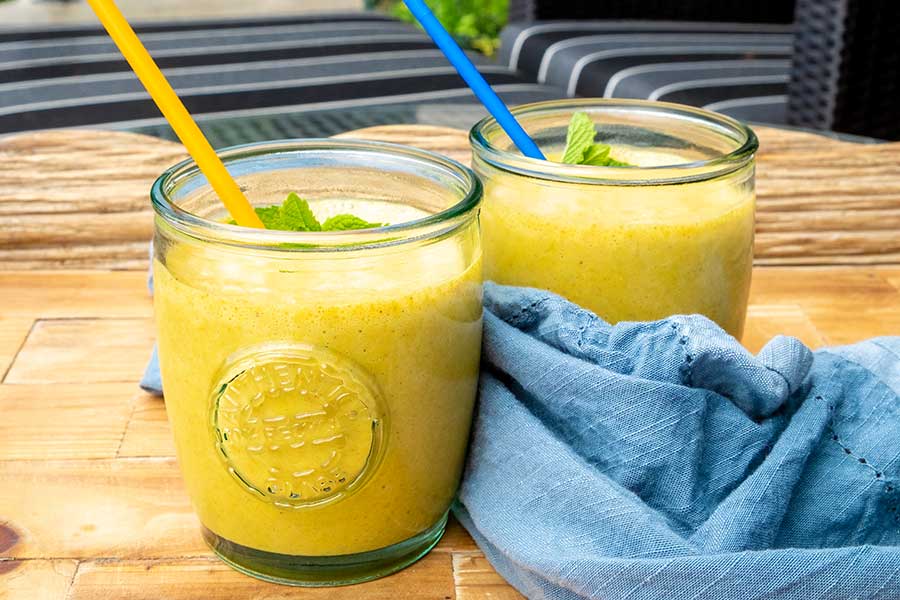 Have an amazing summer!
Kristina xx