Orange and Raspberry Summer Quinoa Salad
Published on Mar 25, 2016
by
Kristina Stosek
Prep Time:

15 minutes
Cook Time:

minutes
Serves:

4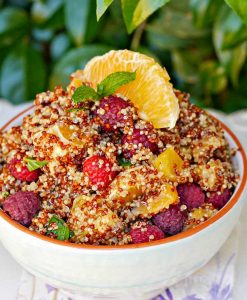 ​This post may contain affiliate links, please see our
privacy policy
for details
A refreshing, healthy Vegan Orange and Raspberry Quinoa Salad to start the summer. Oranges, raspberries, pecans and mint dotted throughout this light and flavourful quinoa salad.
The fresh fruit and quinoa are flavoured with a light vinaigrette keeping this healthy quinoa salad clean and summery.
The vinaigrette is made with fresh lemon juice, maple syrup, olive oil, lemon zest and a hint of cinnamon and cloves. Pairing up deliciously with the fruit, mint and quinoa
healthy summer quinoa salad – the details…
This summer salad takes just minutes to make. But first, you need cooked quinoa. Then combine the fruit, nuts, mint and quinoa. Whisk the vinaigrette ingredients and add to the quinoa mixture.
Quinoa doesn't have much flavour, but the seeds quickly absorb flavours. Once everything is mixed, allow for about two hours for the quinoa to absorb the flavours. Done!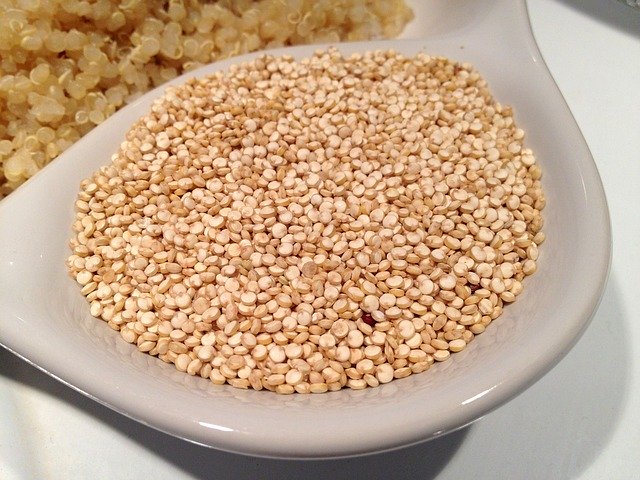 how to cook quinoa?
Before you cook quinoa, you should rinse it well. This goes with all the grains. Have you ever had quinoa that tasted bitter? By rinsing quinoa your will help get rid of the bitter-taste.
If you want two cups of cooked quinoa, such as in this recipe, measure 2/3 cup of dry quinoa with a 2:1 ratio of water—basically 1 cup of dry quinoa to 2 cups of liquid.
Bring the water to a boil, cover and cook over medium-low heat until all the liquid is absorbed—about 15 minutes. If the quinoa still has liquid, keep cooking until it is absorbed.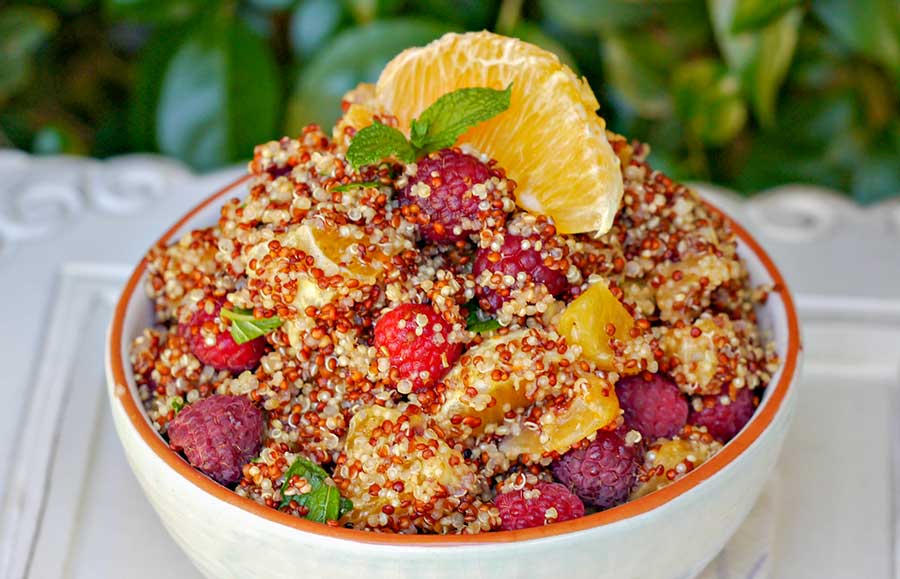 health benefits of quinoa?
Quinoa is a naturally gluten-free grain harvested for its seeds. This tiny seed is an excellent source of plant protein and fiber.
The best part about quinoa, it is a complete protein. This is why this tiny seed is an excellent food for someone following a plant-based diet. Quinoa contains all nine essential amino acids that our bodies are unable to make on their own.
One cup of cooked quinoa provides 8 grams of complete protein and 5 grams of fiber. You can use quinoa in many recipes. A couple of my favourites are Gluten-Free Quinoa Cheese Bread With Onions or the Tandoori Faux Chicken Quinoa Bowl.
You can serve this summer quinoa salad as a main or as a side to your favourite protein. I often keep this refreshing salad in my fridge for snacking.
Whenever I have barbeques for family and friends, I always include this Orange and Raspberry Quinoa Salad. This summer salad keeps well without being refrigerated, making it a good choice for summer barbecues. Enjoy!
Orange and Raspberry Summer Quinoa Salad
Published on Mar 25, 2016
by
Kristina Stosek
Instructions
1.

In a medium size bowl combine cooked quinoa, oranges, raspberries, pecans and mint leaves

2.

Whisk together vinaigrette ingredients and add to the bowl

3.

Gently mix, cover, and chill for two hours, allowing quinoa to absorb all the flavours