Broccoli and Chickpea Quinoa Salad
Published on Nov 16, 2015
by
Kristina Stosek
Prep Time:

15 minutes
Cook Time:

10 minutes
Serves:

4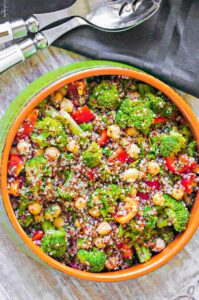 ​This post may contain affiliate links, please see our
privacy policy
for details
This broccoli and chickpea quinoa salad is a healthy and filling meal that is perfect for any time of day. It is packed with nutrients and flavor, leaving you feeling satisfied and energized. This quinoa salad is also plant-based and gluten-free, making it a great option for those with dietary restrictions.
Why add quinoa to our diet?
There are many reasons to add quinoa to our diet. For one, quinoa is a complete protein, meaning it contains all the essential amino acids our bodies need to function properly.
Quinoa is also high in fiber and low in calories, making it an excellent addition to our diet and maintaining a healthy weight.
Additionally, quinoa is a good source of vitamins and minerals, including iron, magnesium, and phosphorus.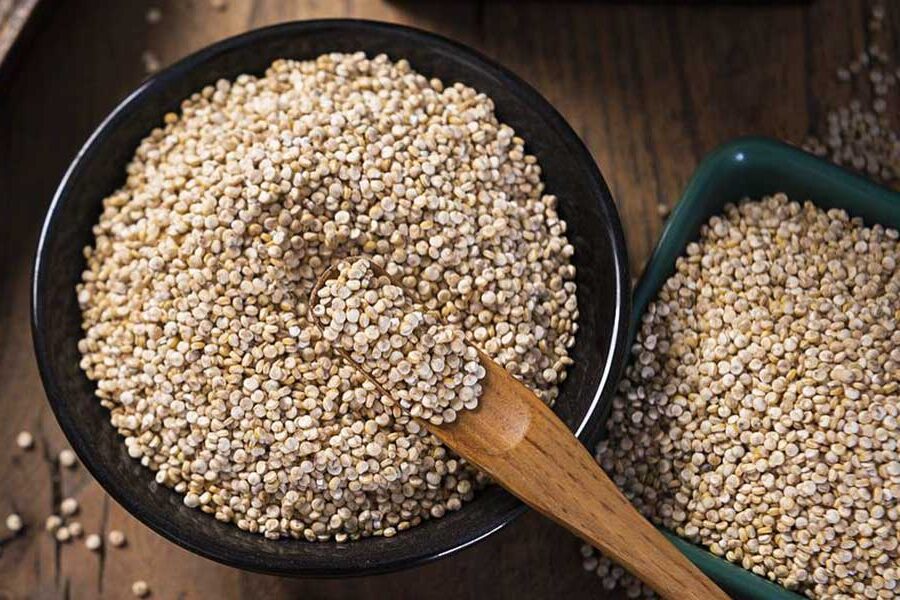 FAQs about quinoa
1. What is quinoa?
A. Quinoa is a grain crop that is grown for its edible seeds. It is a pseudocereal, meaning that it is not an actual cereal grain like wheat or rice but has a similar nutritional profile.
2. How do you cook quinoa?
A. Quinoa can be cooked in the same way as rice. It can be boiled in water or broth or cooked in an electric pressure cooker. For best results, rinse the quinoa seeds before cooking to remove any bitterness.
3. What are the benefits of quinoa?
A. Quinoa is a healthy food choice because it is high in nutrients and low in calories. It is also gluten-free, making it a good option for people with celiac disease or gluten intolerance. Quinoa is also a good source of plant-based protein, making it a suitable choice for vegetarians and vegans.
Why are chickpeas excellent for a plant-based diet?
Chickpeas are an excellent source of plant-based protein, making them a great addition to any diet.
They're also low in fat and high in fiber, which can help keep you feeling full and satisfied. Plus, chickpeas, also called garbanzo beans a good source of iron and other essential nutrients.
Is broccoli a superfood?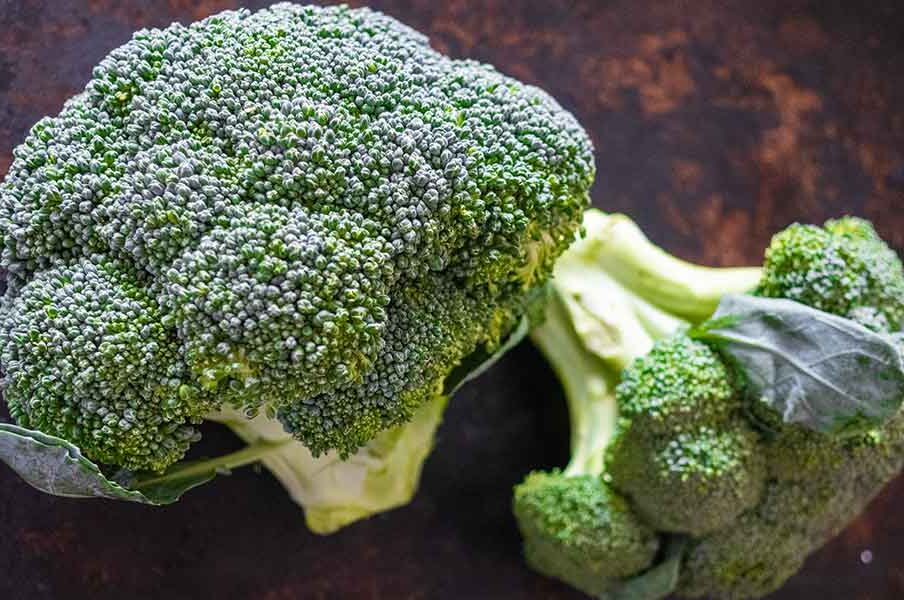 In this quinoa salad, broccoli adds a wealth of nutrition. Yes, broccoli is a superfood! It's packed with vitamins, minerals, and antioxidants that can help boost your health in many ways.
Some of the benefits of eating broccoli may include a lower risk of cancer, better heart health, and stronger bones. Plus, it's a great source of fiber and protein.
So go ahead and add some broccoli to your next salad!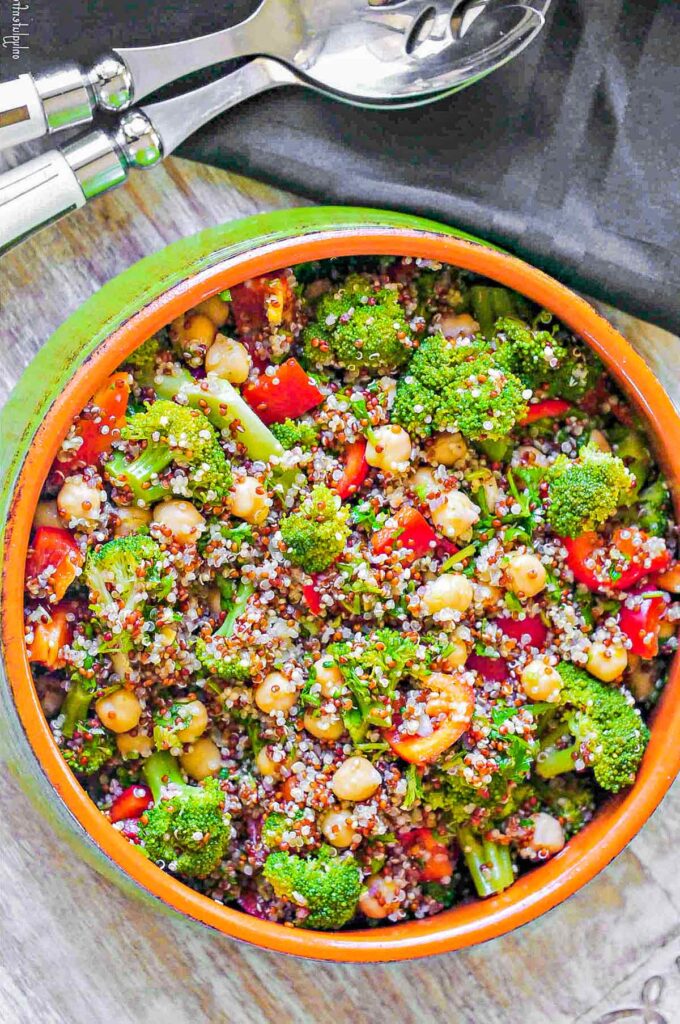 healthy salad trends featuring quinoa today
Quinoa is an excellent option if you're looking for a healthier, nutrient-rich salad to make for lunch or dinner. This nutrient-rich seed is considered healthier than most other grains added to salads.
quinoa is versatile
Plus, quinoa is incredibly versatile and can be used in various recipes. A couple of our favorites are, Easy Greek Quinoa Salad, and the Gluten-Free Quinoa Cheese Bread with Onions.
One of our favorite quinoa salads is this Broccoli and Chickpea Quinoa Salad because it includes superfoods such as broccoli, chickpeas, quinoa, lemon juice, and olive oil.
broccoli and chickpea quinoa salad is an excellent meal prep dish
This salad is perfect for meal prep or to take on the go. Simply make it ahead of time and pack it up in individual containers for an easy and healthy lunch option during the week.
storing

broccoli and chickpea quinoa salad
Store in an airtight container up to five days in the refrigerator. Serve cold or at room temperature.
serve as a main
This quinoa salad is a great way to turn a simple side dish into a main meal, especially for someone following a plant-based or vegetarian diet.
This salad is a great way to eat healthily and feel satisfied. The quinoa provides filling protein and fiber, while the broccoli and chickpeas add vitamins, minerals, and antioxidants.
The light dressing combines lemon juice, olive oil, herbs and garlic and ties it all together with a flavorful punch. This salad can be enjoyed as is or served over a bed of greens. Enjoy!
Let's Connect!
Be sure to FOLLOW US on FACEBOOK and PINTEREST.
Many thanks!
Kristina xx
Broccoli and Chickpea Quinoa Salad
Published on Nov 16, 2015
by
Kristina Stosek
Instructions
1.

Steam broccoli until just tender. About 5 minutes

2.

Add broccoli, quinoa, chickpeas, and red pepper into a large bowl

3.

In a separate bowl, mix lemon juice, olive oil, parsley, cilantro, maple syrup, garlic and lemon zest. Add to the quinoa and veggies and stir to combine. Season with salt and pepper to taste

4.

Refrigerate for 4 hours or overnight. Stir just before serving