Gluten-Free Quinoa Cheese Bread with Onions
Published on Apr 03, 2020
by
Kristina Stosek
Prep Time:

10 minutes
Cook Time:

45 minutes
Serves:

1 loaf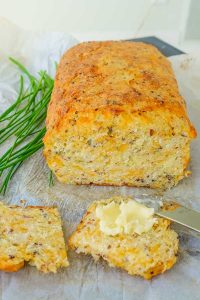 ​This post may contain affiliate links, please see our
privacy policy
for details
This coming weekend is a good time to bake a wholesome Gluten-Free Quinoa Cheese Bread with Onions… so much flavour from the caramelized onions in this hearty cheesy bread. This quinoa cheese bread does not need anything else, it is tasty and good to eat just as is, and has also a good bread texture.
Is this gluten-free quinoa cheese bread healthy?
Short answer YES! Let me tell you why. This rustic bread is made with ingredients that add more than just flavour and texture. Let's examine why. The basic ingredients in this quinoa cheese bread are olive oil, onions, quinoa, yogurt, parsley, cheese, cornmeal and rice flour.
This makes this yeast-free and xanthan-free bread rich in protein, fiber, calcium and beneficial antioxidants. All things that promote good health and keep us energized. For our body to stay healthy it is important to follow a well-balanced diet.
Why use quinoa in bread recipes?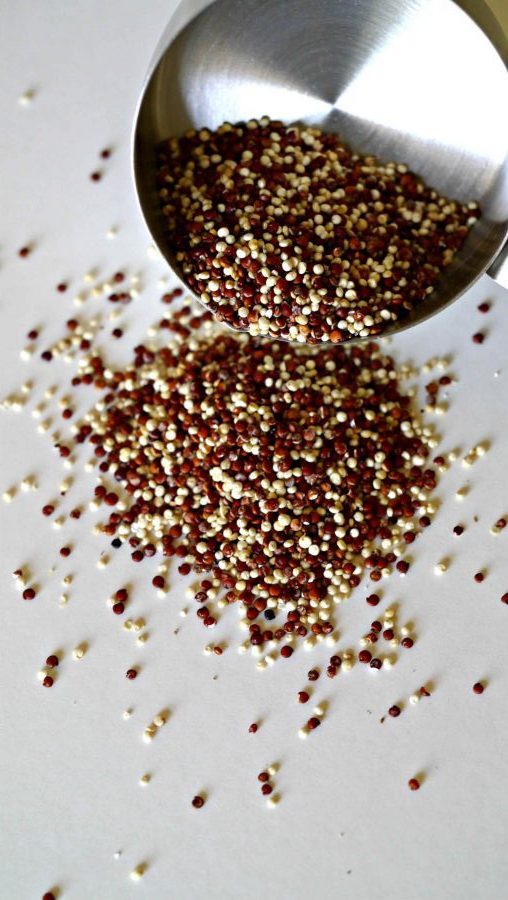 Quinoa is a well known super seed, sometimes called a grain. This tiny seed is packed with protein and fiber. It also contains nine essential amino acids so it is excellent gluten-free plant food, especially for those that follow a plant-based diet.
Quinoa adds texture and mildly nutty flavour to baked goods making them heartier and more flavourful. By including quinoa in this bread recipe, I cut back on other nutrient-poor grains.
This tiny seed has a distinct flavour that some people may not like. This is why it's important to use just the right amount of quinoa in a recipes. In this gluten-free quinoa bread recipe, I used a good mix of quinoa to get the health benefits and the right texture without overpowering the flavour of this delicious bread.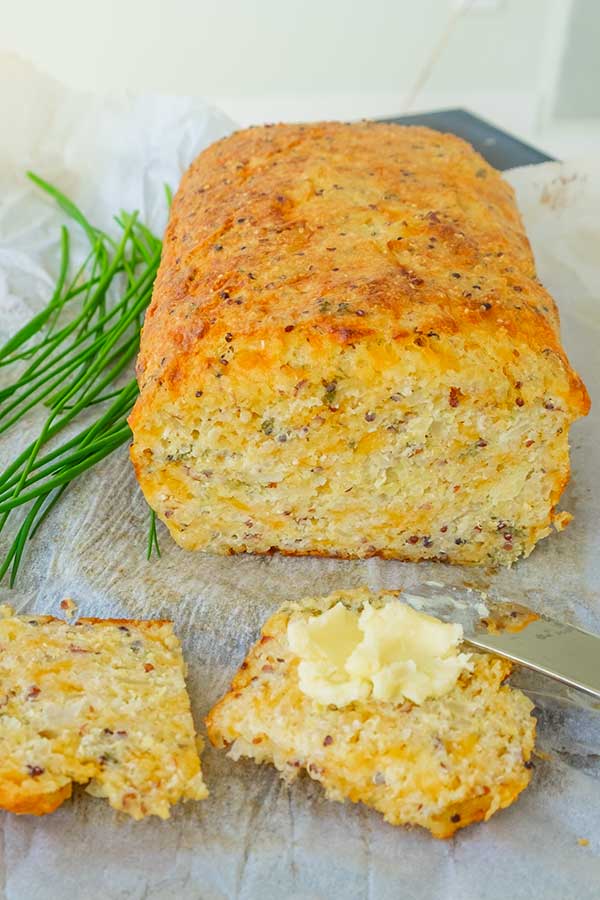 Few things to keep in mind about this gluten-free bread!
This gluten-free bread recipe is excellent for sandwiches. Unfortunately, it does not toast well because it is packed with so much goodness and textures. My favourite toppings for this bread are avocado, egg salad, salmon or fresh tomatoes.
You will like making this bread because it is super easy 🙂 I hope you will enjoy this bread as much as my family does.
Love home made freshly baked bread? Check out our complete list of savoury and sweet gluten-free bread recipes
Gluten-Free Quinoa Cheese Bread with Onions
Published on Apr 03, 2020
by
Kristina Stosek
Instructions
1.

Preheat oven to 400 F and line a standard 9 x 5-inch loaf pan with parchment paper

2.

Sauté onions over medium heat in 1 tablespoon of olive oil until they start to caramelize. About 5 minutes. Set aside to cool

3.

Using a medium bowl, mix cornmeal, rice flour, baking powder and salt

4.

In a large bowl whisk together eggs, 1/3 cup olive oil, yogurt, milk and parsley. Add quinoa, onions and dry ingredients and mix to combine. Stir in cheese.

5.

Transfer batter into prepared loaf pan and bake for 45 minutes or until the loaf bread passes the toothpick test. Cool in the pan for 10 minutes, then transfer to a cooling rack
Leave a Comment
Kristina
Hi there. Can you substitute milk for oat milk ?
Kristina
I forgot to put the yogurt in, but that is one the best dishes I've ever made. Incredibly skilled recipe choices there. So excited to have such a healthy chunky little loaf xxxx
Kristina
Hi, it is 1/3 cup olive oil and all the yogurt 1 1/3 cups, and the onions. Sorry for the confusion, thank you.
Hi the instructions say 1/3 cup of yogurt but the ingredients say 1 1/3 cup X also I'm guessing to put onions in once everything's mixed up thanks
Kristina
Hi Gill, are you thinking of replacing the rice flour? Arrowroot will not work because it is a starch, but you can use sorghum or cassava flour or add a teaspoon of whole psyllium husk to increase the fiber content. Enjoy!
Can I use an alternative flour such as arrowroot? I'm trying to do a high fiber diet.