Tandoori Faux Chicken Quinoa Bowl (Vegan, Gluten-Free)
Published on May 15, 2019
by
Kristina Stosek
Prep Time:

15 minutes
Cook Time:

25 minutes
Serves:

4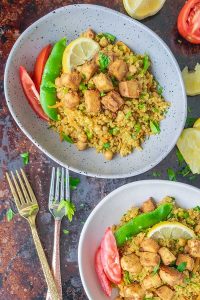 ​This post may contain affiliate links, please see our
privacy policy
for details
I am super excited about this Tandoori Faux Chicken Quinoa Bowl – there is so much flavour going on in this Indian spiced vegan dish. Whether you are following a plant-based diet or need a break from meat, this dish is beyond delicious even without meat!
♥

For the tandoori faux chicken.
In this recipe, I used tofu for the faux chicken. To prepare the tofu, it is first marinated in the most flavourful sauce. Tofu is excellent for marinating because it absorbs the flavours like a sponge. Once the tofu is well flavoured, it is baked until slightly crispy. Super simple.
♥

For the quinoa.
Quinoa is also one of those foods that will absorb flavours easily. This healthy seed is simmered in a well flavoured broth and veggies, resulting in a dish that's rich and flavourful.
♥

To assemble.
This is the fun part, toss everything together and top with various toppings. I love to add fresh tomatoes, snap peas, cilantro and plenty of fresh lemon juice. This faux chicken quinoa bowl is healthy, hearty and super tasty. If you are not that keen on quinoa, once you try this dish, you will change your mind. You will love it!
I love adding quinoa to various gluten-free dishes that I make because of its powerful health benefits. Quinoa is a gluten-free super seed high in protein and one of the few plant foods that contain sufficient amounts of all nine essential amino acids. It is also high in fiber, iron, potassium, calcium, magnesium, B vitamins, vitamin E, phosphorus, and various beneficial antioxidants. So give it a try, and let me know what you think. I always love to hear from you 🙂
Two of my favourite gluten-free vegan dishes are Soba Noodles with Vegetables in Coconut Ginger Sauce and Gluten-Free Vegan Schnitzel
Tandoori Faux Chicken Quinoa Bowl (Vegan, Gluten-Free)
Published on May 15, 2019
by
Kristina Stosek
Instructions
1.

For the tandoori faux chicken; using a large bowl mix all the ingredients except tofu. Add tofu and coat well with the sauce. Cover and set aside for 20 minutes at room temperature

2.

Preheat oven to 400 F and line a baking tray with foil paper

3.

Scatter the tofu on the tray and bake for 20 minutes, then broil for 2 - 3 minutes until the tofu starts to brown. Set aside

4.

While the tofu is baking prepare the quinoa; heat oil in a large saucepan over medium-low heat. Add onion and garlic, sauté until softened. About 3 - 5 minutes

5.

Add the spices and red chili pepper and cook until fragrant, about 1 minute. Add quinoa and coat with the spice mix.

6.

Add chickpeas, carrots, peas, vegetable stock and salt. Bring to boil, reduce heat to low, cover and cook until quinoa is tender about 15 minutes. Remove from the heat and allow for the quinoa to steam for another 5 minutes. Stir in cilantro and faux chicken

7.

Serve in bowls with cilantro and drizzle with fresh lemon juice. Add desired toppings if you wish