Tandoori Faux Chicken Quinoa Bowl (Vegan, Gluten-Free)
Prep Time
15 Minutes
Difficulty
Easy
Cook Time
25 Minutes
Serves
4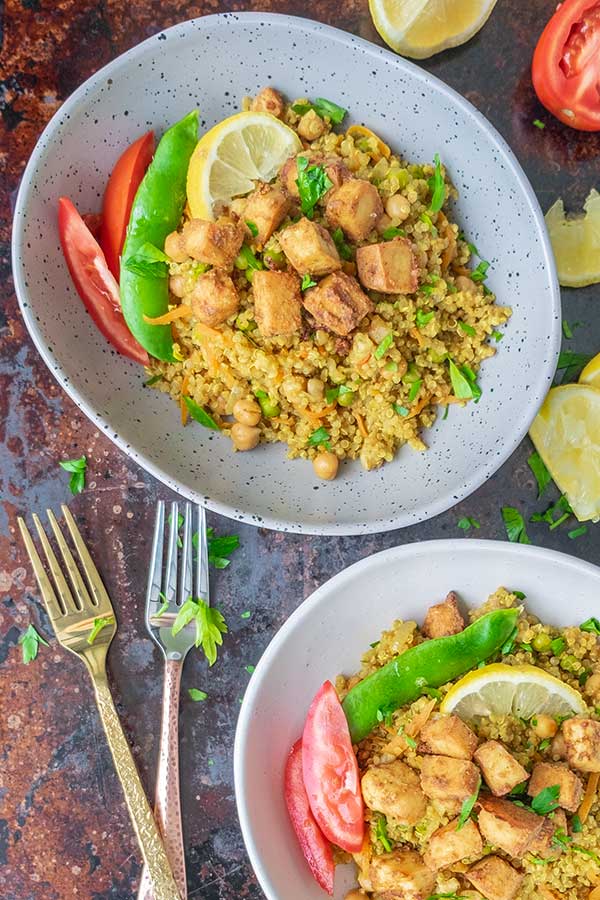 Be the first to rate this recipe.
I am super excited about this so tasty and so different Indian flavoured vegan dish. In this recipe, I used tofu for the faux chicken which is coated with tandoori spices and baked, and the quinoa is made with chickpeas, carrots and peas all cooked in an Indian flavoured broth. This tandoori faux chicken quinoa bowl is so, so flavourful! To finish the dish, drizzle everything with plenty of fresh lemon juice and serve with tomatoes and or snap peas. If you are not a fan of quinoa, you will become one after you try this dish 😀  Quinoa is a gluten-free super seed high in protein and one of the few plant foods that contain sufficient amounts of all nine essential amino acids. It is also high in fiber, iron, potassium, calcium, magnesium, B vitamins, vitamin E, phosphorus, and various beneficial antioxidants. To your health!
Have you visited my online store lately?
Ingredients
TANDOORI FAUX CHICKEN
1/2 cup vegan yogurt (options include soy, coconut, almond, hemp, flax, or cashew) I used cashew yogurt
2 Tbsp. Vegetable oil
1 garlic clove, minced
2 tsp. grated ginger
2 Tbsp. Fresh lemon juice
1 tsp. GF Chili powder
1/2 tsp. GF ground cumin
1/2 tsp. GF garam masala
1/2 tsp. GF ground coriander
1/2 tsp. Himalayan salt
14 oz. block of GF extra firm tofu, drained, cut into 1-inch cubes
QUINOA
1 Tbsp. Coconut or extra virgin olive oil
1/2 small onion, finely chopped
2 garlic cloves, chopped
1 Tbsp. grated ginger
1 tsp. GF ground cumin
1 tsp. GF ground coriander
1 tsp. GF paprika.
1/2 tsp. GF Garam masala
1/2 tsp. GF ground turmeric
1/4 tsp. GF ground cinnamon
1 red chili pepper, deseeded and thinly sliced
14 oz. can chickpeas, rinse and drain well
1 medium carrot, julienned or diced
1/2 cup frozen peas
1 tsp. Himalayan salt or to taste
2 cups GF Vegetable broth or water (the broth intensifies the flavour)
1/2 bunch chopped cilantro, stalks and leaves
Optional toppings; tomatoes, snap peas, cilantro and lemon wedges
Instructions
For the tandoori faux chicken; using a large bowl mix all the ingredients except tofu. Add tofu and coat well with the sauce. Cover and set aside for 20 minutes at room temperature
Preheat oven to 400 F and line a baking tray with foil paper
Scatter the tofu on the tray and bake for 20 minutes, then broil for 2 - 3 minutes until the tofu starts to brown. Set aside
While the tofu is baking prepare the quinoa; heat oil in a large saucepan over medium-low heat. Add onion and garlic, sauté until softened. About 3 - 5 minutes
Add the spices and red chili pepper and cook until fragrant, about 1 minute. Add quinoa and coat with the spice mix.
Add chickpeas, carrots, peas, vegetable stock and salt. Bring to boil, reduce heat to low, cover and cook until quinoa is tender about 15 minutes. Remove from the heat and allow for the quinoa to steam for another 5 minutes. Stir in cilantro and faux chicken
Serve in bowls with cilantro and drizzle with fresh lemon juice. Add desired toppings if you wish
Similar Recipes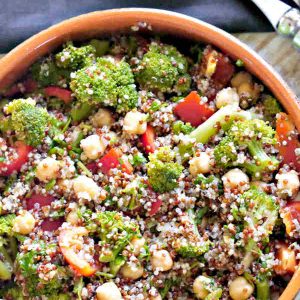 Broccoli and Chickpea Quinoa Salad
This hearty broccoli and chickpea quinoa salad is deliciously flavoured with a light vinaigrette and fresh herbs. Serve as a side with your favourite main, or as a vegetarian entree. This is a delicious light vegan salad Read More
Prep Time
15 Minutes
Difficulty
Easy
Cook Time
10 Minutes
Serves
4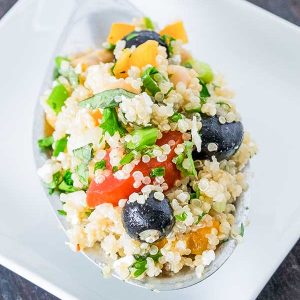 Easy Greek Quinoa Salad
Super-healthy quinoa together with typical Greek vegetables, fresh herbs and the salty punch of feta makes for a delicious gluten-free quinoa salad. This healthy salad is brilliant served alone or as an accompaniment to grilled meats or fish. Quinoa is well known as a superfood, high in complete protein, fiber, B vitamins, iron and calcium, […] Read More
Prep Time
15 Minutes
Difficulty
Beginner
Serves
6
Gluten Free Easy Quinoa and Grapes Pilaf Recipe
This is a simple quinoa recipe with added grapes, herbs and spices. If you are not a fan of quinoa you must try this recipe and you may change your mind. You can serve it cold, warm or hot. Enjoy! Read More
Prep Time
10 Minutes
Difficulty
Easy
Serves
4