Soba With Vegetables In Coconut Ginger Sauce
Published on Jul 22, 2019
by
Kristina Stosek
Prep Time:

15 minutes
Cook Time:

35 minutes
Serves:

4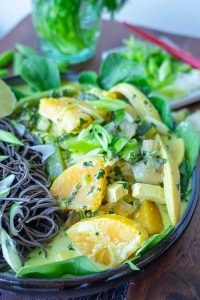 ​This post may contain affiliate links, please see our
privacy policy
for details
A bowl of healthy soba topped with a rainbow coloured vegetables cooked in the most flavourful coconut ginger sauce. This gluten-free healthy noodle dish is oozing with so much flavour and various textures, making it a bowl of comforting goodness!
What is soba?
Authentic soba are noodles made from buckwheat flour and are often used in Japanese dishes. Buckwheat flour has a delicate nutty taste, is high in fiber and is naturally gluten-free.
recipe notes,
In this vegan recipe, I first cooked the veggies such as butternut squash, mushrooms, baby sweet corn, zucchini, tofu, summer sugar snap peas and baby spinach in a light coconut ginger sauce.
Then I topped the warm soba noodles with the tender veggies with the explosively delicious sauce. This Asian-inspired vegan noodle dish is healthy and simple to make. Enjoy!
Do you love noodle dishes? Then check out our tastiest gluten-free noodle recipes!
If you don't have soba noodles, you can serve this dish with rice or rice noodles.
Soba With Vegetables In Coconut Ginger Sauce
Published on Jul 22, 2019
by
Kristina Stosek
Instructions
1.

Heat coconut oil in a large saucepan over low heat. Add garlic, ginger, lemongrass and turmeric. Sauté for 5 minutes, stirring frequently

2.

Add hot water, sugar and salt. Bring to boil and cook for 10 minutes until the liquid is reduced by half

3.

Add coconut milk, butternut squash, mushrooms and corn. Cover and cook over medium-low heat for 10 minutes. Add zucchini, tofu, and peas, and cook for 5 more minutes until the squash is tender

4.

Remove the lemongrass sticks, stir in spinach, cilantro and lime juice, taste and adjust salt as needed. Serve over warm soba