Quinoa Salad With Grapes and Sweet Peas
Published on Mar 06, 2014
by
Kristina Stosek
Prep Time:

15 minutes
Cook Time:

minutes
Serves:

4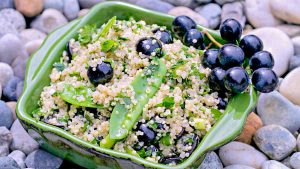 ​This post may contain affiliate links, please see our
privacy policy
for details
Do you have reservations about quinoa? Are you looking for a gluten-free and satisfying salad? Then, why not try this healthy quinoa salad with grapes, sweet peas, and fresh herbs, that is naturally gluten-free and suitable for people following a plant-based diet.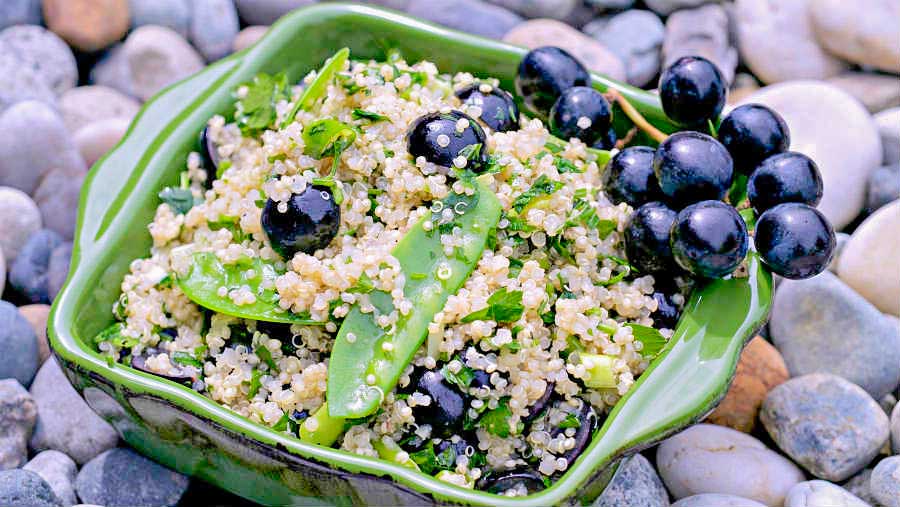 Quinoa salads are nutrient-rich and refreshing!
This quinoa salad recipe is our absolute favorite because it contains ingredients we love, such as grapes, sweet peas, maple syrup, and cilantro. And the dressing is light and fresh, made with apple cider vinegar and olive oil.
It doesn't take long to get bored with eating the same foods repeatedly. That's where this quinoa salad comes in handy! It is sweet, savory, and vegan-friendly. It's delicious and only takes minutes to prepare.
quinoa – a healthy alternative to grains
"What are the health benefits of quinoa?" is a question many people ask when they first come across this healthy food. Some say it's a fad, but others believe it should be an integral part of your diet and could improve your health.
You will repeatedly encounter quinoa in numerous healthy recipes for people who have switched to a strict gluten-free diet. While some people view quinoa as just another name for rice, it is a seed rich in numerous essential nutrients for optimal health – and it's naturally gluten-free.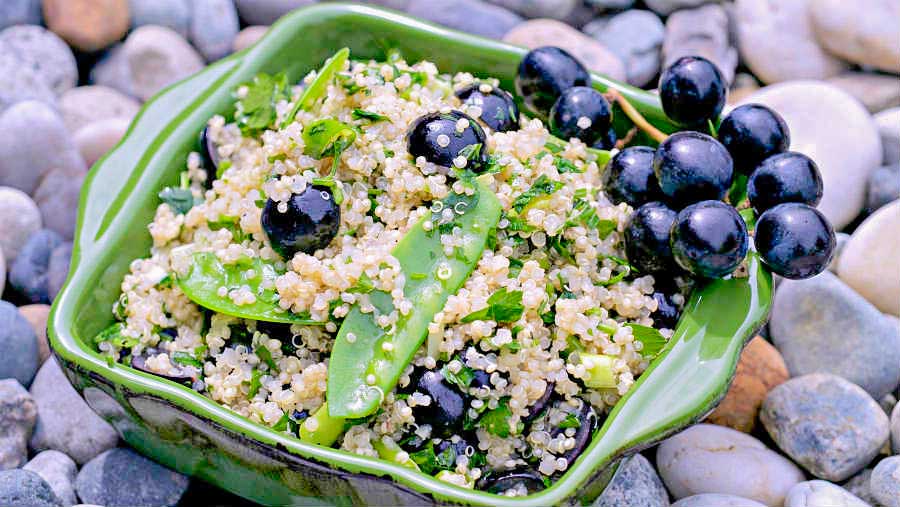 Following a gluten free-diet, quinoa comes up as an alternative to grains. It is considered healthy, easy to cook, and can be used to make other foods like soups, breakfast loaves, snacks, and salads. Quinoa has a mild taste and absorbs the flavor of the food or liquids it is cooked with.
According to Healthline, "Quinoa is the mother of all grains." Quinoa earned this title because,
It is high in fiber than most grains

It contains all essential amino acids, making it a great source of protein

It is suitable for the control of blood sugar due to its low glycemic index

It is high in essential minerals like magnesium and iron

It contains high amounts of antioxidants

It improves metabolic health and many more
healthy quinoa salad with grapes and peas
After learning about the superfood quinoa's nutritional benefits, why not try the quick and easy quinoa salad recipe?

This recipe is so popular that it was featured in Western Living Magazine on how to host gluten free guests. Because this refreshing salad has essential nutrients your body needs without sacrificing taste.
storing
This salad will keep for up to five days when stored in a closed container in the refrigerator.
My take on this Quinoa Salad With Grapes and Sweet Peas
This quinoa salad with the grapes and sweet peas recipe has become our favorite salad. It combines fiber-rich quinoa, wholesome ingredients such as sweet peas, plenty of fresh herbs, and a few fruit carbs that help balance blood glucose levels. The combination of peas, grapes, and quinoa creates a colorful display with the nutritional benefits of this healthy quinoa salad.
Let's Connect!
Be sure to FOLLOW US on FACEBOOK and PINTEREST.
Many thanks!
Kristina xx
Quinoa Salad With Grapes and Sweet Peas
Published on Mar 06, 2014
by
Kristina Stosek
Instructions
1.

In a large bowl combine quinoa, sweet peas, green onions, grapes, parsley and cilantro

2.

In a separate bowl whisk together garlic, apple cider vinegar, maple syrup and olive oil. Add to quinoa mixture and season with salt and pepper. Mix everything together

3.

Cover and refrigerate overnight. Stir just before serving