Gluten-Free Chewy Granola Bars For Kids
Published on Aug 01, 2019
by
Kristina Stosek
Prep Time:

10 minutes
Cook Time:

30 minutes
Serves:

16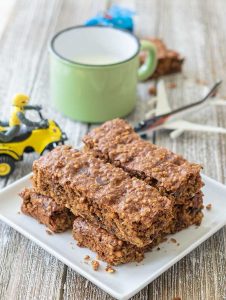 ​This post may contain affiliate links, please see our
privacy policy
for details
Simple Gluten-Free Chewy Granola Bar Recipe For Kids. Soft, chewy, and delightfully delicious makes, this healthy gluten-free snack perfect for even the pickiest kids. The healthy gluten-free bar is made with ingredients they love and keeps the sweet treat allergy-friendly.
To make this gluten-free granola bar, I used oats, puffed quinoa or rice, healthy coconut, extra virgin olive oil, pure maple syrup and chocolate chips. I have included two additional options, nuts and dried fruit, but they are not needed. The healthy bar tastes delicious without them.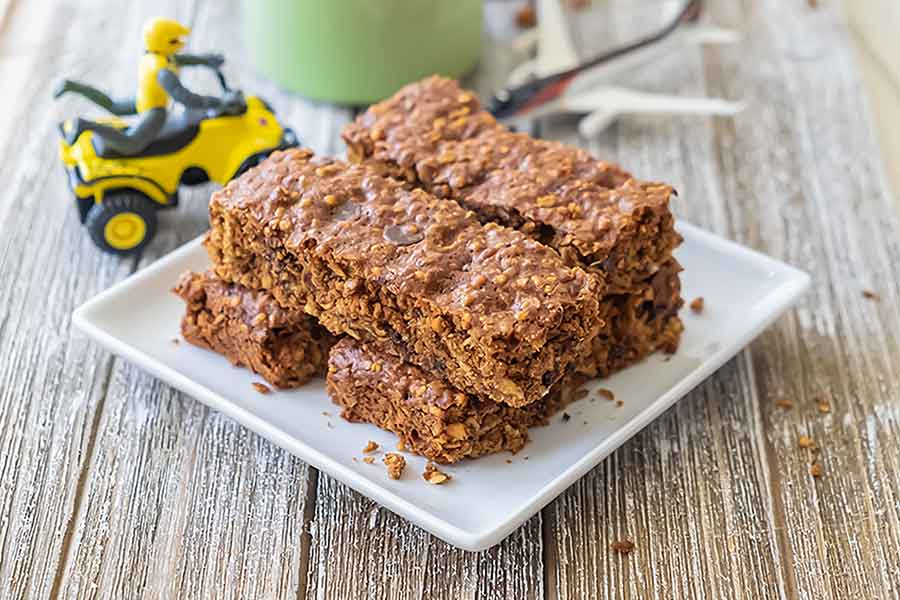 nutrient-rich granola bar,
When it comes to kid's snacks, they like simple things, so sometimes less is more, such as this chewy granola bar. And what I love is that they are packed with protein and fiber and are only lightly sweetened with pure maple syrup.
This simple to make gluten-free snack is healthier than many available in supermarkets because you control the sugar and unwanted ingredients.
How to make this healthy gluten-free snack?
To start, mix the dry ingredients. They are certified gluten-free rolled oats, gluten-free flour blend, puffed quinoa or rice, unsweetened shredded coconut, dried fruit such as raisins, cherries, chopped apricots or dates, and baking soda and chocolate chips.
Next, add the remaining ingredients, pure maple syrup, heart-healthy olive oil, an egg and vanilla. Using your hands, mix everything. That is it for the recipe!
Now, press the mixture into a baking pan and bake for about 30 – 35 minutes, until golden brown. Cool the bars for five minutes and slice to desired sizes. Done and DONE 🙂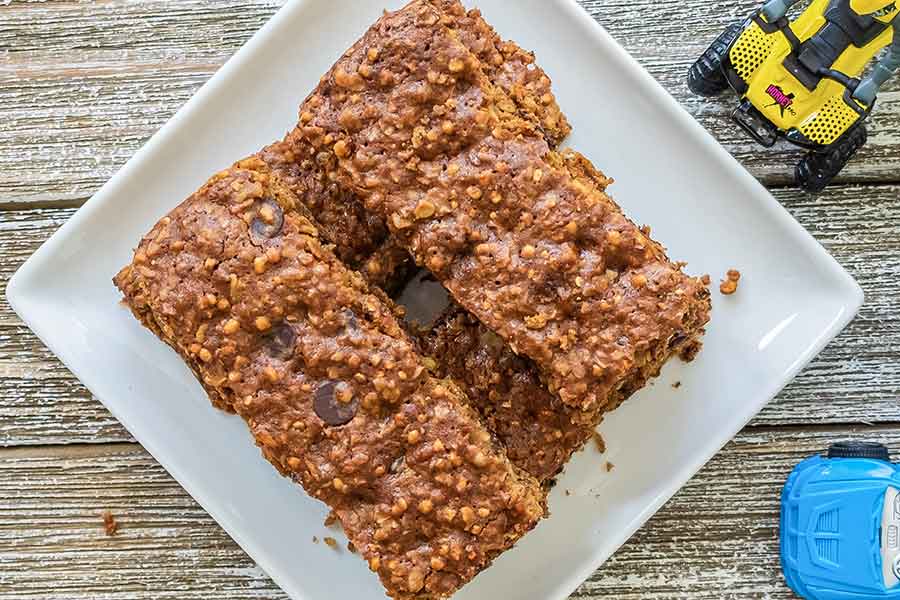 And it is always nice to find budget-friendly recipes such as these gluten-free granola bars. Although I made this gluten-free snack for kids, I know everyone will enjoy them.
So if you are looking for healthy gluten-free recipes that kids love, check out our gluten-free kid's favourite recipes.
Gluten-Free Chewy Granola Bars For Kids
Published on Aug 01, 2019
by
Kristina Stosek
Instructions
1.

Preheat oven to 350 F and line a 9x13-inch baking pan with parchment paper

2.

Using a large bowl combine dry ingredients

3.

Add remaining ingredients and mix to combine. It may be easier to use your hands making sure everything is well mixed

4.

Transfer the mixture into prepared baking pan and using the back of the spoon or hands press firmly into the pan

5.

Bake for 30 - 35 minutes until golden

6.

Remove from the oven and cool for 5 minutes. Cut the bars with a sharp knife while still warm, otherwise they are a little tricky to cut. Enjoy!
Leave a Comment
Yum! Just made them and they are so good!