Gluten-Free Puffed Rice Energy Bar
Published on Apr 22, 2021
by
Kristina Stosek
Prep Time:

10 minutes
Cook Time:

13 minutes
Serves:

9 - 12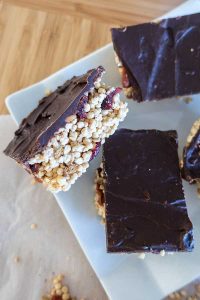 ​This post may contain affiliate links, please see our
privacy policy
for details
Need a boost of energy and deliciousness? Why not try this Gluten-Free Puffed Rice Energy Bar! This tasty puffed rice bar is made with pecans, pumpkin seeds, cranberries, honey, butter, puffed rice and a pinch of brown sugar and chocolate. The chocolate topping seriously makes this puffed rice bar insanely delicious.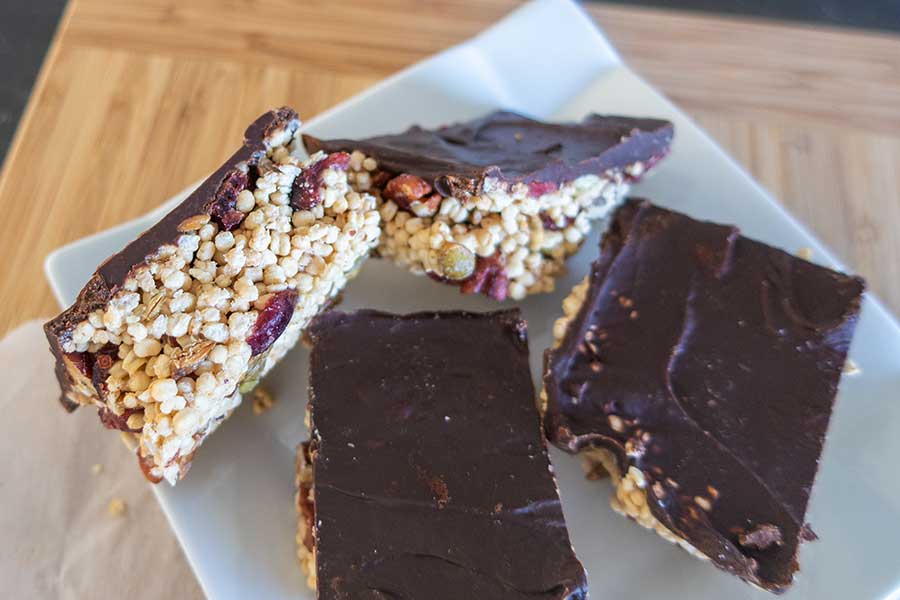 the delicious details….
To start, this is not a rice crispy bar recipe. There are no marshmallows added, only healthy pecans, pumpkin seeds and antioxidant-rich cranberries. Yes, cranberries contain lots of antioxidants and vitamins beneficial for your body. I used only a splash of honey and a bit of brown sugar to sweeten this healthy gluten-free snack.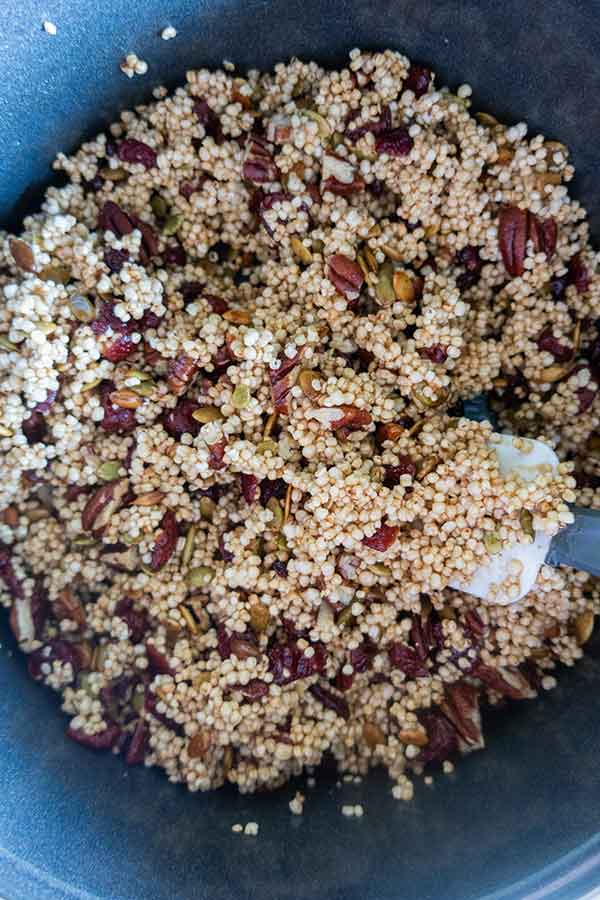 Since this puffed rice bar is topped with chocolate, I cut back on the sweetener typically used in the puffed rice bar.
easiest gluten-free puffed rice energy bar recipe…
To start, I briefly roasted the puffed rice with pecans and pumpkin seeds. The roasting brings out a rich nutty flavour to the energy bar and sets this gluten-free bar apart from most. While they are roasting, melt the butter with honey and brown sugar. This takes about a minute. Stir in the cranberries while the butter/honey mixture is still hot. By adding the cranberries to the hot syrup, the cranberries become sweeter.
Now comes the fun part. To the same pot or a large saucepan, add the roasted puffed rice, pecans and pumpkin seeds and thoroughly combine to coat everything with the butter sauce.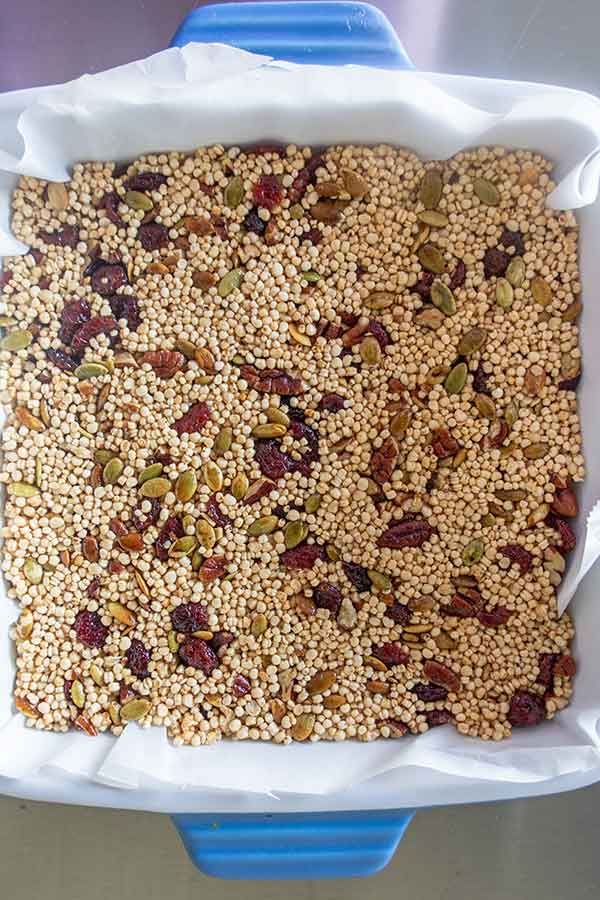 you must do this for the best puffed rice bar texture…
Once everything is combined, transfer the mixture into a square 8-ich dish and press down FIRMLY all over. By firmly pressing the mixture, everything will stick together.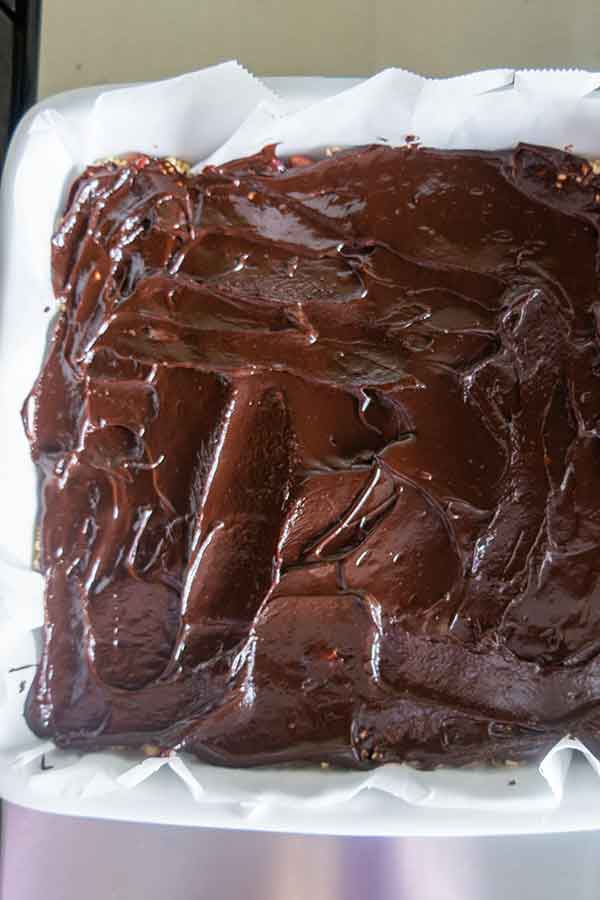 the chocolate topping…
The topping takes virtually 3 – 4 minutes to make. Using a double boiler, place one cup of gluten-free chocolate chips and 1/4 cup of half and half cream or coconut milk into the saucepan. Allow the chocolate chips to melt and stir with the cream until smooth.
As soon as the chocolate is smooth, spread it over the puffed rice mixture. Place the dish in the fridge for 30 minutes allowing it to set. Now the gluten-free puffed rice energy bar is ready to be sliced and enjoyed. Nothing to it! It took me only 10 minutes to prepare this gluten-free energizing snack, plus the chilling time.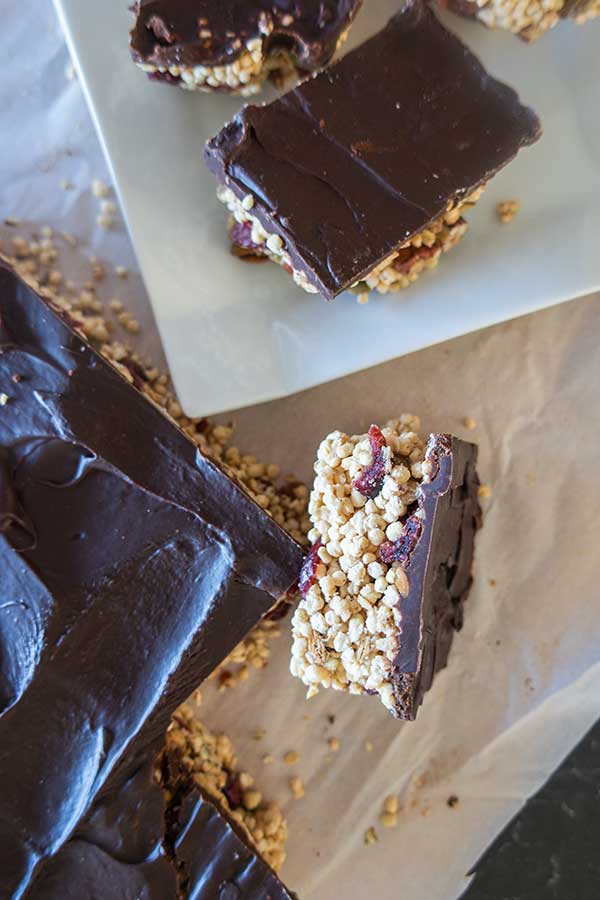 what is puffed rice, and can you make it at home?
Think of puffed rice like popcorn. The grains pop by the effect of heat and get puffed. Puffed rice is super easy to make, but it takes time. If you can't find gluten-free puffed rice in the supermarket, make your own.
👨🏼‍🍳 here is the puffed rice recipe:
First, the rice is soaked in water, then cooked in water. The ratio is 1 – 1 / one cup of rice to one cup of water. The best rice to use is basmati rice or long grain rice.
Soak the rice in water for 10 minutes, rinse and drain until the water runs clear
Place rice with an equal amount of water into a saucepan, bring to a boil and cook over low heat for 30 minutes. Do not follow the package directions because the rice should be well cooked, almost overcooked. You can add sugar or salt, depending on the flavour you are looking for
Next, the rice has to be dried. Spread the rice on a dry clean towel or paper towels and allow it to dry. This can take anywhere from 12 – 24 hours. The rice has to be fully dry.
Once the rice is dry, grease a large rimmed baking tray with oil (I like to use coconut oil) and scatter the rice evenly on the tray. Bake for 2 hours in a preheated oven at 125 F, then cool.
I consider this gluten-free puffed rice energy bar on the healthier side because it has protein, antioxidants, fiber, healthy fats and carbohydrates. Carbs are important for fueling exercise. And this healthy snack will most certainly give you energy. The best part, even the pickiest eaters….like kids, love these bars—what a great way to add healthy nutrition to their diet. Enjoy!
If you are looking for foods that will fuel you with energy, check out these gluten-free tasty recipes
Gluten-Free Puffed Rice Energy Bar
Published on Apr 22, 2021
by
Kristina Stosek
Instructions
1.

Preheat oven to 350 F and line a large rimmed baking sheet with parchment paper

2.

Spread puffed rice, pecans and pumpkin seeds on the baking sheet. Roast for 10 minutes

3.

Meanwhile, in a large pot, bring honey, butter and brown sugar to a boil. Simmer for 30 seconds, then stir in cranberries and remove the pot from the heat. Add puffed rice mixture and thoroughly combine.

4.

Line an 8-inch square dish with parchment paper. Add the rice mixture and press down firmly into the baking dish. Set aside.

5.

Make the chocolate topping; using a double boiler melt the chocolate with cream until smooth. Spread the melted chocolate over the rice and refrigerate for 30 minutes, then cut into bars. 

6.

The bars will keep up to one week in an airtight container at room temperature or two weeks when refrigerated. Bring the bars to room temperature before enjoying