Walnut And Fig Healthy Energy Bar
Published on Mar 17, 2014
by
Kristina Stosek
Prep Time:

15 minutes
Cook Time:

30 minutes
Serves:

12 bars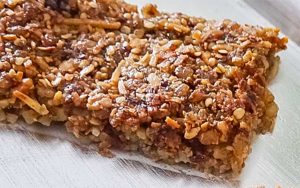 ​This post may contain affiliate links, please see our
privacy policy
for details
This walnut and fig healthy energy bar is a gluten-free snack we can enjoy any time of the day. Do you know that feeling when you're hungry (and maybe hangry), and there is no food to be had anywhere for miles? Or perhaps instead, you're feeling sluggish in the afternoon and want something to give you energy but don't want to eat a food high in sugar. Either way, I have the perfect solution — it's this gluten-free walnut and fig healthy energy bar recipe.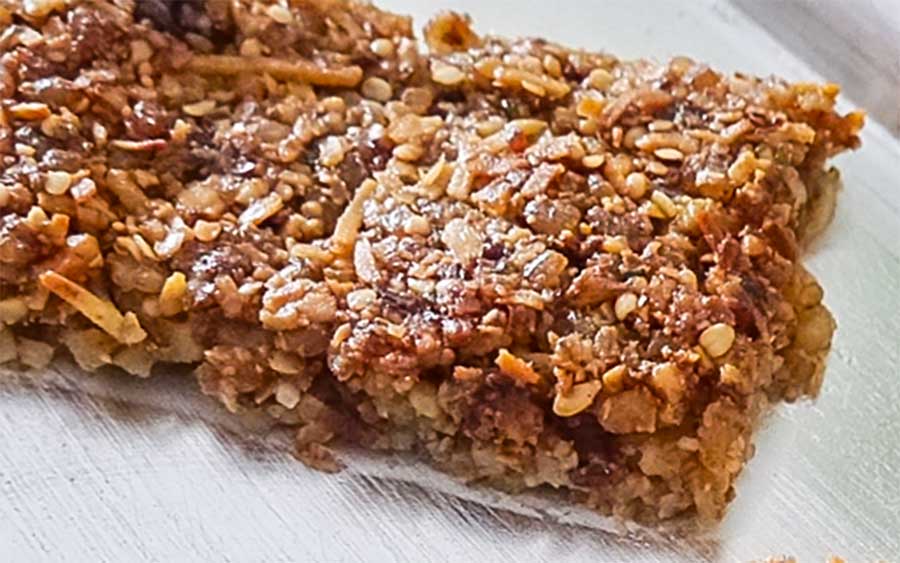 I don't know about you, but I love healthy snack bars! I always have them with me when I'm doing sports or going on a road trip. Suppose you combine them with fruits instead of chocolate. In that case, there is no reason to feel guilty about eating them because they are the perfect nutritious snack.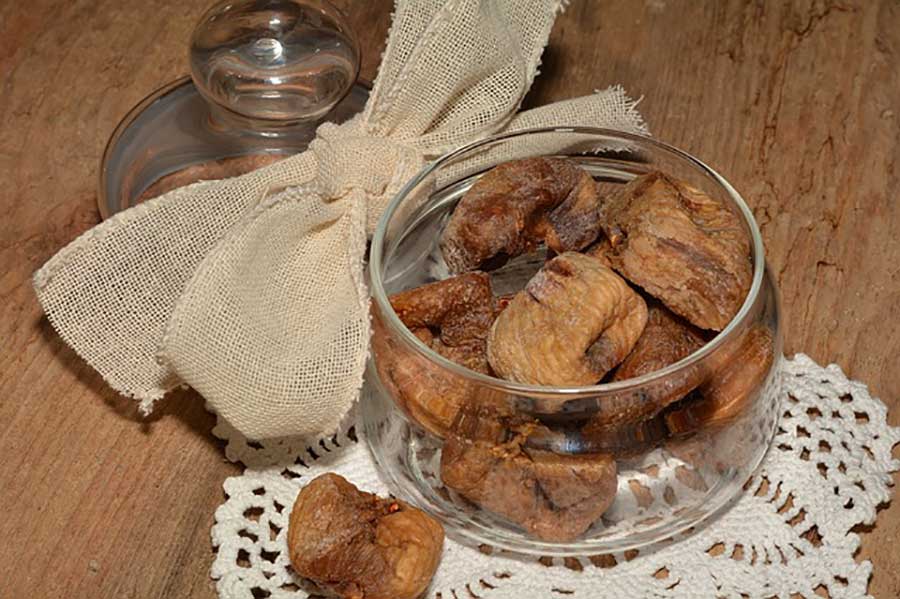 I love this particular healthy fig bar recipe because it is vegan and has only 9 ingredients, and the healthy ones at that: nuts, dried figs, and some delicious maple syrup.
Some delicious store-bought energy bars out there taste great but are filled with lots of sugars, preservatives, additives, and other unwanted ingredients. There's nothing quite like a freshly made walnut and fig energy Bar. Especially, one that you can make in minutes, tastes like heaven, makes you feel satisfied and full and provides lasting energy that you need to get through your day.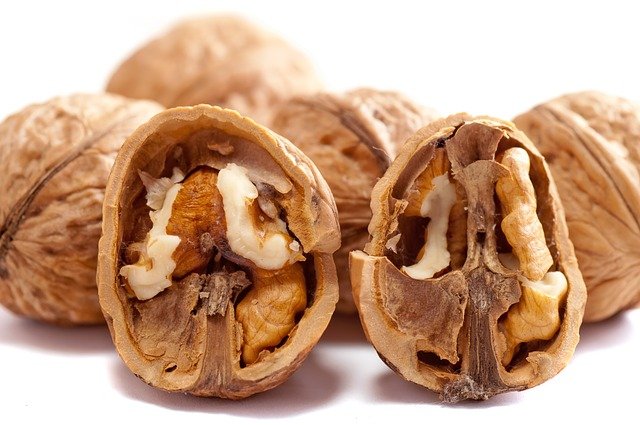 3 simple benefits of healthy energy bars
Many of us are aware that our diets should consist mostly or even entirely of fresh and unprocessed foods. But actually, putting this into practice is easier said than done. We're busy with our daily routines and need to be able to eat healthily on the go. This walnut and fig healthy energy bar is the perfect solution for on-the-go people.
Energy bars are effective because they give you a lot of control over your health, but they also have many side benefits. Let's take a look at the top three benefits of energy bars.
One of the significant benefits of energy bars is that they can increase your metabolic rate. Shifting from the average amount of calories-in per day to eating more healthy snacks like this healthy fig bar recipe requires you to spend a bit more time thinking about the food you're consuming. Energy bars help increase your metabolic rate so that you can burn fat faster.
effective workout support
What's not to love about energy bars? They're convenient, tasty, and can provide the fuel your body needs to get through a challenging workout. This healthy Fig and Walnut recipe will leave you with a healthy energy bar. Giving you energy that will boost your athletic performance because of the high concentration of carbohydrates and protein. The body needs both carbohydrates and protein for energy. Energy bars give you the strength to get through a challenging workout without sacrificing your time in the gym.
Energy bars are designed to provide quick bursts of energy in addition to short and long-term sustenance. It is vital to have a quality food source between meals, especially when one is travelling or active, as it keeps energy levels high. Energy bars serve as a convenient supply of food and energy to athletes, travellers, children, dieters, workers, and even people who are always on the go.
Made from scratch walnut and fig healthy energy bar,
Get your day started off with plenty of energy with this amazing gluten-free walnut and fig energy bar recipe. These bars are loaded with nutrients, antioxidants and protein, taste amazing, and are really fresh too. Let's dive right in!
Walnut And Fig Healthy Energy Bar
Published on Mar 17, 2014
by
Kristina Stosek
Instructions
1.

2.

Add all the ingredients into a food processor and process until crumbly

3.

Line a 10" x 15" baking pan with parchment paper and pour the mix into the pan. Press the mixture down with a spatula until smooth

4.

Bake at 400 F for 30 minutes

5.

Cool in the pan completely before slicing into desired shapes