Chicken Ramen Noodle Salad – Gluten Free
Published on Mar 30, 2021
by
Kristina Stosek
Prep Time:

15 minutes
Cook Time:

15 minutes
Serves:

4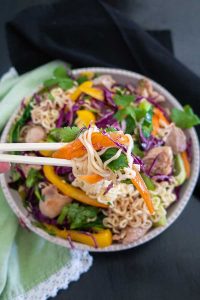 ​This post may contain affiliate links, please see our
privacy policy
for details
Quick and easy Gluten-Free Chicken Ramen Noodle Salad. An Asian-inspired noodle salad with honey-ginger chicken, bok choy, red cabbage, bell peppers, carrots, red onions, cilantro and ramen noodles, tossed in a light ginger vinaigrette.
Is the gluten-free ramen noodle salad healthy?
Not only is this ramen noodle salad insanely delicious, but this is also an immune-boosting salad filled with nutrient-dense veggies.
This gluten-free ramen recipe is for those nights when you need something on the table in 30 minutes—a perfect weeknight meal low in calories and filled with extra goodness.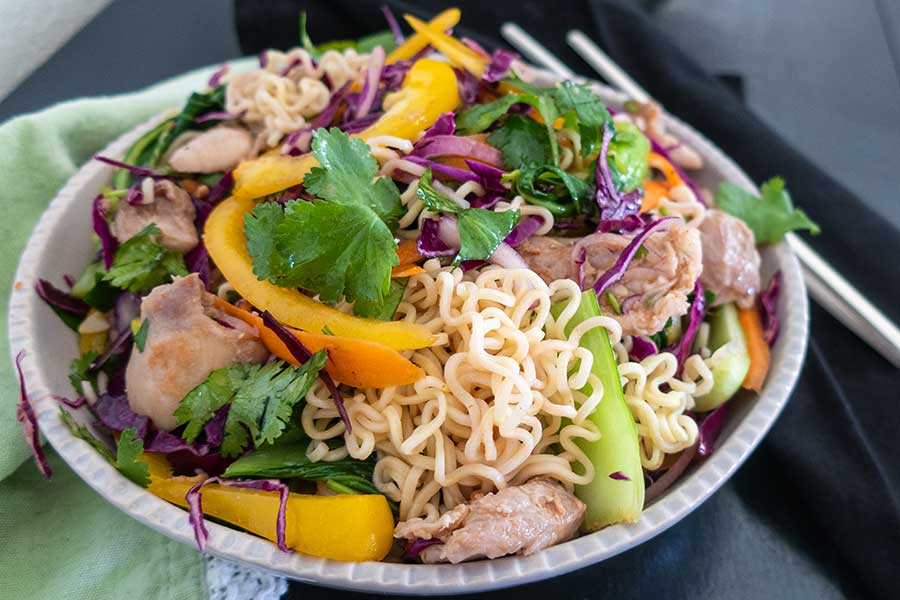 why is this an immune-boosting noodle salad?
The veggies in this salad are nothing short of nutrients. Further more, raw vegetables will yield the most nutrition overall.
The red cabbage is a powerhouse of vitamins and minerals, especially vitamin C — a powerful antioxidant. Bok choy is a cruciferous vegetable that has specific anti-cancer properties. Carrots, bell peppers and red onions are also on top of the list with immune-boosting properties.
This chicken ramen noodle salad is for those nights when you crave a satisfying meal that is light and flavourful. Nothing is more satisfying than a bowl of deliciously flavoured noodles, fresh veggies and honey ginger chicken.
Yes, a perfect weeknight meal for spring or summer or a healthy light lunch when cooler weather hits. All the vegetables in this salad are low in calories and rich in dietary fiber, keeping this salad light and fresh tasting.
what's not to love about noodles and chicken?
Let me show you how easy it is to make this quick and healthy ramen noodle salad.
First, cook the noodles. The noodles take about 5 minutes to cook. Next, drain and rinse them with cold water. The cold water will remove the extra starch and stop them from sticking together.
Next, season the chicken with honey, garlic, ginger and sesame oil. Heat a large skillet and cook the chicken.
To the same pan, add the bok choy and briefly sear on all sides.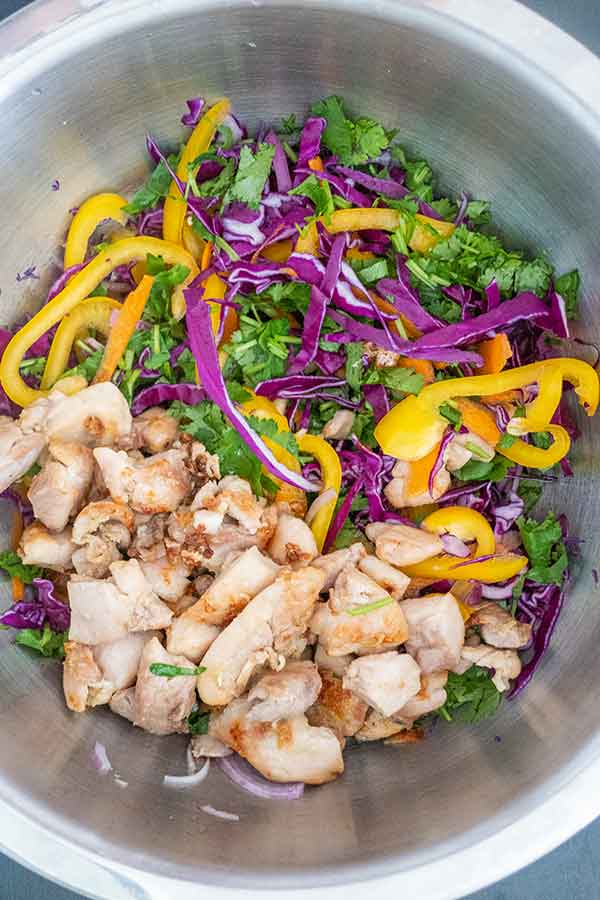 assemble the noodle salad
The tasty ginger vinaigrette is super easy. Just whisk everything together. Now you are ready to assemble the salad.
First, start with the raw veggies, chicken, cilantro and half the vinaigrette. This allows the vegetables and chicken to absorb the flavours from the dressing.
Suppose you were to toss everything together, including the noodles. Most of the vinaigrette will be absorbed by the noodles, and the veggies will lack flavour.
next
Now that the veggies and chicken are well flavoured, add the bok choy, noodles and the remaining ginger vinaigrette.
The bok choy is seared first, so it has plenty of flavour. And adding the remaining vinaigrette to the noodles will allow them to absorb the flavours from the vinaigrette, making them extra tasty.
So what's not to love about this gluten-free chicken ramen noodle salad?
Which noodles are best for gluten-free ramen noodle salad?
Classic ramen noodles are made with wheat flour. To keep this noodle salad gluten-free and still have the traditional Asian ramen noodles, I used my favourite gluten-free ramen noodles.
You can find them on Amazon or Wholefoods. Lotus foods have organic brown rice ramen if you prefer brown rice noodles.
If you can't get ramen noodles, you can use any gluten-free ones. So, any long pasta will work.
vegetable options
The combination of bok choy, red cabbage, bell pepper, carrots, and red onions was perfect for this noodle dish because the veggies are sooo good when they are marinated.
However you can use the veggies you have on hand, but they should be thinly sliced, allowing them to absorb the delicious ginger vinaigrette.
Some other choices would be asparagus, green cabbage, kale, celery, cucumber, radishes, green onions, arugula, and broccoli, you decide.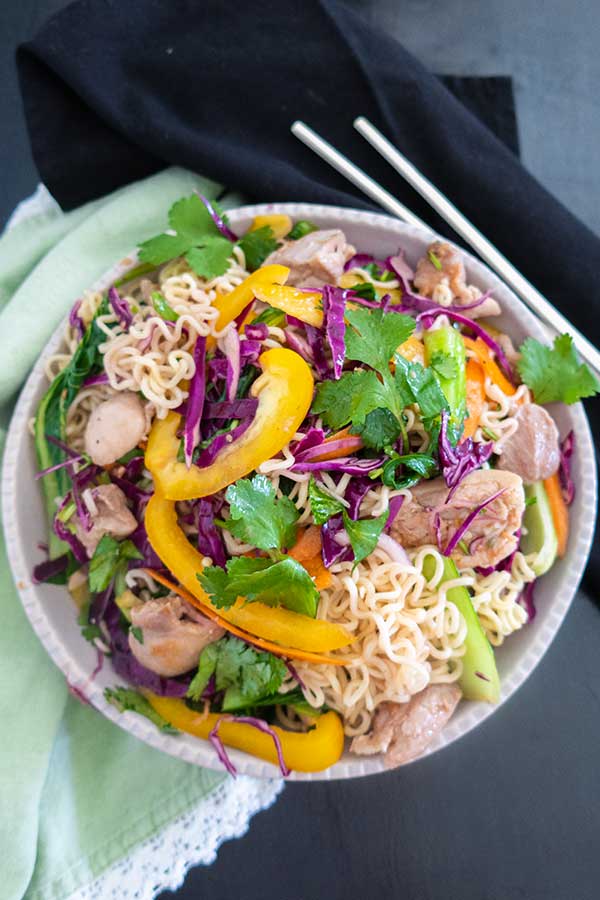 make ahead gluten-free chicken ramen noodle salad
As you can see, this recipe comes together quickly and easily using simple pantry ingredients.
But, what I love the most, you can make this noodle salad well in advance and keep it in the fridge to enjoy when you are ready.
Just bring the salad to room temperature first, get a big bowl, chopsticks and enjoy! YUM
Are you looking for more Asian-inspired salad recipes? Here are three of my favourites.
Let's Connect!
Be sure to FOLLOW US on FACEBOOK and PINTEREST.
Many thanks!
Kristina xx
Chicken Ramen Noodle Salad – Gluten Free
Published on Mar 30, 2021
by
Kristina Stosek
Instructions
1.

Cook noodles per package directions, drain and rinse in cold water. Set aside

2.

In a medium bowl, toss chicken with 2 teaspoons of honey, 2 teaspoons sesame oil, 1 teaspoon ginger, garlic, and season with salt and pepper

3.

Heat olive oil in a large non-stick skillet over medium-high heat. Add chicken and cook for 5 - 8 minutes. The chicken should be fully cooked. Set aside on a plate to cool

4.

To the same skillet, add bok choy and sear on all sides for 2 - 3 minutes. Set aside

5.

Meanwhile, make the ginger vinaigrette; using a small bowl, whisk the ingredients together

6.

In a large bowl, toss together red cabbage, carrots, bell peppers and red onions. Add the chicken, cilantro, and half the vinaigrette. Mix to combine. Add the noodles, bok choy and remaining vinaigrette. Gently toss to coat the noodles and enjoy

7.

Note; this salad will keep for up to three days when refrigerated. Bring to room temperature before serving.