Gluten-Free Vegan Recipes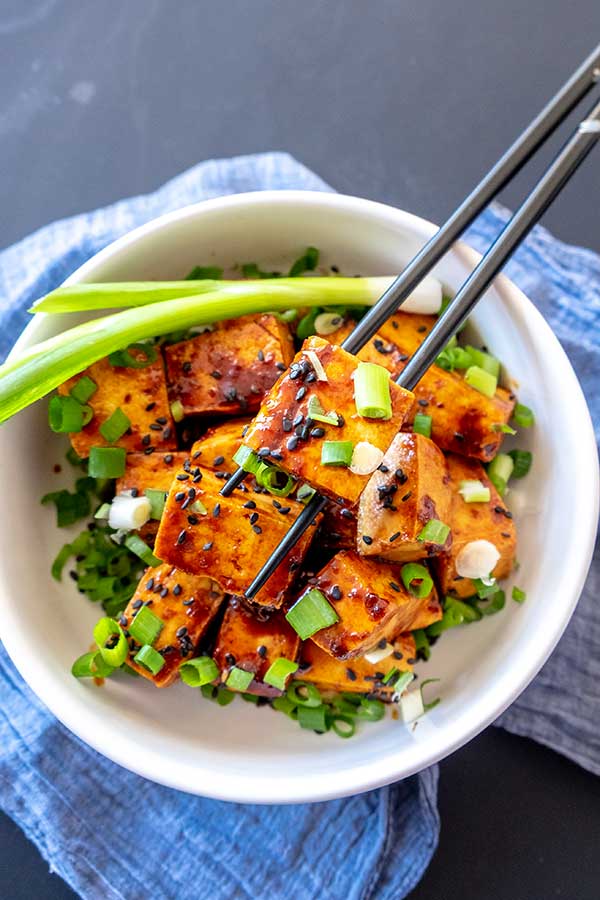 Are you looking for gluten-free and meatless recipes(Gluten-Free Vegan Recipes)? TIP! Vegan recipes can usually be prepared very easily as gluten-free.
It might seem that if there are more restrictions on food, then more complicated menu planning is necessary, but there are still so many options even when cooking vegan and gluten-free!
Vegan Gluten-Free Diet
A vegan gluten-free diet is easy if you understand the sources of protein, vitamins, and minerals. You should try to include all those sources into your daily meals or snacks.
This diet is all about celebrating the healthiness of whole products such as vegetables, fruits, gluten-free grains, nuts, and other delicious animal-free sources.
The biggest advantage of adopting a vegan diet is that you can eat without counting calories as many natural foods as you want! It's difficult to overeat your daily calorie limit, not impossible, but harder.
Common sources of plant-based protein: lentils, chickpeas, soy milk, spinach, beans, quinoa, green peas, tempeh, Seitan, broccoli, almonds, cashews, hemp seeds, nut butter…
Vitamins: The only supplement that you need to have on a vegan diet is B12, you will find this vitamin in fortified foods and supplements. The rest of the vitamins can be acquired through a healthy gluten-free vegan diet.
Vegan Low Carb Bread – Grain Free
This Vegan Low Carb Bread is the bread of bread. This gluten-free recipe is a protein and fibre-packed bread... Read More
Prep Time
5 Minutes
Difficulty
Beginner
Cook Time
90 Minutes
Serves
16 - 18 slices
Gluten-Free High Fiber Bread Recipe
This delicious Gluten-Free High Fiber Bread is dairy-free, egg-free, yeast-free and xanthan gum-free. This healthy bread is perfect in... Read More
Prep Time
10 Minutes
Difficulty
Beginner
Cook Time
90 Minutes
Serves
1 loaf
Healthy Gluten-Free No Bake Blondies
You will love these Healthy Gluten-Free No Bake Blondies. This gluten-free snack does not need baking and is made... Read More
Prep Time
5 + Minutes
Difficulty
Beginner
Serves
14 pieces
Here are some Vegan and Gluten-Free Recipes
Gluten-free vegan recipes are ideal for people trying to adopt a healthy lifestyle and discover a wholesome world of nutritious aliments. These recipes usually are very colourful, filled with nutrients and they will make you feel great after eating them and not feeling tired and irritated as sometimes happens when you eat meat or junk food.
Adopting a vegan gluten-free diet at the beginning might be difficult depending on the habits of each person, but after the first weeks, you will realize how easy the transition can be done and you will begin feeling the benefits of a gluten-free vegan diet. Some of our favorite gluten-free vegan recipes for adapting this lifestyle are the following:
Tropical Quinoa Power Salad: Vegans just eat boring salads? Prove them wrong with this tropical quinoa salad packed with flavor and perfect for a summer day! Quinoa is a gluten-free seed, high in fiber, iron, potassium… and it also contains lots of proteins!
Gluten Free Roasted Veggie Pasta: A healthy pasta dish doesn't get any easier than this one! Full with nutrients from veggies! Ideal for a power lunch!
Vegan Potato and Spinach Curry Soup: A soothing vegan potato and spinach curry soup for any day of the week. Tender potatoes, fresh spinach and peas simmered in a thick creamy soup mildly flavoured with curry and fresh lime juice.
Looking for Vegan Gluten-Free Appetizers?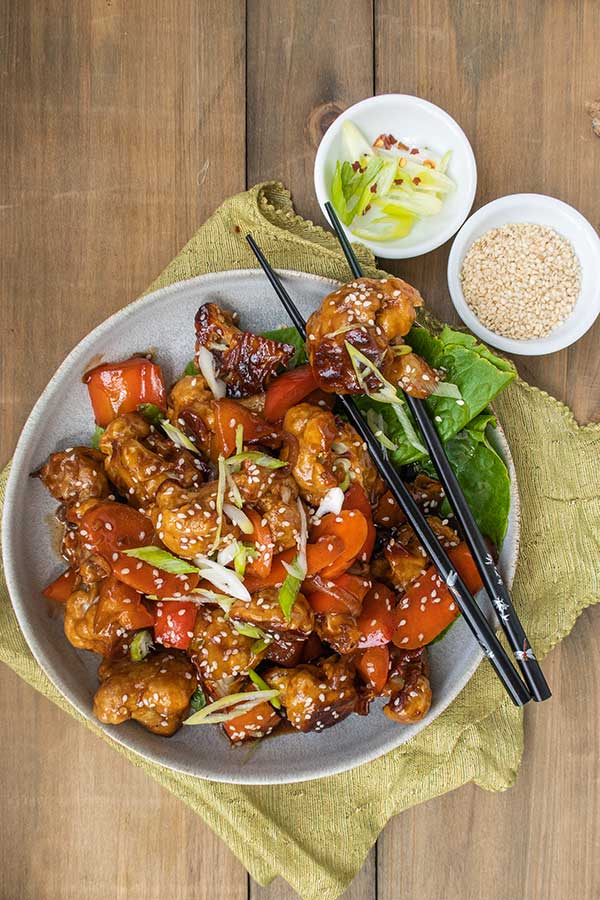 Vegan appetizers are usually colorful as they tend to have many raw vegetables and fruits. There are many delicious vegan appetizers on our website, but some examples are:
Crispy Tofu With Spicy Ginger Sauce: Enticingly delicious, Crispy Tofu With Spicy Ginger Sauce → So few ingredients and only a few minutes of cooking, turns simple tofu into the most flavourful light vegan appetizer or a meal.
Gluten-Free Kung Pao Cauliflower: The cauliflower is baked in a crispy light batter then tossed in the most flavourful kung pao sauce filled with veggies and topped with sesame seeds and green onions. This vegan cauliflower recipe is a must try!
Vegan Cauliflower Steak with Cashew Sauce: Most delicious vegan cauliflower steak with cashew sauce for an easy and healthy weeknight meal or serve as an appetizer. When the cauliflower is roasted, this healthy vegetable turns into a lightly caramelized cauliflower steak.
Curried Zucchini Coconut Soup: Soups are an ideal appetizer for cold winter days and this flavourful soup is a great one.
Tandoori Roasted Sweet Potato Wedges With Raita: Tandoori roasted sweet potato wedges with raita are beyond addicting. They are roasted with Indian spices, so there is plenty of flavour!
These recipes were just an example of all the delicious gluten-free vegan recipes you can follow under our vegetarian category on our website.
Gluten-Free Mediterranean Olive Bread
This Gluten-Free Mediterranean Olive Bread features salty olives and a crispy crust. The finishing touches are, dipping this wholesome... Read More
Prep Time
15 + 3 hours resting Minutes
Difficulty
Easy
Cook Time
50 Minutes
Serves
1 loaf
Immune Boosting Turmeric Celery Soup
This Flavourful Immune Boosting Turmeric Celery Soup is made with only ten ingredients. The key ingredients are celery, carrots... Read More
Prep Time
15 Minutes
Difficulty
Easy
Cook Time
30 Minutes
Serves
6
Moroccan Chickpea Rice Salad
This plant-based Moroccan Chickpea Rice Salad is packed with exotic Moroccan flavors, and fresh herbs and is super easy... Read More
Prep Time
15 Minutes
Difficulty
Beginner
Serves
6