Tandoori Roasted Sweet Potato Wedges With Raita – Vegan
Prep Time
10 Minutes
Difficulty
Beginner
Cook Time
25 Minutes
Serves
6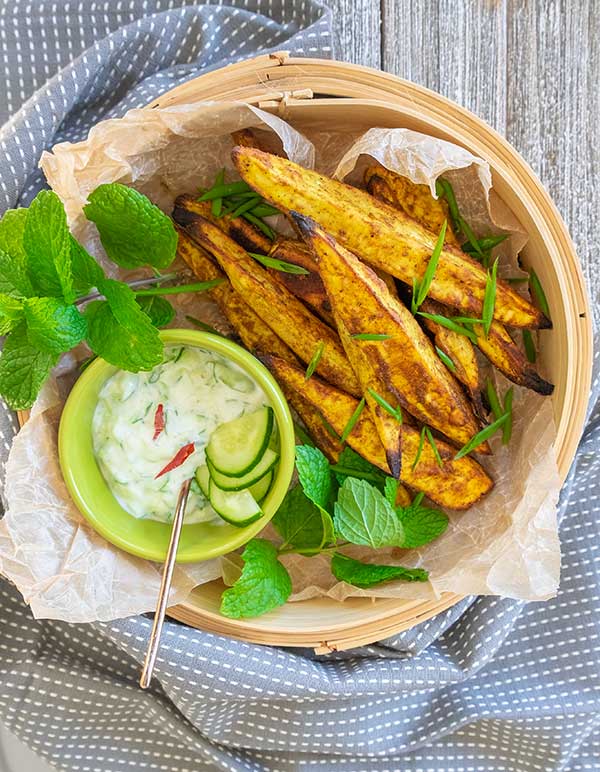 Average Rating: 5 | Rated By: 2 users
Tandoori roasted sweet potato wedges with raita are beyond addicting. They are roasted with Indian spices, so there is plenty of flavours are soft on the inside and crispy on the outside. You have probably guessed by now that these sweet potato wedges are easy and as an added bonus healthy. Serving the wedges with raita takes them from simple to amazing. Raita is an Indian side dish of yogurt containing chopped cucumber, mint or cilantro and spices. The cooling savoury yogurt is just what these tandoori sweet potato wedges need. I find that baked sweet potatoes have a lot more flavour than fried, plus you don't have that extra unwanted oil. I am so excited to share this simple, delicious recipe with you, especially this time of year because finger food is very popular during football season and baseball playoffs. Best part, they are eaten with your hands, so no extra dishes just plenty of napkins. This is my favourite roasted sweet potato recipe! 
Ingredients
3 medium sweet potatoes, halved and cut into equal sized wedges
2 Tbsp. Melted coconut oil
1/2 tsp. GF ground cumin
1/2 tsp. GF ground coriander
1/2 tsp. GF garam masala
1/2 tsp. GF garlic powder
1/2 tsp. GF ground ginger
1/4 tsp. GF Paprika
1/4 tsp. GF turmeric powder
1/4 tsp. GF ground cinnamon
1/4 tsp. GF black pepper
1/8 tsp. GF nutmeg
1 tsp. Pure sea salt
GF Cayenne pepper to taste (I used 1/4 tsp.), optional
RAITA
3/4 cup plain yogurt (use vegan yogurt if following vegan diet)
3/4 cup grated seeded cucumber (I small cucumber)
2 Tbsp. Chopped fresh mint or cilantro
1 garlic clove, minced (optional)
1/4 tsp. GF ground coriander
1/8 tsp. GF ground cumin
1/4 tsp. Pure sea salt
Please note; not all spices are gluten-free. For GF spices check out our online store
Instructions
Preheat oven to 450 F and line a large rimmed baking sheet or two small ones with parchment paper.
In a small bowl mix the spices
Place sweet potato wedges in a large bowl and toss with melted coconut oil. Sprinkle with the spice mix and toss until the wedges are well coated
Scatter the sweet potatoes on the prepared baking sheets without touching. It is important not to overcrowd the baking sheet, or the fries will steam instead of crisp up
Bake for 22 - 25 minutes until browned and crispy
For the raita; In a medium bowl mix the ingredients, cover and chill until ready to serve
Similar Recipes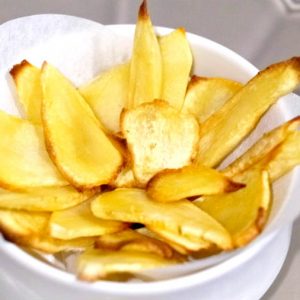 Healthy Crispy Parsnip Chips Recipe
Don't tell the kids these are parsnip chips they will love them! The sweet flavour of parsnips makes the chips super tasty. If you are looking for low-fat tasty chips this recipe is for you. This is a wonderful healthy snack for the entire family, the health benefits of parsnip are incredible Read More
Prep Time
15 Minutes
Difficulty
Beginner
Cook Time
15 Minutes
Serves
40 chips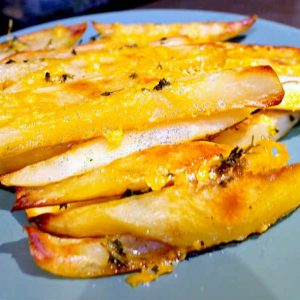 Baked Cheesy Crispy Fries
Crispy fries are always popular, especially if they are combined with cheese, yum!! This simple baked cheesy fries recipe is surely going to be a big hit at your house, especially during football season. The fries are flavoured with herbs and baked with cheese until crispy. A simple gluten-free snack that everyone will love! Read More
Prep Time
10 Minutes
Difficulty
Easy
Cook Time
30 Minutes
Serves
4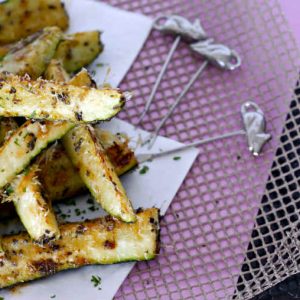 Gluten-Free Baked Zucchini Fries
These baked zucchini fries are lightly spiced with a crunchy Parmesan coating. Most zucchini fries are high in fat because they are deep-fried. In this recipe, they are baked making them lower in fat and calories. Serve as a healthy snack or an appetizer. Careful, these fries are very addictive so make extra! Read More
Prep Time
15 Minutes
Difficulty
Easy
Cook Time
15 Minutes
Serves
4