Raspberry Chocolate Mocha Mousse
Published on Feb 12, 2018
by
Kristina Stosek
Prep Time:

15 minutes
Cook Time:

0 minutes
Serves:

6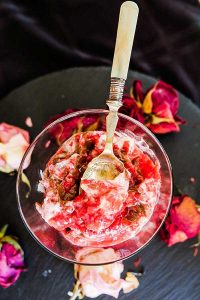 ​This post may contain affiliate links, please see our
privacy policy
for details
Simplest Raspberry Chocolate Mocha Mousse. Just imagine fresh raspberries combined with a light chocolate mocha mousse and topped with whipped cream. The best part, all you need is fifteen minutes.
Whenever I need a last minute dessert and don't have the time to bake this chocolate mocha mousse is my go-to recipe. It has always been a huge hit!
For the mousse, avocados, whipping cream, a splash of milk and coconut oil. For the flavour, cocoa powder, coffee, vanilla and fresh raspberries. For the sweetener, pure maple syrup. I would consider this gluten-free dessert on the healthier side.
What I love about this easiest to make dessert there are no eggs, nuts or grains — making this an allergy-friendly dessert. To make this dessert dairy-free, you can substitute the milk for non-dairy milk of choice, and for the whipping cream use coconut cream.
This heavenly dessert is practically effortless. SO GOOD! A simple, and easy to make dessert, for a special occasion. I especially love it on Valentine's or for Mother's day brunch.
The making of the best raspberry chocolate mocha mousse <–
First, you will need a food processor. For the mousse to be smooth and creamy, the avocados have to be whipped up, and the best way is with a food processor. First, add avocados, cocoa powder, milk, maple syrup, coffee, vanilla and a pinch of salt in a food processor and process until creamy smooth.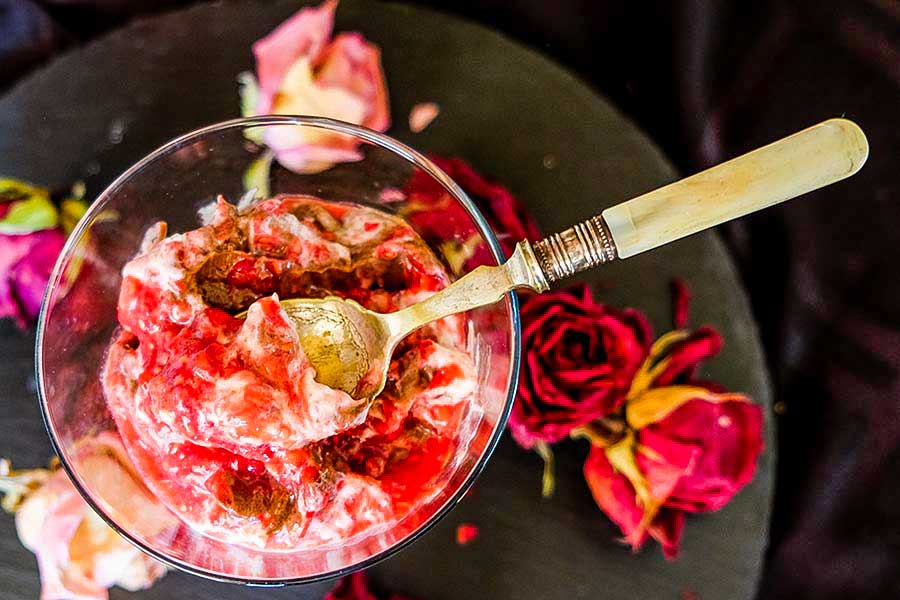 Add the melted coconut oil. For the raspberry swirl, combine freshly mashed raspberries with maple syrup. Now, layer your favourite serving cups or bowls with the raspberry mixture and delicious chocolate mocha mousse.
And lastly, top with whipped cream. Super simple, don't you think? This is a refreshing summer dessert we should all try!
If you are looking for a dessert for that special occasion, please check out these gluten-free chocolate desserts.
Raspberry Chocolate Mocha Mousse
Published on Feb 12, 2018
by
Kristina Stosek
Instructions
1.

Place avocados, cocoa powder, milk, 1/3 cup maple syrup, coffee, vanilla and sea salt in a food processor and process until creamy smooth

2.

Add melted coconut oil and process until combined

3.

In medium bowl mash raspberries with 2 tablespoons of maple syrup until the mixture resembles jam

4.

Layer a medium glass bowl or 6 small serving cups with half the raspberry mixture, followed by chocolate mocha mousse, followed by remaining raspberry mixture and topped with cream

5.

Keep refrigerated until ready to serve. Top with whipped cream