Start The New Year With Healthy Gluten-Free Recipes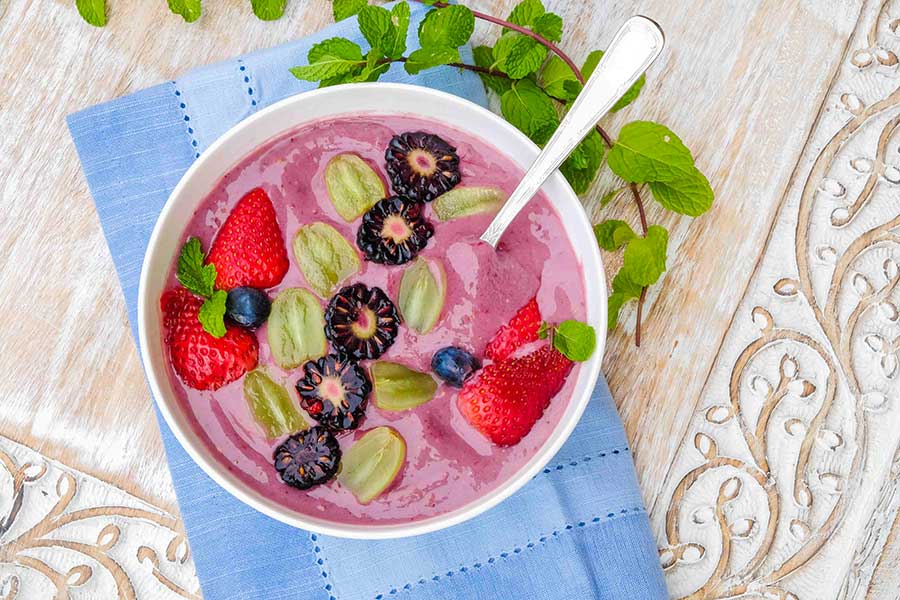 Start The New Year With Healthy Gluten-Free Recipes
It is time to put 2020 behind us and say hello to a fresh New Year start! Whether you are thinking of immune-boosting soups or considering keto? Or maybe you are looking for ways to change your diet for a healthier new you?
We have put together a few of our favourite healthy gluten-free recipes that are lower in sugar, low-carb, are nutritionally packed and low in calories. Our irresistible delicious healing soups are especially a big hit in January.
This month we will introduce many exciting healthy recipes, but in the meantime, try some of our old favourites that will get you started on a journey of a new and healthier you. There is never a better time to start than now!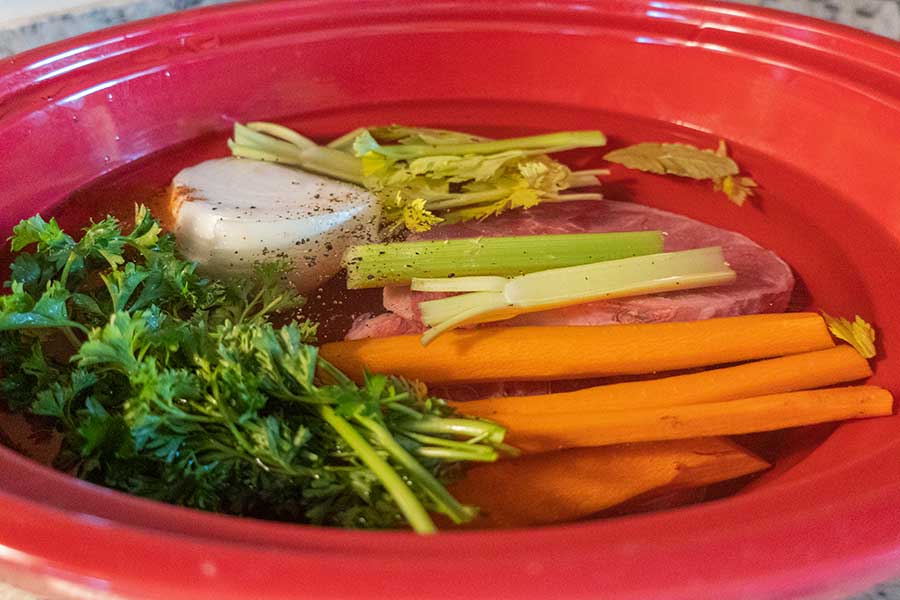 Simmering bones over 24 hours will produce a broth high in protein collagen, glycine and minerals, including magnesium, calcium, chondroitin sulphate, glucosamine, silicon, phosphorus and many traces of other minerals that your body can readily absorb. But even more importantly, this bone broth is soothing and most satisfying.
Low-Carb Grain-Free Ham and Cheese Donuts! Get the recipe →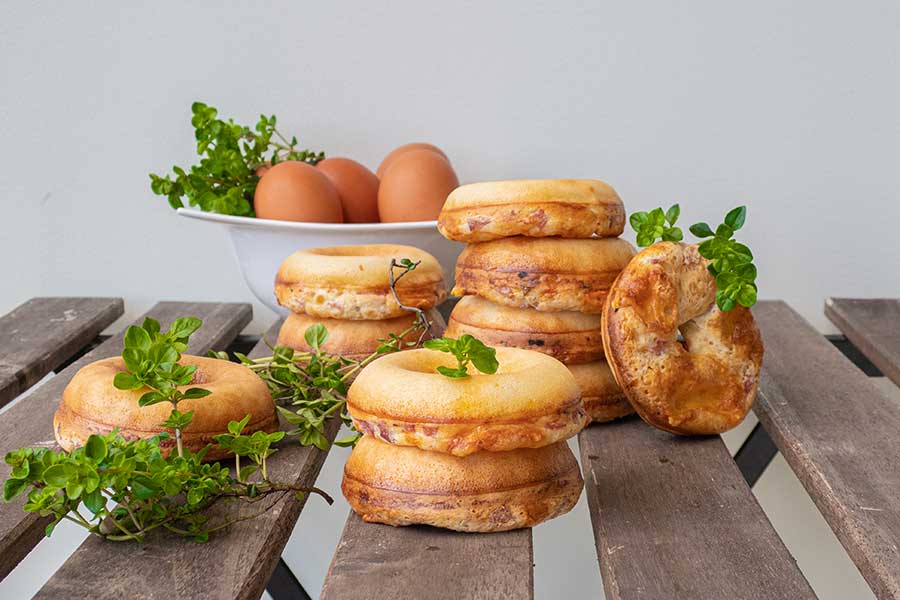 Savoury Low-Carb Grain-Free Ham and Cheese Donuts everyone is talking about. Traditionally donuts are sweet and deep-fried and naturally not that healthy. These most flavourful donuts are baked, pillowy, and they toast beautifully with only about 5 net carbs per donut making this a keto-friendly recipe.
Grain-Free Nut-Free Ricotta Pancakes! Get the recipe →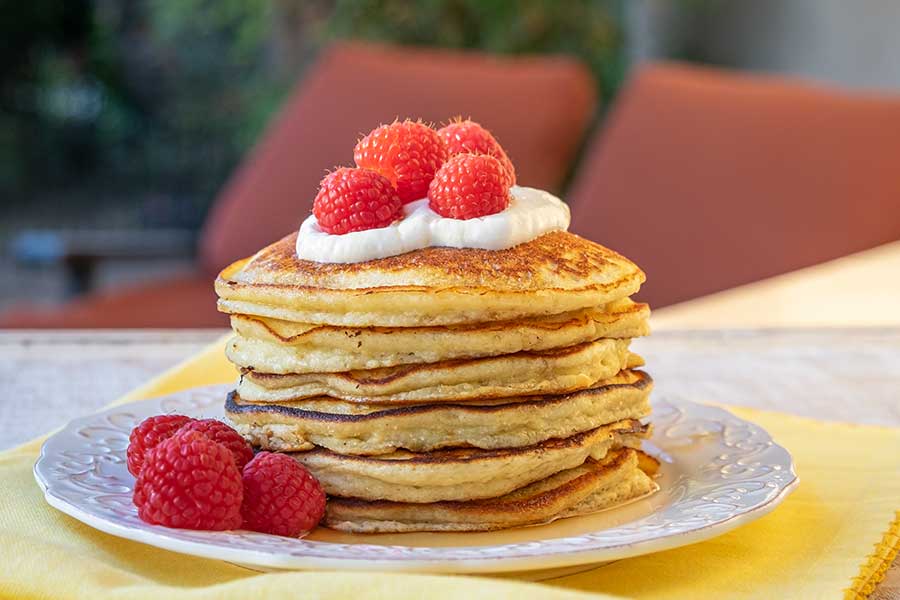 The ricotta cheese takes this pancake to another level of deliciousness. The best of the breakfast world, comes together into one tasty treat. Breakfast or dessert? Either way the healthy pancakes are delicious!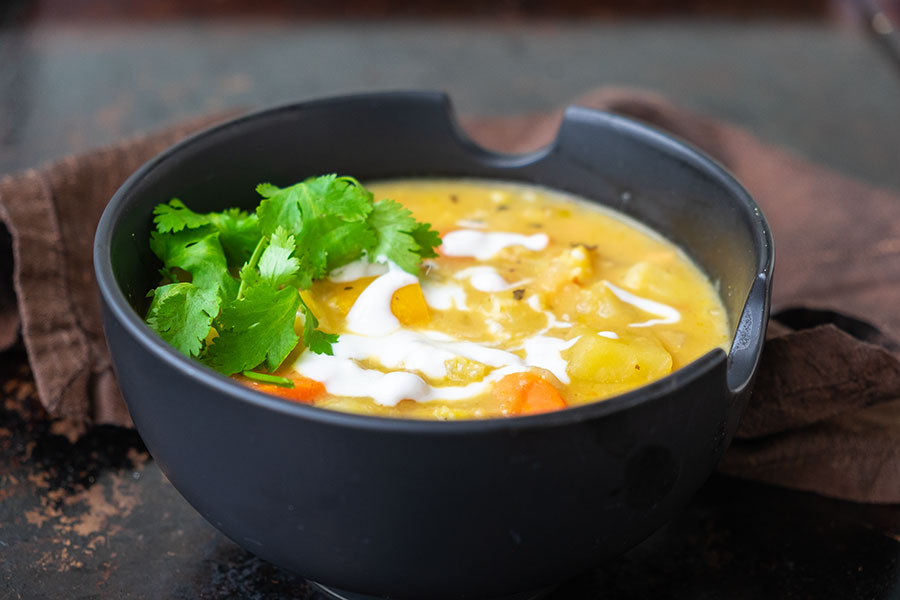 This Creamy Thai Vegetable Soup is only the beginning of our healthier recipes in the new year! I am super excited because starting the year with delicious healthy gluten-free recipes will keep us energized, build our immune system and may even help to shed a couple of pounds some of us gained over the holidays.
Immune Boosting Pineapple Smoothie Bowl! Get the recipe →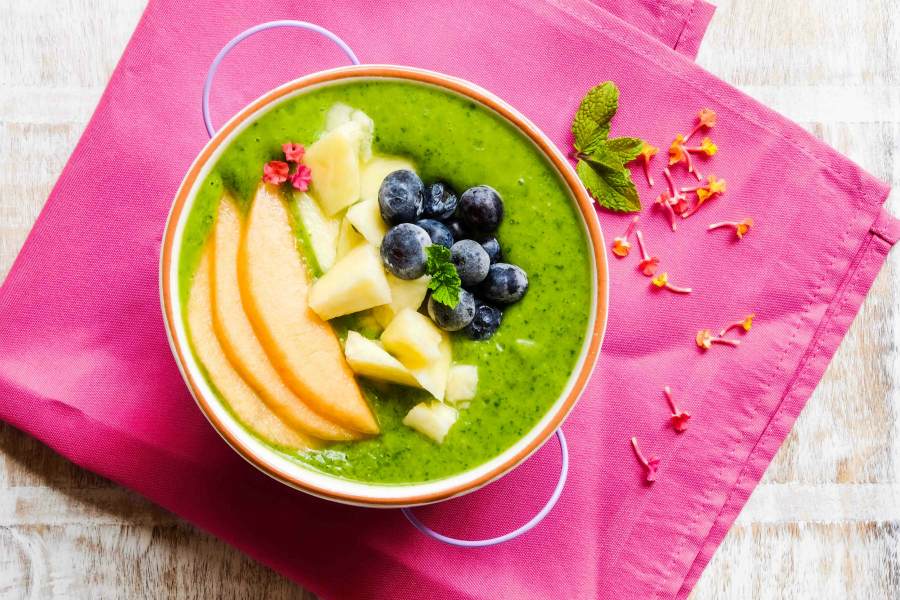 Healthy smoothie bowls are an easy way to eat healthily. This immune boosting pineapple smoothie bowl has a delicious tropical and refreshing flavour. This healthy naturally gluten-free smoothie is packed with delicious fruit and is good enough to have as a dessert!
Warm Asian Chopped Chicken Salad! Get the recipe →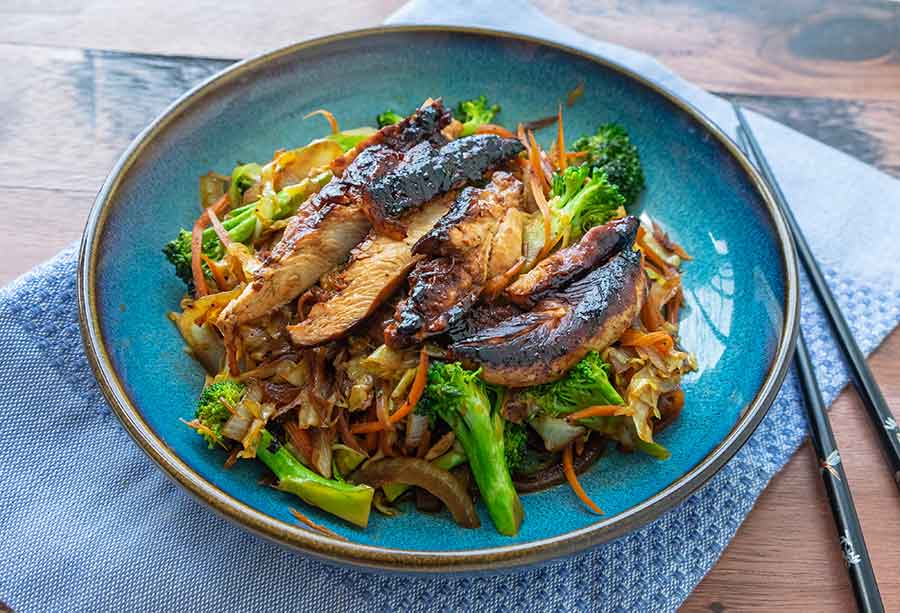 Warm Asian Chopped Chicken Salad is a light meal you can serve any time of the year. The chicken is deliciously flavoured with sticky teriyaki sauce and then served over lightly cooked veggies. Everything in this healthy warm salad is accented with a tasty Asian inspired sauce made with tamari sauce, honey, ginger, garlic and sesame oil. And the best part, this salad is Keto-friendly.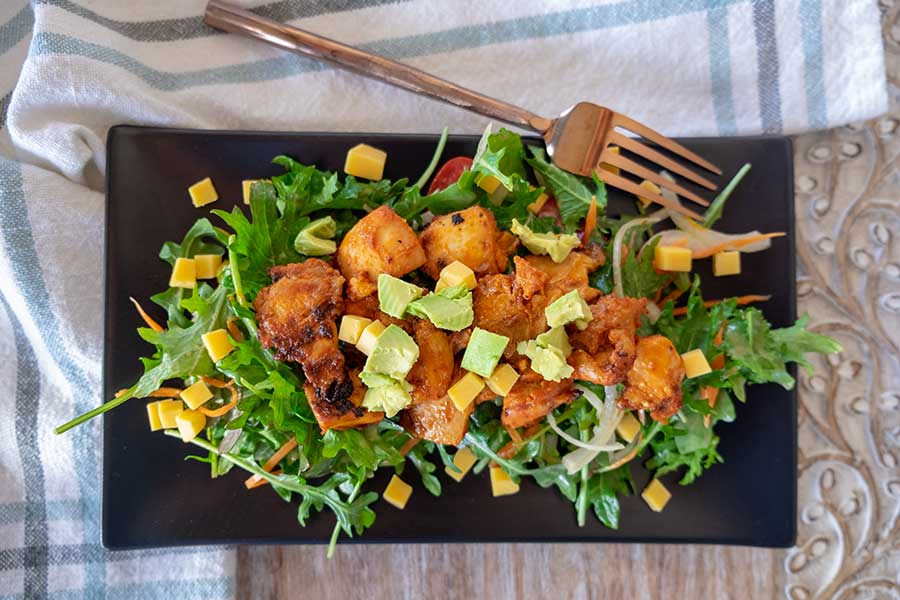 This stunning Buffalo Chicken Kale Salad is all about spicy chicken, healthy greens and the most delicious buttermilk dressing. I love kale, but I find it needs more than just the greens. Adding the flavourful spiced up chicken changes a simple kale salad to a healthy, hearty, tasty meal.
Pineapple Blackberry Chia Smoothie Bowl!
Get the recipe →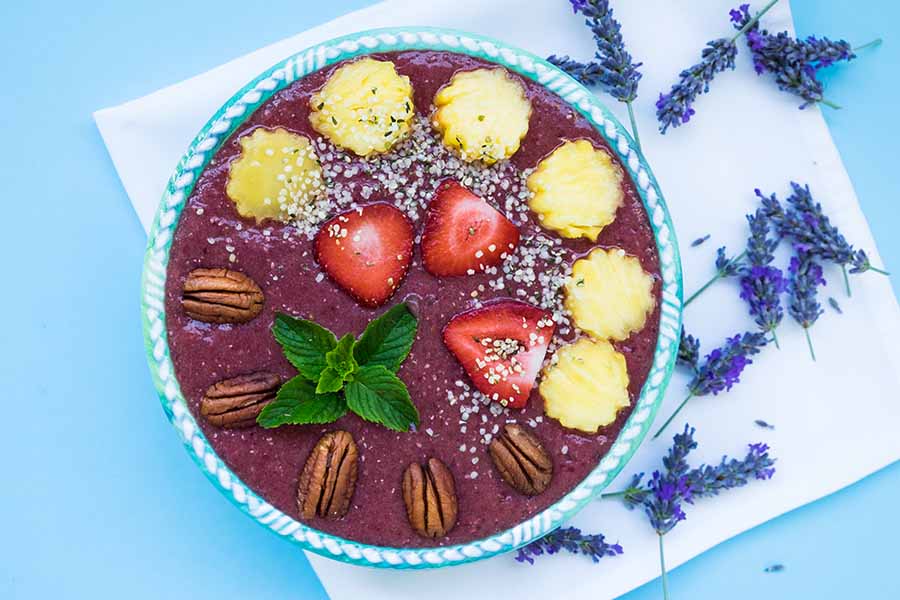 Not all smoothie bowls are created equal. Meet your new power breakfast. There is no added sweeteners or milk in this pineapple blackberry chia smoothie bowl. The ingredients used in this recipe are rich in powerful antioxidants and packed with essential nutrients.
Zucchini Gratin with Bacon and Leeks – Keto! Get the recipe →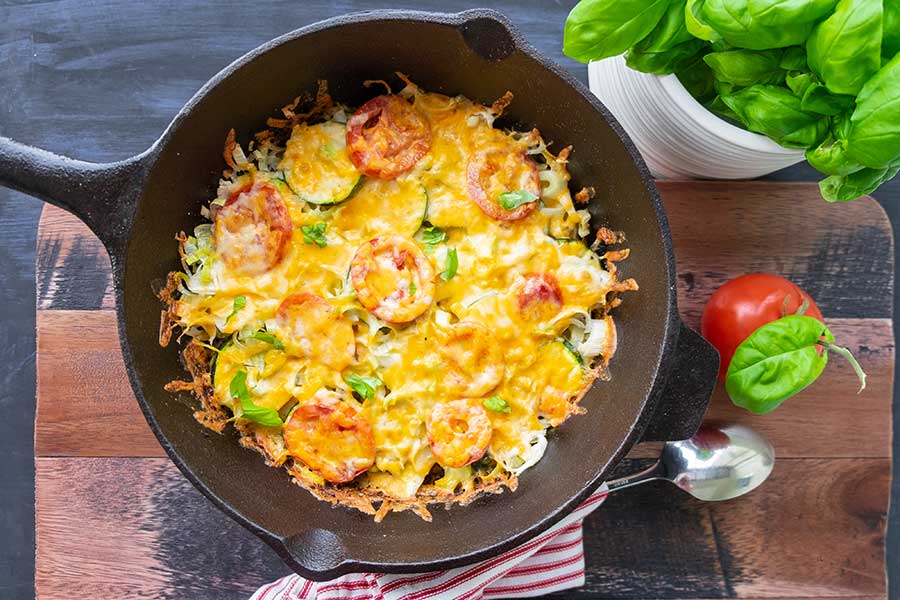 Zucchini Gratin with Bacon and Leeks is a low-carb layered casserole made with zucchini, caramelized onions, leeks, bacon, tomato and two types of cheese. This healthy cheesy gratin is super easy to whip up and will make for an extraordinary brunch dish or an entree for dinner.
Rainbow Salad with Tamari Honey Vinaigrette!
Get the recipe →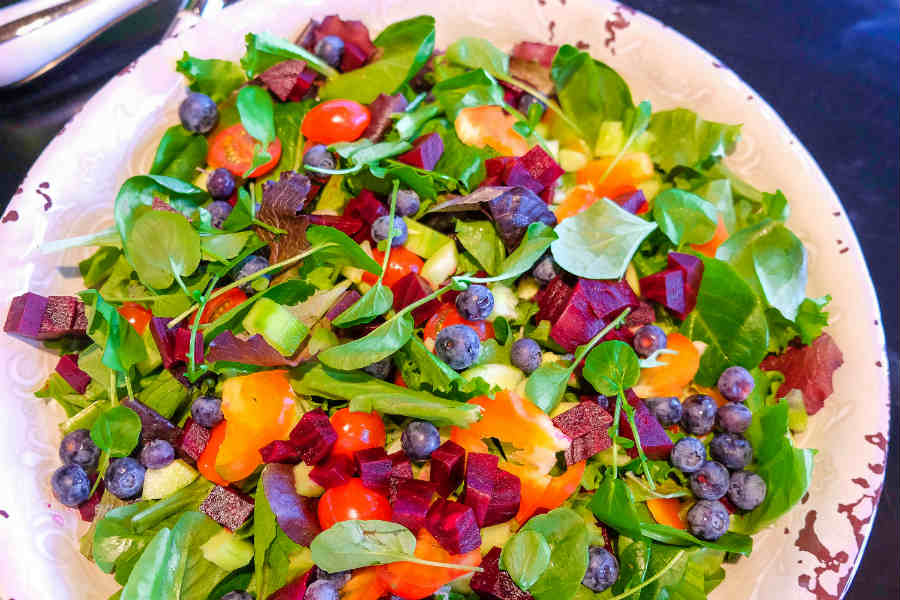 When it comes to salads, it is about the balance of flavours and textures. In this salad the carefully chosen healthy vegetables, greens and berries are what make this salad packed with antioxidants, nutrients and fiber. For the finish, the light tamari honey vinaigrette, tying everything together to perfection.
Healthy Vegetarian Ukrainian Borscht Recipe! Get the recipe →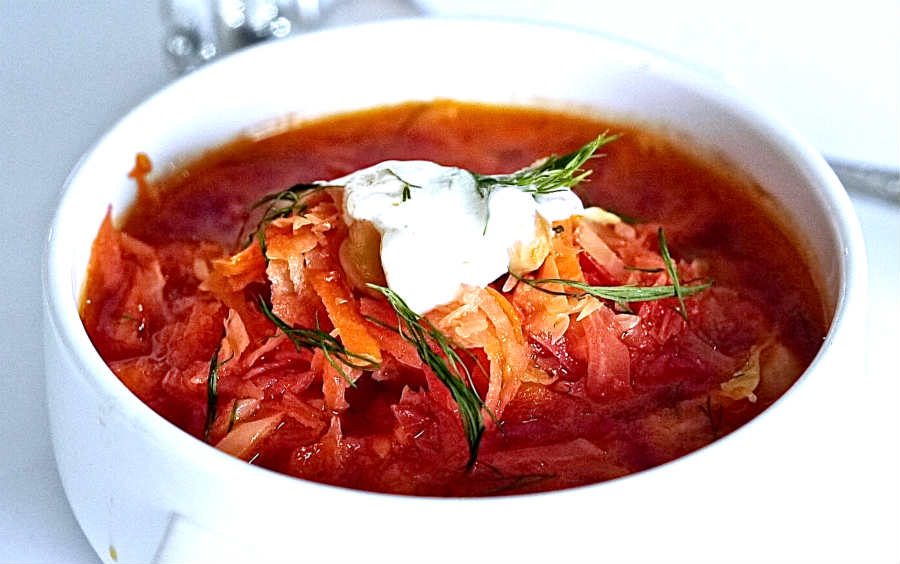 This delicious soup is made with plenty of vegetables such as cabbage, beets, chickpeas, carrots and tomatoes. To flavour the borscht, I added caraway seeds, dill, chili peppers and vinegar. To finish the naturally gluten-free soup, you can add yogurt or sour cream and more fresh dill. Borscht is one of those nutrient-packed soups that is low in calories and high in fiber. This healthy soup is excellent when following a low calorie diet.
5 Ingredient Keto Walnut Cookie! Get the recipe →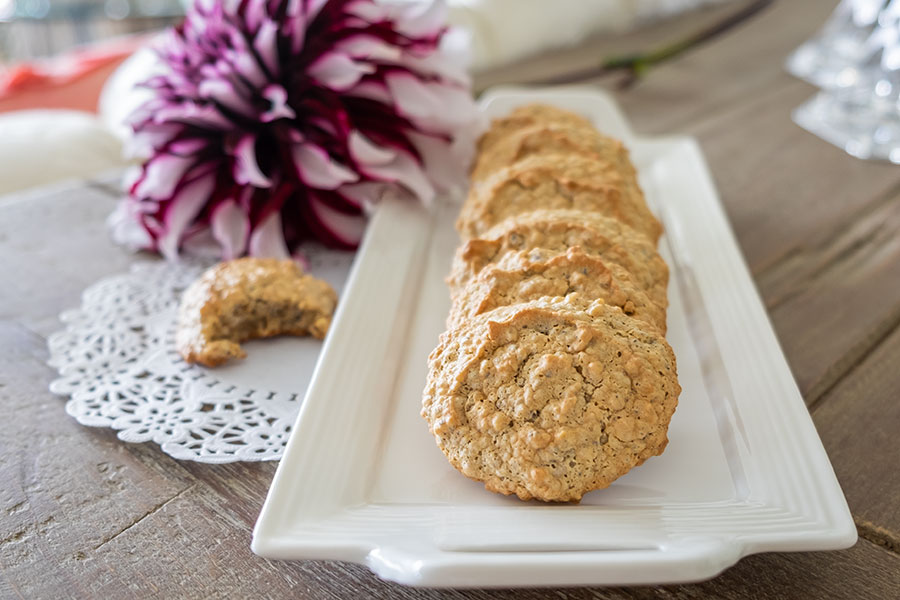 Not only this keto cookie is very satisfying, but the cookie has health benefits. This low-carb cookie recipe is made with only five ingredients—eggs, walnuts, vanilla, a pinch of salt, and sweetened with monk sugar. I can't think of any ingredient in this keto cookie recipe that is unhealthy. These gluten-free cookies are subtly sweet without any added refined sugar.
Keto Cheesy Bacon Jalapeno Muffins! Get the recipe →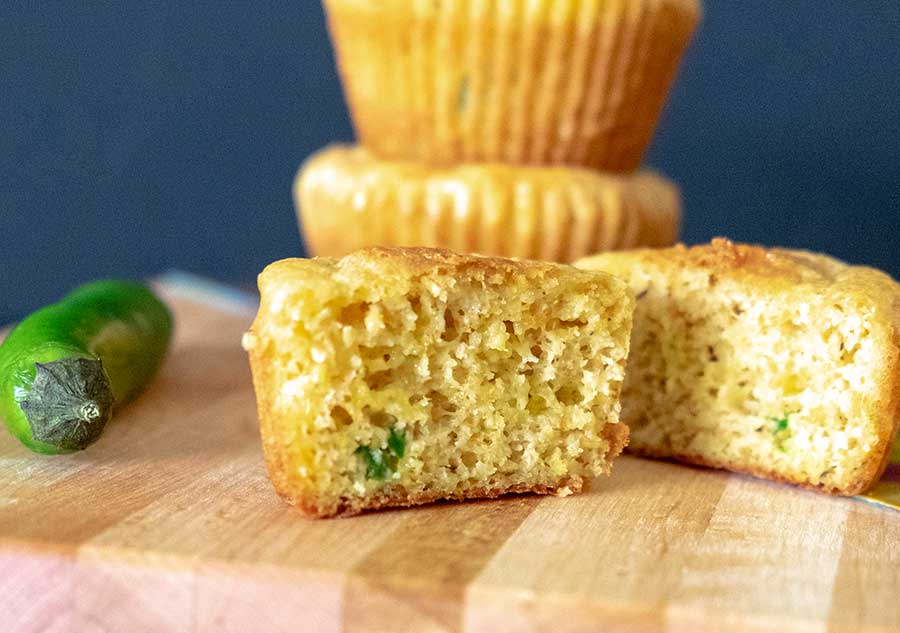 If you are following a gluten-free, grain-free or keto diet, you will love these tasty savoury breakfast muffins. The low-carb cheesy muffin is mildly flavoured with bacon and a little kick from jalapeno peppers. If you love savoury muffins, these keto muffins are for you!
Zucchini Baked Ziti (Keto, Gluten-Free, Grain-Free) Get the recipe →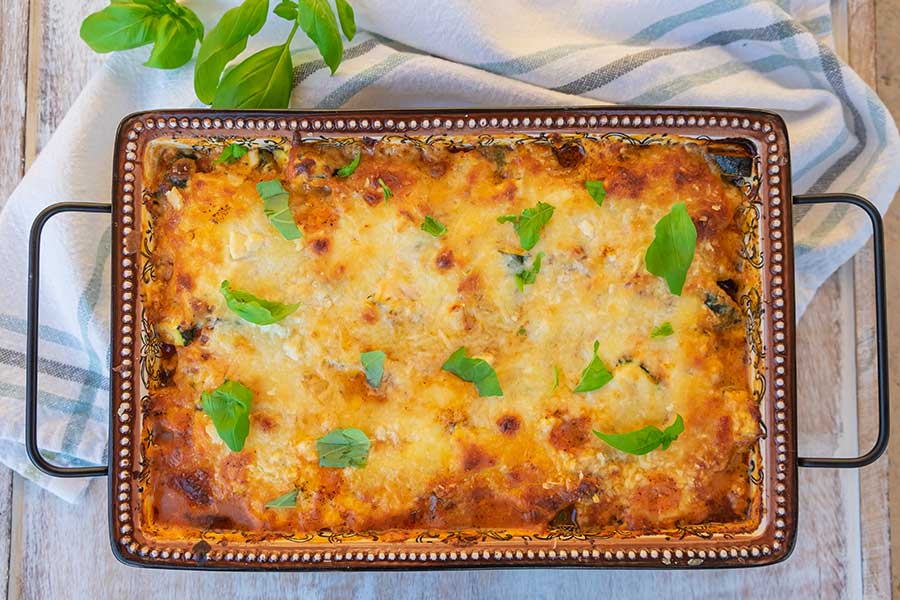 This Zucchini Baked Ziti is for nights when you are craving Italian, but want something low-carb and healthy. Zucchini ziti baked in a basil tomato sauce, three different kinds of cheese and Italian chicken sausage. This is a flavourful low-carb Italian dish for any night of the week and is keto-friendly.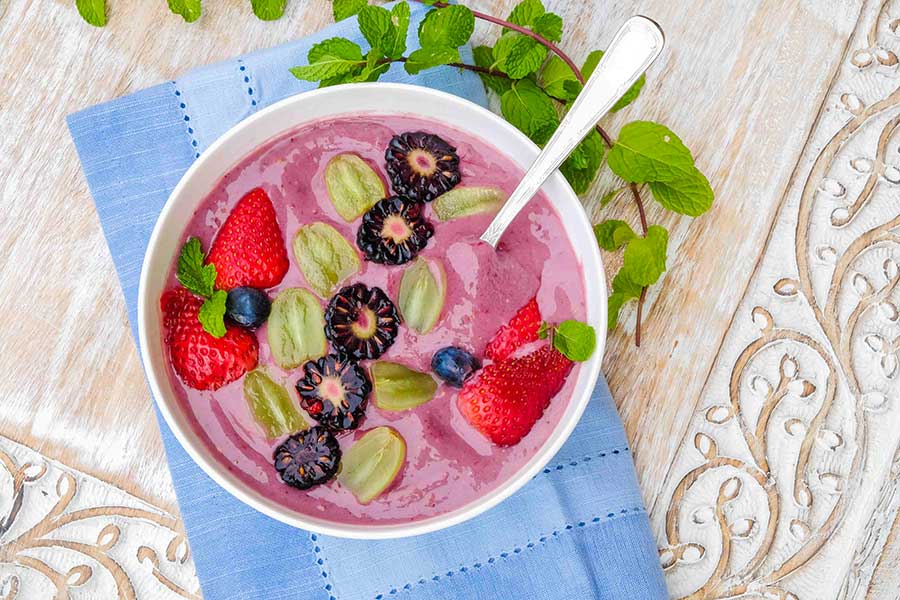 This nutrient dense smoothie power bowl takes only 5 minutes to make. Using fresh fruit as a sweetener with added flax and maca powder makes this smoothie a powerhouse of smoothie bowls. This is probably one of our favourite healthy smoothie bowls!
Chicken and Chorizo Cauliflower Paella! Get the recipe →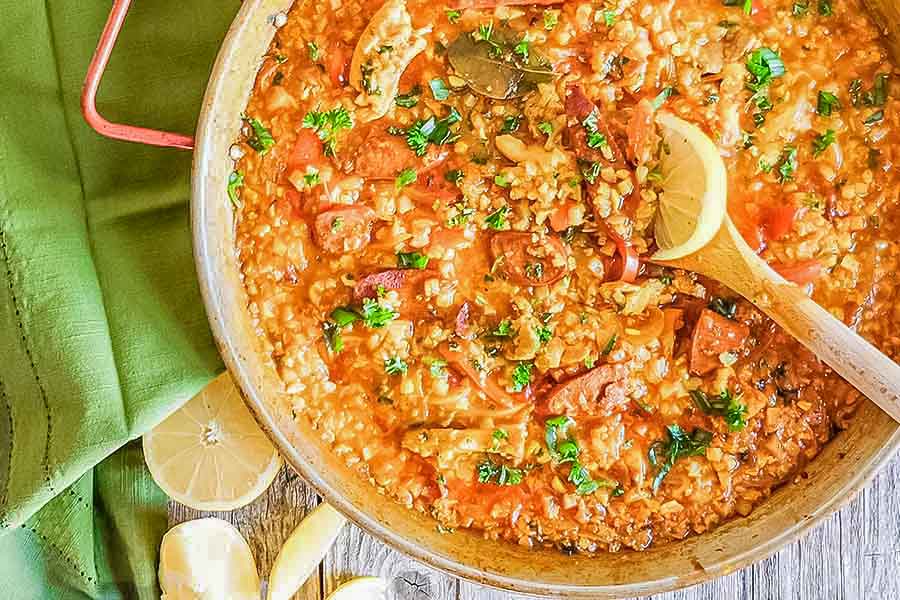 This is a healthier version of the Spanish Chicken and Chorizo Paella. This super easy dish is made with healthy cauliflower making this gluten-free dinner low-carb! If you are looking for a satisfying gluten-free meal, this paella will satisfy even the hearty appetites. Enjoy!
Vegan Ramen Salad With Sesame Ginger Dressing! Get the recipe →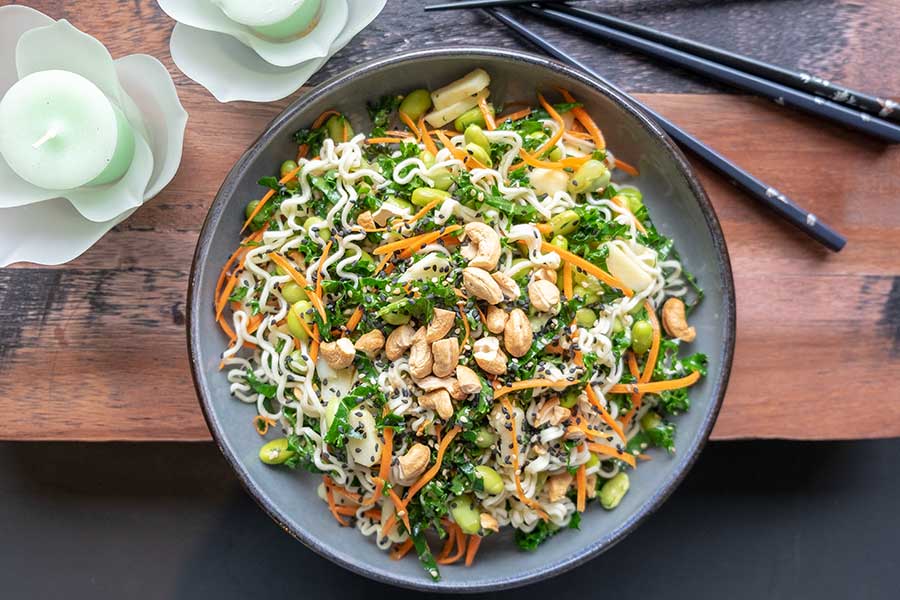 This is a veggie forward Ramen Salad With Sesame Ginger Dressing. This healthy salad has plenty of veggies, cashews and sesame seeds. A noodle salad is particularly sought after in the cooler months when big, robust flavours are needed. You can add as much or as little noodles to follow your chosen diet.
Easy Thai Cashew Chicken Ramen! Our favourite pick Get the recipe →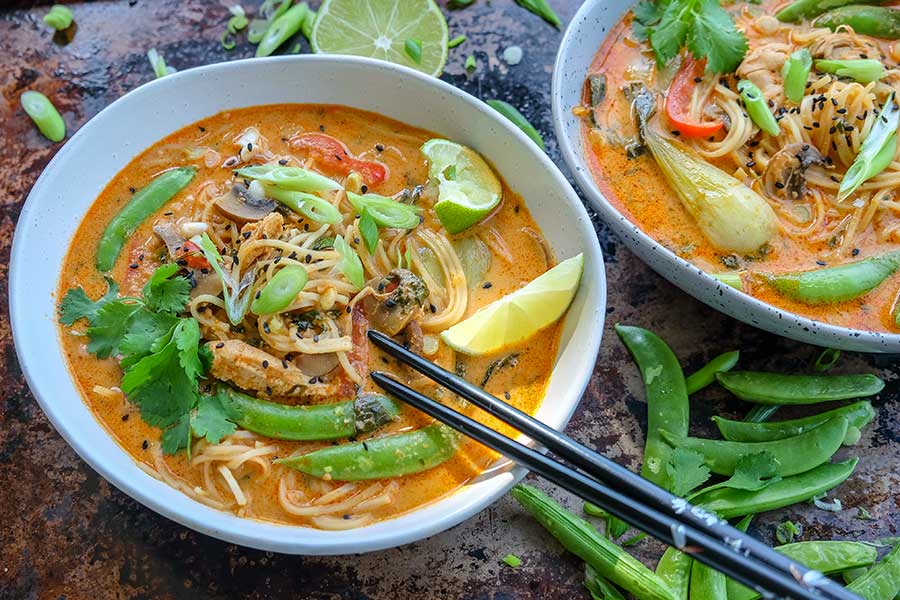 A flavourful creamy Thai Cashew Chicken Ramen is a hot, hearty meal cooked under 30 minutes. This recipe is based on Japanese noodle dish called ramen with added Thai flavours. The entire meal is made in one pot using healthy ingredients. Loaded with fresh veggies briefly cooked in a creamy lightly spiced broth with chicken and gluten-free ramen noodles. To finish this Thai dish, top with cilantro, basil, sliced green onions, sesame oil, sesame seeds, chopped cashews, and fresh lime juice. In this healthy gluten-free soup recipe you can substitute zoodles for ramen to keep the soup keto and low-carb.
Southwest Chicken Lettuce Wraps! Get the recipe →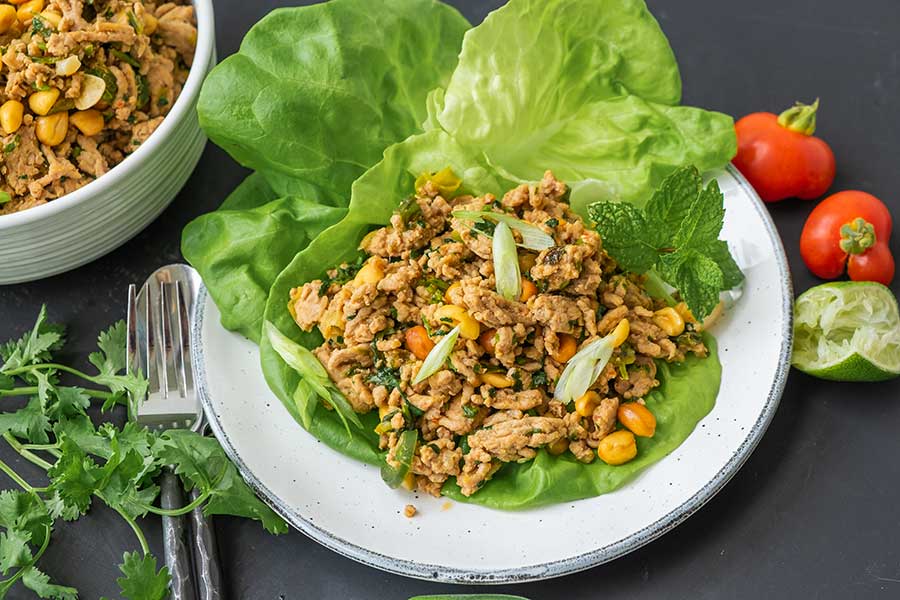 Healthy, savoury, and delicious lettuce wraps are a great way to serve food when following a gluten-free or calorie-restricted diet because you don't need tortillas, bread or rice. This high protein, low-carb meal is fast and super easy to prepare because all you need is fifteen minutes from start to finish. Healthy, delicious and quick to make, how does that sound?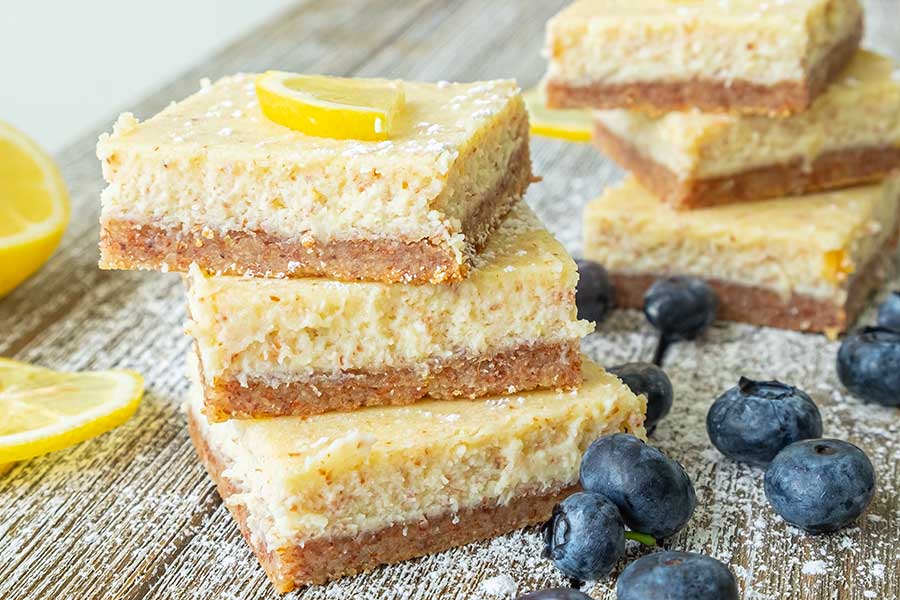 These Keto Cream Cheese Lemon Bars are silky smooth, lemony with a buttery shortbread almond crust. This delicious keto dessert is made with two layers, a shortbread almond crust and creamy lemon layer. The best part, this keto dessert has only about 3 net carbs per slice. Who said you can't indulge with dessert when following a keto diet?
Quinoa Power Salad With Orange Vinaigrette! Get the recipe →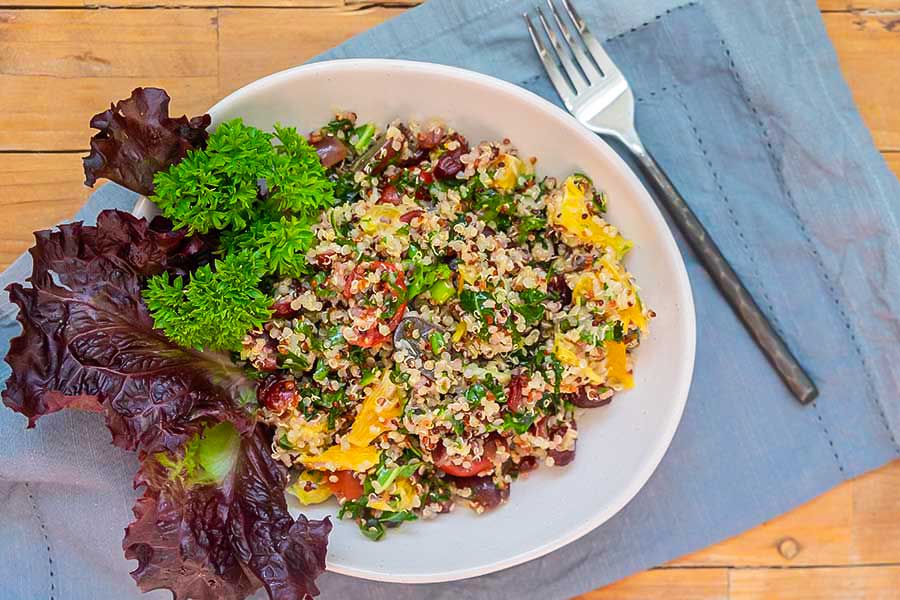 I know, some of you are not that into quinoa, but you must trust me on this! You will taste nothing but deliciousness and as a bonus, this salad will boost your immune system. Quinoa, an ancient seed, contains all nine essential amino acids which means a complete protein and is an excellent choice for someone following a plant-based diet.
Gluten-Free Creamy Cashew Carrot Ginger Soup! Get the recipe →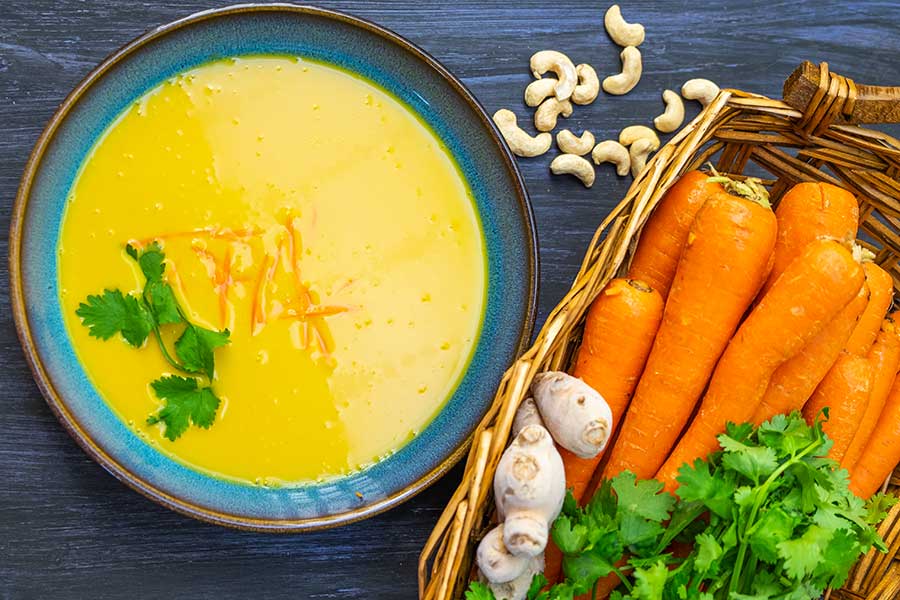 With a few simple ingredients, this immune-boosting carrot ginger soup has a lot of punchy flavours. The gorgeous golden creamy soup is lightly flavoured with nutmeg, cinnamon, lime juice and a boost of spicy ginger. I also added cashews to this healthy vegan recipe for extra creaminess. I promise you, this vegan creamy cashew carrot ginger soup will not disappoint!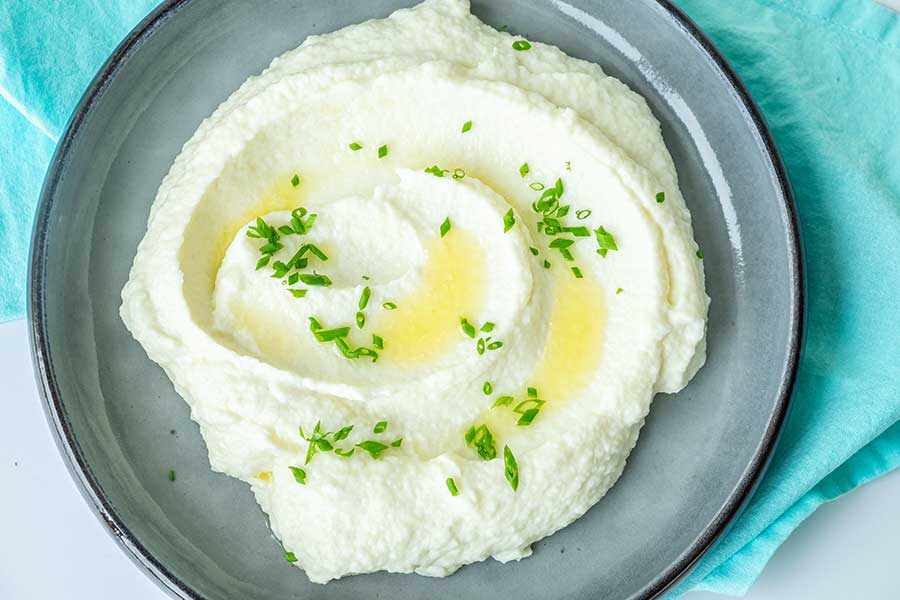 We had to include this keto recipe. You may have tried many versions of the fauxtatoes. But, this one is the best we have tried. Silky smooth, fluffy, lightly flavoured with garlic and super creamy without adding cream. What I love about this recipe, it is made simply using only 5 ingredients, and it takes only 15 minutes to make. This is a keto friendly recipe, so if you are following a low-carb diet, this is a must have recipe!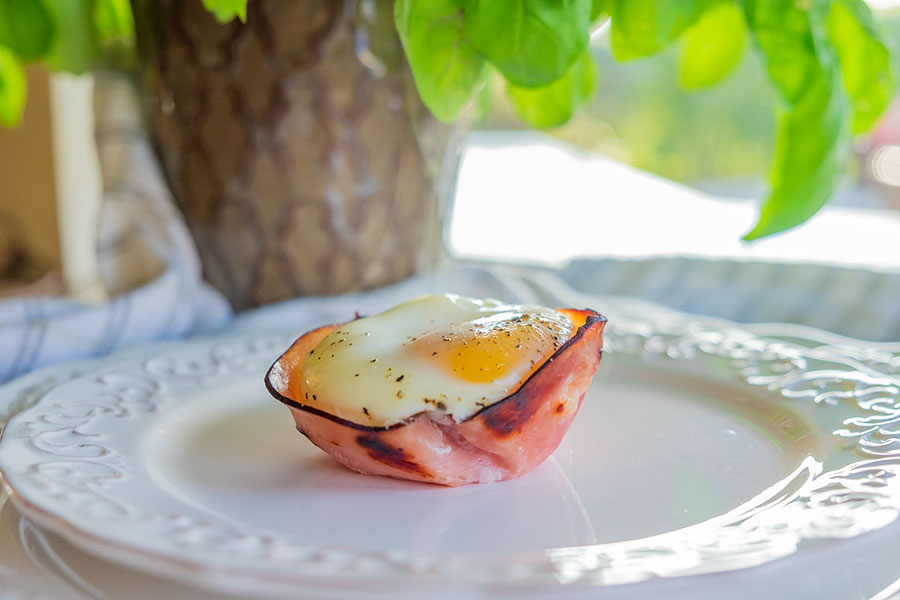 Discover the easiest way to make a high protein breakfast with these Keto Ham And Cheese Egg Cups. Using only three ingredients plus seasoning, these ham and cheese egg cups are simple enough for anyone to make. They are like eggs benedict but without the high carb muffin.
Gluten-Free Keto Multi-Seed Bread! Get the recipe →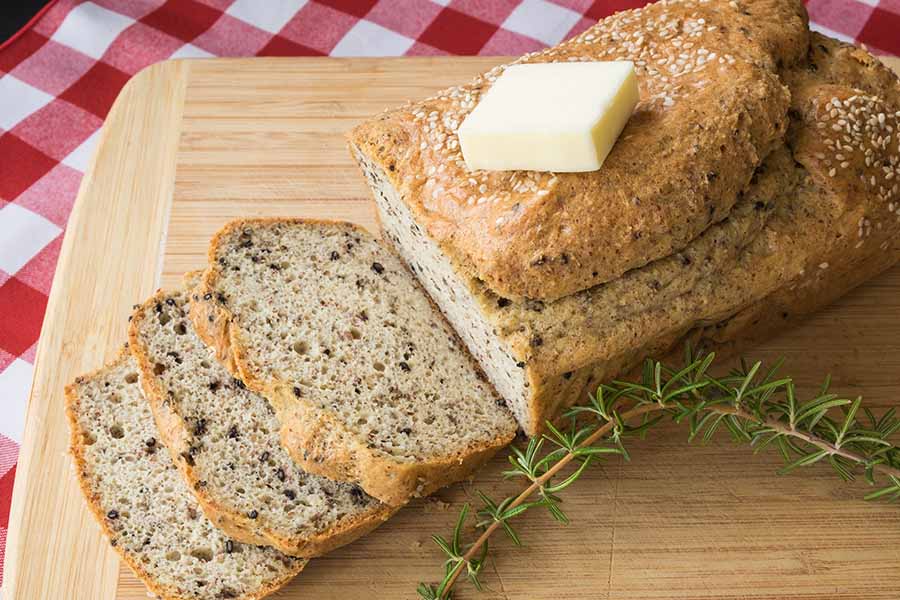 This protein-packed, low-carb seeded quick bread is loaded with vitamins, minerals and fiber. For those who cannot tolerate yeasted bread, this gluten-free keto multi-seed bread is a great replacement. If you hadn't baked it yourself, you would never believe it was gluten-free and low-carb.
4-Ingredient Keto Strawberry Mousse! Get the recipe →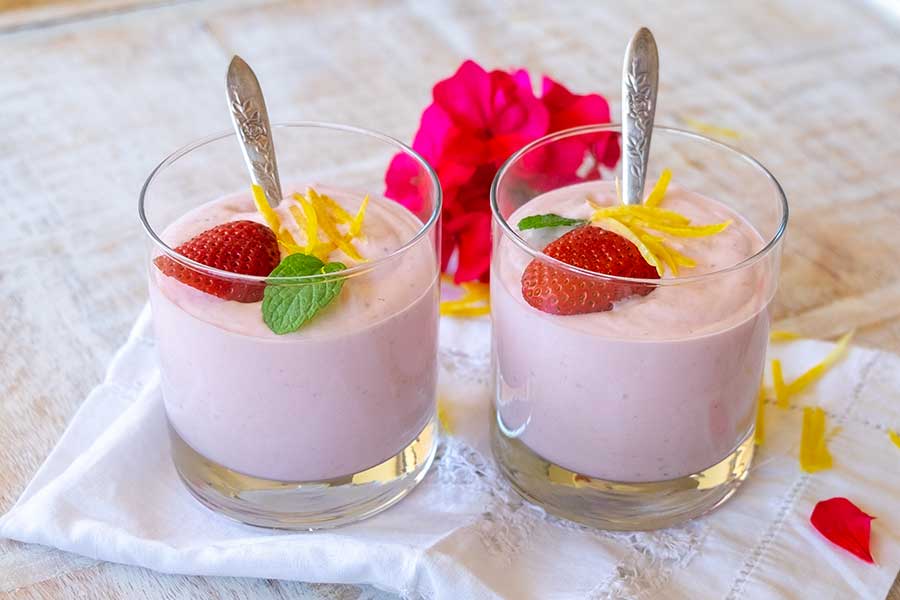 This creamy mousse is made with only 4 ingredients and has about 3.5 net carbs per serving → the net carbs depending on the type of cream cheese you are using. The best part is, this keto dessert takes only 10 minutes to prepare.

Affiliate Disclosure: Only Gluten-Free Recipes is a participant in the Amazon Services LLC Associates Program, an affiliate advertising program designed to provide a means for sites to earn advertising fees by advertising and linking to amazon.com. Please check out my sponsorship and disclosure policy page for more details