Spring Mediterranean Rice Dish
Published on Mar 24, 2021
by
Kristina Stosek
Prep Time:

10 minutes
Cook Time:

15 minutes
Serves:

6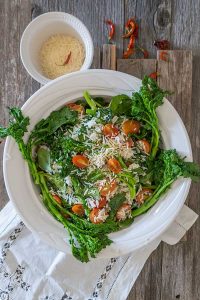 ​This post may contain affiliate links, please see our
privacy policy
for details
The simplest Mediterranean Rice Dish with Parmesan Cheese for the spring nights ahead. This rice is made with broccoli rabe, cherry tomatoes and spinach with a touch of garlic, olive oil, apple cider vinegar and basil—a Mediterranean style naturally gluten-free spring dinner for any night of the week.
Leaping into spring with fresh and healthy recipes. The abundance of rainbow coloured spring produce making its way into the stores makes creating healthy recipes a breeze. This vegetarian recipe is a combination of warming rice and light spring flavours.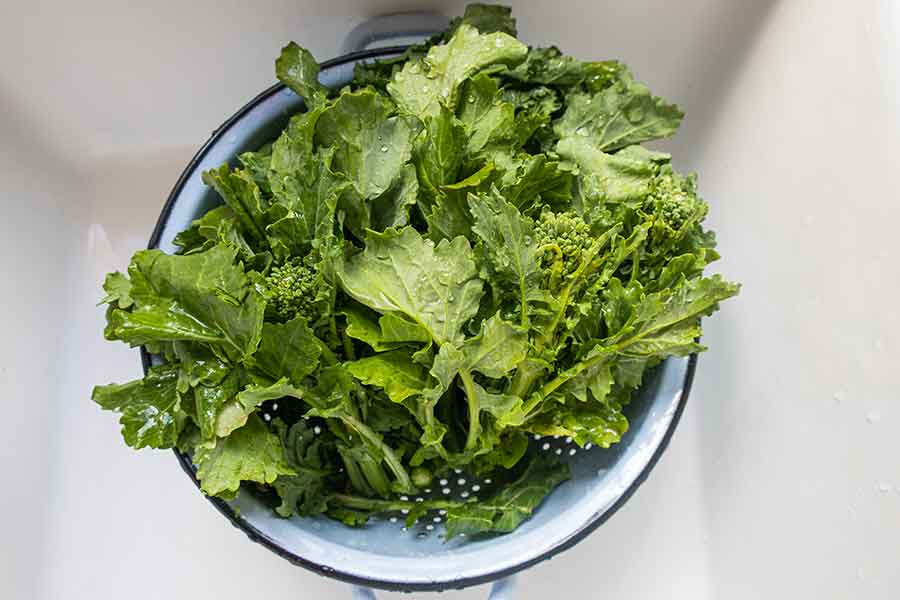 what is broccoli rabe?
To be clear, broccoli rabe, also known as rapini, is not broccoli. This scraggly plant is related more to turnip. The rapini has a slightly bitter taste, and the entire plant is edible, stems, buds and leaves. This deep green plant is rich in fiber, and vitamins, minerals and antioxidants.
This naturally gluten-free Mediterranean inspired rice dish is unique because the rice is combined with fresh veggies. The lightly blanched broccoli rabe is marinated with fresh cherry tomatoes and spinach in a light vinaigrette flavoured with fresh garlic and basil.
What makes this healthy rice dish stand out is the Parmesan cheese. The cheese adds saltiness and flavour, making this vegetarian rice meal extra delicious.
for the details…
You will find that this spring Mediterranean rice recipe comes together quickly and easily. You will need only about thirty minutes from start to finish.
Start with the veggies. The broccoli rabe is lightly blanched, just long enough to take the crunch away. The fresh cherry tomatoes and baby spinach are marinated with heart-healthy olive oil, apple cider vinegar, garlic and basil.
Then the marinated veggies are tossed with the broccoli rabe and parmesan cheese.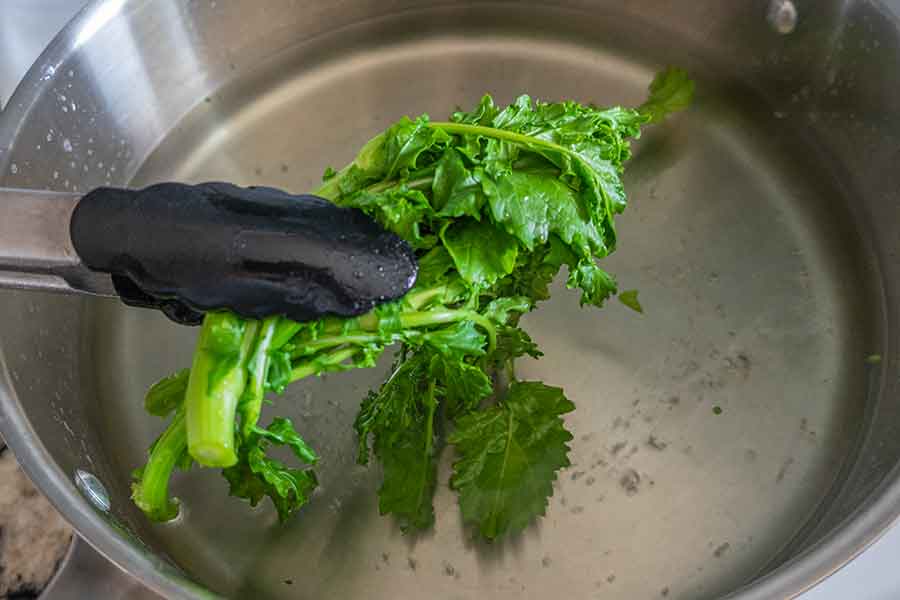 While the veggies are soaking up the flavours, it is time to cook the rice. Using long-grain rice is the key to this rice recipe. I use gluten-free basmati rice, which is long-grain rice. Basmati rice is aromatic and super flavourful.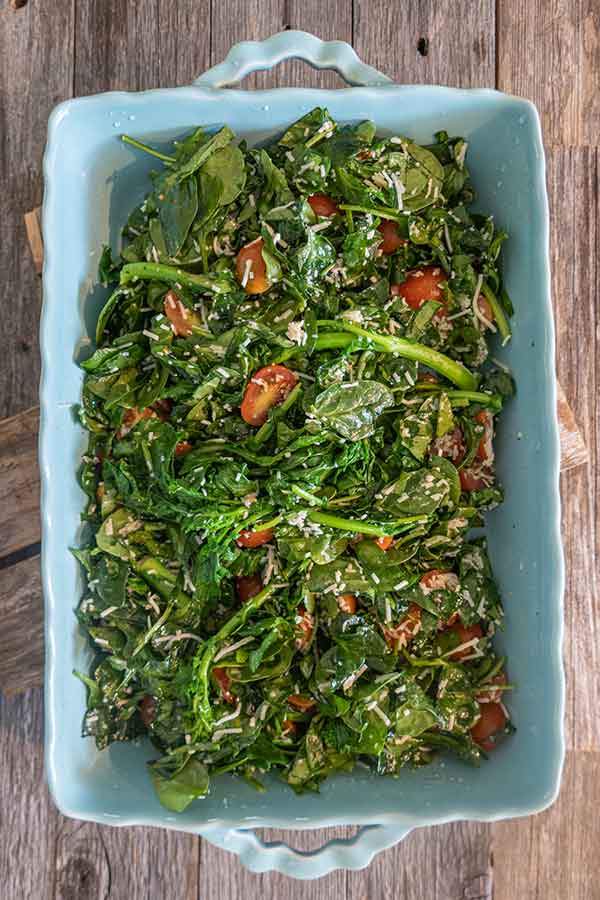 the finishing touch for this Mediterranean rice dish…
You have the well-flavoured veggies ready, and the rice is cooked. It's time to put it all together. Get a large dish or a bowl, add the veggies and the rice while it's still hot, and gently toss everything together.
Serve it up while it's warm with an extra sprinkle of parmesan cheese and, if you wish, a sprinkle of red pepper flakes.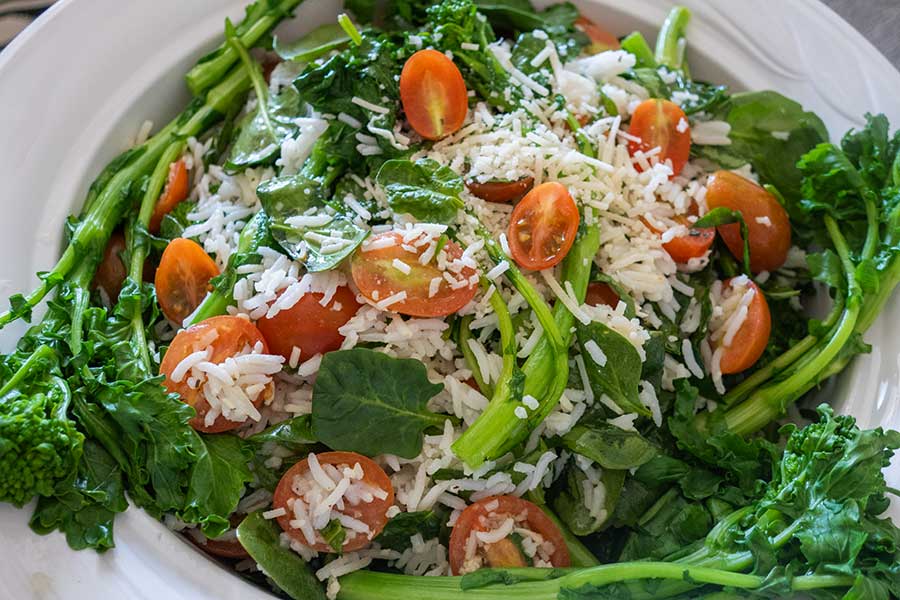 That is all it takes to make this healthy Spring Mediterranean Rice Dish. This rice recipe is a meal on its own and makes a perfect springtime dinner whenever you want to keep the meal vegetarian.
However, you can also serve the rice as a side with your favourite protein. The best part, you don't have to add a side of veggies or a salad because this hearty rice recipe has it all. Enjoy!
Need other spring rice recipes? Here are a few you should give a try.
Spring Mediterranean Rice Dish
Published on Mar 24, 2021
by
Kristina Stosek
Instructions
1.

Bring a large pot of well-salted water to a boil. Remove 1 inch from the stem end of the broccoli rabe. Drop the broccoli rabe in boiling water for 30 seconds, then immediately transfer onto a plate. You can do this in batches

2.

Using a large bowl, combine cherry tomatoes, spinach, olive oil, apple cider vinegar, garlic, 1 cup of cheese and season with salt. Gently toss with broccoli rabe and set aside

3.

Meanwhile, cook rice per package directions with bay leaf and salt

4.

Add the cooked rice while still hot into the vegetables and toss to combine. To serve, top with remaining cheese and a sprinkle of red pepper flakes