30-Minute Louisiana Chicken With Edamame Rice
Prep Time
10 Minutes
Difficulty
Easy
Cook Time
20 Minutes
Serves
4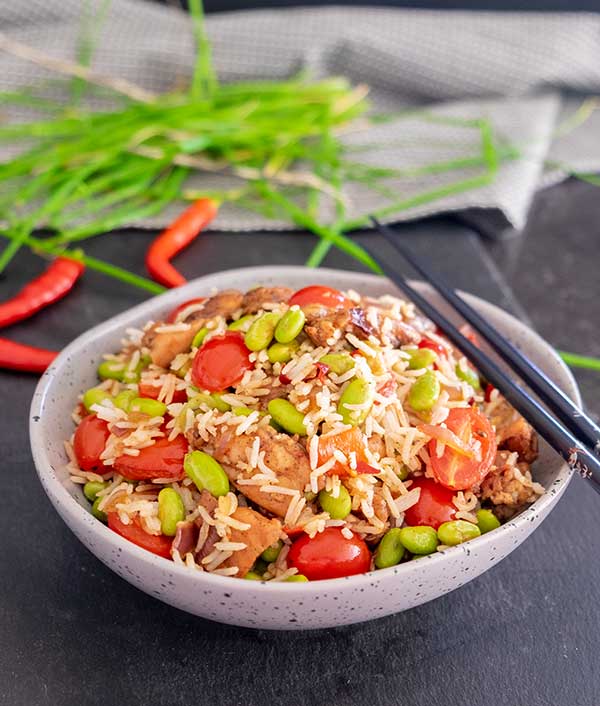 Be the first to rate this recipe.
This Louisiana chicken with edamame rice dish is a blend of savoury, zesty, and spicy flavours.  The chicken is cooked in coconut oil with cajun spices, onions, garlic, bell peppers, a little tamari sauce and honey. This adds so much flavour to the chicken. Mondays tend to be crazy for me, developing new recipes, shopping for ingredients and getting organized for the week. This is where leftovers and fast and easy recipes come in handy. Rice is my favourite carb, especially in the fall. Fall is all about cozy, warm and feel good food, like this healthier version of gluten-free chicken and rice recipe with Louisiana flavours. This chicken dish is so tasty with the perfect blend of spices combined with rice. But it is the edamame what makes this savoury dish shine.
This gluten-free Louisiana chicken and rice dish is simple to prepare, flavourful and with the added veggies considered healthy. This recipe is perfect on busy nights or when you are craving take-out food. If you want to go all out, add some toppings like yogurt, sour cream, cashews, cilantro or lime juice. Have an amazing week!! This recipe isn't for you, then check out our selection of delicious gluten-free chicken recipes here->
Ingredients
1 cup basmati rice
1 3/4 cup water
1 tsp. Coconut oil
1/2 tsp. Pure sea salt
Cajun seasoning: 1/2 tsp. of each GF spice; paprika, garlic powder, black pepper, oregano, thyme, cayenne pepper, pure sea salt
1 1/2 lb. boneless skinless chicken breast, cut into bite size pieces
2 Tbsp. Coconut oil
1 red bell pepper
1 small red onion, chopped
2 garlic cloves, chopped
1 Tbsp. Honey
1 Tbsp. GF tamari sauce
2 cups cooked edamame
10 oz. cherry tomatoes, halved
Note; if you have leftover cooked rice even better. You will need 3 cups
*As an Amazon Associate and member of other affiliate programs, I earn from qualifying purchases. Please check out my sponsorship and disclosure policy page for more details
Instructions
Add rice, water, coconut oil and 1/2 teaspoon of salt to a medium pot. Bring to boil, stir and cover. Reduce heat to low and cook for 10 minutes. After 10 minutes remove from the stove keeping the lid on. Set aside for 10 more minutes, then fluff with a fork
While the rice is cooking, heat a large skillet over medium heat. Add 2 tablespoons of coconut oil and stir in the Cajun spices
Add chicken and cook for 10 minutes, stirring frequently and coating with the spices
Add onions and garlic, reduce heat to medium-low and cook stirring frequently for 10 more minutes, until the chicken is fully cooked.
Stir in honey, tamari sauce and edamame
Add tomatoes and rice. Stir everything together until combined. Enjoy!
Similar Recipes
30-Minute One Pot Cheesy Chicken Taco Rice
30-Minute One Pot Cheesy Chicken Taco Rice is a must have recipe – the rich, full bodied flavours and cheesy rice with chicken is a deeply satisfying dish. I used basmati rice for this recipe because it has the best texture, but any long grain rice will work well in this one pot meal. ♥ […] Read More
Prep Time
10 Minutes
Difficulty
Easy
Cook Time
20 Minutes
Serves
4-6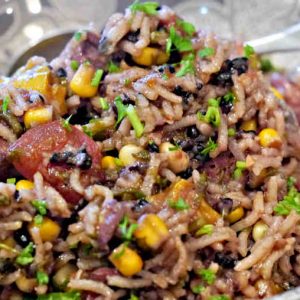 Chicken and Chorizo Jambalaya with Black Rice
This deluxe rice pot has tender chicken, chorizo sausage and a combination of black and white rice. Slowly simmered in a robust sauce this dish is exuding with flavour throughout. Black rice packs powerful antioxidants, highest of any rice variety Read More
Prep Time
15 Minutes
Cook Time
75 Minutes
Serves
6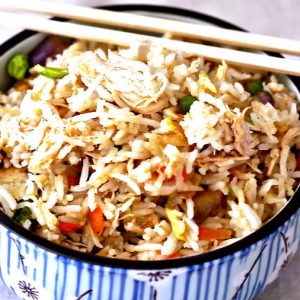 Gluten Free Easy Classic Chicken Fried Rice
After a busy day, making gluten free classic chicken fried rice recipe this easy is the way to go! The entire meal is made mostly from leftovers. Adding veggies, and eggs are all you need for a delicious chicken fried rice dish. Serve with steamed broccoli making it a balanced meal that your family will love […] Read More
Prep Time
15 Minutes
Difficulty
Easy
Cook Time
15 Minutes
Serves
4