30-Minute Louisiana Chicken With Edamame Rice
Published on Oct 22, 2018
by
Kristina Stosek
Prep Time:

10 minutes
Cook Time:

20 minutes
Serves:

4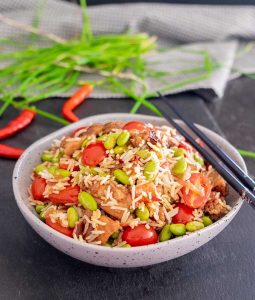 ​This post may contain affiliate links, please see our
privacy policy
for details
The Louisiana Chicken With Edamame Rice is a weeknight dinner made under 30 minutes. This gluten-free chicken with rice meal in a bowl is a blend of savoury, zesty, and spicy flavours. The chicken is spiced with paprika, garlic, oregano, thyme, black pepper, and cayenne pepper, keeping Louisiana's classic flavours.
The well seasoned chicken is mixed with rice, red onions, bell peppers, garlic, honey, fresh tomatoes, tamari sauce and edamame. So much flavour and goodness in one dish. Perfect dinner for a lazy night, especially when you crave take out food.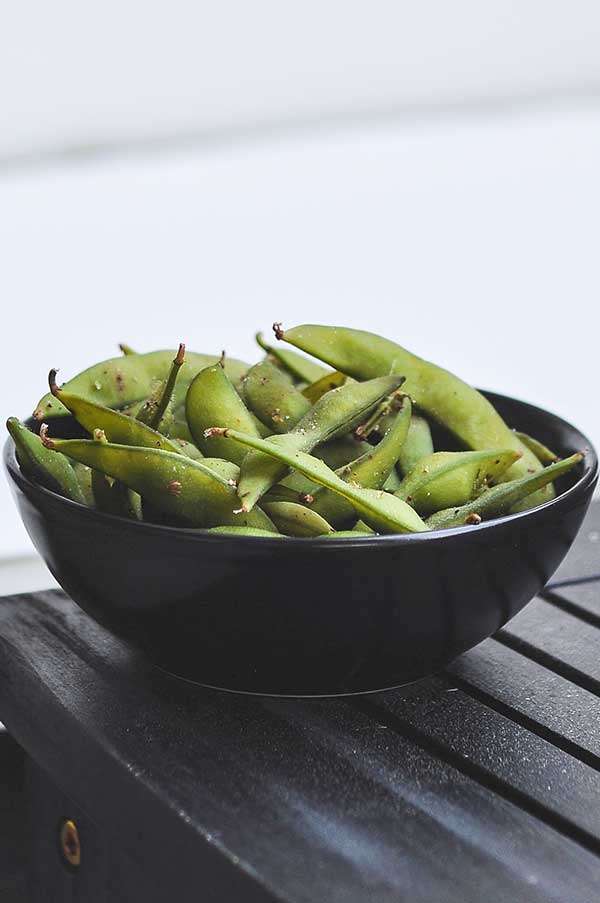 what is edamame?
Edamame is a young bean, also known as green soybean, harvested before it is ripened. These small green soybeans are naturally gluten-free, are low in calories, and they are a good source of protein, iron, calcium, antioxidants and especially dietary fiber. One cup of edamame has 8 grams of dietary fiber.
the Louisiana chicken details,
To start, The chicken is seared in a splash of coconut oil mixed with cajun spices, onions, garlic and bell peppers. The cajun spices coat the chicken and the veggies with the most delicious flavours.
Once the chicken is cooked, it is lightly sweetened either with honey or maple syrup to balance the spiciness. I have also added gluten-free tamari sauce for saltiness and edamame before adding the rice.
To finish this Louisiana chicken recipe, add fresh tomatoes and cooked rice. This is an excellent time to use leftover rice from the previous night or make fresh rice as per our simple rice recipe.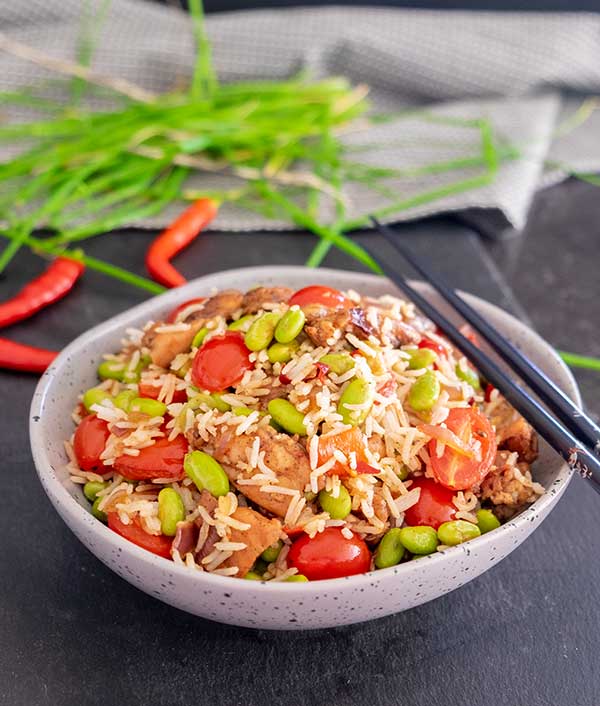 The rice and fresh tomatoes are mixed with the cajun chicken and veggies. This chicken and rice recipe is quick and easy, and you will love it. This insanely delicious Louisianna inspired chicken with edamame rice dinner will satisfy even the pickiest eaters.
The gluten-free chicken in a bowl dinner is all about cozy, warm and feel good food. With all the veggies, spices and lean chicken, this meal in a bowl makes our list healthier recipes. If your appetite is big, add a side of green beans or a green salad.
The best part!
The colourful gluten-free Louisiana chicken and edamame rice dish is simple to prepare, flavourful and packed with healthy nutrients.
A satisfying gluten-free chicken meal for busy nights or when you are craving take out. If you want to go all out, add some toppings like yogurt, sour cream, roasted nuts, fresh herbs, and fresh lime juice.
If this chicken recipe isn't for you, check out our selection of delicious gluten-free chicken recipes for inspiration.
30-Minute Louisiana Chicken With Edamame Rice
Published on Oct 22, 2018
by
Kristina Stosek
Instructions
1.

Add rice, water, and 1/2 teaspoon of salt to a medium pot. Bring to boil, stir and cover. Reduce heat to low and cook for 10 - 15 minutes, until the rice has absorbed all the water. Turn off the heat and keep the lid on for 10 minutes, then fluff the rice with a fork

2.

In the meantime, heat a large skillet over medium heat. Add 2 tablespoons of oil and stir in the Cajun spices

3.

Add the chicken pieces and brown on all sides, stirring frequently and coating with the spices

4.

Add another tablespoon of oil, bell pepper, onions and garlic, reduce heat to medium-low and cook stirring frequently, about 10 more minutes, or until the chicken is fully cooked

5.

Stir in honey, tamari sauce and edamame

6.

Add tomatoes and rice. Stir everything until combined. Enjoy!