Quinoa Power Salad With Orange Vinaigrette
Prep Time
15 Minutes
Difficulty
Beginner
Serves
6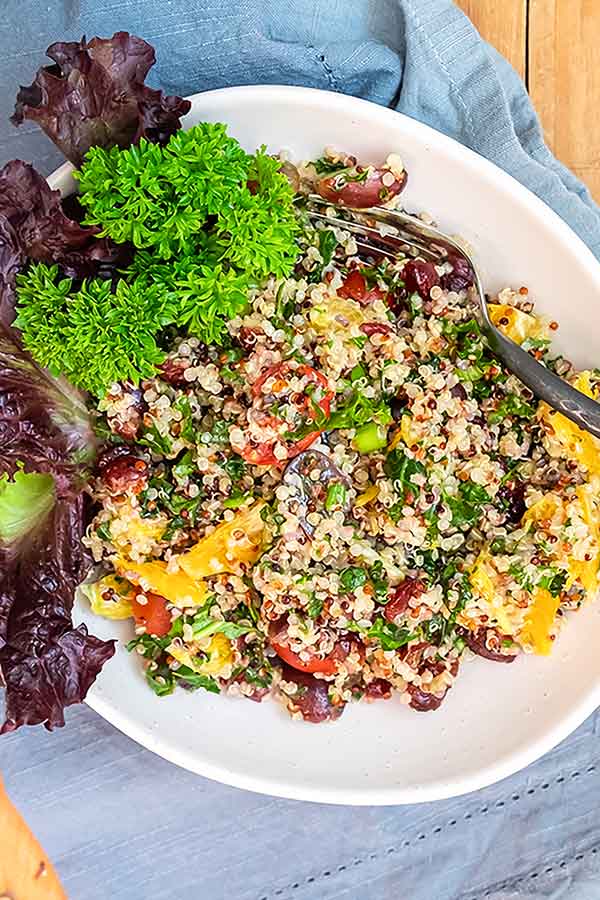 Be the first to rate this recipe.
This quinoa power salad is for someone who is super health conscious. I know, some of you are not that into quinoa, but you must trust me on this! You will taste nothing but deliciousness and as a bonus, this salad will boost your immune system. Quinoa, an ancient seed, contains all nine essential amino acids which means a complete protein and is an excellent choice for someone following a plant-based diet.
To make this flavourful salad is quick and easy. Once you have the cooked quinoa, add kale, green onions, grapes, cherry tomatoes, oranges, currants and fresh parsley. To flavour this salad, I made a zesty orange vinaigrette. All the ingredients in this recipe make everything work so well together. The salad keeps well in the fridge, and the flavour develops more with each day. This quinoa salad is great for on the go lunch, for work, school or as a side to your favourite grilled meats or fish for dinner. 
Ingredients
4 kale leaves, stems removed, thinly sliced
1 cup halved cherry tomatoes
1 cup halved grapes, (red or green)
1 large orange, peeled, deseeded and cut into bite size pieces
4 green onions (spring), diced
1/4 cup chopped parsley
ORANGE VINAIGRETTE
1/3 cup fresh orange juice
3 Tbsp. Extra virgin olive oil
1 Tbsp. Pure maple syrup
1 Tbsp. Grated orange zest
Himalayan salt and freshly ground GF black pepper to taste
Instructions
In a large bowl combine quinoa, kale, cherry tomatoes, grapes, currants, oranges, green onions, and parsley
For the orange vinaigrette, whisk together orange juice, apple cider vinegar, olive oil, maple syrup and orange zest. Add to quinoa, season with salt and pepper and stir until everything is well mixed
Similar Recipes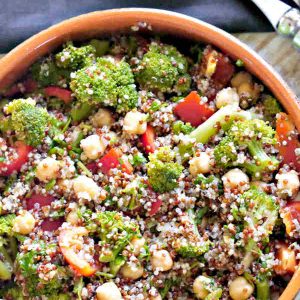 Broccoli and Chickpea Quinoa Salad
This hearty broccoli and chickpea quinoa salad is deliciously flavoured with a light vinaigrette and fresh herbs. Serve as a side with your favourite main, or as a vegetarian entree. This is a delicious light vegan salad Read More
Prep Time
15 Minutes
Difficulty
Easy
Cook Time
10 Minutes
Serves
4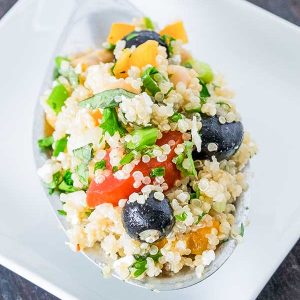 Easy Greek Quinoa Salad
Super-healthy quinoa together with typical Greek vegetables, fresh herbs and the salty punch of feta makes for a delicious gluten-free quinoa salad. This healthy salad is brilliant served alone or as an accompaniment to grilled meats or fish. Quinoa is well known as a superfood, high in complete protein, fiber, B vitamins, iron and calcium, […] Read More
Prep Time
15 Minutes
Difficulty
Beginner
Serves
6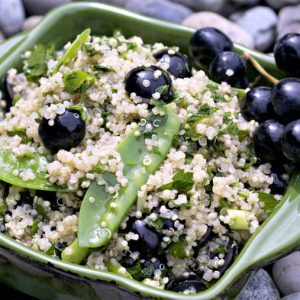 Quinoa Salad With Grapes and Sweet Peas
Not sure if you like quinoa? Try this gluten free quinoa salad with grapes and sweet peas, you may change your mind. This flavourful vegan quinoa salad is low in fat and high in protein. Serve as a starter, side or as a vegan main dish Read More
Prep Time
15 Minutes
Difficulty
Easy
Serves
4