Easy to Prepare Gluten Free Meals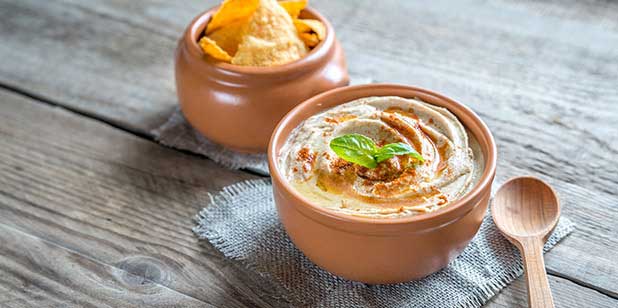 Trying to stay healthy on a gluten free diet but you have no time to cook? Don't let your time constraints affect the quality of your meals! Healthy, delicious and fast gluten free meals are very easy to find. All you need to have is a bit of imagination and clear information about your diet restrictions and how to find the right balance of nutrients with minimum cooking effort.
Discover how to prepare easy and quick gluten free meals loaded with flavor and nutrients with these examples of gluten-free simple recipes:
Summer Chicken Stew: You will need just 15 minute to prepare this tasty tender chicken which comes with a mouthwatering light sauce and lots of fresh vegetables. A very simple recipe which all family members will enjoy.
Gluten-Free Skinny Vegetarian Chili: Low fat chili with an unique blend of spices and herbs make this chili a heart warming meal for the winter months.
Cauliflower and Chickpeas In Light Curry Sauce: This tasty vegan curry dish takes only 20 minutes to prepare. This recipe combines different vegetables such as cauliflower, red peppers and plant based proteins from chickpeas. Complete nutrition!
Immune Boosting Turmeric Celery Soup
This Flavourful Immune Boosting Turmeric Celery Soup is made with only ten ingredients. The key ingredients are celery, carrots... Read More
Prep Time
15 Minutes
Difficulty
Easy
Cook Time
30 Minutes
Serves
6
Salmon Pops With Piquant Dill Sauce
These Salmon Pops With Piquant Dill Sauce make for delicious healthy low-carb appetizers. Or, for the nights when you... Read More
Prep Time
15 Minutes
Difficulty
Easy
Cook Time
12 Minutes
Serves
16
Moroccan Chickpea Rice Salad
This plant-based Moroccan Chickpea Rice Salad is packed with exotic Moroccan flavors, and fresh herbs and is super easy... Read More
Prep Time
15 Minutes
Difficulty
Beginner
Serves
6
Gluten Free Quick Pasta Recipes
If you are in a hurry, preparing pasta is always a good idea. Gluten free pasta is easy to find, our favorite kinds of pasta are made from corn and rice, but there are many other less popular kinds such as chickpea or lentil pasta. There are endless pasta recipes, but these are some of our favorites gluten free quick pasta recipes:
Gluten Free One Pot Singapore Noodles: You only need one pot and 10 minutes to prepare these noodles, cooked in a spicy curry with vegetables.
Gluten Free Lemon Pasta with Asparagus : This vegetarian, gluten-free pasta dish is based on the classic lemon pasta or pasta al limone recipe but with an added twist of asparagus and a hint of garlic. Quick and easy meal with wonderful flavours.
Spiralized Vegetables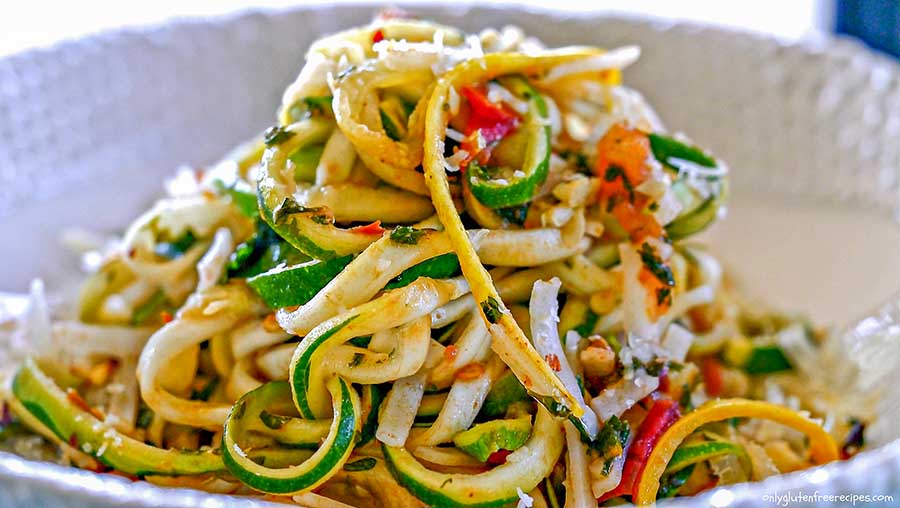 Gluten free pasta can be substituted by spiralized vegetables, especially zucchini, this modification is ideal for people on a low carb diet or that just prefer a light and quick gluten free meal. Any normal gluten free pasta recipe can be easily done with spiralized vegetables.
Gluten Free Zucchini Alfredo: This is a healthier version of the traditional fettuccine alfredo sauce, but it is as creamy and tasty as the normal one.
Gluten free easy desserts
There are many gluten free easy desserts recipes which take less than 20 minutes and taste wonderful. If you want to reduce your cooking time, try to choose recipes that do not require baking time as this will slow down the preparation process. Some easy gluten free dessert recipes, which are included on our website, are:
Upside-Down Pear Dutch Baby – Gluten-Free: The lightly scented pears with cinnamon are caramelized and nestled in light and pillowy pancake-like gluten-free cake. Give it a try!
Easiest Gluten-Free Blender Coconut Pie: Decadent gluten-free blender coconut pie made from scratch, without a crust, with only 9 ingredients and using only a blender. Rich and sweet, no-fuss coconut pie for special occasions
Preparing gluten free recipes doesn't have to be time consuming, there are many quick gluten free meal recipes which take less than 20 minutes and are healthy and delicious! To check out more gluten free simple recipes, visit our recipe catalogue, you will be able to filter by categories such as casual meals or by skill level.
Gluten Free Very Best Tiramisu Recipe
Gluten free Tiramisu Dessert features a blend of coffee, coffee liqueur, mascarpone cream, and cocoa, all wrapped in lightly sweetened... Read More
Prep Time
30 Minutes
Difficulty
Moderate
Serves
10
Gluten Free Vanilla Custard Magic Cake
Gluten Free Vanilla Custard Magic Cake, the simplest dessert recipe with extraordinary results. This is a vanilla three layer... Read More
Prep Time
15 Minutes
Difficulty
Easy
Cook Time
45 Minutes
Serves
9
Gluten-Free Caribbean Rum Cake
This holiday season wouldn't be complete without a Gluten-Free Caribbean Rum Cake. This Caribbean-Style Rum Cake is a super... Read More
Prep Time
15 Minutes
Difficulty
Easy
Cook Time
60 Minutes
Serves
16 pc