Gluten-Free Singapore Noodles
Published on Feb 10, 2016
by
Kristina Stosek
Prep Time:

5 minutes
Cook Time:

15 minutes
Serves:

4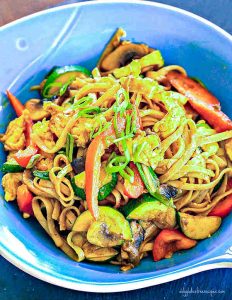 ​This post may contain affiliate links, please see our
privacy policy
for details
Gluten-Free Singapore Noodles are made with fresh, spring vegetables, scrambled eggs, ginger, garlic, tamari sauce, curry powder and rice noodles. A satisfying, nourishing dish on the table in under twenty minutes.
In this Asian dish, the vegetables are briefly cooked, leaving the texture tender but firm to bite. The well-seasoned curry sauce combined with the noodles and veggies works exceptionally well. The dish relies on the sauce to flavour this beautiful Singapore noodle dish.
The best gluten-free Singapore noodle dish!
To make this vibrant coloured vegetarian dish is so quick. Once you prep the veggies, everything goes very quickly. So it is essential to have everything prepared before you start cooking.
only 20 minutes for this noodle dish,
The entire meal takes only twenty minutes from start to finish making this an easy weeknight meal. And, you can easily substitute leftover chicken or pork for the eggs.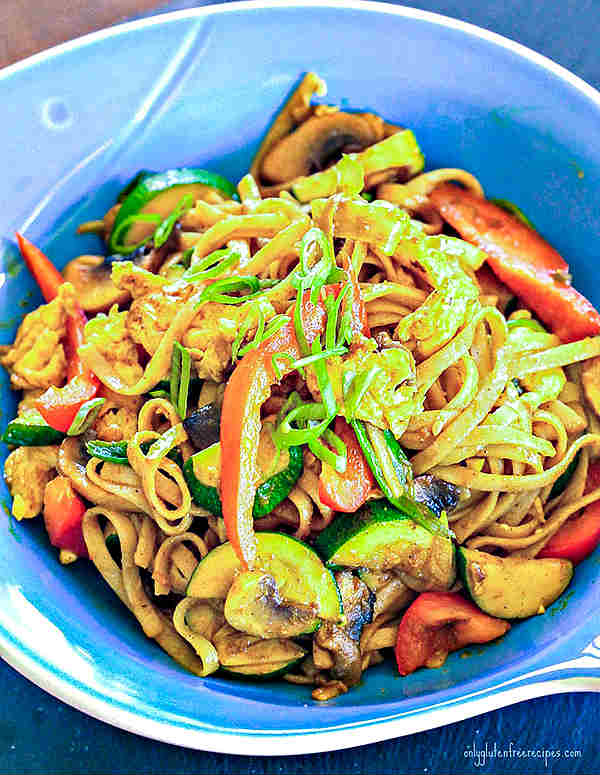 What about vegan diet?
Suppose you follow a plant-based diet. You can substitute firm tofu for the eggs. However, if you are using tofu, cut it into small cubes so that the tofu can absorb the flavours of the sauce.
This noodle dish is an uncomplicated recipe with exceptional results.
This recipe has the authentic taste you find in a simple Singapore noodle dish. This plant-based recipe is excellent for the spring and summer when veggies are fresh and in season.
the key to make perfect Singapore noodle dish,
The key to the perfect texture of vegetables is to cook them briefly at high temperatures. The veggies will be tender with a bit of a bite and retain most nutrients.
If you cook the vegetables at a lower temperature, they take longer to cook and will become soft and soggy.
If you like this Singapore noodle dish, why not check out our selection of gluten-free Thai recipes.
Gluten-Free Singapore Noodles
Published on Feb 10, 2016
by
Kristina Stosek
Instructions
1.

Cook the noodles according to package directions. Drain and set aside

2.

Heat 1 teaspoon of coconut oil over medium heat in a large non-stick pan or wok. Add eggs and scramble until cooked. Transfer onto a plate and set aside

3.

To the same pan, add remaining coconut oil and heat over medium-high heat. Add garlic, mushrooms, bell pepper and zucchini and stir-fry over medium heat for 3 minutes. Reduce heat to low and stir in curry powder, cayenne, tamari sauce, ginger and green onions. Cook for 1 more minute

4.

Return noodles and eggs back to the pan and carefully toss to coat with the vegetable mixture

5.

Garnish with green onions