Gluten-Free Caribbean Rum Cake
Published on Dec 19, 2020
by
Kristina Stosek
Prep Time:

15 minutes
Cook Time:

60 minutes
Serves:

16 pc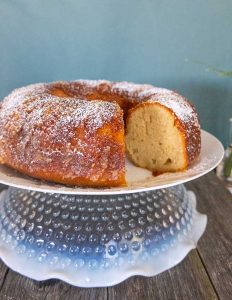 ​This post may contain affiliate links, please see our
privacy policy
for details
This holiday season wouldn't be complete without a Gluten-Free Caribbean Rum Cake. This Caribbean-Style Rum Cake is a super moist cake infused with sweet butter rum syrup making this cake extra delicious.
There's nothing quite like a rum cake to get you in the Caribbean spirit! And what's even better is that this delicious dessert is a gluten-free recipe!
So if you want to enjoy the taste of the islands at home, this gluten-free Caribean dessert is sure to please. So grab your rum, and let's get started!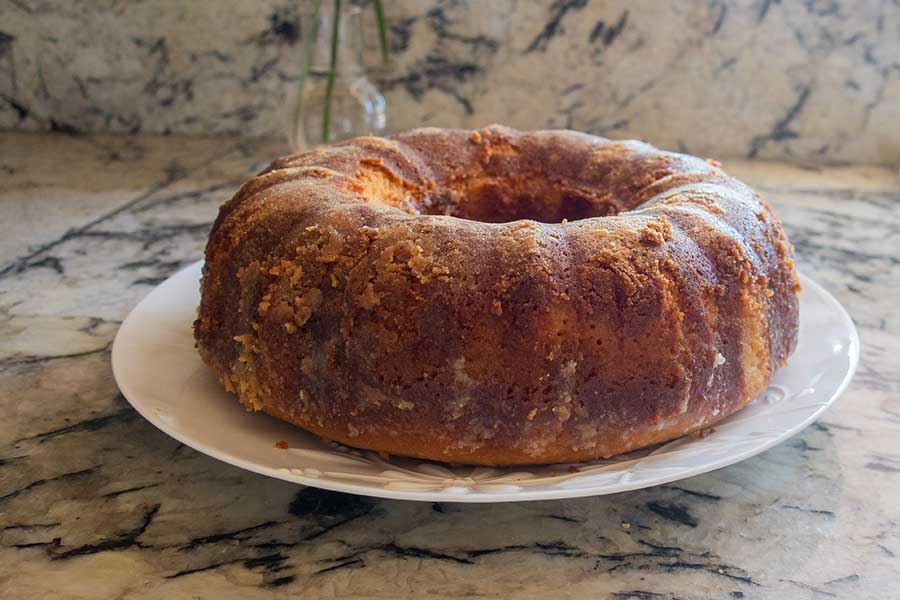 What is Caribbean Rum Cake?
If you are unfamiliar with the Caribbean Rum Cake, it is a sponge cake soaked overnight in a sweet butter rum syrup. The rum cake's flavour intensifies with each day and will keep for several days at room temperature.
This gluten-free dessert is extra special because it has a delicate rum flavour, and the cake is super soft and moist. This holiday dessert is truly outstanding and different from your typical Christmas cakes.
Why is it called Caribbean rum cake?
There are a few different stories about where Caribbean rum cake got its name. One story says that the cake was created by sailors who used rum to keep their cakes from going stale on long journeys.
Another story says that the cake was created in the West Indies, and rum was used because it was cheap and readily available alcohol.
Whatever the true story, we know that Caribbean rum cake is a delicious and unique cake that is insanely delicious!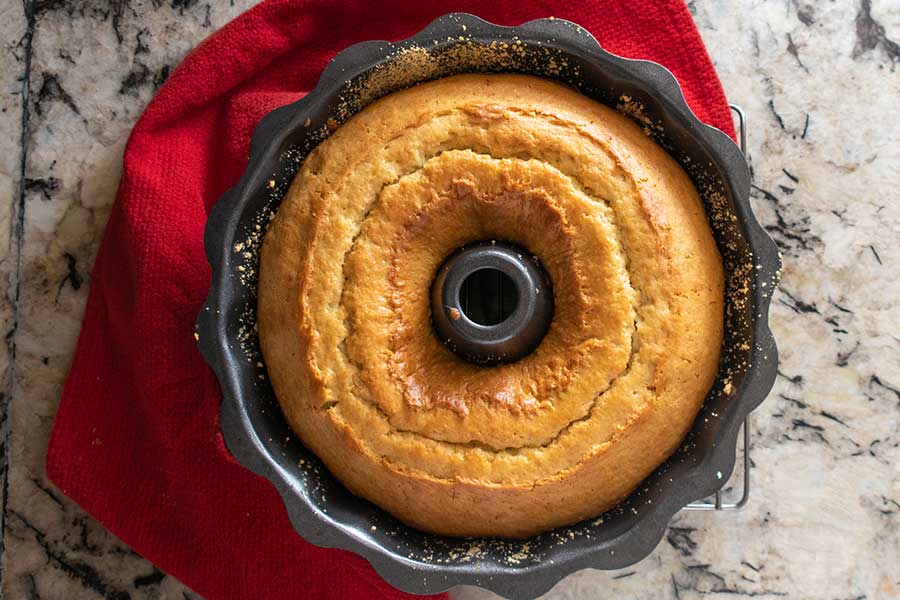 The cake itself is nothing fancy – it is all about the butter rum syrup. To infuse the cake, you will need to poke holes in the cake after baking.
The holes allow the cake to absorb the buttery flavourful rum syrup. By soaking the cake with the syrup, the cake becomes super soft, moist and incredibly tasty.
Can you make rum cake without alcohol?
Yes, you can make a gluten-free Caribbean rum cake without alcohol. This is an excellent option for those looking for a delicious and festive cake but who don't want the alcohol.
To make this cake without alcohol, substitute the rum for an equal amount of water mixed with one additional teaspoon of pure vanilla extract or maple extract.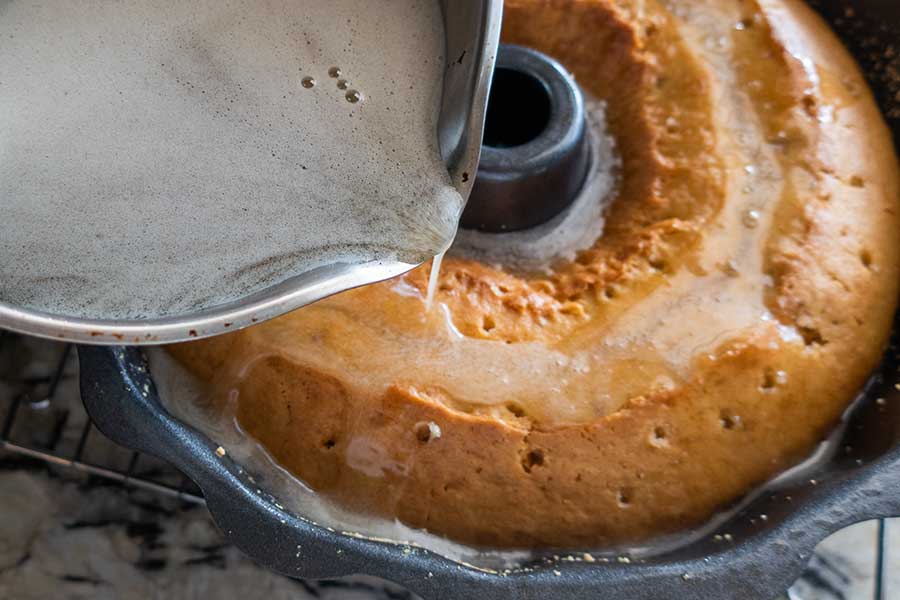 Is alcohol gluten-free?
Not all alcohol is gluten-free! Even if it is made with wheat, barley or rye, pure distilled liquor is considered gluten-free.
Then again, a beer that is often made with wheat or barley is not gluten-free because it is not distilled. Beer is mostly fermented with yeast.
Also, be careful of distilled liquors with added flavourings or other additives because they may not be gluten-free.
When it comes to rum, because it is distilled, it is gluten-free. However, some rums are flavoured and often are not gluten-free.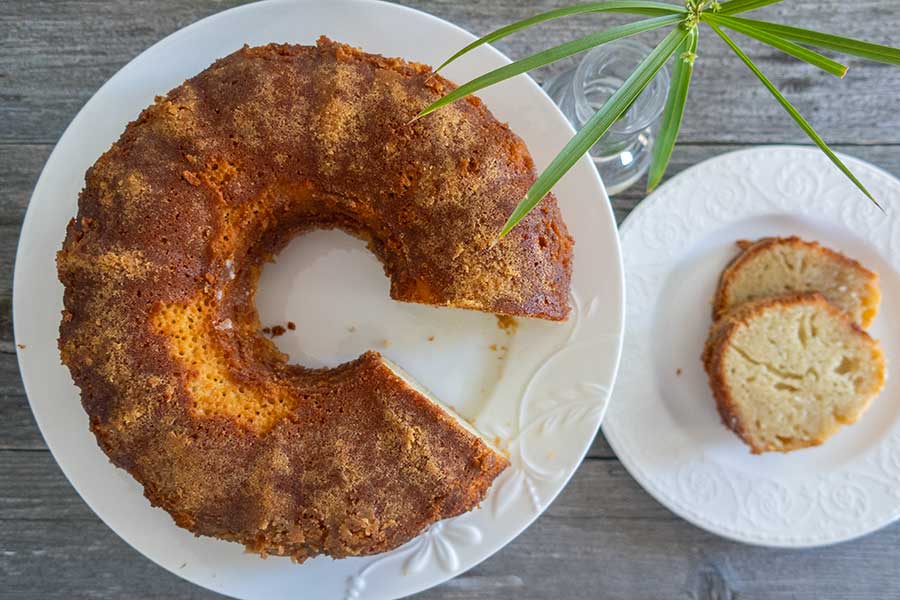 What about wine? Wine is fermented, not distilled, and most wines are considered gluten-free. Wine is made from naturally gluten-free grapes. But, some brewing processes can result in gluten contamination.
If you are looking for one more gluten-free dessert to add to your dessert platter, this Gluten-Free Caribbean Rum Cake is a must try dessert recipe. This Caribbean dessert is always a huge hit during holiday festivities.
Why is rum cake so popular?
There are a few reasons why rum cake is so popular in the Caribbean.
First, rum is a very popular liquor in the Caribbean, so it only makes sense that rum cake would also be popular.
Secondly, the flavor of rum cake is unique and very delicious.
Lastly, rum cake is a unique dessert often served on special occasions and celebrations.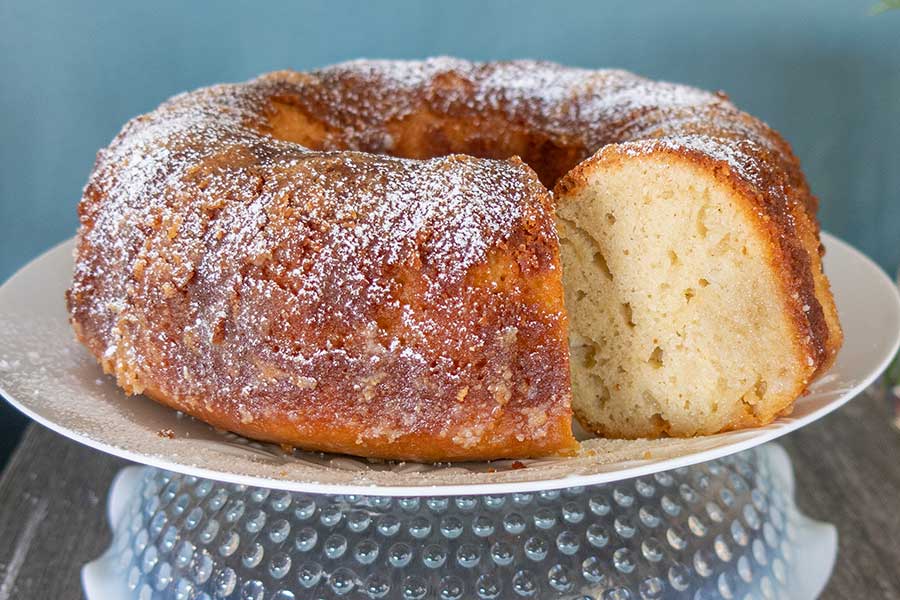 We hope you enjoyed learning about this extra moist gluten-free Caribbean rum cake, a unique dessert that we encourage you to try making at home at least once! Thanks again, and happy baking!
Are you looking for last minute gluten-free easy dessert recipes? These are my favourites.
2 Layer Grain-Free Chocolate Cake
Gluten-Free Chocolate Blackberry Pie
Gluten-Free Coconut Lemon Custard Pie
Let's Connect!
Be sure to FOLLOW US on FACEBOOK and PINTEREST.
Many thanks!
Kristina xx
Gluten-Free Caribbean Rum Cake
Published on Dec 19, 2020
by
Kristina Stosek
Instructions
1.

2.

Using a large mixing bowl, combine flour, sugar, tapioca starch/flour, baking powder and salt

3.

Add butter, olive oil and milk and mix using an electric mixer at medium speed until smooth. Add one egg at a time and keep mixing until smooth. Stir in rum and vanilla.

4.

5.

Pour the batter into the pan and bake for 60 minutes. Insert a long toothpick in the center. If the toothpick comes out clean, the cake is done. Remove cake from the oven and place on a cooling rack

6.

While the cake is cooling, prepare the butter rum syrup. In a medium saucepan, combine butter, water and sugar. Bring to a boil, then reduce to simmer and cook for 5 minutes without stirring. Remove from the heat and stir in rum

7.

While the cake is still a little warm, using a long skewer, poke holes in the cake and pour 1/4 cup of syrup at a time over the cake in the pan until the cake absorbs the syrup. Repeat until syrup is used

8.

Loosely cover the cake with plastic wrap and rest overnight at room temperature

9.

Using a knife loosen the edges of the cake and invert onto a plate. Wrap the cake with plastic wrap until ready to serve. The cake will keep up to seven days at room temperature
Leave a Comment
Kristina
thats great to know BSJ, thank you for sharing
I made this recipe and was delicious. I am allergic to eggs so substituted about 0.75 cup of oat milk w/ lemon juice to make buttermilk and added another teaspoon of baking powder. It turned out amazing. Thanks!!
Kristina
only if it is gluten free Barbara
Can I use a flavored rum. Siesta Key rum factory makes an outstanding toasted coconut rum which I would love to use in this recipe
Kristina
yes Isabel you can use Bob's
Can I use the bobs red mill 1:1 one to make this cake?
I made this rum cake for Thanksgiving it was a huge hit, definitely making it for Christmas. Thank you, your recipes are so easy to follow and make!
Kristina
Thank you Valerie, comments like yours make my job very rewarding!
Absolutely scrumptious! I have Celiac disease and baked this for a family dinner. It was such a hit that my non-gluten-free son-in-law requested it for his birthday cake. It has now been entered into our Family Favorites cookbook - thank you so much!
Kristina
a stunning rum cake, I had no idea that gluten-free cakes can taste this good. Thank you so much for this recipe
Best rum cake I have ever tasted!
Kristina
thank you for letting me know, your comments are much appreciated!
I never get to eat rum cake! As huge fans of Tortuga rum cake, my family absolutely loved this! I usually watch them eating rum cake in envy but this time I got to eat it! Honestly this recipe is so easy to make, and the end result is delicious! Thank you so much! This Welsh girl is extremely happy!
Kristina
Thank you, I know how you feel, but sometimes we have to spoil ourselves, as long as we get back on track!
Love this! My 14 year old daughter followed the recipe and amd made it for new Years Eve... It was sooo delicious! So much for the 5 pounds I lost before the holidays...!
I have been looking for a gluten-free rum cake recipe and this sounds perfect. Thank you
Kristina
you can use a round pan with removable bottom or a square pan lined with parchment paper. The cake will take longer to bake, I am not sure how much longer, but probably another 15 minutes. Be sure to do the toothpick test. If the top of the cake starts to get too dark, cover the cake loosely with foil paper. Good luck
Can this be made in a different kind of pan? I don't own a bundt pan.