Gluten-Free Chocolate Blackberry Pie
Prep Time
15 Minutes
Difficulty
Easy
Cook Time
22 Minutes
Serves
6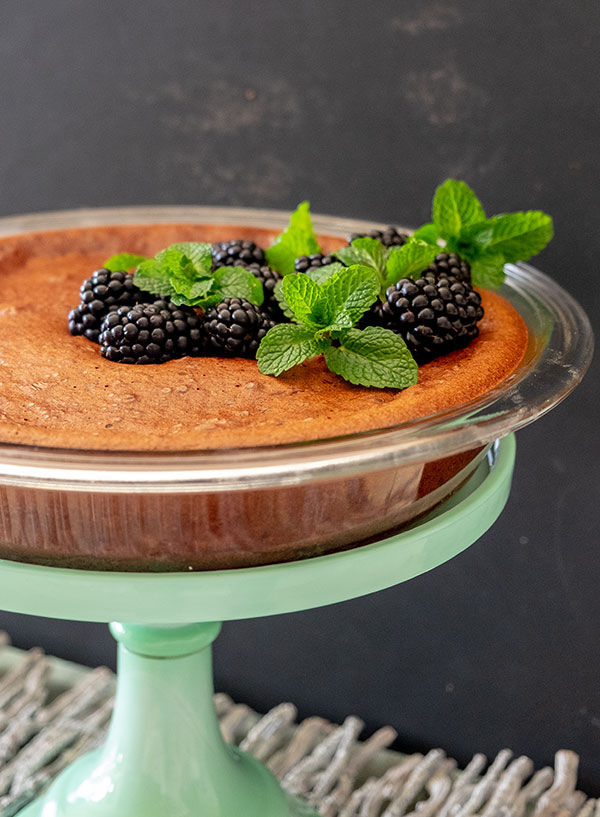 Be the first to rate this recipe.
I like to finish the week with a dessert especially when there is chocolate involved. So why not a 3 layer gluten-free chocolate blackberry pie, might as well go all out! The layers are made up of nut based crust, fresh blackberries and chocolate custard. To bring out the chocolate flavour, I added some coffee to the custard making this pie outstanding! This dessert is not the typical healthy recipe for January, but it is so good, I just had to share it with you. For me, it is all about portions. I have a small piece and enjoy every bite without feeling guilty, just like the French do. I believe it is all about balance, this is especially important when it comes to food. After all, this pie has plenty of fresh blackberries, so it is sort of healthy 🙂 If you don't want to make this heavenly gluten-free dessert in January, save it for another time, it's a keeper!
Ingredients
1/2 cup gluten-free flour blend (I used cup4cup)
1/8 tsp. Himalayan salt
2 Tbsp. Pure maple syrup
3 Tbsp. Unsalted butter or coconut oil, melted
FILLING
3 large eggs, separated
1 large egg
1 tsp. Pure vanilla extract
1/4 cup strong coffee (espresso is excellent)
3/4 cup pure cocoa powder
8 oz. fresh blackberries, halved, plus some for serving
For serving; fresh blackberries, whipped cream or ice cream
Instructions
Preheat oven to 350 F and grease a 9-inch pie plate with butter or coconut oil
Prepare the crust; In a medium mixing bowl, stir together dry ingredients. Add maple syrup and butter. Mix until thoroughly combined. Press the mixture only on to the bottom of the pie plate, making sure to pack it in tight. Bake for 10 minutes. Remove from the oven and cool completely while preparing the filling.
Prepare the filling; Beat egg whites until firm peaks form. Set aside
In a large bowl using an electric mixer whisk 3 egg yolks,1egg, and vanilla until smooth. Add condensed milk, coffee and cocoa powder and mix until smooth, scraping sides as needed. Fold one third of egg whites at a time into the custard.
Spread blackberries over the crust and pour the custard into the pie plate. Bake for 20 - 22 minutes until no longer jiggly
Cool completely and refrigerate overnight
Serve with fresh blackberries, whipped cream or ice cream
Similar Recipes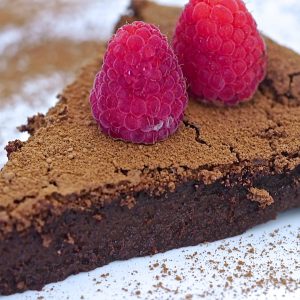 Flourless Chocolate Truffle Cake
For you chocolate lovers there is nothing better than this gluten-free flourless chocolate truffle cake. This fabulous dessert is oozing with chocolate throughout. On rare occasions, it is ok to indulge in rich desserts such as this chocolate truffle cake and since we are indulging add some ice cream and fresh berries. Enjoy Read More
Prep Time
20 Minutes
Difficulty
Intermediate
Cook Time
60 Minutes
Serves
6-8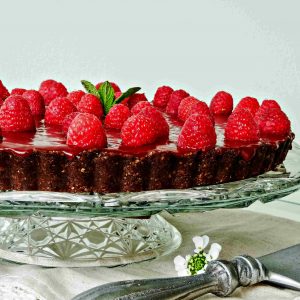 Gluten Free No Bake Raspberry Chocolate Tart
Here is a delectable gluten free dessert that doesn't need baking. This exceptional dessert may look complicated but takes only minutes to prepare. Nothing tastes better than raspberries smothered with chocolate. In this raspberry chocolate tart, the crust is made with hazelnut flour making this a grain-free dessert. This gem of a tart can also […] Read More
Prep Time
15 Minutes
Difficulty
Easy
Cook Time
7 Minutes
Serves
8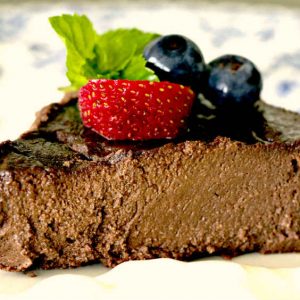 Gluten Free Wildly Rich Chocolate Walnut Pie
Easy Gluten-Free Wildly Rich Chocolate Walnut Pie. This chocolate dessert tastes like a mousse, creamy, chocolaty, and so good!. This gluten-free dessert is one of those blender recipes. All you do is add everything into a blender and then bake. For this recipe, you will need only nine ingredients. Because the entire dessert is made […] Read More
Prep Time
5 Minutes
Difficulty
Beginner
Cook Time
60 Minutes
Serves
9-inch pie