Our 14 Best No-Bake Gluten-Free Desserts

With the temperatures rising, we think about refreshing desserts. Chilled, no-bake gluten-free desserts are often easier to make and keep you cooler during the hot temperatures. You will especially love not turning the oven on because it will keep your kitchen much cooler.
I have chosen our best no-bake gluten-free desserts, including decadent chocolate desserts, cheesecake bars and easy chia puddings. These gluten-free delights are made quickly and from scratch.
No-Bake Gluten-Free Desserts
The recipes can suit those with food intolerances and allergies and are family-friendly. I had fun creating and testing each dessert and tried to keep the recipes as simple as possible, delicious, and healthy.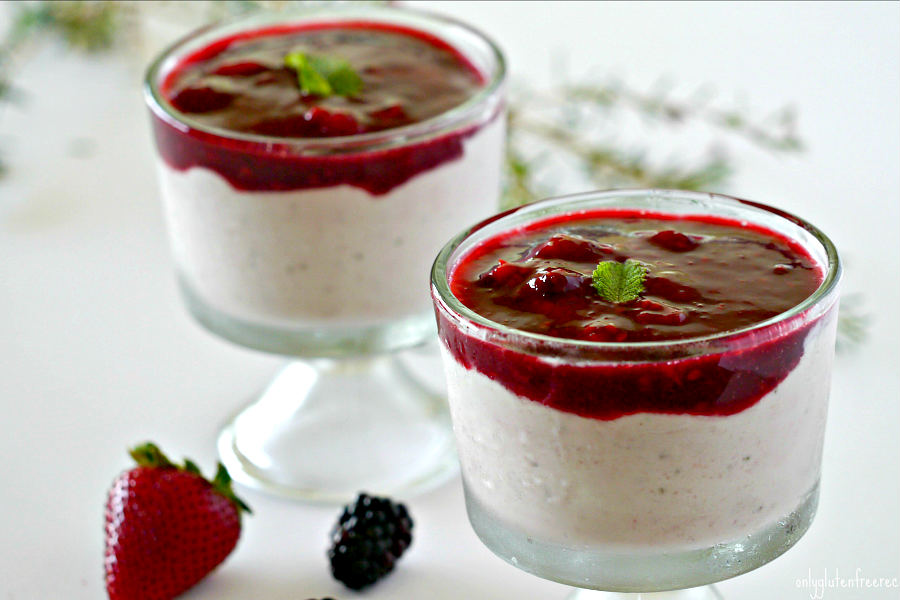 When fresh berries are in season, this strawberry ricotta mousse with blackberry topping makes for a simple tasty dessert. This French-style no-bake gluten-free dessert is light and not too sweet. This dessert makes a lovely presentation at a dinner party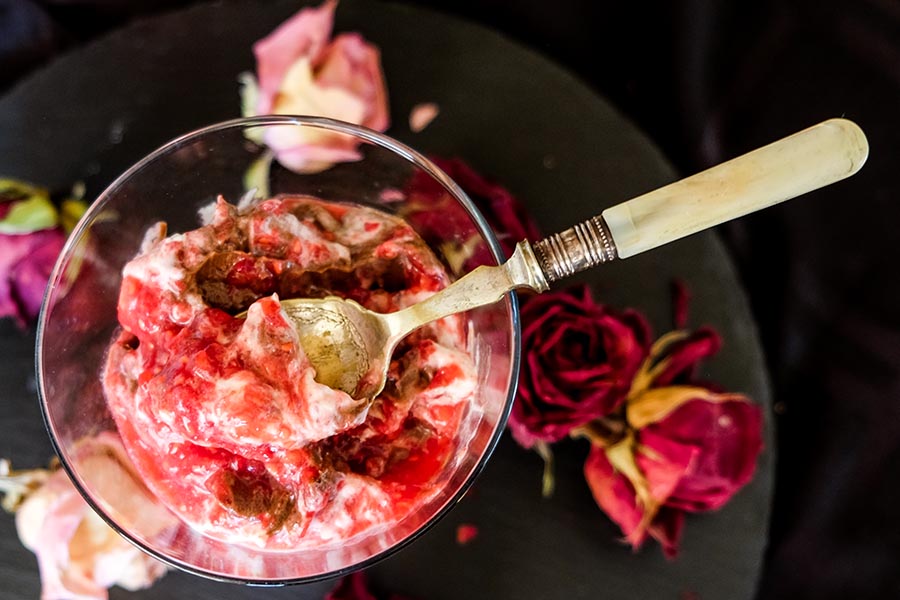 Simplest Raspberry Chocolate Mocha Mousse. Just imagine fresh raspberries combined with a light chocolate mocha mousse and topped with whipped cream. The best part, all you need is fifteen minutes. Whenever I need a last minute dessert and don't have the time to bake this chocolate mocha mousse is my go-to recipe. It has always been a huge hit!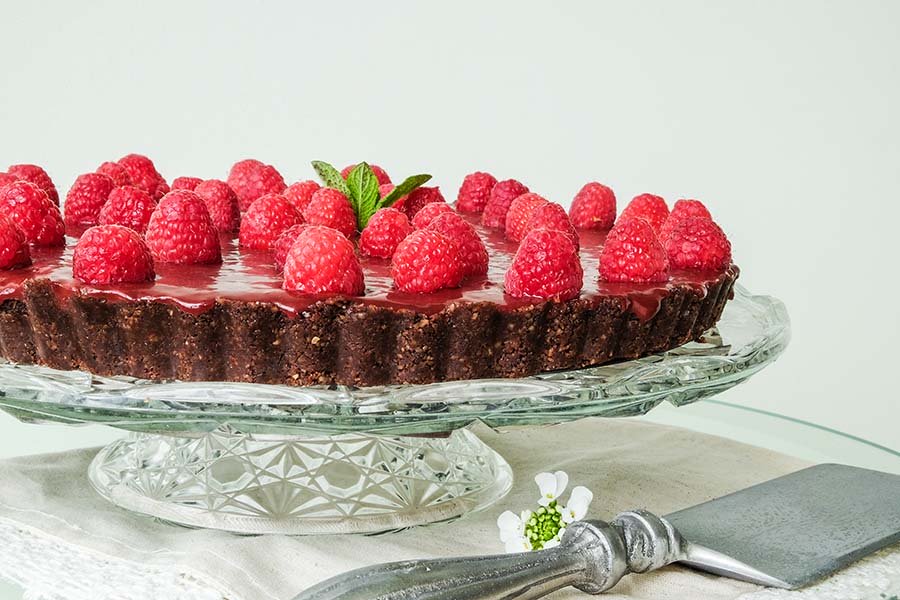 Here is a delectable gluten free dessert that doesn't need baking. This exceptional dessert may look complicated but takes only minutes to prepare. Nothing tastes better than raspberries smothered with chocolate. In this raspberry chocolate tart, the crust is made with hazelnut flour making this a grain-free dessert. This gem of a tart can also be served frozen.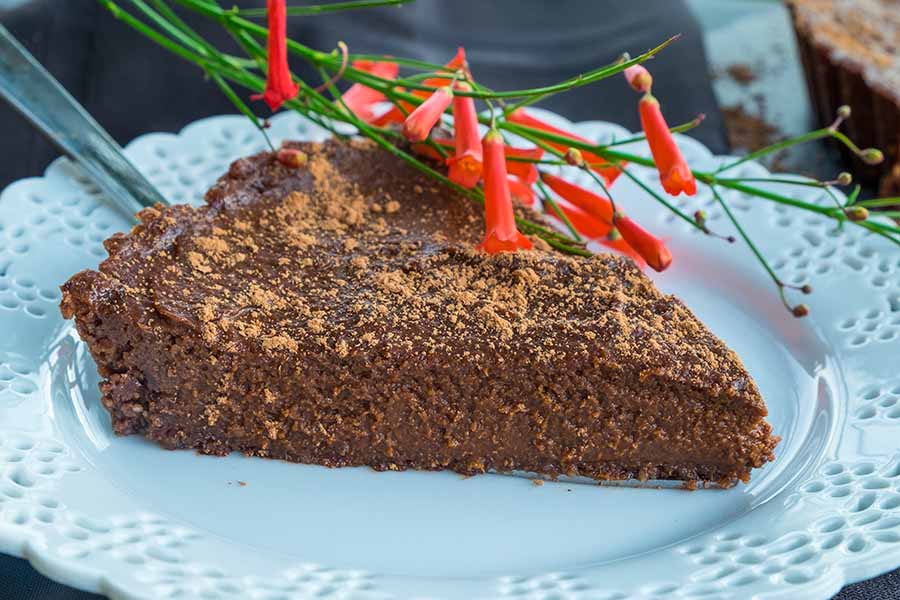 To sweeten this heavenly pie, I added a splash of pure maple syrup. This no-bake pie has no grains, the crust is made with dates, walnuts, butter or coconut oil and pure unsweetened cocoa powder. You could eat the crust without the filling. It is that delicious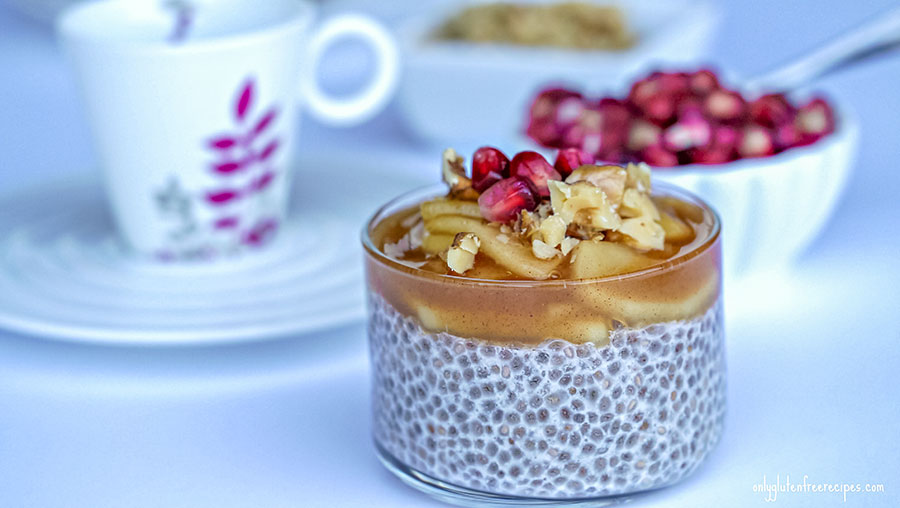 This delicious gluten-free vanilla chia pudding holds no boundaries. The combination of creamy coconut milk, vanilla, apples and cinnamon will keep you coming back for more. Chia seed is a powerhouse of nutrients which include calcium, iron, protein, fiber and magnesium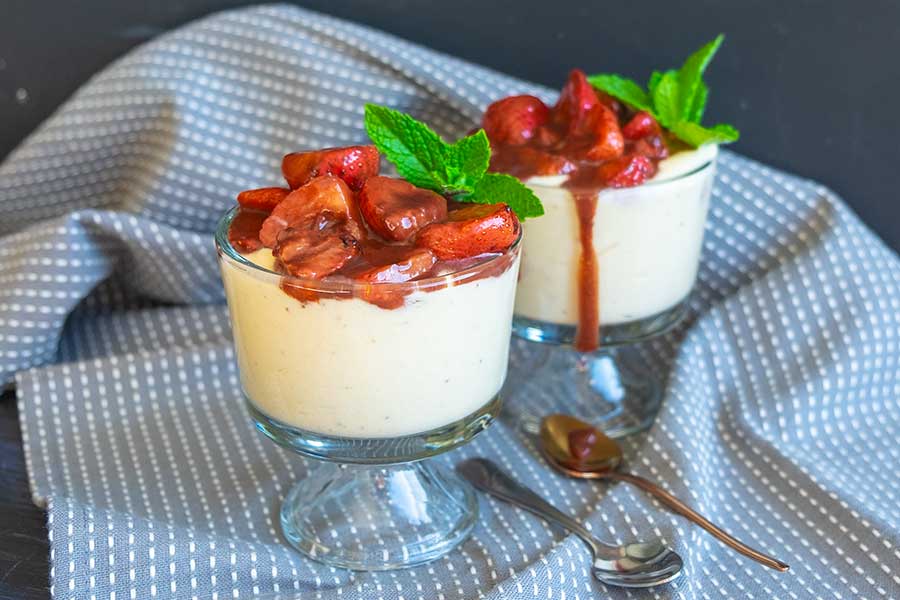 In this gluten-free dessert, the sinfully creamy Banana Mousse With Strawberry Chocolate Sauce is made with only nine ingredients. The silky mousse is topped with fresh strawberries lightly coated in freshly made chocolate sauce. All this deliciousness in a simple mousse made in minutes. All you need to add is chilling and then eating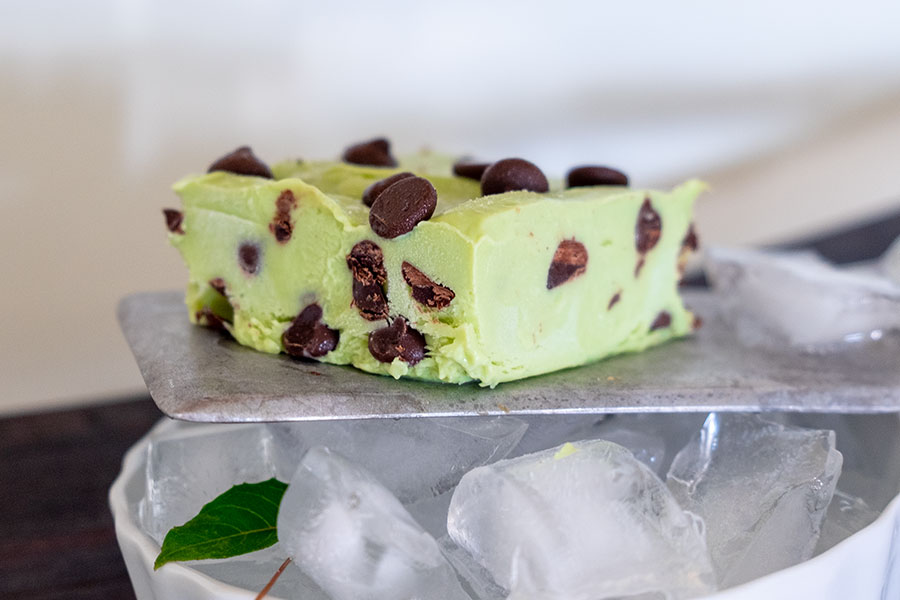 Here is an easy way to add healthy fruit like avocado to your diet and also satisfy your sweet tooth. Just imagine a delicious chocolate chip ice cream bar that is nutrient rich with healthy monounsaturated fats, potassium and fiber. These ice cream squares get the thumbs up every time!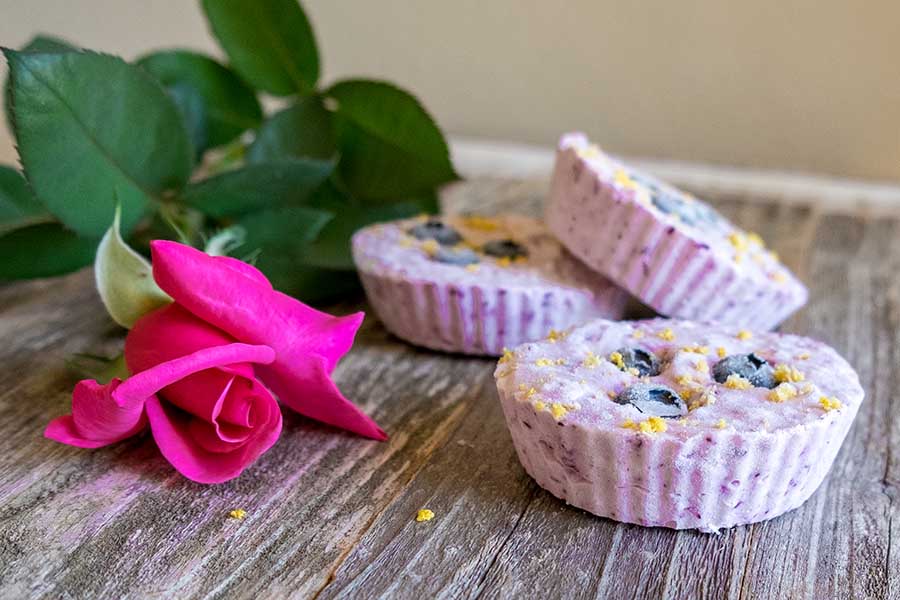 All you need is six ingredients and six minutes to make this heavenly keto zesty dessert. The best part, you don't have to bake them and the cheesecakes taste heavenly.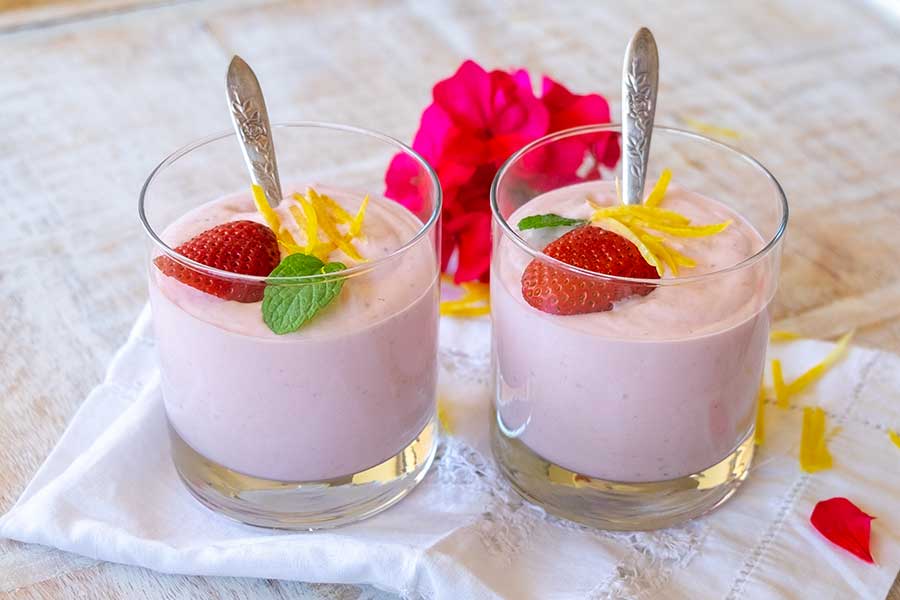 This creamy mousse is made with only 4 ingredients and has about 3.5 net carbs per serving → the net carbs depending on the type of cream cheese you are using. The best part is, this keto dessert takes only 10 minutes to prepare.
Indulge in this heavenly gluten-free chocolate dessert. This creamy chocolate chia pudding is rich in fiber, protein and antioxidants.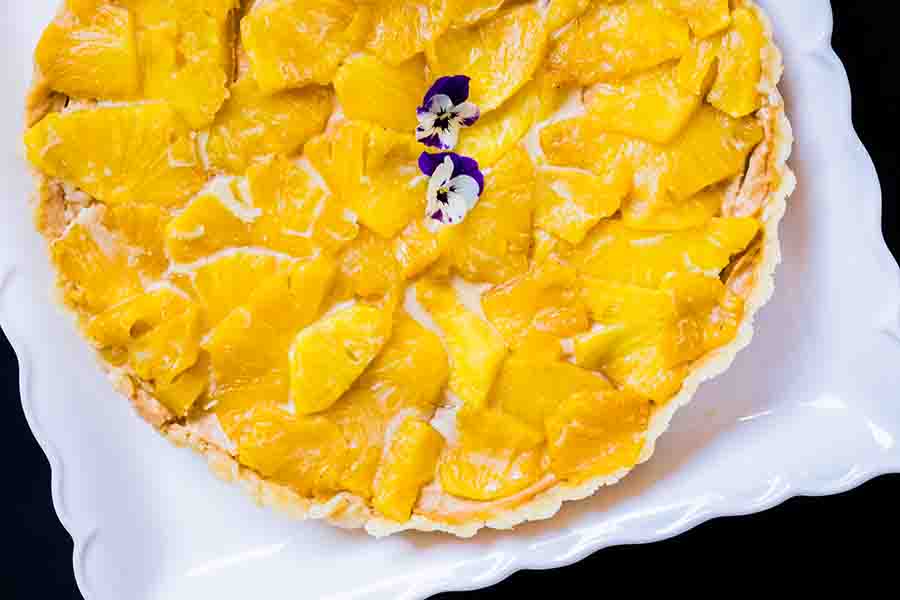 This cashew butter tart with pineapples is another scrumptious summer dessert that accommodates vegan, paleo and gluten free diet. The filling in this healthy tart tastes like creamy custard, and the pineapple topping adds delicious zesty flavour. This allergy friendly chilled dessert is especially delicious on hot summer nights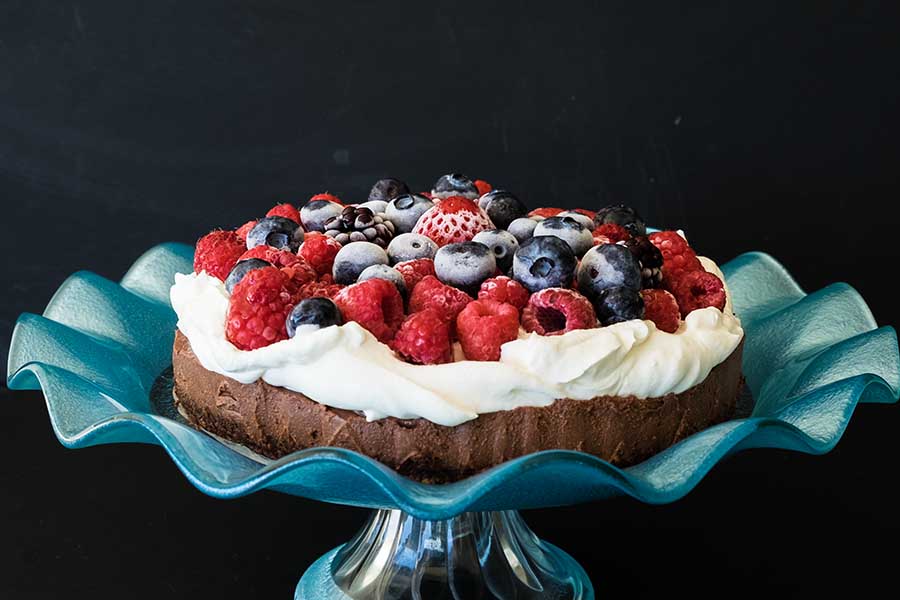 Need a showstopper this Grain-Free Vegan No-Bake Chocolate Silk Cake is the one. The smooth and silky cake slathered with coconut cream and topped with frozen berries is as delicious as it gets.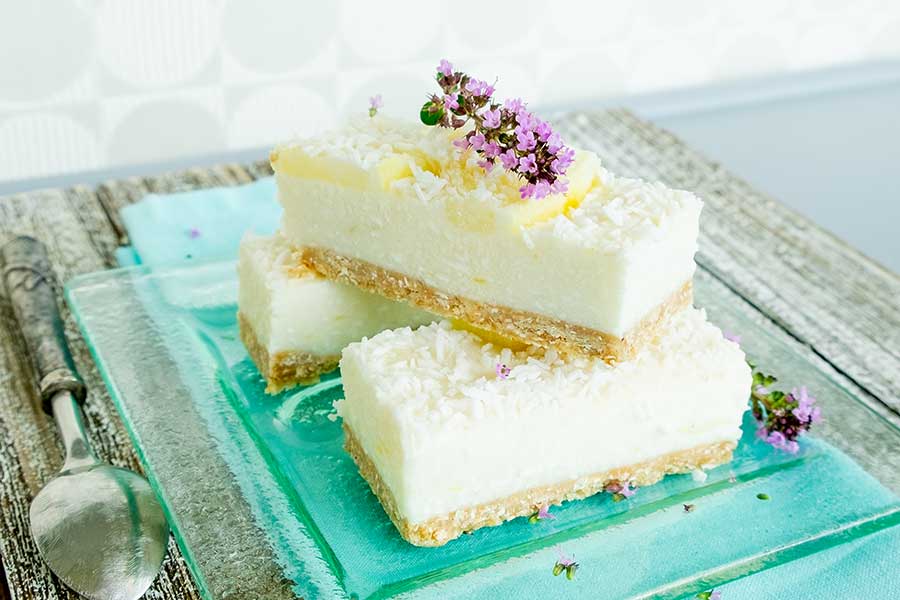 This gluten-free lemon coconut bar is delightfully zesty, refreshingly cold and tastes almost like coconut ice cream. A must try no-bake gluten-free dessert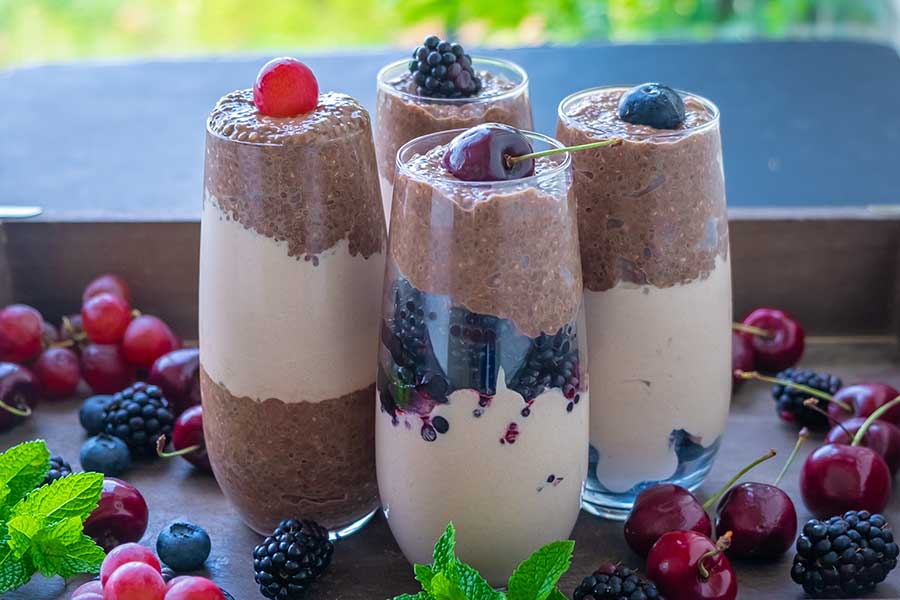 A vegan mocha chia pudding made with cocoa and coffee. This is my favourite pudding recipe because there are two things that I love coffee and chocolate. To create this pudding, I used organic coffee, pure cocoa, dairy-free milk, pure maple syrup, vanilla and chia seeds.
I have also added a mocha cream layer and fresh cherries, berries, or grapes. The fruit is optional, but I love chocolate with fruit. The coffee adds more flavour and gives richness to this most chocolaty pudding. Chia pudding is easy to make, mix the ingredients and chill for a few hours.
Affiliate Disclosure: Only Gluten-Free Recipes is a participant in the Amazon Services LLC Associates Program, an affiliate advertising program designed to provide a means for sites to earn advertising fees by advertising and linking to amazon.com. Please check out my sponsorship and disclosure policy page for more details