Gluten Free Buckeye Cookies
Published on Apr 15, 2023
by
Kristina Stosek
Prep Time:

10 minutes
Cook Time:

2+chilltime minutes
Serves:

15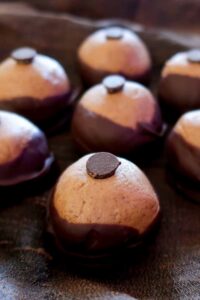 ​This post may contain affiliate links, please see our
privacy policy
for details
This 7-Ingredient Gluten Free Buckeye Cookie recipe is not the classic – it is better and healthier. Think rich raw almond butter cookie dipped in chocolate and topped with a chocolate chip. These grain-free cookies are heavy on almond butter and dark chocolate and have a combination of sweet and salty flavor.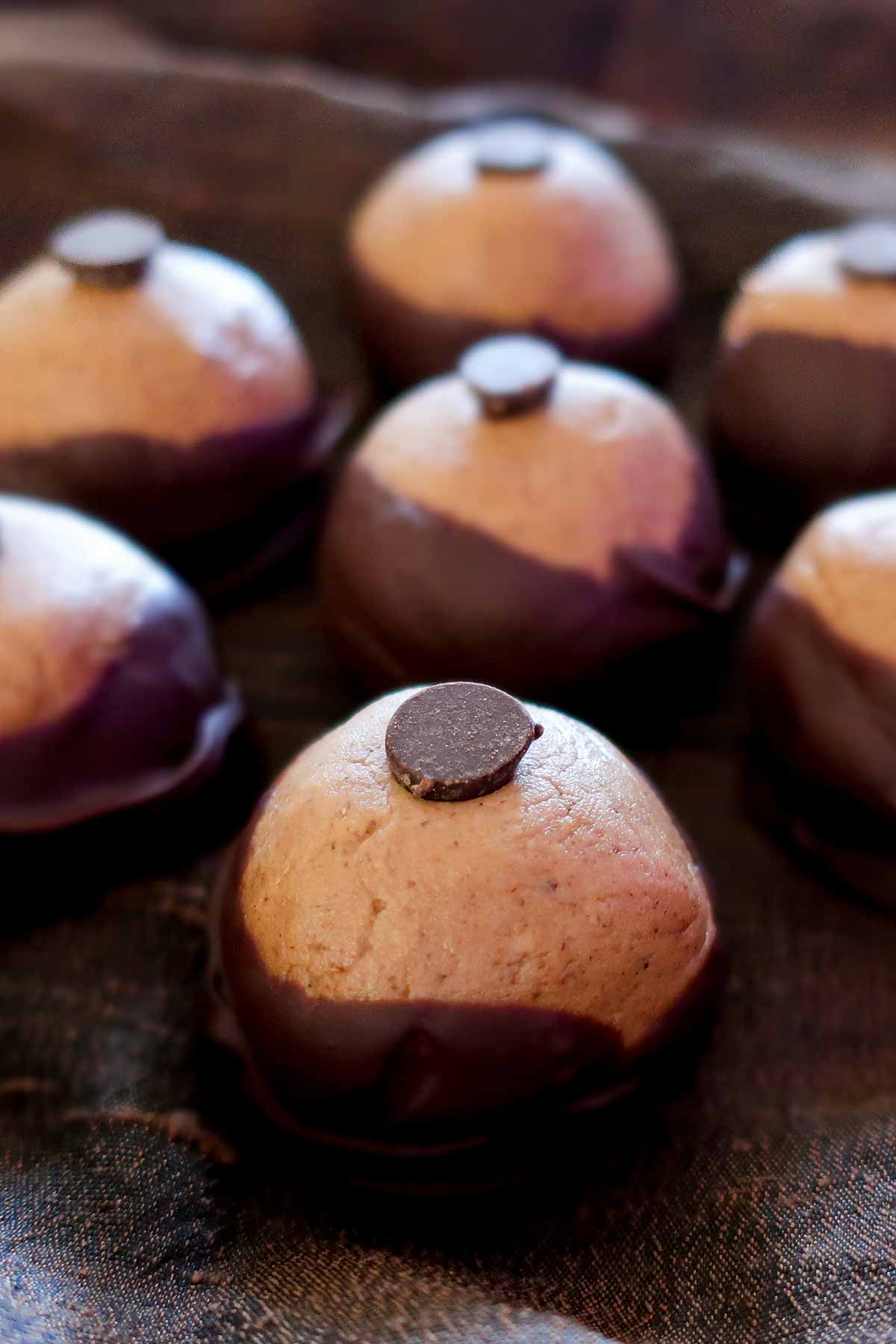 the ingredients for gluten free buckeye cookies
The grain-free cookies are made with simple, wholesome ingredients: creamy almond butter, coconut flour, butter, chocolate chips, vanilla and powdered sugar. The outcome -> mouthwatering almond butter balls covered with chocolate and packed with protein, fiber and healthy fats.
ingredient substitutions
almond butter – peanut butter, which is the classic, walnut butter or pecan butter
coconut flour – blanched almond flour
butter – replace with coconut oil
powdered sugar – powdered coconut sugar
chocolate chips – chopped chocolate bar
Gluten Free Buckeye Cookies Recipe Details
There is nothing fancy about making these buckeye cookies.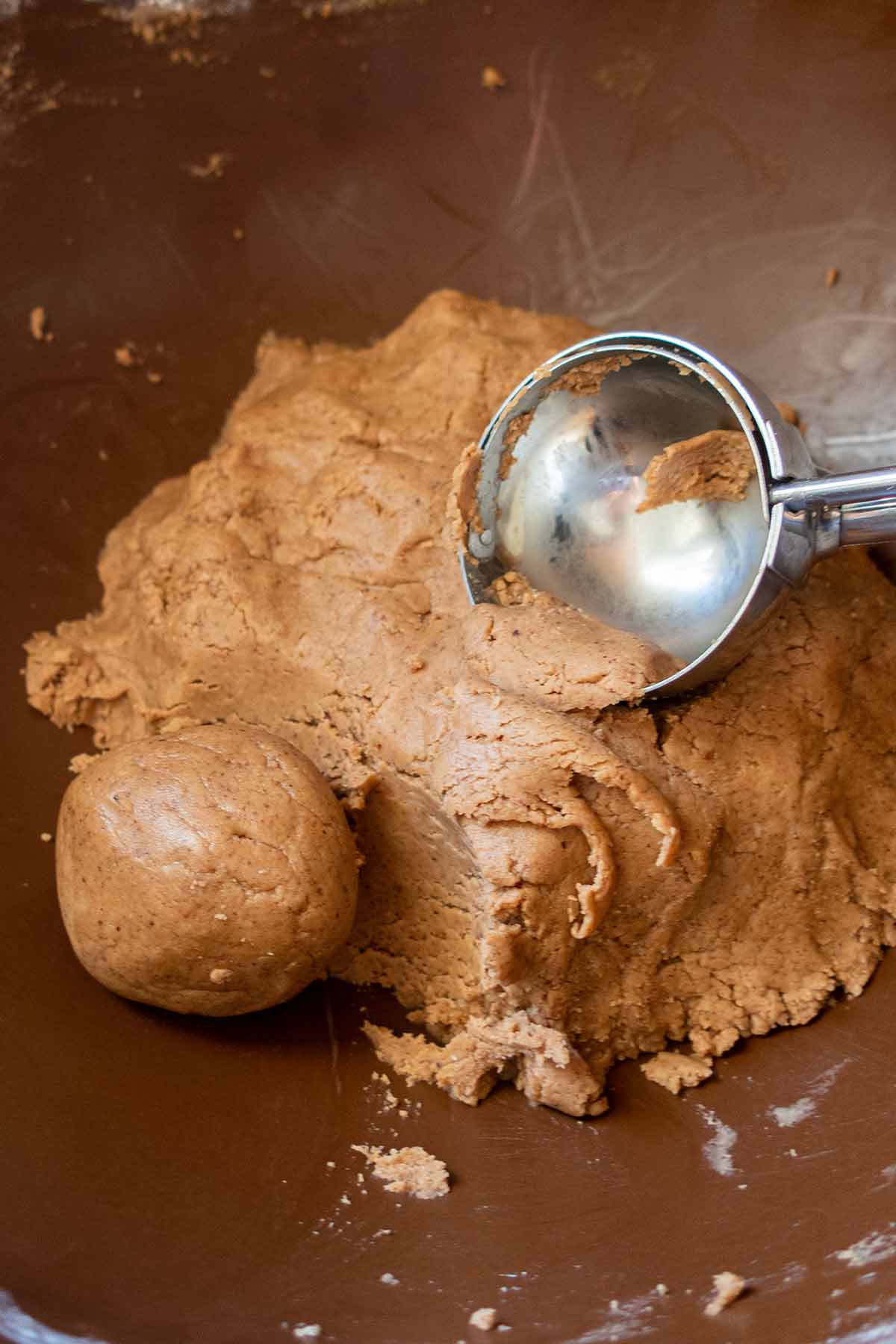 STEP ONE
First, cream the almond butter with butter and vanilla.
STEP TWO
Add powdered sugar and coconut flour and mix to combine.
STEP THREE
Shape into balls and chill.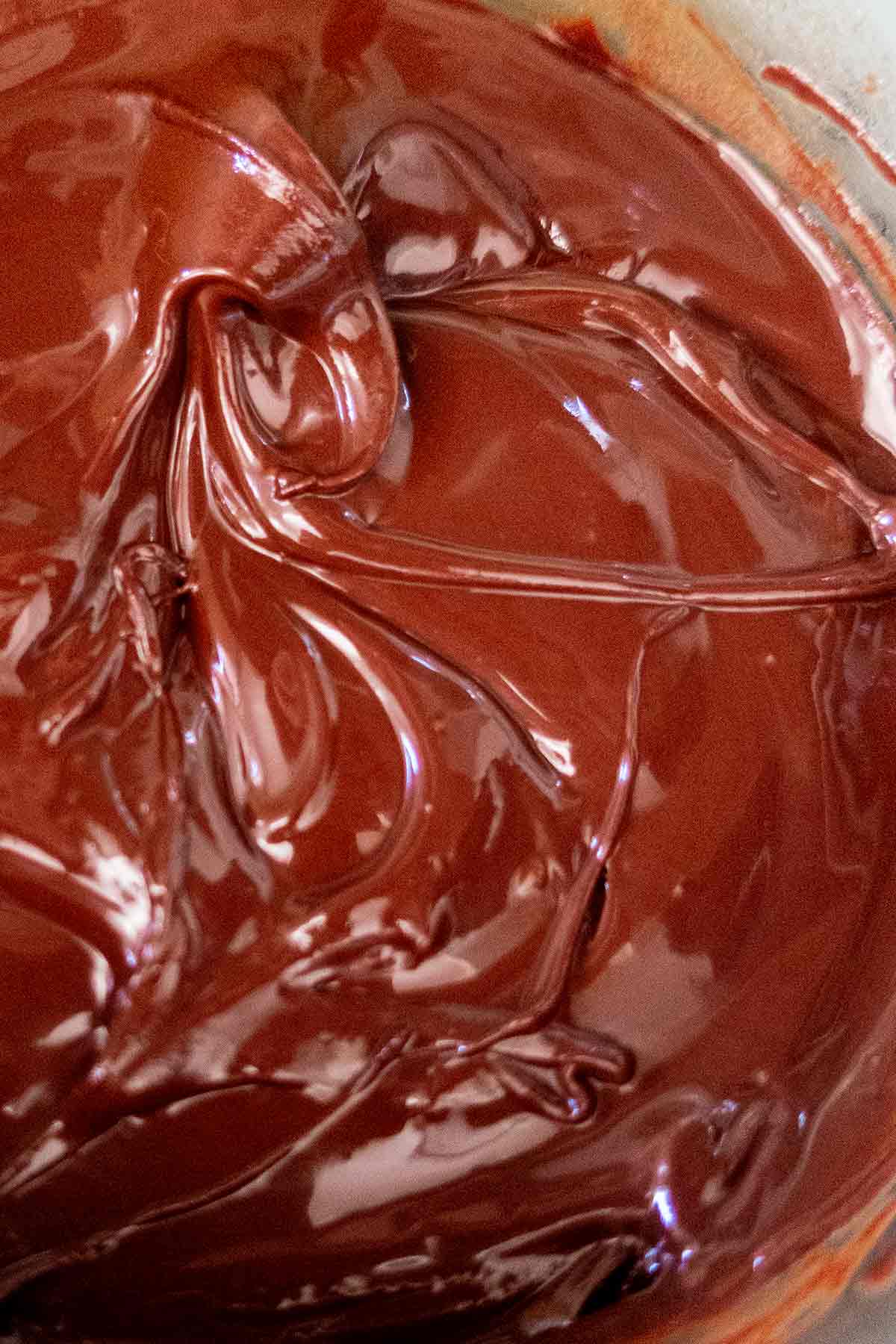 STEP FOUR
Prepare the chocolate sauce.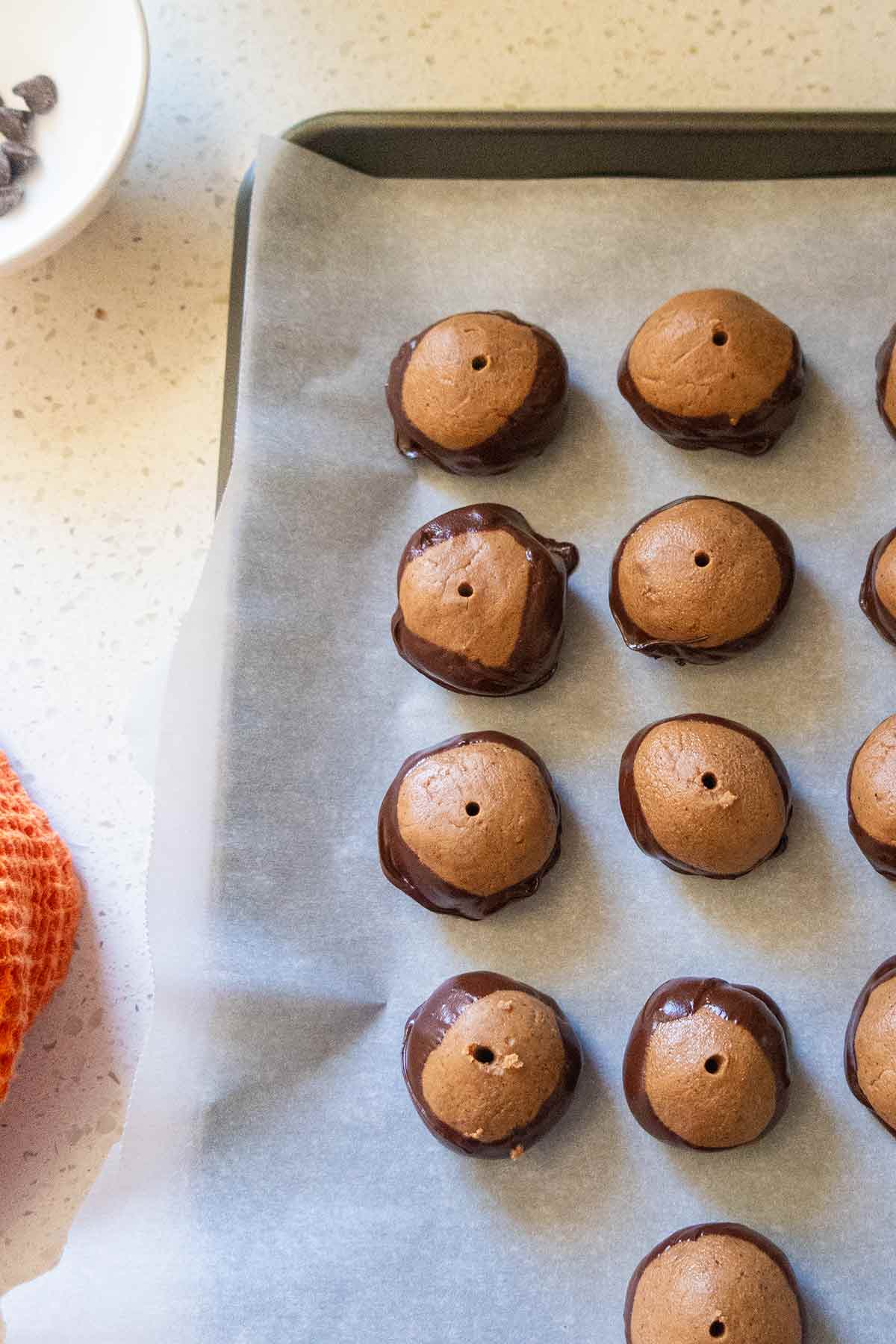 STEP FIVE
Insert a chopstick or skewer in the chilled balls and dip half of the ball into the chocolate sauce.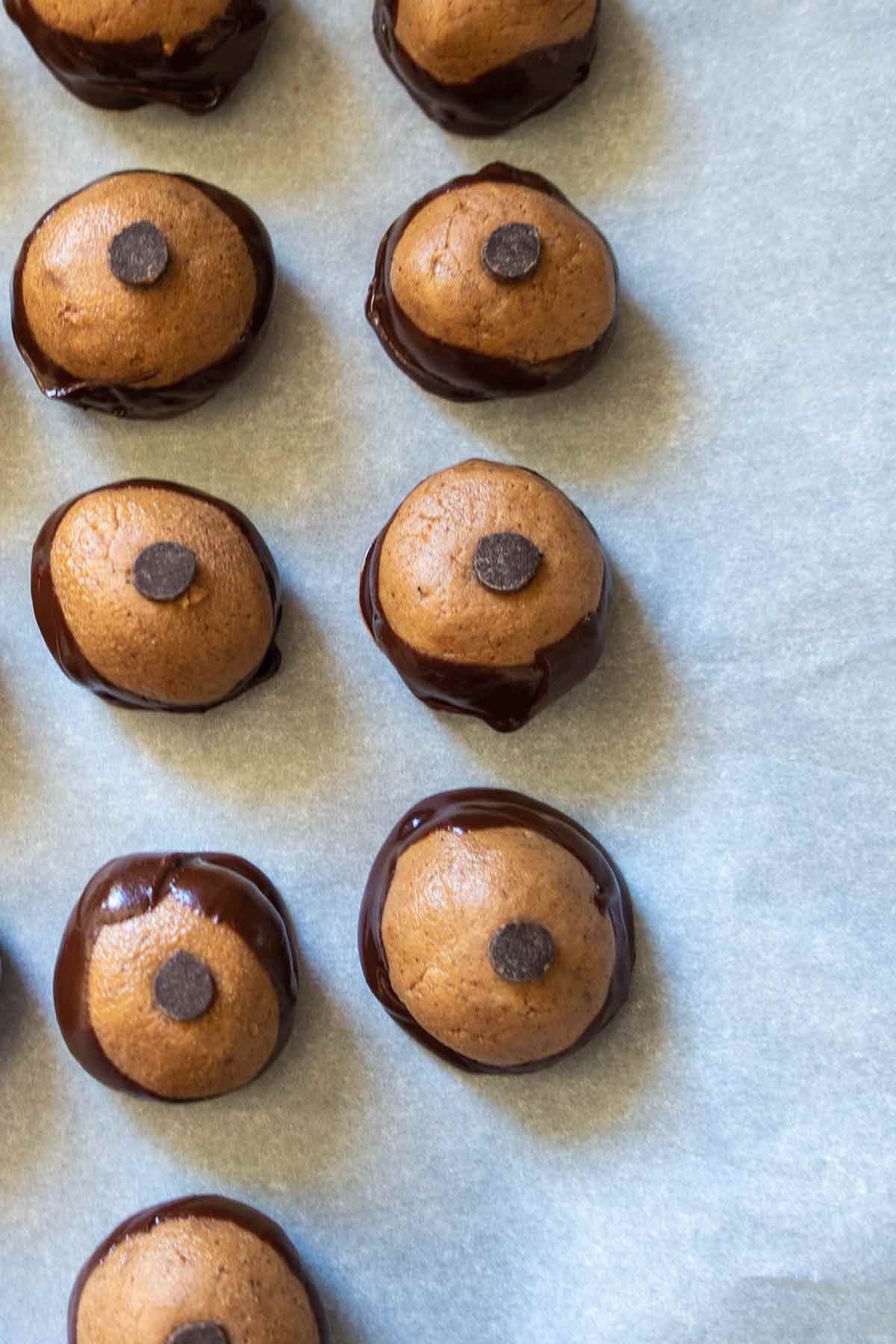 STEP SIX
Top with a chocolate chip and chill until the chocolate is firm. Done!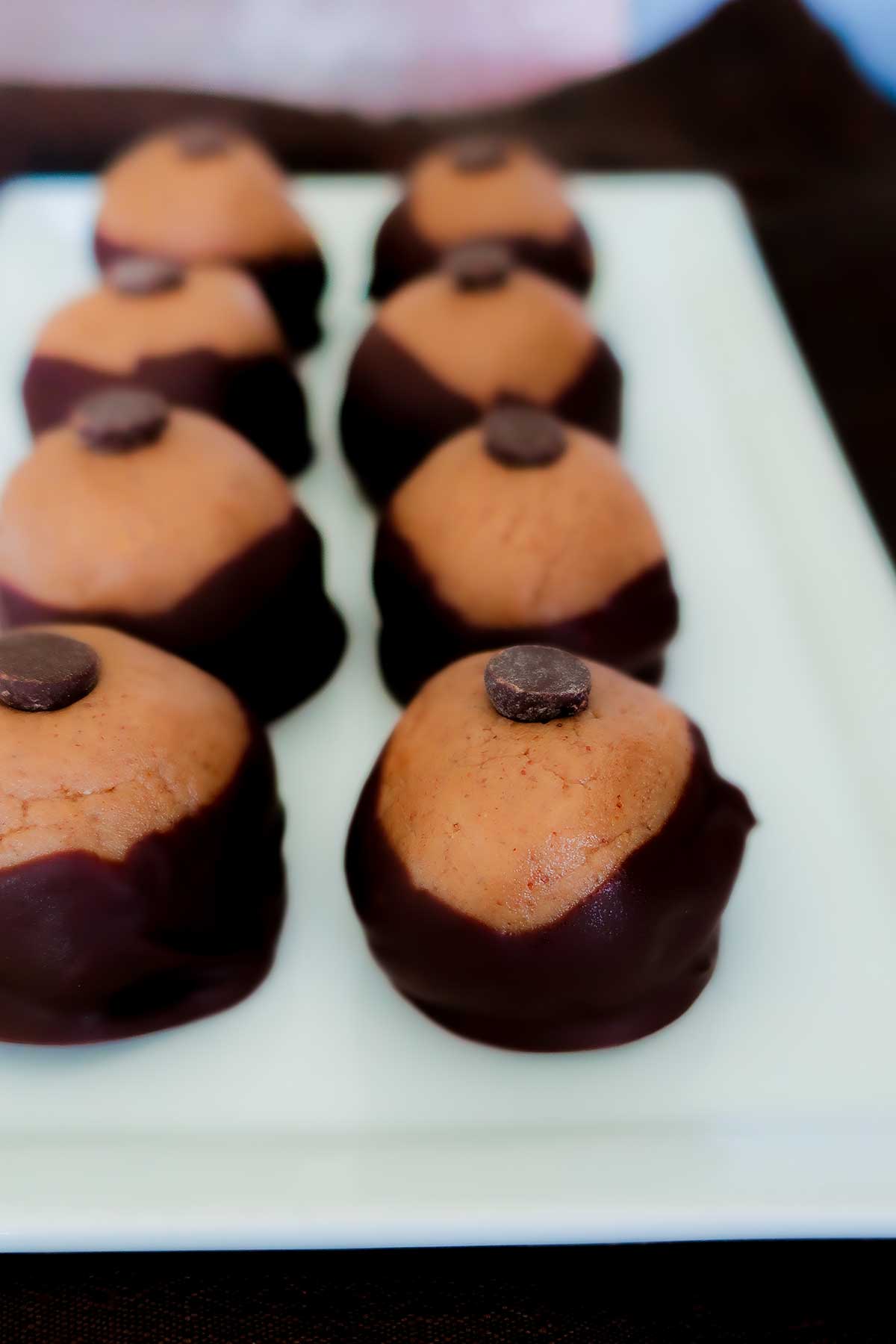 Helpful tips
Do buckeye cookies freeze well?
Yes, these cookies freeze well in an airtight container for up to one month. Place cookies in the fridge overnight before serving.
How long do they keep in the refrigerator?
Buckeye cookies stored in a closed container may be refrigerated for up to one week… if they last that long! They should always be stored in the refrigerator.
Why are my buckeye cookies crumbling?
This means you have too much powdered sugar and coconut flour. Add 2 to 3 tablespoons of almond butter or as needed for the dough to stop crumbling.
Why is my dough too sticky?
Place it in the fridge for 20 minutes before shaping it into balls.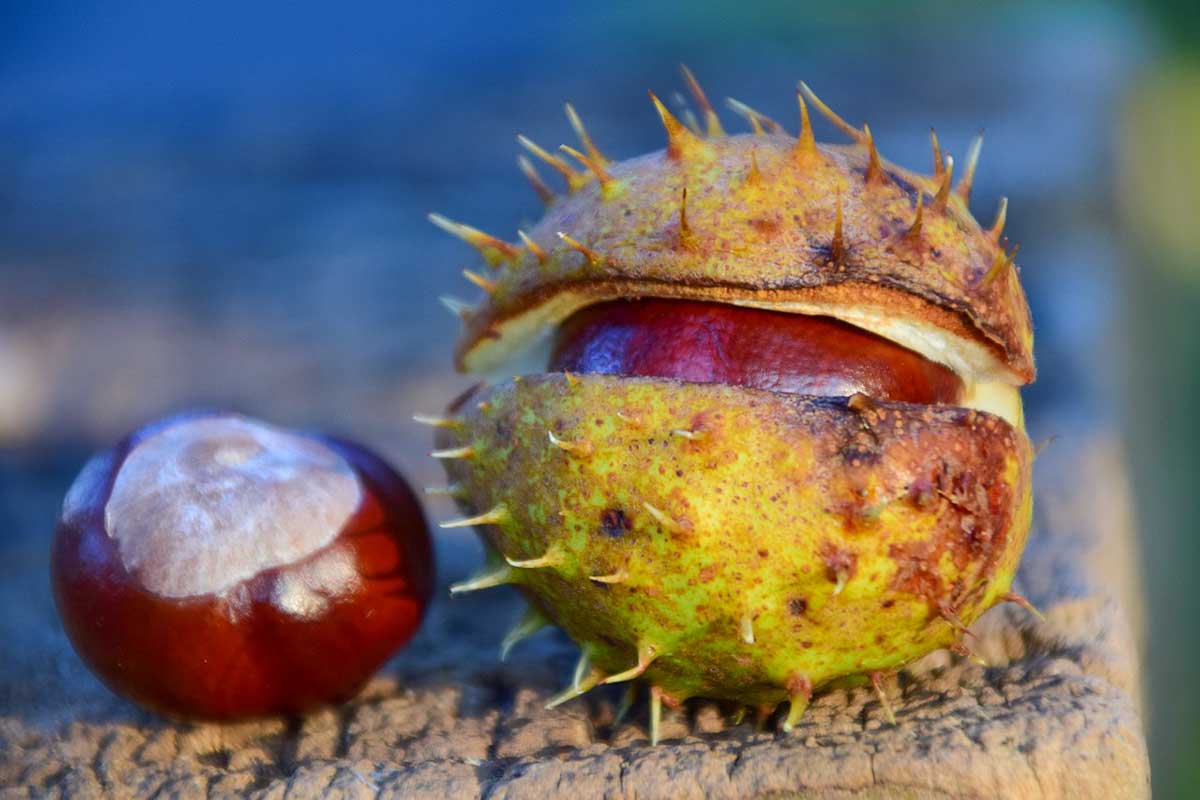 Why are they called buckeye cookies?
As per the Ohio government, the buckeye tree (aesculus glabra) is native to North America. In late summer and early fall, the trees bear fruit that contains a large nut. The nut gives the tree its name because it is dark brown with a light spot, resembling the shape and color of a deer's eye – thus, "buck eye." Although buckeyes resemble chestnuts, they are not edible and are poisonous.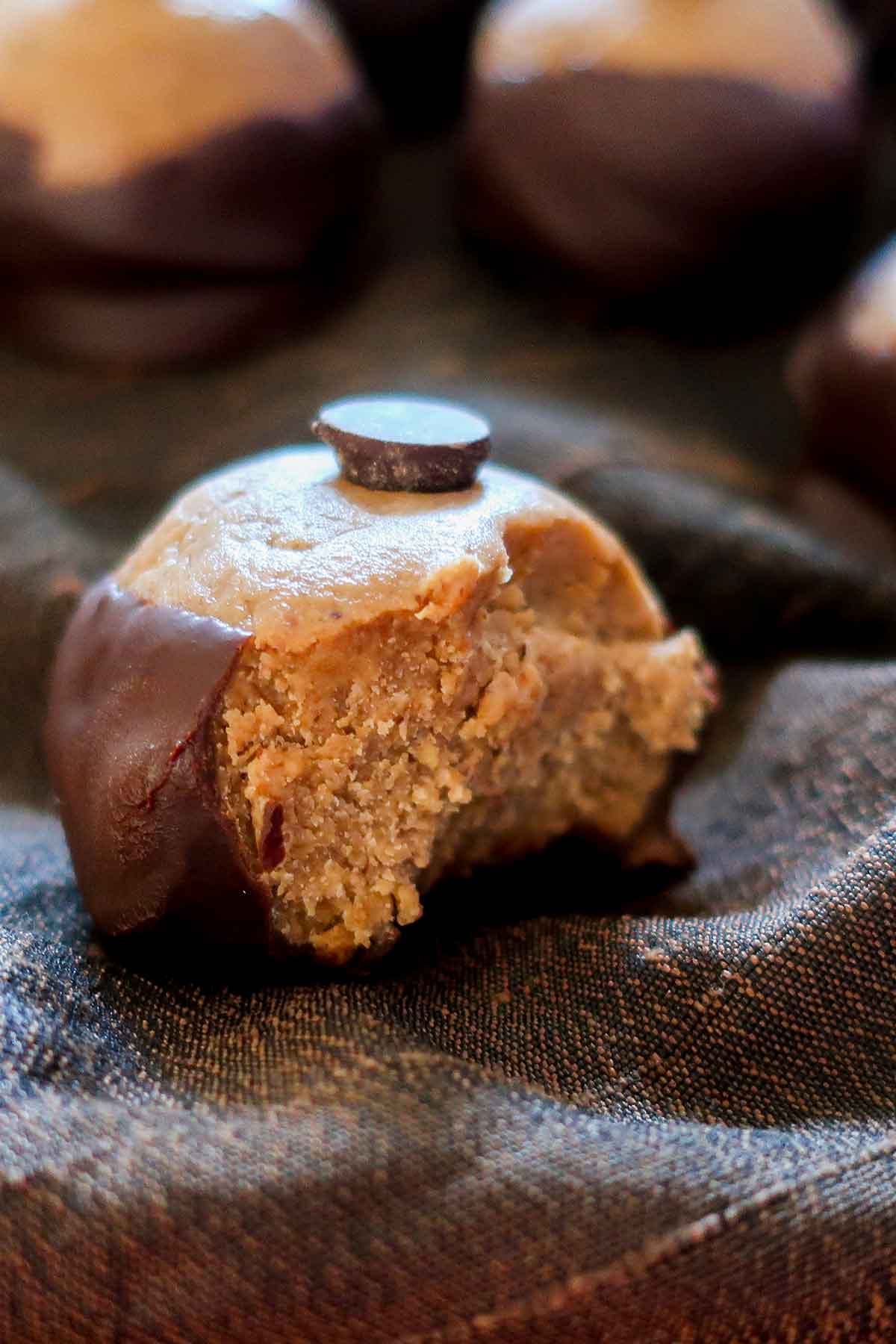 Buckeye cookies can be enjoyed as a dessert for people looking for a healthier cookie option. Or as an energy snack before a workout. Or just because they taste so good!
Looking for easy gluten free party desserts? Here are a few ideas:
Let's Connect!
Be sure to FOLLOW US on FACEBOOK and PINTEREST.
Many thanks!
Kristina xx
Gluten Free Buckeye Cookies
Published on Apr 15, 2023
by
Kristina Stosek
Instructions
1.

Beat almond butter, 1/4 cup butter and vanilla until smooth

2.

Add half the sugar, and using a wooden spoon, mix until creamy. Add remaining sugar and coconut flour and mix to combine. The dough will be stiff but should not crumble *see post

3.

Shape into balls and place onto a baking sheet lined with parchment paper. Refrigerate for 1 hour

4.

When ready, place 1 cup of chocolate chips and 1 tablespoon of butter into a small glass bowl over a small saucepan with simmering water or use a double boiler. Melt the chocolate chips and stir with the butter until smooth

5.

Insert a chopstick or a skewer into the center of the ball and dip half the ball into the melted chocolate. Scrape the chocolate off the bottom over the glass bowl and place the ball back on the baking sheet lined with parchment paper. Repeat until finished

6.

Insert a chocolate chip into the hole from the chopstick and refrigerate for 30 minutes until the chocolate is firm.