Healthy Gluten-Free No Bake Blondies
Published on Sep 15, 2020
by
Kristina Stosek
Prep Time:

5 + minutes
Cook Time:

0 minutes
Serves:

14 pieces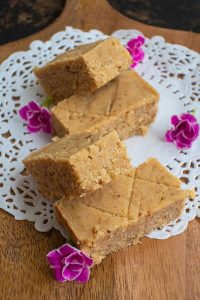 ​This post may contain affiliate links, please see our
privacy policy
for details
You will love these Healthy Gluten-Free No Bake Blondies. This gluten-free snack does not need baking and is made with only six healthy ingredients. You will need one large apple, coconut flour, honey or maple syrup, a little melted coconut oil, only 1/4 cup nut butter of choice and vanilla or a pinch of cinnamon. The no bake blondies are sooo delicious!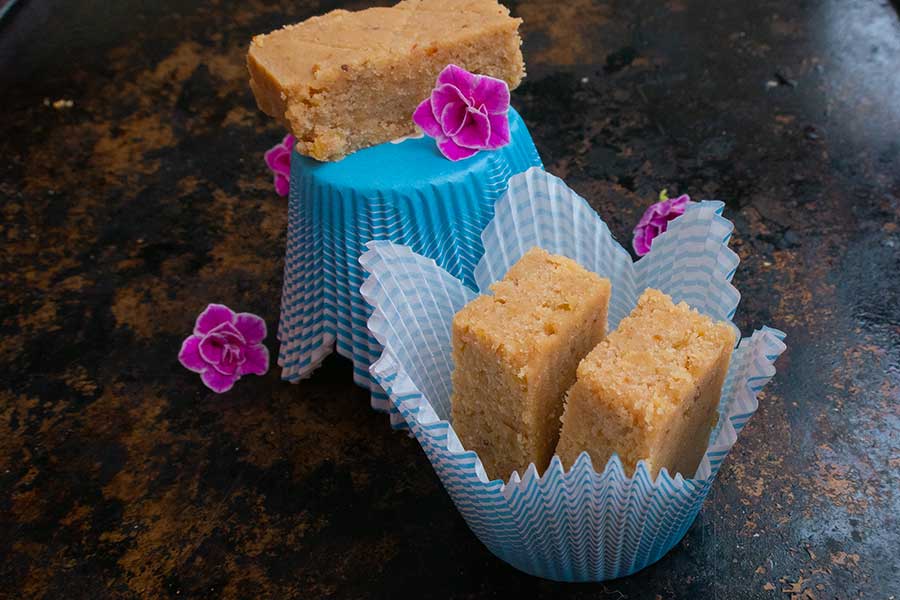 The grain-free blondie recipe is super easy to whip up. All you will need is one bowl, spatula and a loaf pan lined with parchment paper. The total prep time is only five minutes. Then, this healthy snack is chilled until firm. This takes about two hours, or overnight is best. Voila…done!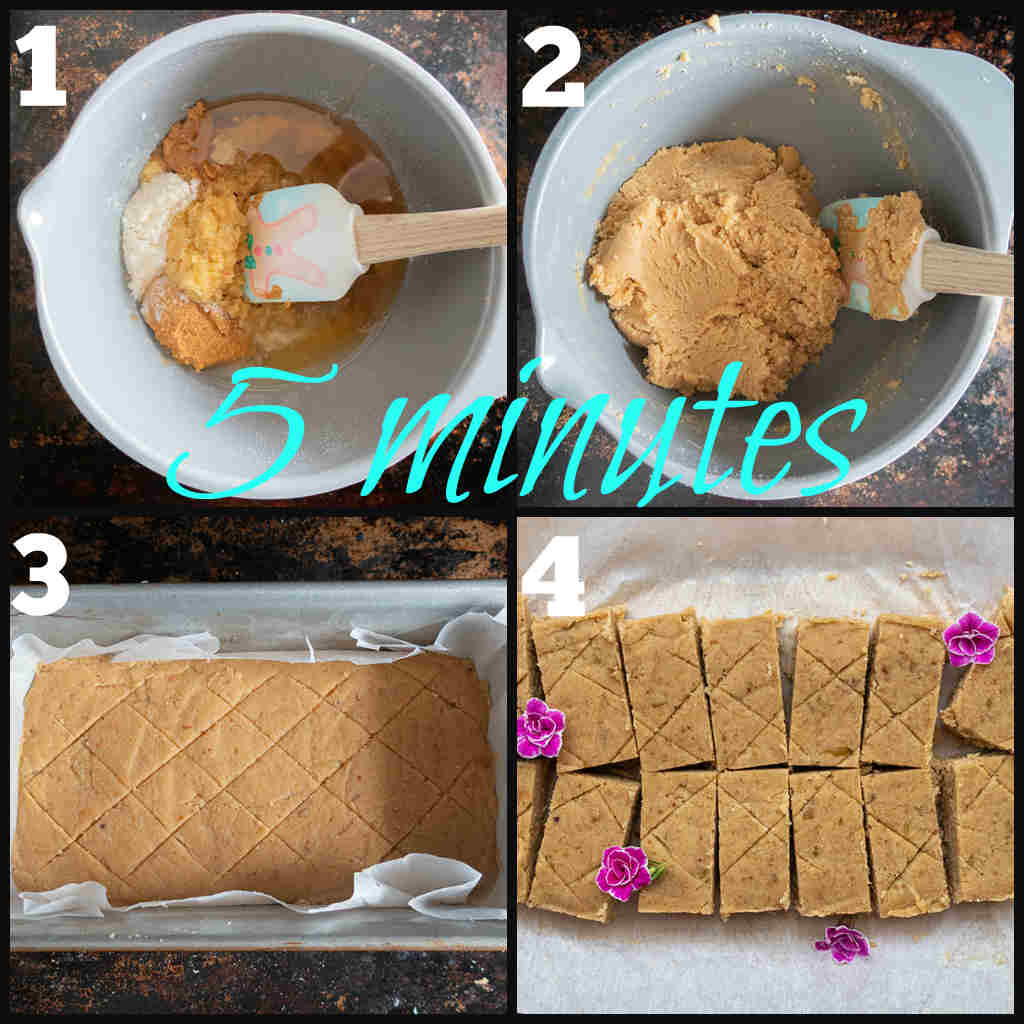 Just imagine a healthy gluten-free snack like these no bake blondies that everyone will love. Yes, the kids love them too, and a great way to get them to eat something healthy. These gluten-free no bake blondies are grain-free, refined sugar-free, dairy-free and packed with plenty of protein, fiber and vitamin C. This healthy snack recipe is raw, keeping the blondies healthy as could be.
How healthy is this gluten-free no bake blondies recipe?
Let's examine the ingredients — a healthy organic apple with the skin on – vitamins, fiber and antioxidants.
Coconut flour is made from dried coconut meat. This gluten-free flour, depending on which brand you buy, is considered low carbohydrate food. It is naturally gluten-free and is high in fiber, up to 45 g per 100 grams of coconut flour. Coconut flour is regarded as having a lower glycemic index than other flours. This means it causes less of a spike in blood sugar levels. An excellent flour to use in healthy snack recipes, especially for kids
Honey is another miracle food. If you are using high-quality honey, it is rich in antioxidants, and it is considered more nutritious than any sugar. If you follow a vegan diet, you can substitute pure maple syrup for the honey…another healthier option to sugar.
I also added almond butter to this healthy gluten-free snack. You can use any nut butter that you prefer, but I find almond butter goes exceptionally well with apples. Almond butter is rich in protein, fiber, magnesium and calcium. Just make sure you are using unsweetened and preferably unsalted nut butter.
I have also added a bit of coconut oil. Coconut oil helps your body burn fat and provides quick energy to your body and brain, making coconut oil excellent addition to healthy snacks. My favourite coconut oil to use is the unscented organic coconut oil. By using unscented coconut oil, the blondies aren't overpowered with coconut flavour.
For flavour, I added pure vanilla extract. However, you can also use gluten-free ground cinnamon. Both work well in this gluten-free no bake blondie recipe.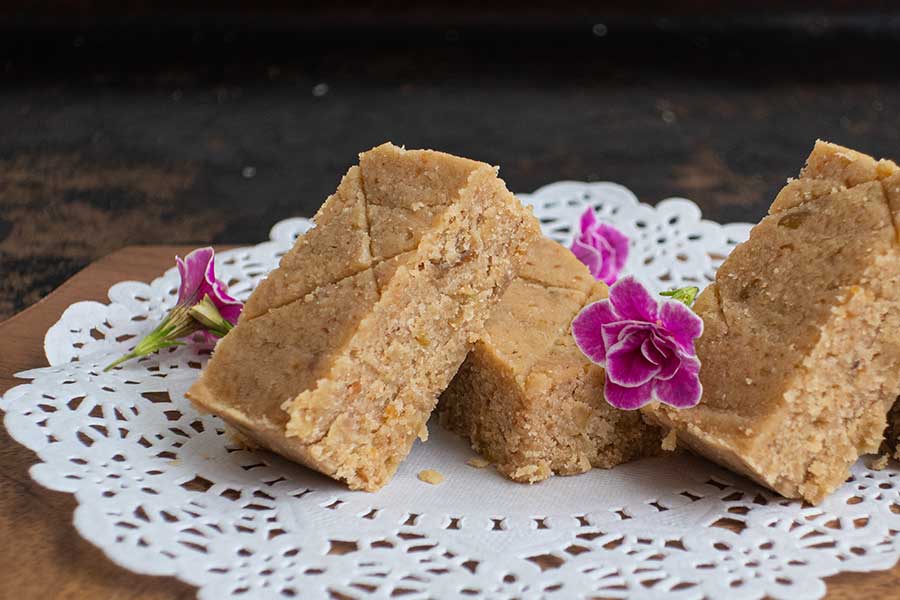 What do I love about these healthy blondies?
Firstly, you don't have to bake them, making this a super easy snack recipe… a big plus in my book. The gluten-free blondies are healthy, and both kids and adults love them. They make for a great gluten-free snack on the go. The blondies are also considered as a healthy snack for kids, making them excellent for lunch boxes. And 🙂 they are super duper delicious!
Are you looking for recipes made with coconut flour? You should check out these fabulous gluten-free coconut flour recipes for inspiration!
Healthy Gluten-Free No Bake Blondies
Published on Sep 15, 2020
by
Kristina Stosek
Instructions
1.

2.

In a medium bowl using a spatula, mix everything until smooth. Immediately transfer the mixture into the pan and smooth the top. You can make a pattern on the top if you wish.

3.

Cover and refrigerate for 2 hours or overnight

4.

Cut into desired sizes. I cut mine into 14 pieces

5.
Leave a Comment
Kristina
what a great idea to add raisins, another tasty ingredient to add would probably be dried currants.
Kristina
so happy to hear that, thank you!
I made these last week, they didn't last very long lol, I doubled the recipe today and I added a few raisins, they turned out great. My family loves them, and they are so easy to make. Any recipe that doesn't need baking is for me :-)
I just made these, they were so delicious, and my kids love them. Thank you. Your recipes never cease to amaze me.
The mix tasted amazing even if it was inedible in the end! It doesn't help that my house is quite chilly so everything kind of solidified before I could get things mixed properly. I'll try it again and make sure everything's a bit warmer!
Kristina
they have to be chilled, you shouldn't add milk. I hope they turn out for you. I make them often and they turn out perfect every time. Coconut flour is super absorbent, if you don't spread the batter into the pan as soon as it is mixed it will stiffen up, and this is what probably happened. I will add a note to the instructions to spread the mixture in the pan as soon as it is mixed. Thank you for your notes.
I had to add a lot more maple syrup, some melted butter and a cup of milk and it still doesn't resemble a batter! It's more like bread dough! It's in the fridge though so I'll see how it turns out.
Kristina
no I have not, what is it like in comparison to coconut flour? Is it absorbent?
Have you tried apple flour?
Kristina
this is a good question! I don't know since I have not used them in this recipe. The finely grated apples provide moisture, I guess, if you mashed the berries it may work. If the dough is too sticky maybe add a bit more of coconut flour. Either way, let us know how they turn out. Thank you!
Would berries work in place of the apple?