Vanilla Chia Pudding With Apple Compote
Prep Time
15 Minutes
Difficulty
Easy
Cook Time
5 Minutes
Serves
6
Average Rating: 4.5 | Rated By: 5 users
This delicious gluten-free vanilla chia pudding holds no boundaries. You can enjoy the chia pudding for breakfast, snack or a dessert. The combination of creamy coconut milk, vanilla, apples and cinnamon will keep you coming back for more.
To make this vanilla chia pudding, I used coconut milk that includes a sweetener and vanilla. However, you can also use unsweetened coconut milk and add your preferred sweetener and vanilla.
Chia pudding is probably one of the easiest and healthiest puddings to make. The pudding is made simply by mixing the chia seeds with milk and flavours. Then they chia pudding is chilled overnight, which gives it that pudding texture.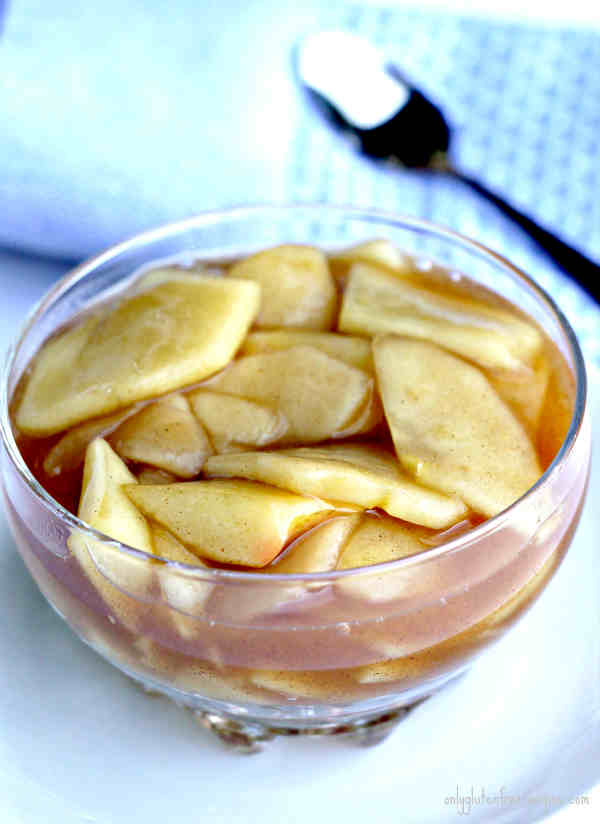 how to make the apple compote?
The apple compote topping is made with fresh apples, fresh lemon juice, maple syrup, cinnamon and water. The apples are briefly cooked until they become softened, and the compote thickens. Once the compote is chilled, and the chia pudding thickened, you are ready to serve the pudding.
to serve,
Divide the vanilla chia pudding into serving bowls and top with the delicious cinnamon apple compote. You can also add various toppings such as nuts and pomegranate seeds to make this chia pudding a real treat.
Chia seeds are a powerhouse of nutrients that include calcium, iron, protein, fiber and magnesium and incorporating this tiny seed in your diet will promote a healthy body. Enjoy!
Ingredients
2 cups organic vanilla coconut milk (not canned) (if you don't have vanilla coconut milk, user plain coconut milk and add 1 tsp. of pure vanilla extract and 2 Tbsp. of pure maple syrup)
½ cup organic, gluten-free dark chia seeds
FOR THE COMPOTE
1 large apple, cored, peeled and thinly sliced
1 Tbsp. fresh lemon juice
1 Tbsp. pure maple syrup
1/3 cup water
1 tsp. GF arrowroot flour/starch
½ tsp. GF ground cinnamon
*As an Amazon Associate and member of other affiliate programs, I earn from qualifying purchases. Please check out my sponsorship and disclosure policy page for more details
Instructions
Using a glass bowl, combine chia seeds with coconut milk, cover and refrigerate overnight
FOR THE COMPOTE
Using a small saucepan, whisk together water, arrowroot and cinnamon. Stir in apples, lemon juice and maple syrup
While stirring cook the apples over medium heat until they slightly soften about 5 minutes. Remove from heat and cool.
Transfer to a glass bowl and refrigerate
To serve, divide the pudding into serving bowls and top with apple compote. You can add other toppings such as walnuts, pecans, almonds or pomegranate seeds
Similar Recipes
Chocolate Chia Pudding
Indulge in this heavenly gluten-free chocolate dessert. This creamy chocolate chia pudding is rich in fiber, protein and antioxidants. Serve as a dessert, snack or add some fresh fruit and enjoy it for breakfast Read More
Prep Time
5 Minutes
Difficulty
Beginner
Serves
4
Cinnamon Chia Pudding with Cherry Compote
This cinnamon chia pudding with cherry compote is a classic with a cherry on top. Cherries are high in antioxidants, fiber, vitamin C all of which may play a role in cancer prevention. This yummy fruit also may help to increase your melatonin levels and improve your sleep. This healthy pudding may also help with […] Read More
Prep Time
10 Minutes
Difficulty
Easy
Cook Time
5 Minutes
Serves
4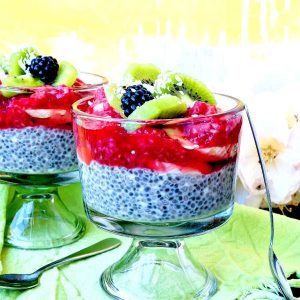 Coconut Chia Pudding with Raspberry Sauce
Starting your day with chia pudding is a way to go since this super seed is known to be one of the most nutritious foods. In this delightful creamy coconut chia pudding, I have added maca powder to boost health benefits even more. Studies have shown that maca reduces chronic fatigue syndrome, boosts energy and […] Read More
Prep Time
10 Minutes
Difficulty
Easy
Cook Time
3 Minutes
Serves
4