Strawberry Ricotta Mousse With Blackberry Topping
Prep Time
20 Minutes
Difficulty
Easy
Cook Time
3 Minutes
Serves
4-6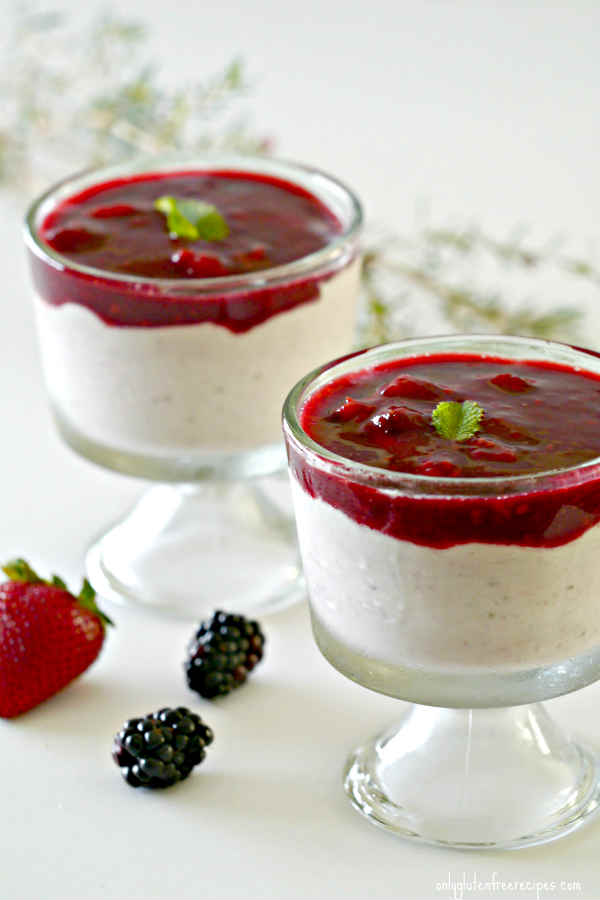 Average Rating: 4.5 | Rated By: 7 users
When fresh berries are in season, this strawberry ricotta mousse with blackberry topping makes a simple tasty dessert. This French-style dessert is light and not too sweet. This dessert makes a lovely presentation at a dinner party
Ingredients
1 lb. ripe strawberries, hulled
2 cups whole milk ricotta cheese
1 cup whipping cream
FOR THE TOPPING
1 cup water
1 Tbsp. tapioca starch
6 oz. blackberries
2 Tbsp. agave nectar
*As an Amazon Associate and member of other affiliate programs, I earn from qualifying purchases. Please check out my sponsorship and disclosure policy page for more details
Instructions
Using a food processor blend strawberries until smooth. Taste for sweetness, if they are ripe you shouldn't have to add a sweetener
Then add ricotta cheese and blend until creamy
In a separate bowl beat the cream until small peaks form
Gently fold the whipped cream into the strawberry mixture
Spoon the mousse into serving bowls and chill
FOR THE TOPPING
In a small saucepan whisk together water and tapioca. Add blackberries and agave and bring to a boil. Cook for 2 – 3 minutes over medium heat or until sauce thickens.
Transfer to a blender and blend until smooth, and then chill.
Pour cooled blackberry sauce over the mousse and refrigerate for 3 hours. Enjoy!
Similar Recipes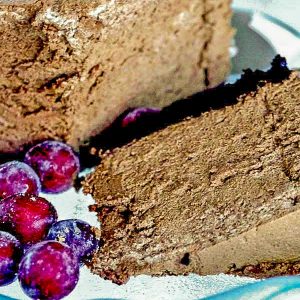 Gluten-Free Chocolate Mousse Cake
Sometimes we should indulge in a heavenly gluten-free chocolate mousse cake, especially on festive occasions. Mousse cakes are always popular because of their smooth texture and delectable flavour. To serve add some frozen grapes or berries Read More
Prep Time
20 Minutes
Difficulty
Easy
Cook Time
15 Minutes
Serves
8-inch cake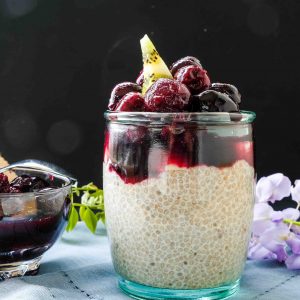 Cinnamon Chia Pudding with Cherry Compote
This cinnamon chia pudding with cherry compote is a classic with a cherry on top. Cherries are high in antioxidants, fiber, vitamin C all of which may play a role in cancer prevention. This yummy fruit also may help to increase your melatonin levels and improve your sleep. This healthy pudding may also help with […] Read More
Prep Time
10 Minutes
Difficulty
Easy
Cook Time
5 Minutes
Serves
4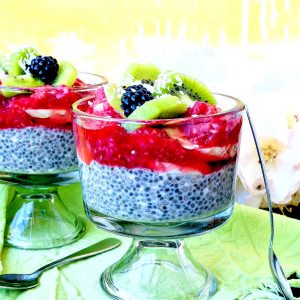 Coconut Chia Pudding with Raspberry Sauce
Starting your day with chia pudding is a way to go since this super seed is known to be one of the most nutritious foods. In this delightful creamy coconut chia pudding, I have added maca powder to boost health benefits even more. Studies have shown that maca reduces chronic fatigue syndrome, boosts energy and […] Read More
Prep Time
10 Minutes
Difficulty
Easy
Cook Time
3 Minutes
Serves
4