Banana Mousse With Strawberry Chocolate Sauce
Published on May 10, 2019
by
Kristina Stosek
Prep Time:

10 minutes
Cook Time:

2 minutes
Serves:

4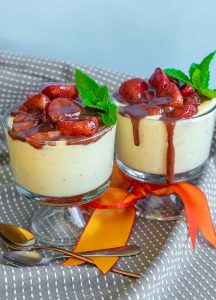 ​This post may contain affiliate links, please see our
privacy policy
for details
In this gluten-free dessert, the sinfully creamy Banana Mousse With Strawberry Chocolate Sauce is made with only nine ingredients. The silky mousse is topped with fresh strawberries lightly coated in freshly made chocolate sauce. All this deliciousness in a simple mousse made in minutes, including the cooking time. All you need to add is chilling and then eating 🙂
♥

Equipment needed to make this banana mousse.
I am sorry to say, but you will need a food processor. The reason is, the entire mousse is made by whipping up the ingredients until thick and creamy. But the great thing about it is, this is the only piece of equipment you will need to make the heavenly banana mousse.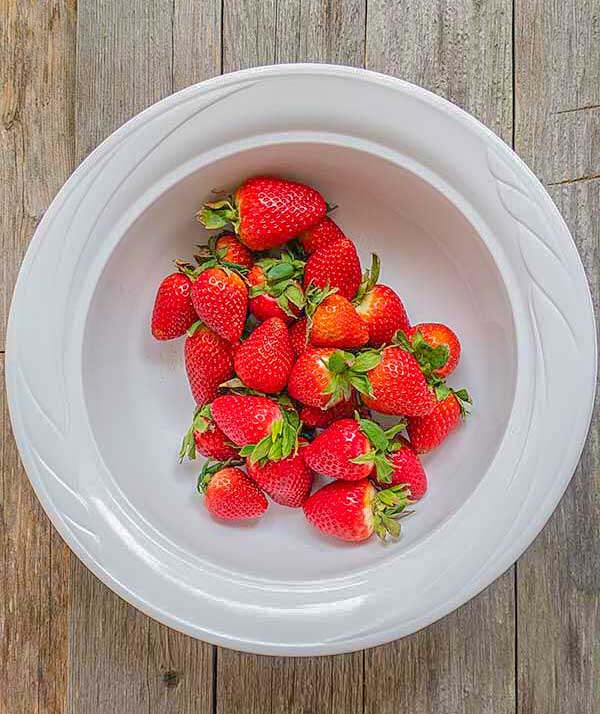 ♥

2-minute strawberry chocolate sauce.
For the sauce, melt the butter in a saucepan, add cocoa and maple syrup. Now all you add is the fresh strawberries and set it aside until cooled. Once the strawberry chocolate sauce has cooled, spoon it over the chilled mousse – done!
What inspired me to make this gluten-free dessert having extra bananas that were too ripe to enjoy. Bananas are excellent in many recipes like muffins, cakes or breakfast bread. They add nutrition and natural sweetness. So why not a mousse, I thought, no reason at all!
The mousse turned out incredibly delicious and super creamy with a tasty banana flavour. By adding the strawberry chocolate sauce, this simple banana mousse becomes a dreamy lip smacking gluten-free dessert.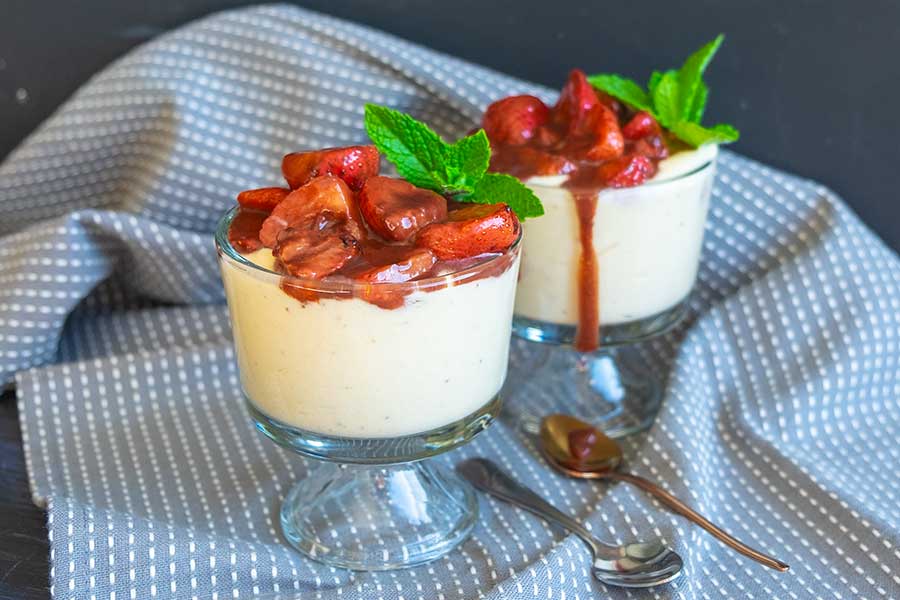 Last minute guests? No problem, this entire dessert takes only minutes to make plus chilling. Enjoy!
Need more mousse recipes? I can think of two easy recipes stand out; the Raspberry Chocolate Mocha Mousse and the Strawberry Ricotta Mousse with Blackberry Sauce. But we have more, to review our entire list check out the gluten-free mousse recipes
Banana Mousse With Strawberry Chocolate Sauce
Published on May 10, 2019
by
Kristina Stosek
Instructions
1.

Blend bananas in a food processor until creamy

2.

Add whipping cream, maple syrup, cardamom and vanilla and process for about 3 minutes until the mixture thickens. Do not over-process

3.

Transfer into 4 dessert dishes and refrigerate

4.

For the chocolate strawberries; in a non-stick saucepan heat butter over medium-low heat until melted. Stir in cacao and maple syrup until combined. Add strawberries and coat with the chocolate sauce. Set aside to cool

5.

Spoon cooled chocolate strawberries on top of the mousse