Gluten-Free Chocolate Chip Banana Marshmallow Muffin
Published on Feb 21, 2019
by
Kristina Stosek
Prep Time:

10 minutes
Cook Time:

35 minutes
Serves:

12
​This post may contain affiliate links, please see our
privacy policy
for details
Gluten-Free Chocolate Chip Banana Marshmallow Muffin is one of the most incredible combinations. Just imagine melted chocolate with marshmallows in a muffin…So so good!
In this gluten-free muffin recipe, I combined three things that kids love! Chocolate chips, bananas and marshmallows. The banana flavoured muffins are light, moist and filled with mini chocolate chips. To make these muffins stand out, I added a topping of melted marshmallows.
A muffin that tastes this delicious you can find only in a bakery…or can you? Some of you have asked me to make gluten-free muffins that your kids will love and keep them on the healthier side. So here it is!
When you combine chocolate chips with marshmallows and add a banana flavour in the muffin, you know your kids will love them.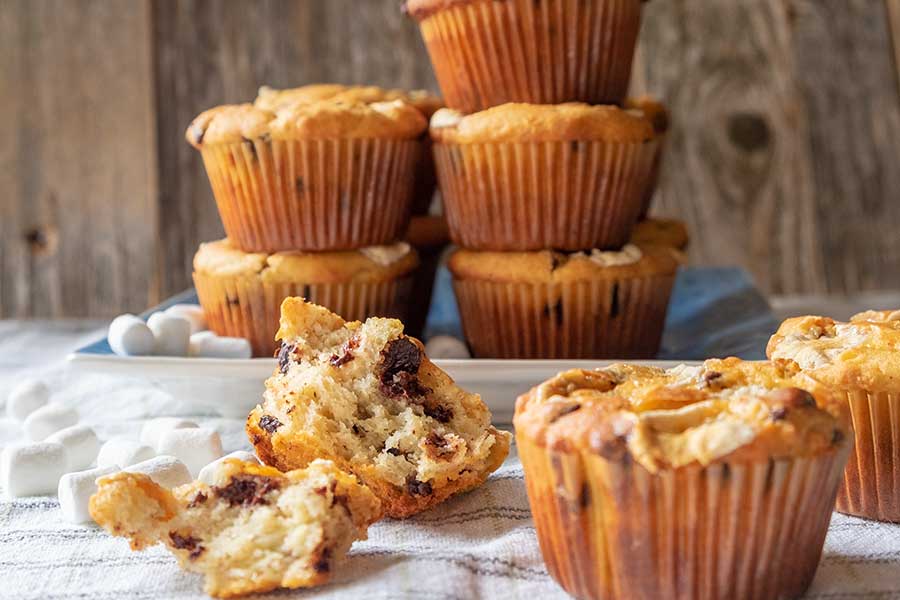 To keep these yummy muffins on the healthier side, I took out sugar and butter. For extra protein and fiber, I added almond flour. For fats, I used heart-healthy olive oil, making the muffins nice and moist. I recommend using good quality mini chocolate chips because they make a big difference in flavour and melt beautifully. Again, the marshmallows should be the mini marshmallows, and they work wonders as a topping.
Gluten-Free Chocolate Chip Banana Marshmallow Muffin – Vegan Option.
To make this gluten-free muffin recipe vegan is very easy. Substitute honey for pure maple syrup, use dairy-free milk and don't forget about the chocolate chips. They should be vegan too.
I must stress, although I made these gluten-free chocolate chip banana marshmallow muffins for kids, they are also adult-friendly…lol. In our test kitchen, we all loved every last bite.
We all know that most kids are picky eaters. Creating gluten-free recipes for kids is a lot of fun because I test them on kids, and they always give me an honest opinion. One particular recipe that has been a huge hit are the gluten-free apple raisin fritters.
Gluten-Free Chocolate Chip Banana Marshmallow Muffin
Published on Feb 21, 2019
by
Kristina Stosek
Instructions
1.

2.

In a large bowl, combine dry ingredients

3.

In a separate bowl combine, banana, maple syrup/honey, walnut oil, egg and vanilla. Add milk and whisk together. Add wet mixture to dry ingredients and thoroughly mix. Stir in chocolate chips

4.

Pour batter into prepared muffin pan and top each muffin with 4 mini marshmallows. Lightly press marshmallows into the batter. Bake for 35 minutes until golden

5.

Rest in the pan for 15 minutes before transferring to a cooling rack
Leave a Comment
Kristina
Jeanne-Mari, it could be because of the brand of gluten-free flour blend you used. And, have you used mini chocolate chips?
It tastes delicious! But mine left a gooey choc/banana sediment at the bottom. How do you get yours so fluffy? I used both the 'chia egg' and 1/2 tsp Xanthum Gum