Chocolate Banana Bundt Cake With Coffee Walnut Glaze {Gluten-Free}
Prep Time
15 Minutes
Difficulty
Easy
Cook Time
50 Minutes
Serves
8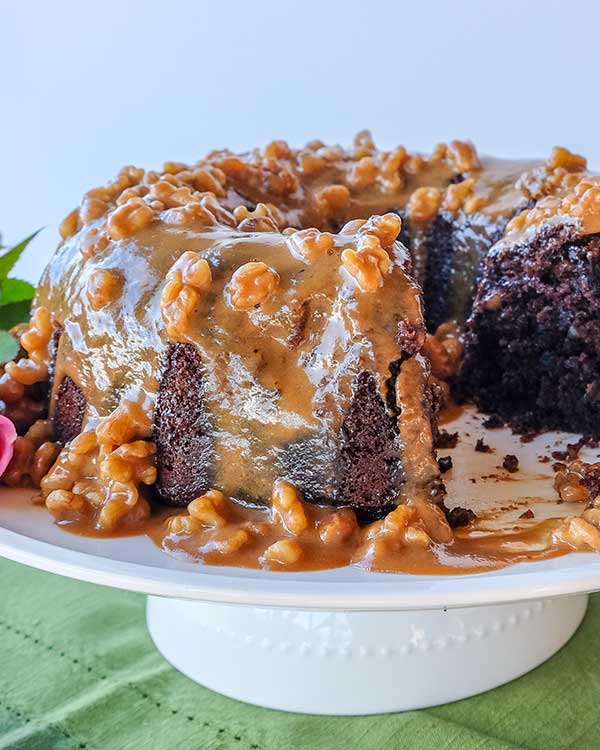 Be the first to rate this recipe.
This cake is so ready for winter weather. Let's be real, we all want comfort food in the winter. So how did I come up with this recipe? It all started in the morning when I saw two overly ripe bananas on my counter in the kitchen. Hmm, I thought what can I make with super ripe bananas that most of us would throw away. I love using ripe bananas in dessert recipes because I can cut back on the sweetener. So I thought ok what goes well with bananas. For me, it is chocolate and walnuts, two of my favourite ingredients in a cake. So I created this beautiful gluten-free and grain-free chocolate banana bundt cake. I added a little maple syrup for additional sweetness, pure cocoa and plenty of walnuts, the cake tastes almost like a brownie. Ok, the bundt cake was perfect. But I didn't stop there because I wanted to make the cake extra special, so I added a coffee walnut glaze. The glaze tastes like caramel coffee with walnuts it is so darn good and turns a simple bundt cake into the best coffee cake ever! 
Ingredients
CAKE
2 tsp. Baking soda
3/4 cup salted butter, melted
1 cup mashed ripe banana (about 2 bananas)
1/3 cup pure maple syrup
3 large eggs, at room temperature
2 tsp. Pure vanilla extract
COFFEE WALNUT GLAZE
3/4 cup milk
2 Tbsp. Strong coffee
1/2 cup coconut sugar
1 1/2 tsp. Tapioca flour/starch
1/2 tsp. Pure vanilla extract
1/4 cup unsalted butter
1 cup chopped walnuts
Instructions
Preheat oven to 350 F and generously spray a bundt cake pan with non-stick baking spray
In a large bowl whisk together almond flour, tapioca, cocoa, baking soda and walnuts
Add butter, mashed banana, maple syrup, eggs and vanilla into a medium size bowl. Using an electric mixer whisk together until creamy
Add wet mixture into dry ingredients and using a spatula mix to combine
Transfer batter into prepared bundt cake pan and bake for 45 minutes. Let it cool for 15 minutes, then turn it out onto a cooling rack to cool completely
FOR THE COFFEE WALNUT GLAZE
In a small saucepan whisk together milk, coffee, coconut sugar, tapioca and vanilla
While stirring, cook over medium heat until the glaze starts to thicken. Melt in the butter and stir in walnuts.
Immediately drizzle the glaze evenly over the cooled cake
Similar Recipes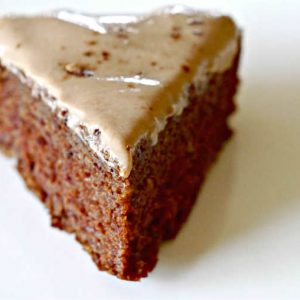 Gluten-Free Cappuccino Cake
This coffee flavoured cake is not your average gluten-free dessert. The coffee flavour truly shines through this moist, decadent cappuccino cake topped with delicately coffee flavoured icing. This cappuccino cake is a coffee lovers dream Read More
Prep Time
15 Minutes
Difficulty
Easy
Cook Time
55 Minutes
Serves
12 slices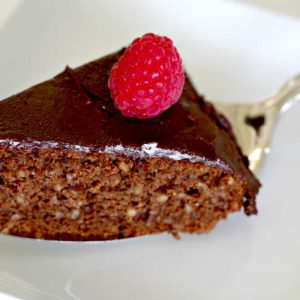 Gluten-Free Mocha Walnut Cake
This gluten-free mocha walnut cake is a dessert made with cocoa and coffee. The recipe is simple for anyone to make, but the results are brilliant. You will love this moist and scrumptious mocha walnut cake that also has a chocolate glaze. Serve as is or with fresh berries or whip cream. This dessert is outstanding! Read More
Prep Time
15 Minutes
Difficulty
Easy
Cook Time
45 Minutes
Serves
8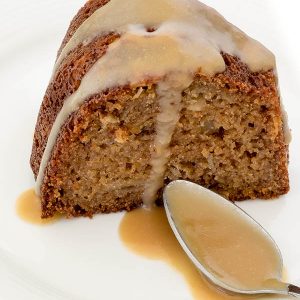 Gluten-Free Walnut Cinnamon Coffee Cake
What makes this gluten free coffee cake special is the addition of healthy walnuts and cinnamon. Most coffee cakes made with butter are heavy and high in calories. In this recipe, I replaced buttermilk for butter. Buttermilk is low in fat and adds unexpectedly moist texture. This gluten-free coffee cake recipe comes together fast and easy […] Read More
Prep Time
15 Minutes
Difficulty
Easy
Cook Time
60 Minutes