Chocolate Banana Bundt Cake With Coffee Walnut Glaze {Gluten-Free}
Published on Nov 28, 2018
by
Kristina Stosek
Prep Time:

15 minutes
Cook Time:

50 minutes
Serves:

8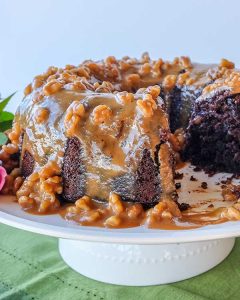 ​This post may contain affiliate links, please see our
privacy policy
for details
This Gluten-Free Chocolate Banana Bundt Cake topped with incredibly delicious coffee walnut glaze is amazing! Let's be real -> we all love comfort food, especially during stressful times.
For me, baking is therapeutic and satisfying. The aroma of freshly baked chocolate cake makes everything better. Ordinarily, I bake special desserts on weekends, but today is the day when comfort food like this chocolate cake is just what was needed.
♥

So how did I come up with this chocolate banana bundt cake recipe?

It all started in the morning when I saw two overly ripe bananas on my kitchen counter. Hmm, I thought what can I make with over ripe bananas. Did you know that a fully brown banana is full of antioxidants?

I love using ripe bananas in dessert recipes because I can cut back on the sweeteners. So I thought ok what goes well with bananas. For me, it is chocolate and walnuts, two of my favourite ingredients in a desert.

So I created this beautiful gluten-free and grain-free chocolate banana bundt cake. I added a little maple syrup for additional sweetness, pure cocoa and plenty of walnuts. The cake tastes almost like a brownie, so the bundt cake turned out perfect.

But I didn't stop there because I wanted to make the gluten-free bundt cake even more delicious.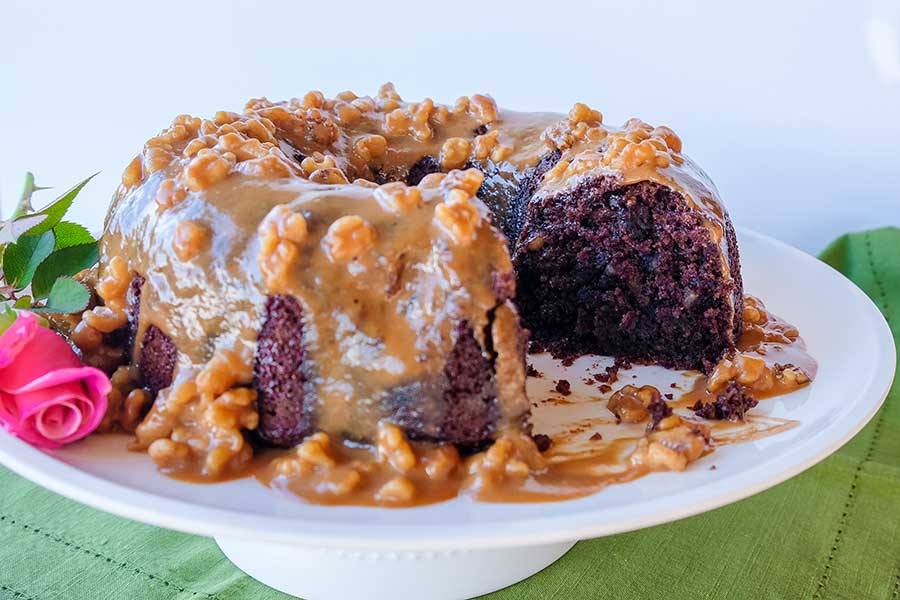 The best way to improve this already delicious dessert was by adding a coffee walnut glaze. The glaze tastes like caramel coffee with walnuts… it is so darn good! This incredibly good coffee walnut glaze turned a simple bundt cake into the best coffee cake ever! Trust me on this, you will love this dessert.
Need more chocolate desserts. Check out these special gluten-free recipes made with plenty of chocolate. My favourite chocolate recipe is the Gluten-Free Tiramisu Cupcake ♥
Chocolate Banana Bundt Cake With Coffee Walnut Glaze {Gluten-Free}
Published on Nov 28, 2018
by
Kristina Stosek
Instructions
1.

Preheat oven to 350 F and generously spray a bundt cake pan with non-stick baking spray

2.

In a large bowl whisk together almond flour, tapioca, cocoa, baking soda and walnuts

3.

Add butter, mashed banana, maple syrup, eggs and vanilla into a medium size bowl. Using an electric mixer whisk together until creamy

4.

Add wet mixture into dry ingredients and using a spatula mix to combine

5.

Transfer batter into prepared bundt cake pan and bake for 45 minutes. Let it cool for 15 minutes, then turn it out onto a cooling rack to cool completely

6.

FOR THE COFFEE WALNUT GLAZE

7.

In a small saucepan whisk together milk, coffee, coconut sugar, tapioca and vanilla

8.

While stirring, cook over medium heat until the glaze starts to thicken. Melt in the butter and stir in walnuts.

9.

Immediately drizzle the glaze evenly over the cooled cake