Gluten-Free No Bake Carrot Cake
Published on Aug 14, 2021
by
Kristina Stosek
Prep Time:

20 plus chill time minutes
Cook Time:

0 minutes
Serves:

10 - 12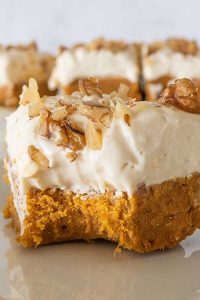 ​This post may contain affiliate links, please see our
privacy policy
for details
The very BEST Gluten-Free No-Bake Carrot Cake that will melt in your mouth. This heavenly dessert is made with raw carrots and two layers. This no-bake carrot cake is perfect for everything from breakfast to snacks and especially to desserts.
The best part? This gluten-free recipe is insanely delicious and healthy-ish too. Low carb version included, please see below.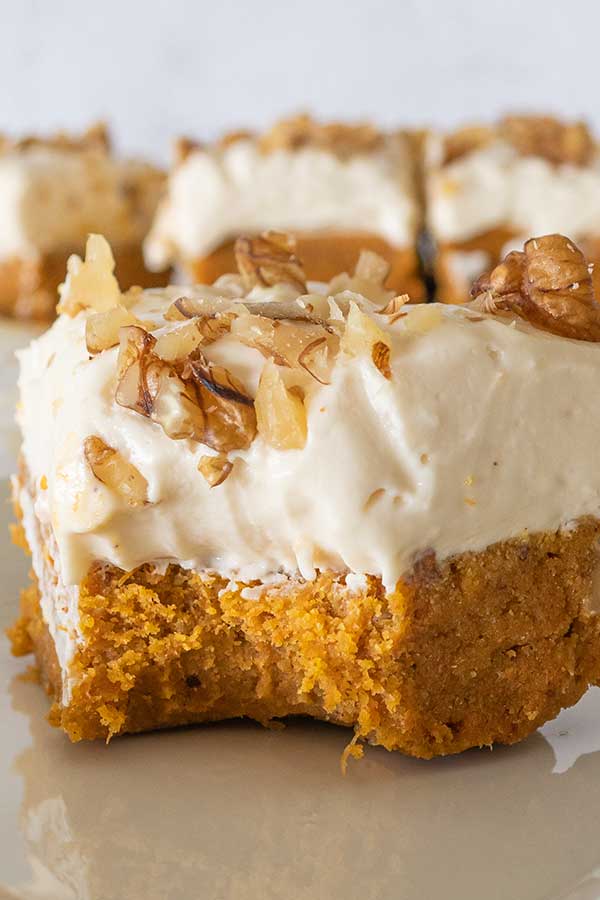 This two-layer gluten-free carrot cake is delicious, and the recipe is super easy to make. The base is made with raw carrots, nuts, coconut and oat flour, fresh lemon juice, butter, ginger, a hint of cinnamon and nutmeg, and lightly sweetened with pure maple syrup or honey.
this gluten free dessert is all about fresh carrots
The carrot cake base layer is good enough to eat, just as is. The flavour of fresh carrots combined with nuts is super tasty.
And even better, all you have to do is mix the ingredients and spread the dough in the pan. The carrot cake base is now ready.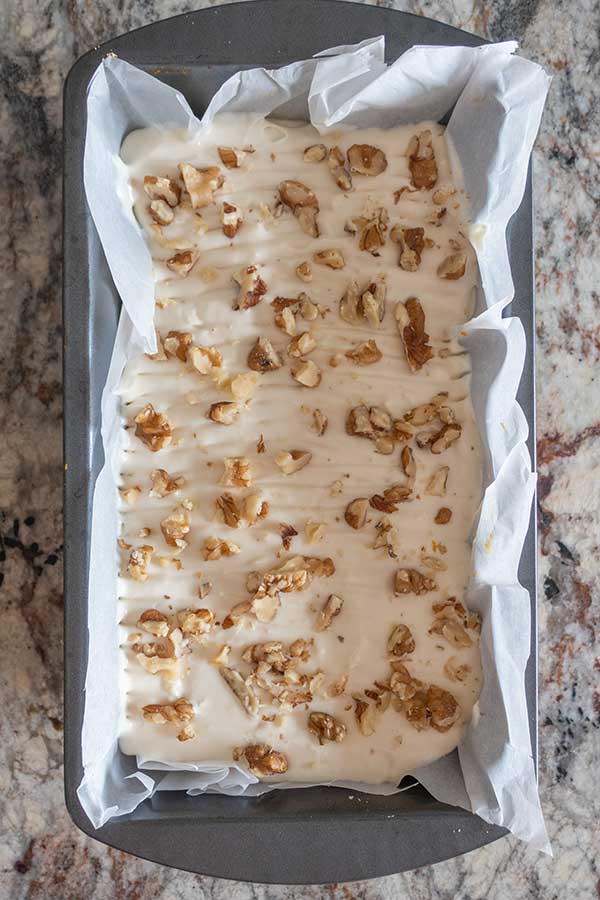 For the next layer, a fluffy, creamy cheesecake topping made with light cream cheese, sour cream, lemon juice, vanilla, a couple of spoons of butter, and confectioners sugar. The top layer is smooth and creamy, not stiff and cheesy.
The sweetness of the creamy topping is up to you. You can use as little or as much sweetener as you desire. When the carrot cake base is combined with this creamy cheesecake topping, it makes a luscious no-bake carrot cake.
If you feel like baking today, and are looking for carrot cake or carrot cake muffins check out our best gluten-free carrot cake and muffin recipes.
Quick and easy recipe steps for no-bake carrot cake
Grate the carrots using a micro planer. The carrots should be super fine.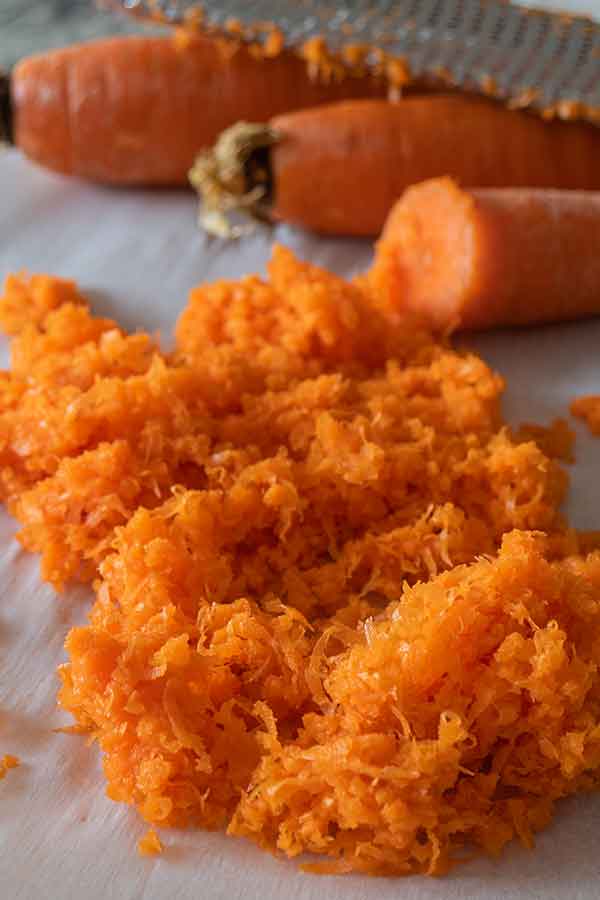 Pour hot butter over carrots and give it a stir. Then add the remaining base ingredients and combine.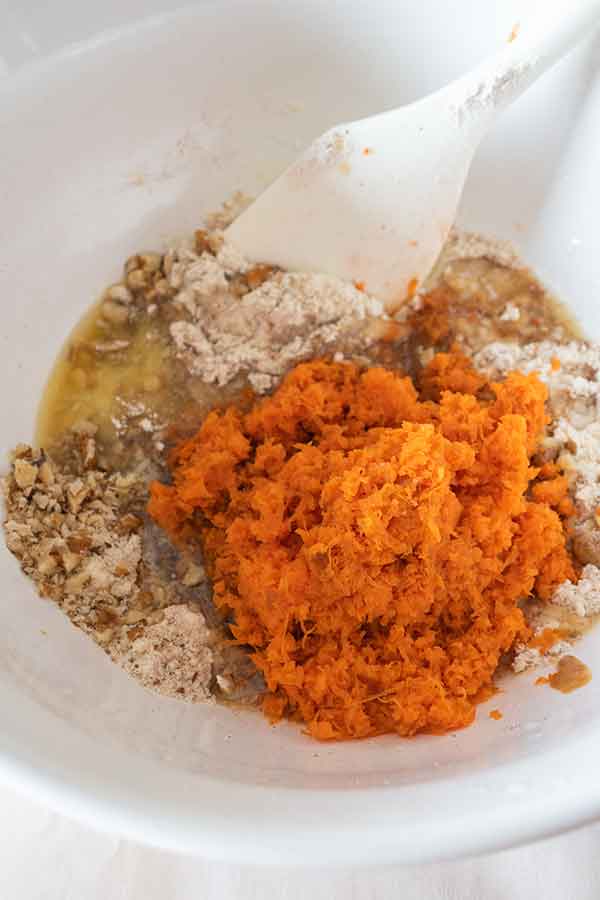 Spread the dough into a loaf pan lined with parchment paper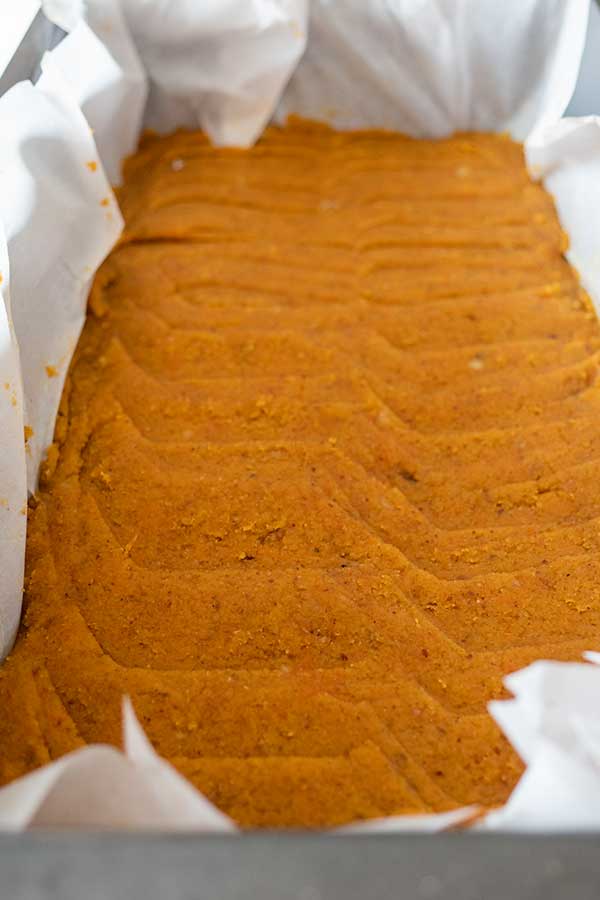 Prepare the cheesecake topping using an electric mixer. By using a high-speed mixer, the cheesecake topping will become light and fluffy.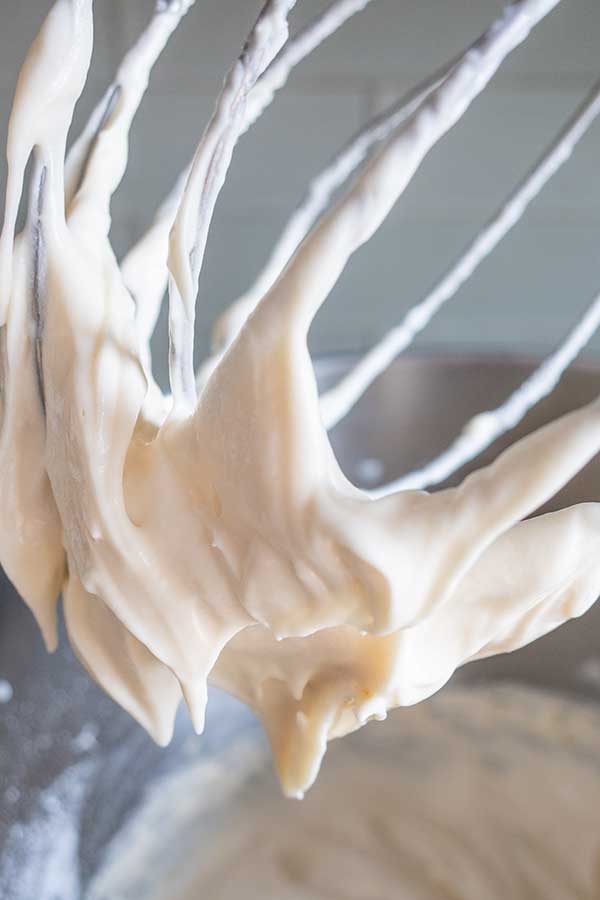 Spread the topping over the carrot cake and sprinkle with walnuts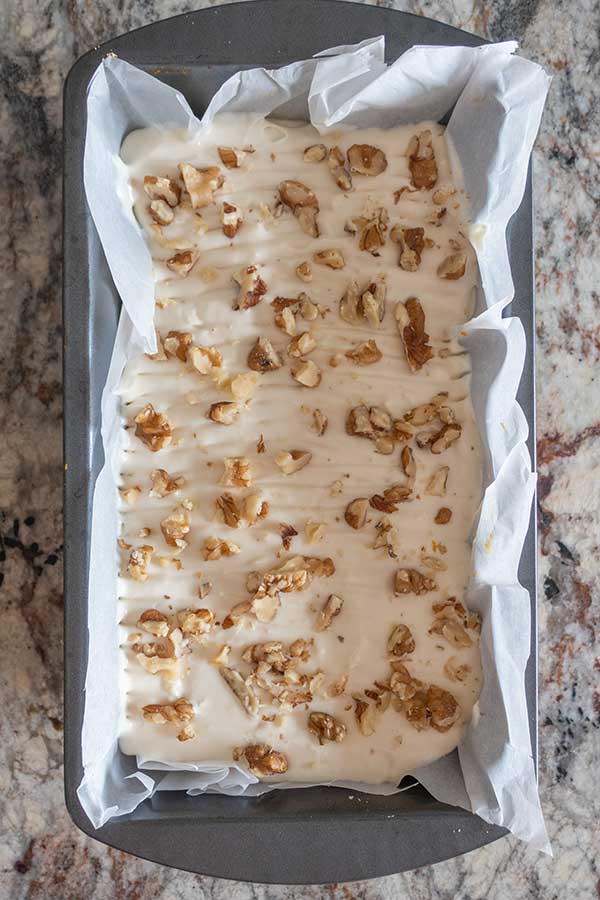 Chill for several hours or overnight, then slice. Enjoy!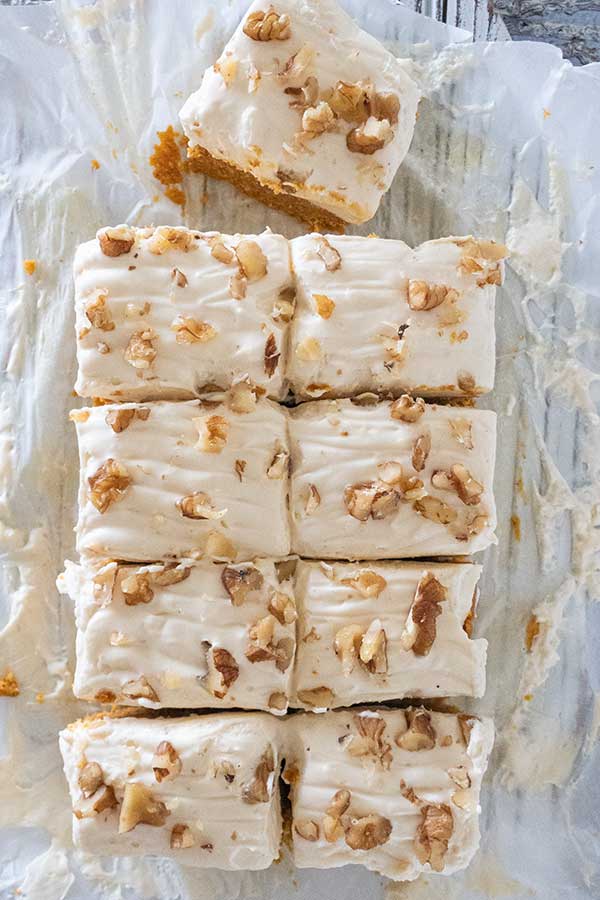 Convert no-bake carrot cake to low carb recipe
This gluten-free carrot cake recipe is easy to convert to low carb and makes it acceptable for the keto diet. One cup of grated carrots has less than 8 grams of net carbs, and since this recipe makes 10 to we bars, it translates to about 1 net carb per serving.
For the base, replace maple syrup with an equal amount of monk sugar or xylitol. Both have zero net carbs. If you replace the maple syrup, add 2 extra tablespoons of butter and 1/4 cup of water.
For the creamy cheesecake topping, again, you can use either sweetener as a replacement. Both the monk sugar or xylitol are 1:1 ratio. Monk sugar and xylitol are excellent to use in desserts because they have no after taste. They are my favourite sugar substitutes in keto dessert recipes.
Coconut flour is one of the more nutritious flours. Although this flour is high in carbs, it is also super high in fiber, thus making this a low-carb flour. For example, a quarter cup of coconut flour has only 6 grams of net carbs.
Oat flour is also high in carbs and fiber. Again, fiber negates carbs making oat flour lower in carbs. One teaspoon of oat flour has only 1 gram of net carbs.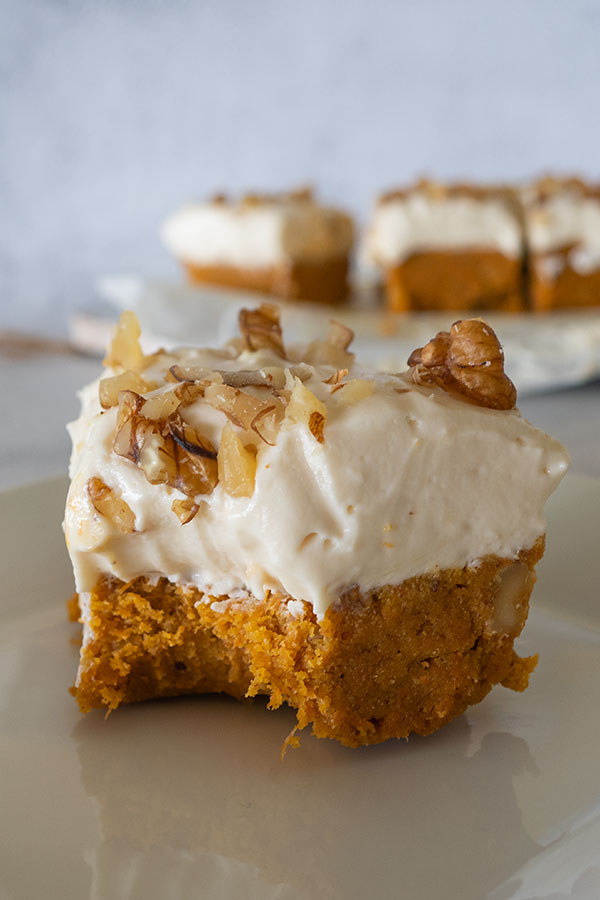 Carrots, conventional vs organic, is there a difference?
And while there might not be additional nutrients in organic carrots, they are higher in antioxidants. Food rich in antioxidants helps lower oxidative stress in your system, which, left unchecked, can lead to diseases such as heart disease, cancer and Type 2 diabetes. However, often organic means fewer pesticides, not pesticide-free.
What has me excited about this no-bake carrot cake recipe is that carrots are currently in season. Fresh carrots are flavourful, sweet and add deliciousness to this gluten-free carrot recipe.
And with that in mind, everyone can find 2o minutes to make this tasty, healthy-ish carrot dessert recipe. I especially love this no-bake carrot cake during hot summer days because you don't have to turn the oven on, and the dessert is served chilled. YUM!
Let's Connect!
Be sure to FOLLOW US on FACEBOOK and PINTEREST. And don't forget to sign up for our newsletter, the form is at the bottom of this page. We always have something new and exciting for you!
Many thanks!
Kristina xx
Gluten-Free No Bake Carrot Cake
Published on Aug 14, 2021
by
Kristina Stosek
Instructions
1.

In a large bowl, pour hot butter over the carrots and give them a stir. Add remaining ingredients and combine until you form a dough

2.

Spread the mixture into a standard loaf pan lined with parchment paper and, using a spatula, press firmly into the pan

3.

4.

In a large bowl, using an electric mixer, beat together cream cheese and butter

5.

Add sourcream, lemon juice, and vanilla and beat until creamy

6.

Add 1/4 cup at a time of powdered sugar and mix until smooth. I would start with a 1/2 cup and keep tasting until you reach desired sweetness. I used only 1/2 cup

7.

Spread the cream over the base and sprinkle with about 1/4 cup of chopped walnuts. Refrigerate for several hours or overnight

8.

Unmold the cake using a knife by loosening the topping from the paper, Then cut into bars

9.

Store in an airtight container in the refrigerator for up to 7 days
Leave a Comment
Kristina
absolutely, what a great idea. Just don't add too many, thank you Vicki
Can you add raisins and coconut to this recipe? If yes how much of each one?
such an easy summer carrot cake recipe, my kids love it!
Kristina
wonderfull, thank you for sharing Shanna
I made this carrot cake three times already, it is like eating cookie dough. My family loves it so much, thank you Kristina!
Kristina
Thank you Sandra, I am thrilled you enjoyed it
the best carrot cake EVER!!!