Gluten Free Cauliflower Salad
Prep Time
15 Minutes
Difficulty
Easy
Cook Time
10 Minutes
Serves
6 - 8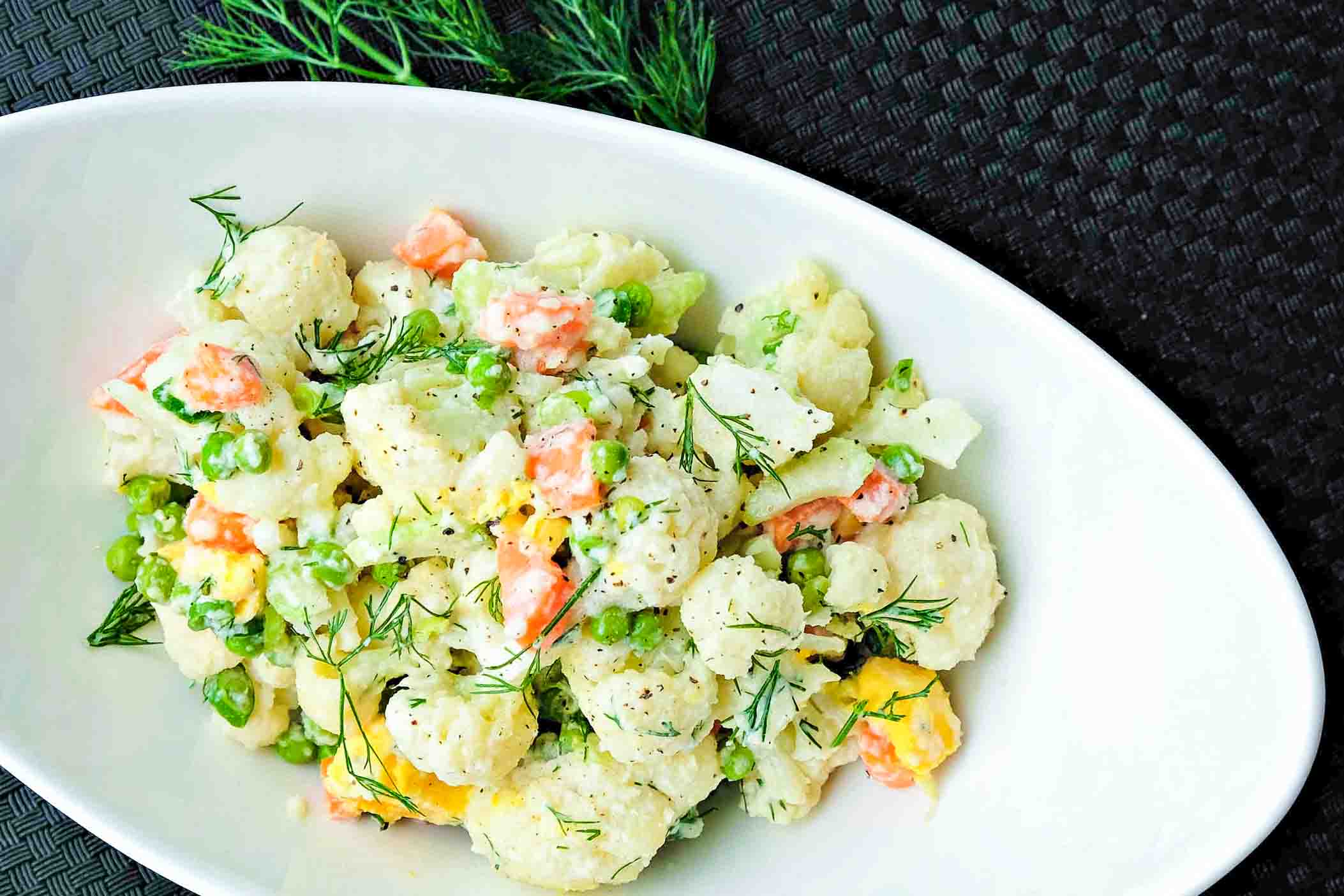 This cauliflower salad is certainly different from the usual potato salad. For a cookout, this creamy cauliflower salad can add a bit of zing to grilled meats or fish and is also diet friendly. Feeling adventurous? Substitute curry powder for dill to kick it up a notch. Healthy and delicious it doesn't get any better!
Ingredients
1 large head cauliflower, cored and cut into bite-size pieces
2 medium size carrots, cut into bite size pieces
1 cup frozen peas
1/3 cup plain Greek yogurt
¼ cup gluten free mayonnaise or sour cream
2 garlic cloves minced
2 Tbsp. raw apple cider vinegar
1 Tbsp. extra virgin olive oil
1 Tbsp. gluten free mustard
Himalayan pink salt and black pepper, to taste
½ cup diced celery
3 green onions, thinly sliced
2 hard-boiled eggs, quartered (optional)
2 sprigs of dill, stems removed and chopped
Instructions
Steam cauliflower for 5 minutes and set aside
Steam carrots and peas for 5 minutes and set aside
Add following ingredients into a food processor; 1 cup of steamed cauliflower, yogurt, mayonnaise, garlic, apple cider vinegar, olive oil, mustard and salt, process until creamy. Season with salt and pepper
Place cauliflower, carrots, peas, celery and green onions into a large bowl. Pour the dressing over the vegetables and gently mix. Add eggs and dill and mix one more time
Refrigerate covered for 2 hours or overnight, to allow the flavours infuse the vegetables. Stir just before serving
Similar Recipes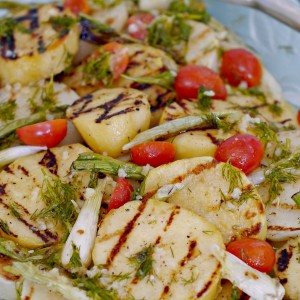 Grilled Potatoes with Mustard Dill Vinaigrette
Grilled potatoes give an added flavour to simple potatoes, and the mustard dill vinaigrette finishes it perfectly. This recipe is especially enjoyable during summer barbecues or large gatherings Read More
Prep Time
15 Minutes
Difficulty
Moderate
Cook Time
20 Minutes
Serves
6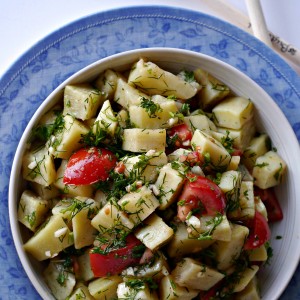 Naturally Gluten-Free Sweet Potato Salad
This light sweet potato salad is deliciously flavoured with fresh herbs and garlic. Sweet potatoes are rich in vitamin A, fiber and are low in calories. Read More
Prep Time
15 Minutes
Difficulty
Easy
Cook Time
10 Minutes
Serves
4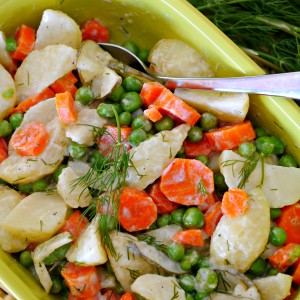 Potato Salad with Yogurt Dill Dressing
The beauty of this salad is its simplicity, its wonderful textures and flavours giving this salad earthy taste sensation with a zesty twist. This salad is perfect for barbecues. Read More
Prep Time
15 Minutes
Difficulty
Easy
Cook Time
15 Minutes
Serves
4
© Copyright 2017 Only Gluten Free Recipes. All Rights Reserved.