Gluten-Free Black Forest Cheesecake
Prep Time
15 Minutes
Difficulty
Easy
Cook Time
45 Minutes
Serves
10-inch cake
Average Rating: 5 | Rated By: 9 users
With Valentine's day this coming week, I would like to suggest a Gluten-Free Black Forest Cheesecake
When I set out to make this gluten-free dessert, I wanted to make it extra special. Valentines is about chocolate and more chocolate. So, I made this black forest cheesecake.
This gluten-free dessert has it all, chocolate, cheesecake and fruit. Three different flavours and three different textures— an absolute perfection!
the black forest cheesecake recipe details,
For the first layer, chocolate brownie. If you love rich chocolate brownies, you will be impressed!
For the second layer, a creamy cheesecake flavoured with pure vanilla. I kept the cheesecake layer simple because the third layer is packed with so much flavour
For the third layer, a rich cherry sauce with whole cherries. The sauce is swirled through the cake adding most delicious cherry flavour to all three layers
The cake is then finished off with even more chocolate. I highly recommend the chocolate curls. The curls are optional, but I feel the more chocolate, the better. Plus it makes the cake look pretty and special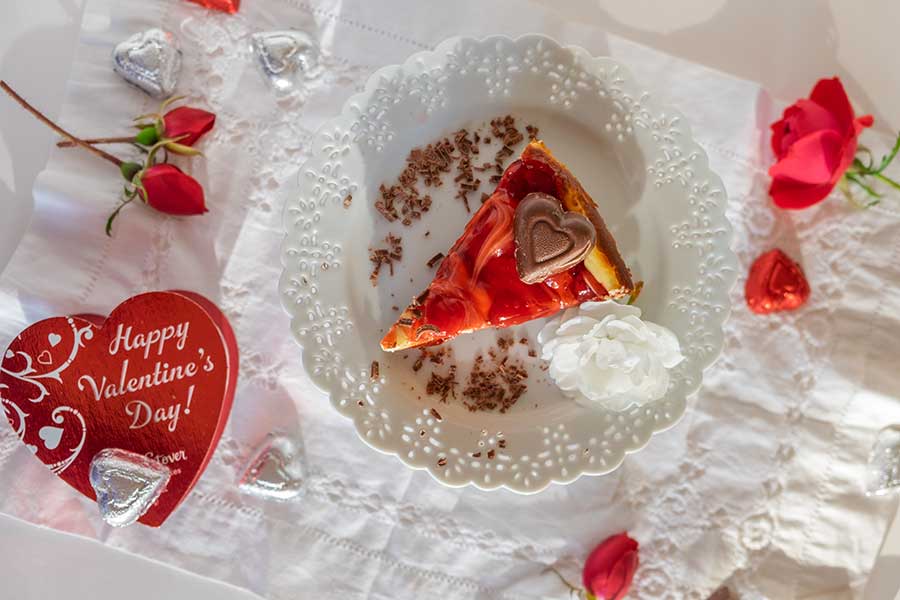 I am super excited about this black forest cheesecake because it turned out perfect. The chocolate brownie, the cheesecake and the cherries make this gluten-free dessert outstanding!
I know that this dessert recipe may look complicated. Honestly, it is super super easy!! You will need an electric mixer and the rest is straightforward. For the chocolate brownie layer, only seven ingredients plus salt.
For the cheesecake layer, only four ingredients, imagine that 🙂 Now for the cherry layer, if you want to make this dessert super easy, you can buy a gluten-free cherry pie filling and you are done. But as I make everything from scratch, I have included the easiest Gluten-Free Cherry Pie Filling recipe below.
Easy homemade gluten-free cherry pie filling
2/3 cup fine coconut sugar or sweetener of choice
1/4 cup tapioca powder/starch
2/3 cup water
1 Tbsp. Fresh lemon juice
4 cups frozen or fresh pitted cherries
In a large saucepan, combine sugar and tapioca powder. Add water and whisk until smooth. Stir in lemon juice and cherries and continuously stirring, cook over medium-high heat until the mixture thickens. About 3 – 5 minutes. Cool before using. If you find the mixture too thick, add a little more water until you reach desired consistency.
Our 10 favourite gluten-free recipes for Valentine's day.
Ingredients
CHOCOLATE CAKE LAYER
3/4 cup unsalted butter, melted
1 tsp. Pure vanilla extract
3 large eggs, at room temperature
1/2 tsp. GF aluminum-free baking powder
Pinch of Himalayan fine salt
CHEESECAKE LAYER
8 oz. package low fat cream cheese, softened
1 large egg, at room temperature
1/4 cup fine coconut sugar or sweetener of choice
1 tsp. Pure vanilla extract
CHERRY TOPPING
Optional topping: chocolate curls. Use a vegetable peeler or knife to shave flat, thin shavings from a room-temperature block of gluten-free chocolate.
*As an Amazon Associate and member of other affiliate programs, I earn from qualifying purchases. Please check out my sponsorship and disclosure policy page for more details
Instructions
Preheat oven to 360 F and line the bottom of a 10-inch springform pan with a circle of parchment paper and spray the entire pan with cooking oil
In a large mixing bowl using an electric mixer, add the butter, sugar and vanilla and mix until blended. Add one egg at a time and continue mixing until smooth
Add the dry ingredients and stir until just combined. Pour batter into prepared pan
For the cheesecake layer; beat cream cheese, egg, sugar and vanilla on medium speed until smooth. Pour cheesecake mixture evenly over the chocolate layer
Using a large spoon drop cherry pie filling over the cheesecake layer.Using a knife swirl the cherry pie filling into the chocolate layer. Do not over mix, just enough swirls to create a pattern.
Bake for 45 minutes, then cool in the pan for 1 hour. Refrigerate for 2 hours or overnight before serving. Top with chocolate curls if you wish
Similar Recipes
Coconut Cheesecake With Berry Compote {Gluten-Free}
I just had to share this glorious Gluten-Free Coconut Cheesecake With Berry Compote because it is so insanely delicious! This is a healthy-ish version of coconut cheesecake, and I will explain why… This gluten-free dessert has a buttery oat crust topped with a creamy cheesecake. The cheesecake layer is made with light ricotta cheese, eggs, […] Read More
Prep Time
15 Minutes
Difficulty
Easy
Cook Time
55 Minutes
Serves
8
Gluten-Free Baked German Cheesecake
There are many ways to make a cheesecake. This sumptuous gluten-free cheesecake is baked using two types of cheeses creating that perfect creamy texture. The cake is light, slightly flavoured with fresh lemon juice and if desired topped with our fresh raspberry sauce. Recipe included. What I love about this grain-free cheesecake, it can be […] Read More
Prep Time
20 Minutes
Difficulty
Easy
Cook Time
60 Minutes
Serves
12