Gluten-Free Black Forest Cheesecake
Published on Feb 09, 2020
by
Kristina Stosek
Prep Time:

15 minutes
Cook Time:

45 minutes
Serves:

10-inch cake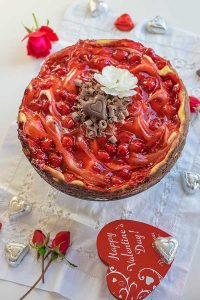 ​This post may contain affiliate links, please see our
privacy policy
for details
This gluten free black forest cheesecake is a take on the classic German dessert but better. The stunning dessert is made with a rich chocolate brownie cake, a layer of creamy vanilla cheesecake, a rich cherry sauce with whole cherries and finished with chocolate curls. Doesn't it sound delicious?
This gluten-free dessert has it all, chocolate, cheesecake and fruit. Three different flavours and three different textures— an absolute perfection!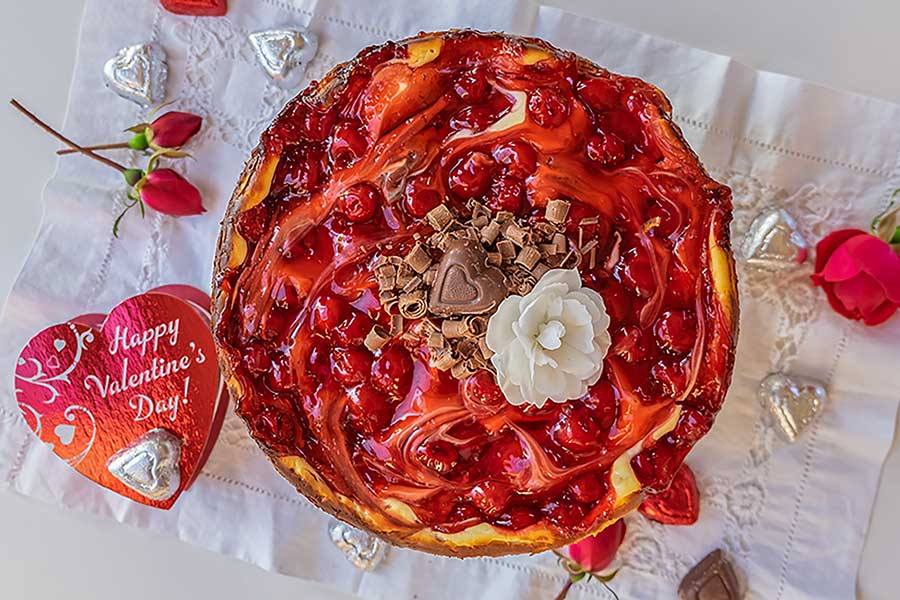 black forest cheesecake recipe overview
For the first layer, a chocolate brownie. If you love rich chocolate brownies, you will be impressed!
For the second layer, a creamy smooth cheesecake flavored with aromatic vanilla. The cheesecake layer is simple because the third layer is packed with so much flavour.
For the third layer, a rich cherry sauce with whole cherries. The sauce is swirled through the cake, adding the most delicious cherry flavour to all three layers.
The cake is then finished off with even more chocolate. I highly recommend the chocolate curls. The curls are optional, but the more chocolate, the better. Plus, the chocolate curls make the cake look pretty and special.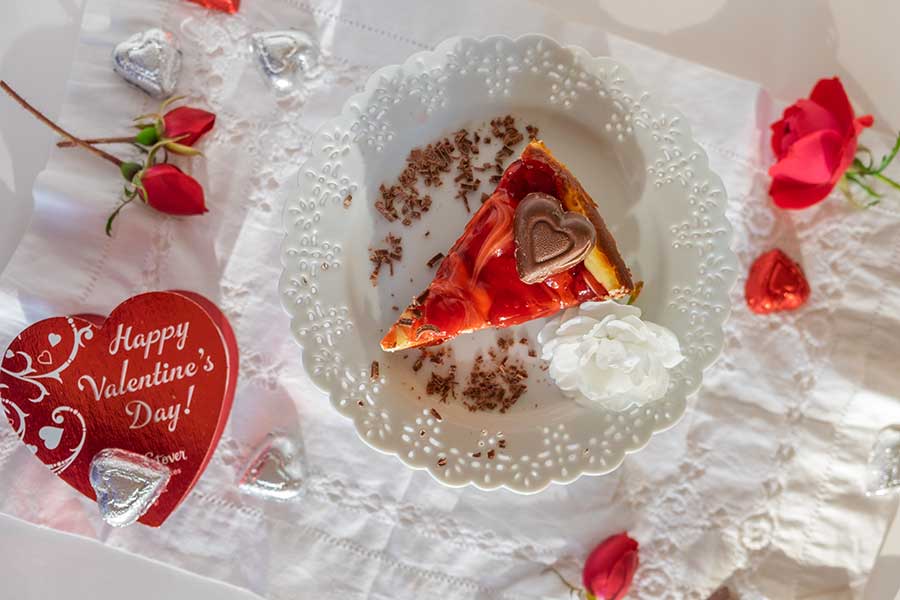 Black Forest Cheesecake Recipe Details
I am super excited about this black forest cheesecake because it turned out perfect. The chocolate brownie, the cheesecake and the cherries make this gluten-free dessert outstanding!
gluten free chocolate brownie layer
You may think this gluten free black forest cheesecake recipe looks complicated. But, honestly, it is super, super easy to make!! You will need an electric mixer, and the rest is straightforward. For the chocolate brownie layer, you need only seven ingredients plus salt. It's that easy.
the cheesecake layer
For the cheesecake layer, you will need only four ingredients. Imagine that!
the cherry pie layer
And finally, the cherry layer. If you want to keep the recipe even simpler, you can buy a gluten-free cherry pie filling, and you are done. But as I love everything fresh tasting, the cherry pie filling is made from scratch. I have included the easiest Gluten-Free Cherry Pie Filling recipe below.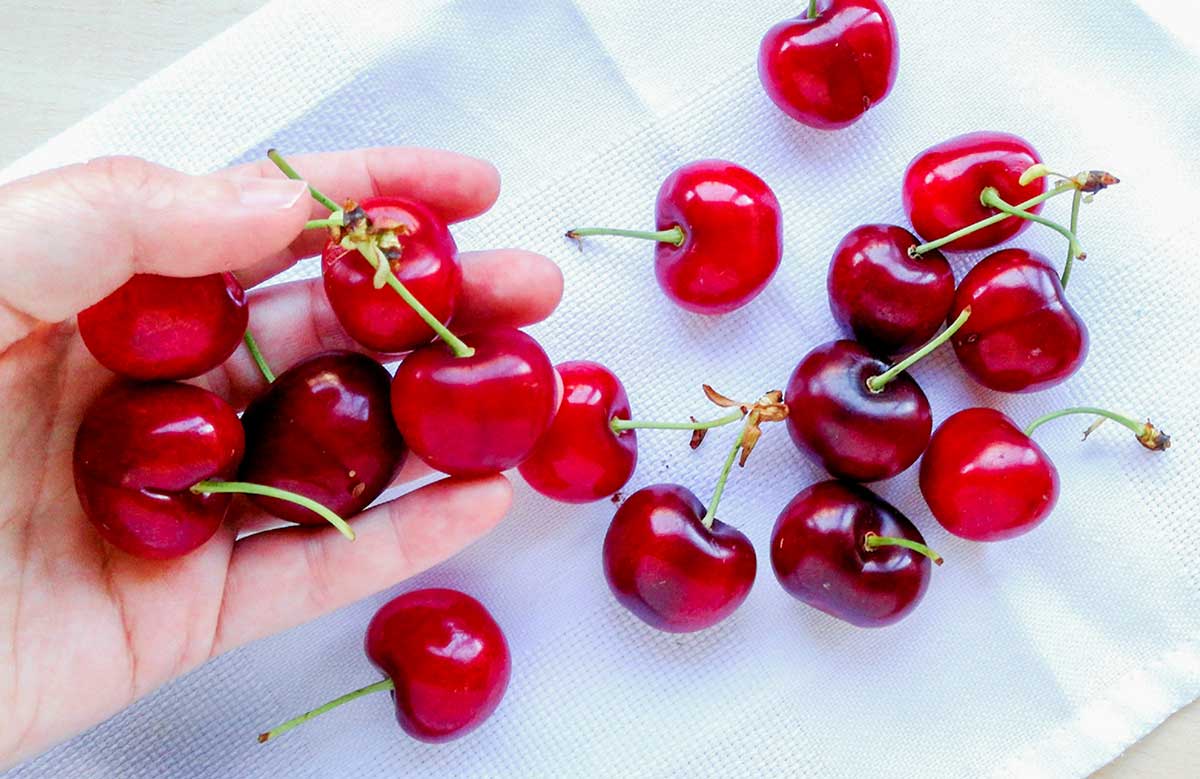 Easy homemade gluten-free cherry pie filling recipe
2/3 cup fine coconut sugar or sweetener of choice
1/4 cup tapioca powder/starch
2/3 cup water
1 Tbsp. Fresh lemon juice
4 cups frozen or fresh pitted cherries
In a large saucepan, combine sugar and tapioca powder. Add water and whisk until smooth. Stir in lemon juice and cherries and while stirring, cook over medium-high heat until the mixture thickens. About 3 – 5 minutes. Cool before using. If you find the mixture too thick, add a little more water until you reach desired consistency.
How to avoid gluten free cheesecake from cracking?
To avoid cracking, there are a couple of key things to keep in mind when baking a gluten-free cheesecake.
First, ensure the ingredients are at room temperature before mixing them. Room temperature ingredients will blend easily and help prevent cracks from forming in the cheesecake.
And second, do not overbake the cheesecake. The texture of a baked cheesecake should wobble just slightly in the middle and be dense from the outside edges with a golden brown color.
How to store black forest cheesecake?
You can store the gluten free black forest cheesecake in the refrigerator for up to a week or in the freezer for up to two months. It is important to wrap it well with cling film or foil to prevent it from drying out. To defrost the dessert, place it in the refrigerator overnight before serving.
Our 10 favourite gluten-free recipes for Valentine's day.
Let's Connect!
Be sure to FOLLOW US on FACEBOOK and PINTEREST.
Many thanks!
Kristina xx
Gluten-Free Black Forest Cheesecake
Published on Feb 09, 2020
by
Kristina Stosek
Instructions
1.

Preheat oven to 350 F. Spray a 10-inch springform pan with cooking oil and line the bottom with a circle of parchment paper

2.

In a large mixing bowl, using an electric mixer, add the butter, sugar and vanilla and mix until smooth. Add one egg at a time and continue mixing until combined

3.

Add flour, cocoa powder, baking powder and salt and using a spatula stir until just combined. Pour batter into prepared pan

4.

For the cheesecake layer, beat cream cheese, egg, sugar and vanilla on medium speed until smooth. Pour the cheesecake mixture evenly over the chocolate layer

5.

Using a large spoon, drop cherry pie filling over the cheesecake layer. Then, swirl the cherry pie filling into the cheesecake layer with a fork. Refrain from mixing—just enough swirls to create a pattern. *recipe for cherry pie filling in the post

6.

Bake for 45 minutes, then cool in the pan for 1 hour. Refrigerate for 4 hours or overnight before serving. Top with chocolate curls if you wish