Gluten Free Oatmeal Raspberry Muffins
Prep Time
30 Minutes
Difficulty
Easy
Cook Time
25 - 30 Minutes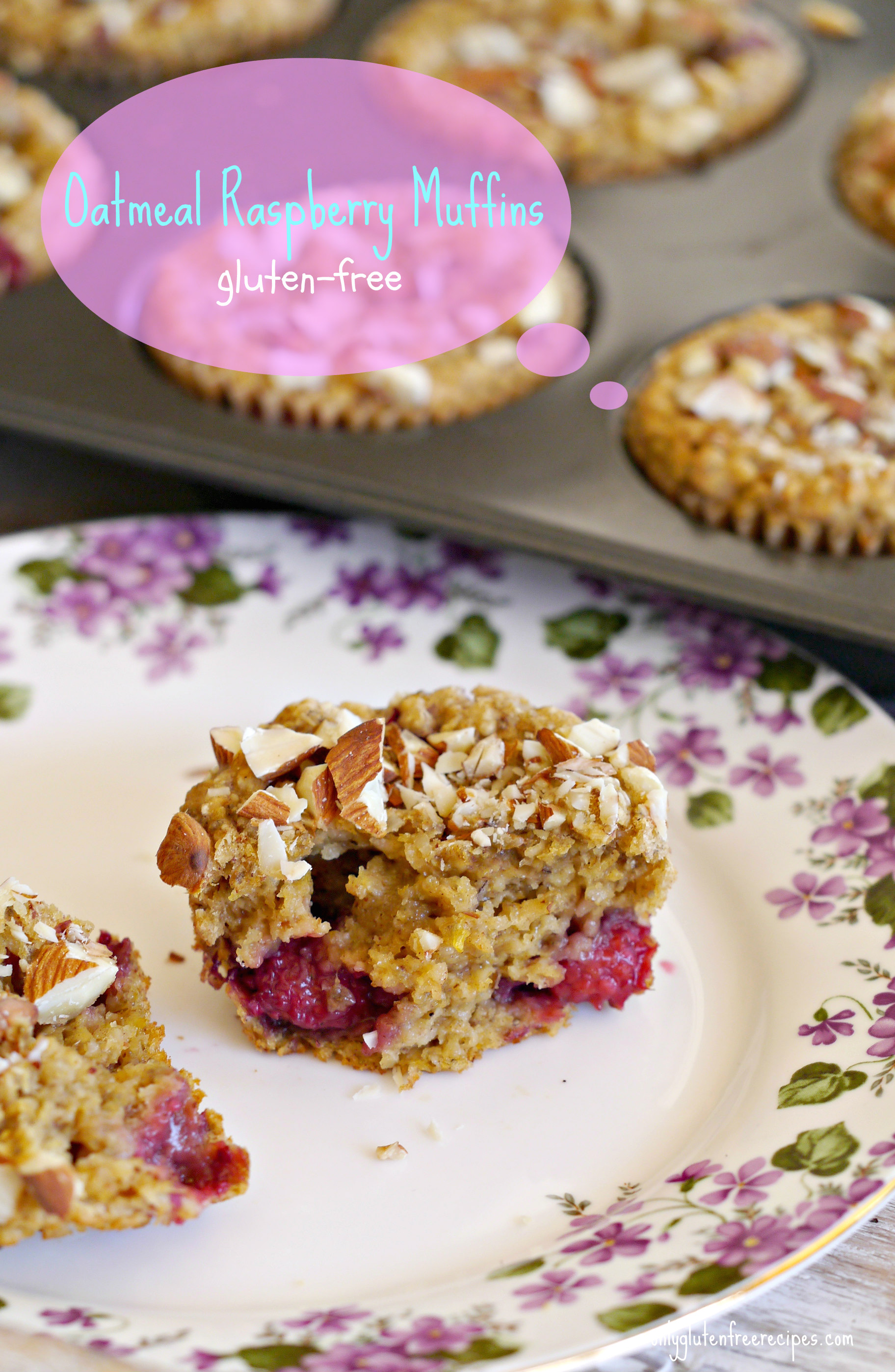 This is possibly my all-time favourite muffin recipe. There is no added fat, refined sugar, dairy or eggs. The muffin is moist with a zesty flavour and subtle texture. Why serve plain oatmeal when you can have this wholesome gluten free oatmeal raspberry muffin that is high in protein, rich in fiber and vitamin C. Have one after a workout or add it to your kid's lunch box, this muffin is a winner every time!
Ingredients
1 cup certified gluten free rolled oats
2 Tbsp. chia seeds
1 ½ cups orange juice (preferably freshly squeezed)
½ cup agave nectar or pure maple syrup
1 tsp. vanilla
½ cup all purpose gluten free flour
¼ cup almond flour
2 tsp. baking powder
1 tsp. cinnamon
½ tsp. baking soda
¼ tsp. nutmeg
¼ tsp. sea salt
1 ½ cups raspberries
¼ cup roughly chopped almonds or walnuts
NOTE: all ingredients must be gluten free
TIP: freeze the raspberries for 30 minutes while the oats are soaking, they hold their shape better when you add them to the batter
Instructions
In a medium size bowl combine oats, chia, and orange juice. Set aside for 30 minutes
In a large bowl, whisk together dry ingredients
Preheat oven to 375 F and line a 12-cup muffin pan with paper liners. (My preference is parchment paper liners, the muffins do not stick to the paper)
Add agave/maple syrup and vanilla to soaked oats and stir
Add wet ingredients to dry and stir until just combined, stir in raspberries and distribute the batter evenly among the 12 muffins cups. Top with almonds/walnuts
Bake for 25 – 30 minutes or until a toothpick inserted in the middle comes out clean
Cool in the muffin pan
Similar Recipes
Banana, Carrot, Apple and Walnut Muffins
Having fruit in the morning is always nice, this muffin recipe has a selection of fruits with nuts which is made into a healthy muffin, there is no sugar or dairy added, making it a super nutritious low fat, low calorie delicious muffin. Read More
Carrot, Apple And Quinoa Muffins
Carrots, apple and quinoa, what a superb healthy combination. These muffins are incredibly moist with the sweetness of carrots and because there are no added bad fats and processed sugars these are nutritionally healthy as well. Adding just the right spice creates these heavenly muffins. Makes 6 large muffins or 8 medium size or 12 […] Read More
Prep Time
15 Minutes
Difficulty
Easy
Cook Time
20 Minutes
Coconut, Cashews, Currants And Chocolate Muffins
These muffins are Low Fat! Yes hard to believe with all the goodies in them. You can make the batter ahead of time and bake the muffins as needed. The batter will keep in the fridge for 3 days. This recipe makes 4 good size muffins but if you want to make more just double […] Read More
Prep Time
10 Minutes
Difficulty
Easy
Cook Time
30 Minutes
© Copyright 2017 Only Gluten Free Recipes. All Rights Reserved.