Easy Banana Muffins – Gluten Free
Published on Apr 19, 2020
by
Kristina Stosek
Prep Time:

10 minutes
Cook Time:

38 minutes
Serves:

12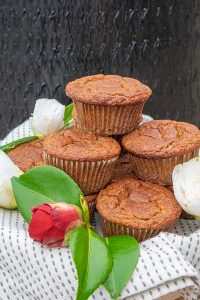 ​This post may contain affiliate links, please see our
privacy policy
for details
Healthy and wholesome Easy Banana Muffin recipe – the recipe is easy to prepare and is a great way to use up ripe bananas. This is a classic gluten-free banana muffin recipe that is also dairy and grain-free and has half the sugar that you would use in a typical muffin recipe. The muffin is light and super moist with fresh banana flavour throughout. By adding your choice of chopped nuts, chocolate chips or dried fruit, you can easily adapt this basic banana muffin recipe to your taste.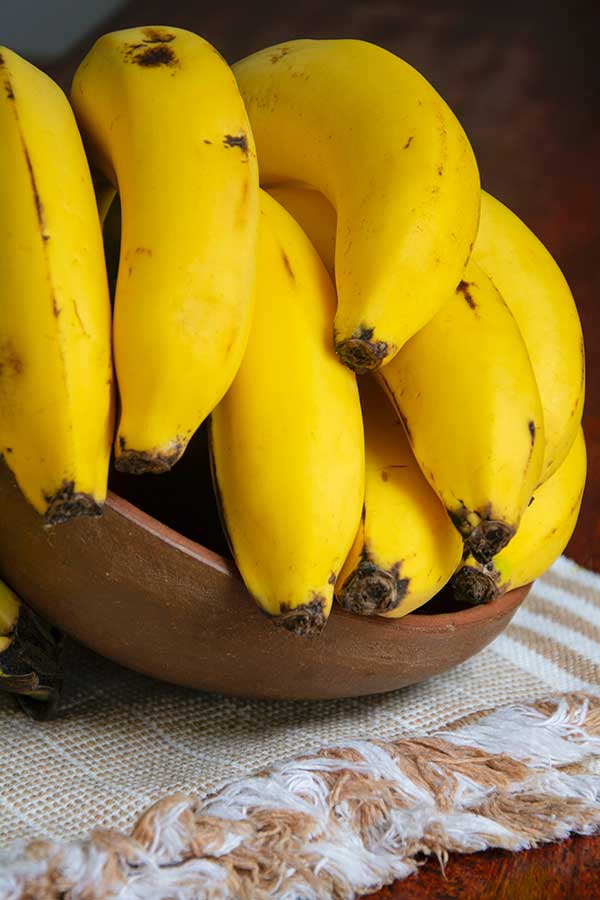 What keeps this banana muffin super moist?
In this recipe, three ingredients keep this muffin extra moist. The mashed banana, olive oil and milk. To keep the gluten-free recipe also grain-free, I used almond flour, coconut flour and tapioca flour. The combination of these three flours gives the muffin super light texture and also adds to the moistness of the muffin.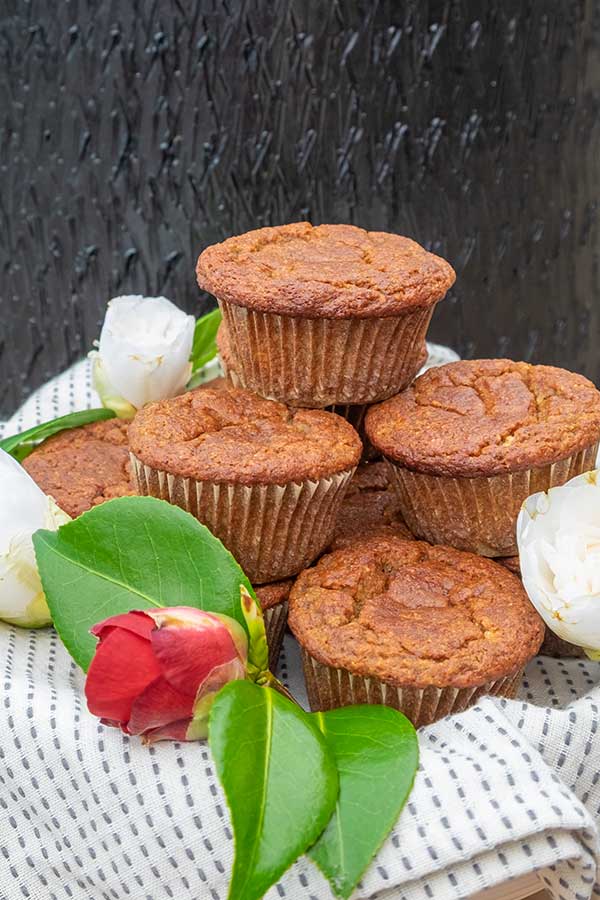 Why is there only half the sugar in this muffin?
Ripe bananas are much sweeter, which allows me to cut back on the sweetener in the recipe. But…did you know that even though the bananas are much sweeter, the calories remain the same. So, a ripe banana does taste sweeter, but the calories of a ripe banana vs unripe banana stay the same. This means that the muffin is mostly sweetened with the banana without the extra calories. How wonderful is that!
Storing and freezing banana muffins.
These muffins will keep up to three days at room temperature or up to five days in the refrigerator. For more extended storage, you can freeze them for up to three months, thaw overnight in the fridge and then bring to room temperature. You could probably pop them in the oven for a few minutes to make them taste as freshly baked.
Do you need more recipes to use up ripe bananas? No problem, check out our guten-free banana recipes for inspirations.
Easy Banana Muffins – Gluten Free
Published on Apr 19, 2020
by
Kristina Stosek
Instructions
1.

Preheat oven to 350 F and line a muffin pan with parchment paper liners

2.

Whisk the first 8 ingredients (almond flour to nutmeg) using a medium bowl

3.

In a large bowl beat the bananas, sugar, milk, olive oil, eggs and vanilla

4.

Add dry ingredients to wet mixture and whisk until combined. If adding nuts, chocolate chips or fruit fold them in using a spatula

5.

Spoon batter into the muffin pan and bake 35 - 38 minutes until they pass the toothpick test. Cool in the pan for 5 minutes, then transfer to a cooling rack to cool.