Olive Oil Blueberry Walnut Muffin – Gluten Free
Published on Feb 18, 2022
by
Kristina Stosek
Prep Time:

10 minutes
Cook Time:

30 minutes
Serves:

12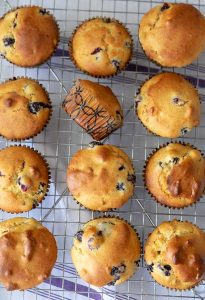 ​This post may contain affiliate links, please see our
privacy policy
for details
A heart-healthy Gluten-Free Olive Oil Blueberry Muffin packed with walnuts and sweetened only with pure maple syrup. This dairy-free muffin is made simply using only 10 ingredients plus sea salt.
Three ingredients that make this a healthier blueberry muffin!
As this is a blueberry muffin, the main ingredient is antioxidant-rich blueberries. In addition, the blueberries add freshens and keep the gluten-free muffin extra moist.
The walnuts, a nutritious nut, add richness and heartiness to this blueberry muffin. Walnuts are an excellent source of Omegas-3s, and as per Healthline, regularly eating walnuts has been consistently shown to decrease cholesterol levels.
Another amazing gluten-free blueberry muffin recipe you will love is the lemon blueberry muffin!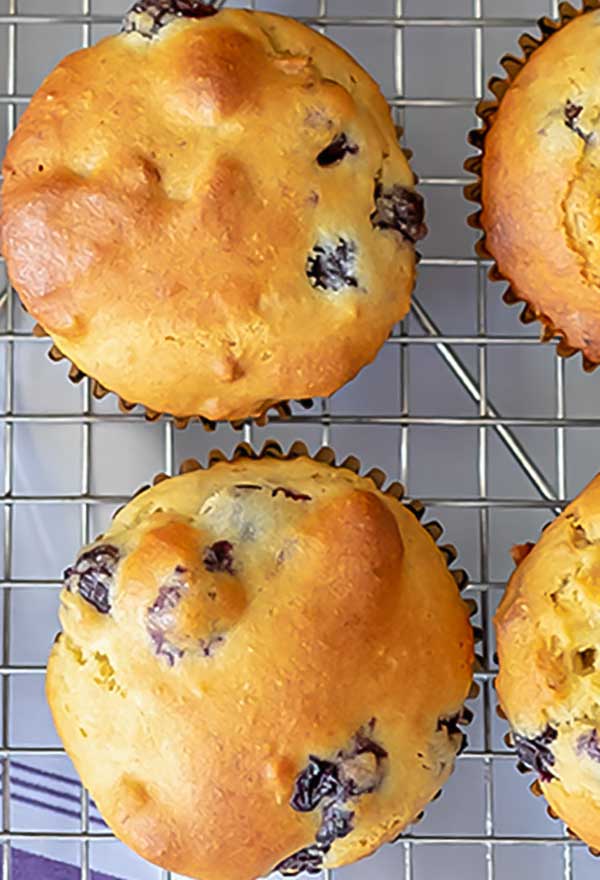 I replaced butter with heart-healthy olive oil. As per WebMD, olive oil is a healthy fat and an excellent source of beneficial plant nutrients called phytochemicals that may help fight cancer and heart disease.
In addition, WebMD says if you replace saturated and trans fats with unsaturated fats such as olive oil, you may lower your chance of getting a stroke by more than 40%.
Another two healthier gluten-free muffin recipes you may enjoy are the Healthy Gluten-Free Breakfast Muffins, and the Gluten-Free Coconut Lemon Muffins!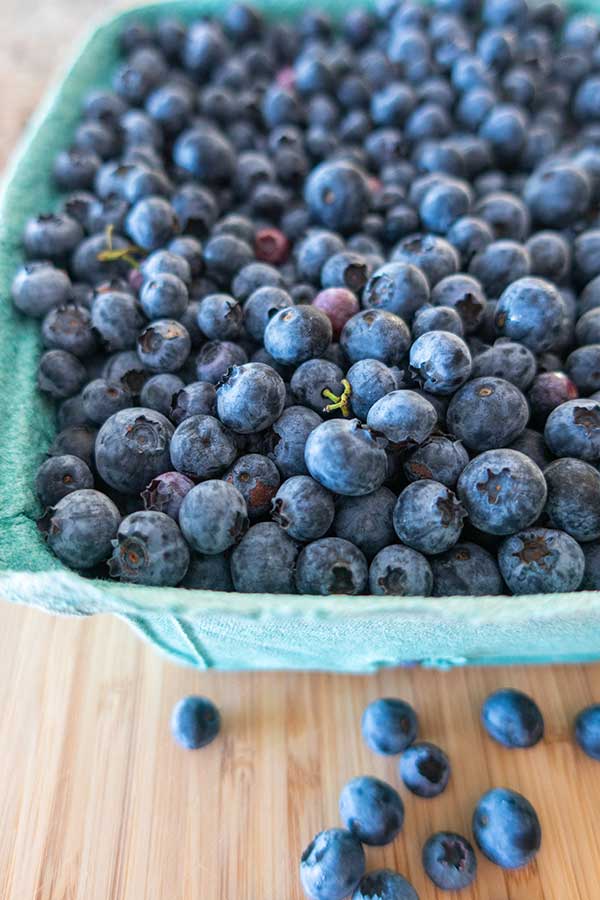 olive oil blueberry muffin—recipe details
Why not replace a healthier gluten free muffin for the butter and sugar-heavy muffin you will find in most bakeries. The best part, this olive oil muffin tastes just as delicious and is much healthier.
10 ingredient gluten free muffin recipe
You will need only 10 ingredients plus salt and two bowls to make this muffin, making this an easy muffin recipe. In this recipe, the two flours used are almond flour and a gluten-free flour blend. The blend of these flours give the muffin a tender moist crumb.
The wet ingredients you most likely already have in your pantry. Olive oil, eggs, vanilla, pure maple syrup and non-dairy milk.
For the fresh flavour and texture, fresh juicy blueberries and earthy walnuts. As you can see, this healthy blueberry muffin is simple to make, and best of all, without refined sugar.
make the muffin
Start with mixing the dry ingredients. Then whisk the wet ingredients and blend the mixture into the flour.
In the end, gently stir in the fresh blueberries and walnuts. The batter is ready for baking, and the prep time is less than 10 minutes. WOW!
this is a high protein blueberry muffin recipe
If you are looking for a protein-packed muffin recipe that includes fiber, this gluten-free olive oil blueberry walnut muffin recipe is for you.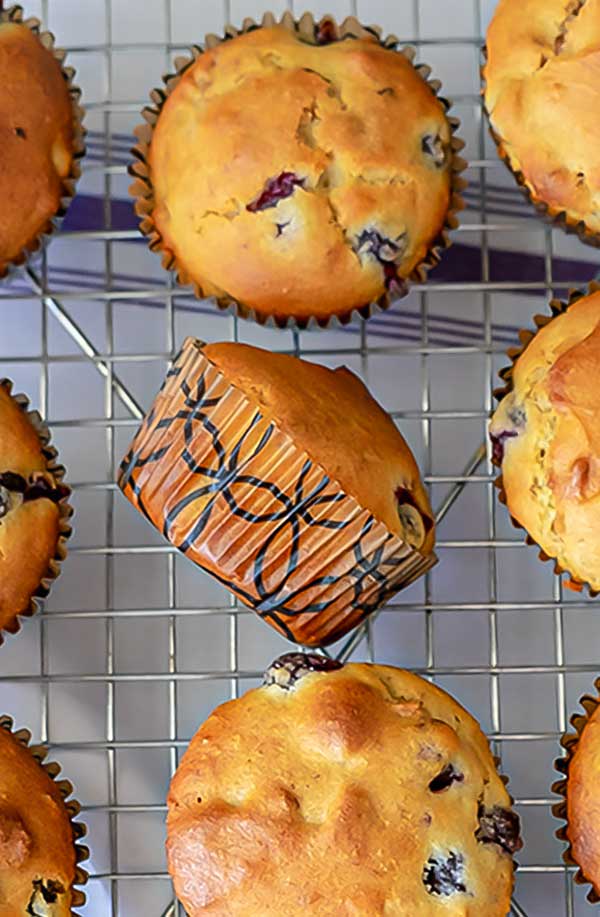 Enjoy this gluten-free blueberry muffin for Sunday brunch, or as an anytime delicious healthy sweet snack. Are you in search of healthy muffin recipes? Check out our entire selection of gluten-free muffin recipes for inspiration.
Let's Connect!
Be sure to FOLLOW US on FACEBOOK and PINTEREST.
Many thanks!
Kristina xx
Olive Oil Blueberry Walnut Muffin – Gluten Free
Published on Feb 18, 2022
by
Kristina Stosek
Instructions
1.

Preheat oven to 375 F and line a muffin pan with parchment paper liners

2.

In a large bowl, combine dry ingredients

3.

In a separate bowl using an electric mixer, whisk together, eggs, olive oil, maple syrup, milk and vanilla for 1 minute

4.

Add egg mixture to dry ingredients and thoroughly mix. Gently stir in blueberries and walnuts until just combined. Do not over mix

5.

Pour batter into prepared muffin pan and bake for 28 - 30 minutes until tops are golden colour

6.

Rest in the muffin pan for 5 minutes before transferring onto a cooling rack
Leave a Comment
I used honey instead of maple syrup, and didn't have almond flour, but had hazlenut flour so used that. I used frozen berries , but mixed them in with the dry ingredients and they didn't bleed at all. I'm so amazed these muffins rise really well and turned out nice and toasty colored. They are awesome! Next time I will add cinnamon for more flavour.
Kristina
yes Patsy, they will freeze well in an airtight container up to 2 months. I would reheat them before serving in a microwave for about 15-20 seconds once they have defrosted.
Hi. Will these muffins freeze successfully please?
Kristina
If you use frozen berries, Mary, they will not hold their shape and become mushy. However, the recipe will still work except the texture will slightly change
Wht can't I use frozen berries?