Gluten-Free English Muffin Recipe
Prep Time
15 Minutes
Difficulty
Easy
Cook Time
25 Minutes
Serves
8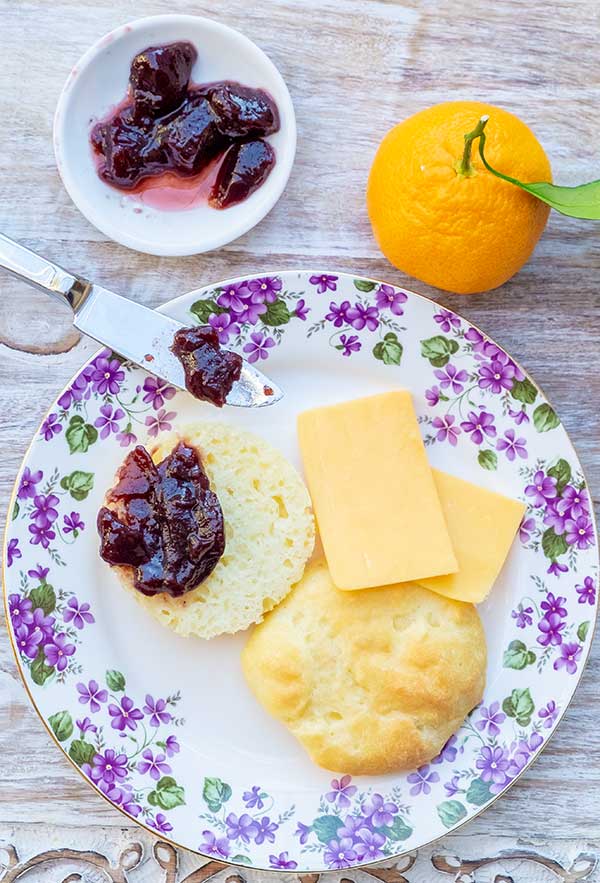 Be the first to rate this recipe.
Have I ever told you I love baking? It has been a while since I made a simple muffin recipe. I think the last time I created a new muffin recipe was back in September, which was the Keto Pumpkin Cream Cheese Swirl Muffin. This recipe became a huge hit, and for some reason, I didn't create any new muffin recipes since then. In actual fact, this is not your typical sweet muffin packed with delicious fruit or chocolate. This is an English muffin which is divine when toasted. It is one of those gluten-free muffins you can use for just about anything, a toast, sandwich, or a burger smothered with gravy. But for me, I like it best toasted, slathered with grass-fed butter and topped with sharp cheddar cheese. It is my favourite gluten-free muffin to have with a morning latte or an afternoon cuppa, a British term for a cup of tea. When I decided to make this English muffin recipe, I knew the muffin had to be light and easy to toast so that you can get that crispy English muffin texture we know and love. Since I like to experiment with baking on the weekends, I set out to make the best gluten-free English muffin. Surprisingly it took only 4 batches until I came up with the perfect recipe. The texture and flavour are stunning, you will love it! So now your biggest decision is what to add to the muffin. Hmm, let me see, jam, butter, nutella, nut butter, ham, cheese, poached egg even gravy. Need I say more?? 
For exciting kitchen gadgets, gluten-free ingredients, cookbooks and more check out our store page ->
Ingredients
1 cup milk at 110 to 115 F or non-dairy milk
1 cup water at 110 to 115 F
2 tsp. Pure maple syrup or sweetener
2 1/2 tsp. dry active yeast 
1/4 cup extra virgin olive oil
1 tsp. Apple cider vinegar
2 large eggs, at room temperature, whisked (or 1/4 cup egg replacer)
2 1/2 cup gluten-free flour blend, I used Cup4Cup (add 1 tsp. xanthan gum if your blend does not include it) I have tried other blends but this one gave me the best results
1/4 cup tapioca flour/starch
2 tsp. Baking powder
1 tsp. Himalayan salt
Instructions
Mix the milk, water and maple syrup. Sprinkle the yeast over top and stir. Set aside until the yeast begins to bubble, about 10 minutes
Whisk together the flours, baking powder and salt
Add the yeast, olive oil, apple cider vinegar and eggs to the dry ingredients and mix thoroughly. The dough will be almost like muffin batter. Allow the dough to rest for 5 minutes.
Place 8 English muffin rings (4-inch in diameter) on a baking sheet lined with parchment paper. Spoon the dough into the muffin rings and using wet fingers press and smooth out the tops of the dough
Place the baking sheet with muffin rings in a draft-free place, cover and allow the dough to rise for 1 hour
Preheat oven to 350 F and bake for 25 - 30 minutes until golden. Cool before slicing
Note; if you don't have English muffin rings you can use a well-greased muffin pan. They won't have the perfect shape, but it will work. The recipe makes 12 standard muffins
Similar Recipes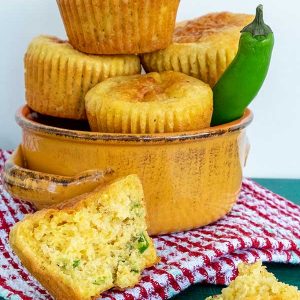 Best Gluten-Free Jalapeño Cheese Corn Muffins
If you like corn muffins you will love this Gluten-Free Jalapeño Cheese Corn Muffin. I am pleased to say that I have mastered a corn muffin that is fluffy, moist, cheesy and lightly spiced with fresh jalapeño peppers. After you try this recipe, I promise you will call this the best gluten-free jalapeño cheese corn […] Read More
Prep Time
10 Minutes
Difficulty
Easy
Cook Time
20 Minutes
Serves
12 muffins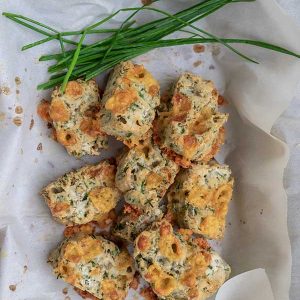 Gluten-Free Cheese And Chives Scones
Scrumptious gluten-free cheese and chives scones for any day of the week! Serve them for breakfast, brunch or a snack. The buttery scones are made with cheddar cheese and fresh tender chives, making them super tasty. Adding scones to hearty soups or stews is also a great way to serve them. This savoury snack is […] Read More
Prep Time
15 Minutes
Difficulty
Easy
Cook Time
25 Minutes
Serves
8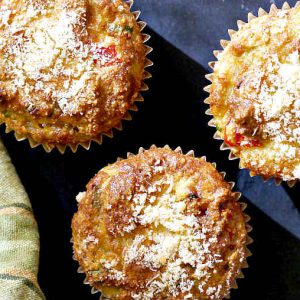 Gluten-Free Vegetarian Pizza Muffins
If you are tired of basic gluten-free muffin recipes, this Gluten-Free Vegetarian Pizza Muffin will surely please! This delicious savoury muffin is made simply with two types of cheese and without grains. The pizza flavour comes from fresh cherry tomatoes, green onions and oregano. More often than not, when we think of muffins, we think […] Read More
Prep Time
10 Minutes
Difficulty
Easy
Cook Time
25 -30 Minutes
Serves
6