Gluten-Free English Muffin Recipe
Prep Time
15 Minutes
Difficulty
Easy
Cook Time
25 Minutes
Serves
8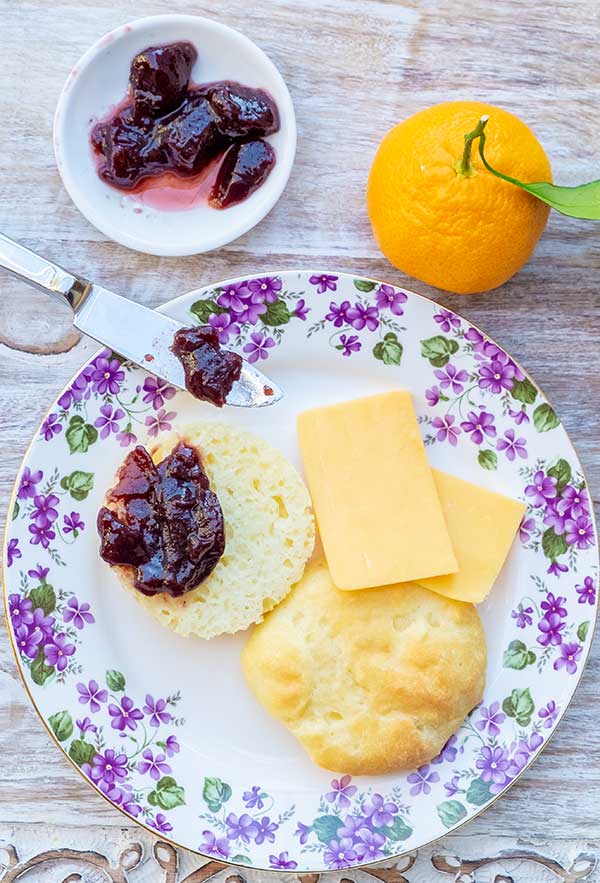 Average Rating: 5 | Rated By: 3 users
This Gluten-Free English Muffin Recipe is a must have in your recipe box. The muffin has the texture of a classic English muffin, and the best part, it toasts to a beautiful crispy texture just as we know it.
Have I ever told you I love baking? It has been a while since I made a simple muffin recipe. I think the last time I created a new muffin recipe was in September, the Keto Pumpkin Cream Cheese Swirl Muffin. This recipe became a huge hit, and for some reason, I didn't create any new muffin recipes since then. 
Gluten-free English muffin is not your typical muffin.
This gluten-free muffin recipe is not your typical sweet muffin packed with delicious fruit or chocolate. This a plain English muffin that is divine when toasted.
It is one of those gluten-free muffins you can use for just about anything, a toast, sandwich, or a burger smothered with gravy.
We love it best toasted, slathered with grass-fed butter and topped with sharp cheddar cheese. It is my favourite gluten-free muffin to have with a morning latte or an afternoon cuppa, a British term for a cup of tea. 
When I decided to make this English muffin recipe, I knew the muffin had to be light and easy to toast so that you can get that crispy English muffin texture we know and love. Since I like to experiment with baking on the weekends, I set out to make the best gluten-free English muffin. 
Surprisingly it took only four batches until I came up with the perfect recipe. The texture and the simple flavour are stunning, and you will love it!
So now, your biggest decision is what to add to the muffin. Hmm, let me see, jam, butter, Nutella, nut butter, ham, cheese, poached egg, even gravy. Need I say more?? 
Let's Connect!
Be sure to FOLLOW US on FACEBOOK and PINTEREST.
Many thanks!
Kristina xx
Ingredients
1 cup milk at 110 to 115 F or non-dairy milk
1 cup water at 110 to 115 F
2 tsp. Pure maple syrup or sweetener
2 1/2 tsp. dry active yeast 
1/4 cup extra virgin olive oil
1 tsp. Apple cider vinegar
2 large eggs, at room temperature, whisked (or 1/4 cup egg replacer)
2 1/2 cup gluten-free flour blend, I used Cup4Cup (add 1 tsp. xanthan gum if your blend does not include it) I have tried other blends but this one gave me the best results
1/4 cup tapioca flour/starch
2 tsp. Baking powder
1 tsp. Sea salt
*As an Amazon Associate and member of other affiliate programs, I earn from qualifying purchases. Please check out my sponsorship and disclosure policy page for more details
Instructions
Mix the milk, water and maple syrup. Sprinkle the yeast over top and stir. Set aside until the yeast begins to bubble, about 10 minutes
Whisk together the flours, baking powder and salt
Add the yeast, olive oil, apple cider vinegar and eggs to the dry ingredients and mix thoroughly. The dough will be almost like muffin batter. Allow the dough to rest for 5 minutes.
Place 8 English muffin rings (4-inch in diameter) on a baking sheet lined with parchment paper. Spoon the dough into the muffin rings and using wet fingers press and smooth out the tops of the dough
Place the baking sheet with muffin rings in a draft-free place, cover and allow the dough to rise for 1 hour
Preheat oven to 350 F and bake for 25 - 30 minutes until golden. Cool before slicing
Note; if you don't have English muffin rings you can use a well-greased muffin pan. They won't have the perfect shape, but it will work. The recipe makes 12 standard muffins
Similar Recipes
Best Gluten-Free Pull-Apart Soft Rolls
Best Gluten-Free Pull-Apart Soft Rolls – soft, pillowy, and most addictive rolls you will find. They are that good! At my house, when it comes to holidays such as Thanksgiving or Easter, rolls are one thing that is a must-have on our dinner table. easiest gluten-free and dairy-free recipe for soft rolls In this pull-apart […] Read More
Prep Time
10 Minutes
Difficulty
Easy
Cook Time
25 Minutes
Serves
9 rolls
Easy Gluten-Free Butter Rolls
Gluten-Free Butter Rolls – buttery, easy, yeast-free and made in 30 minutes. A delicious roll perfect for serving alongside a bowl of soup or stew. But, my favourite way of serving the butter rolls is for brunch. Add a poached egg, cream cheese or your favourite marmalade. YUM! Who doesn't love soft buttery rolls? This […] Read More
Prep Time
10 Minutes
Difficulty
Beginner
Cook Time
20 Minutes
Serves
12
4 – Ingredient Gluten-Free Cheese Buns
4 – Ingredient Gluten-Free Cheese Buns – who said gluten-free baking has to be complicated? These buns have a sourdough texture and are slightly crusty on the outside. The best part, this gluten-free bun recipe is easy enough for even novice bakers. ways to serve cheese buns These gluten-free cheese buns make a tasty addition […] Read More
Prep Time
10 Minutes
Difficulty
Easy
Cook Time
35 Minutes
Serves
6