Gluten-Free Savoury Breakfast Muffin
Prep Time
15 Minutes
Difficulty
Easy
Cook Time
35 Minutes
Serves
12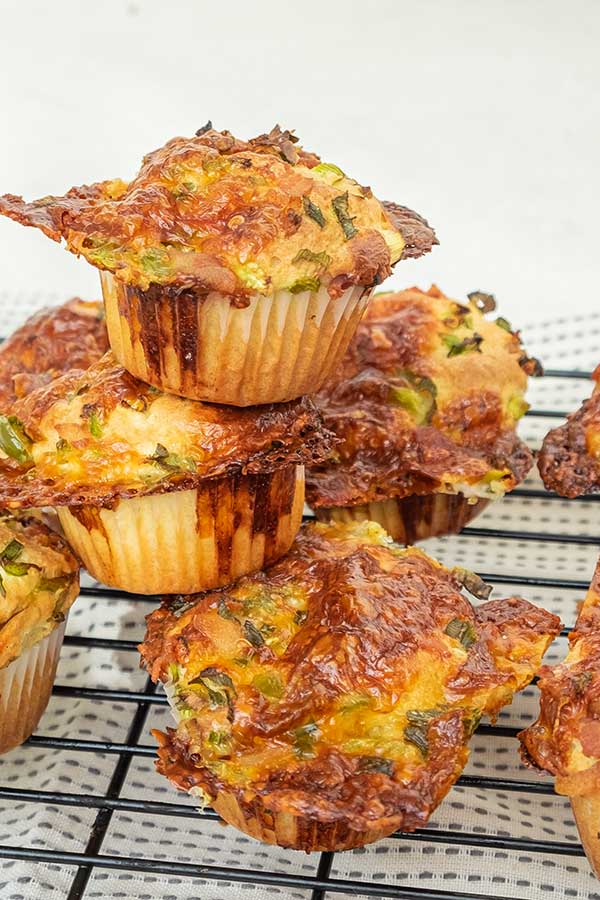 Be the first to rate this recipe.
Gluten-Free Savoury Breakfast Muffins for breakfast on the go! This tasty muffin is a mix of mozzarella cheese, bacon and green onions an excellent combination for a breakfast muffin. While this is not your typical sweet muffin, it's sure to satisfy that craving for savoury food in the morning. The muffin has melted cheese, delicious bacon and green onions throughout, and cheesy, crispy bacon topping for extra goodness. How does that sound? They are so delicious! For those of you who like savoury food in the morning, this breakfast muffin will become a huge hit. But don't stop at breakfast, because this high protein, low carb muffin makes an excellent anytime snack. Enjoy!
If you are looking for something sweet in the morning, check out these gluten-free muffin recipes
Ingredients
1 cup almond flour
1/2 cup sweet sorghum flour
1 cup arrowroot flour/starch
1 Tbsp. GF baking powder
1 tsp. Himalayan salt
3 large eggs
1 cup full-fat milk
1/4 cup extra virgin olive oil
1 1/2 cups roughly chopped mozzarella cheese, about the size of a pea
2 green onions, sliced
4 cooked bacon strips, roughly chopped
Instructions
Preheat oven to 375 F and line a muffin pan with parchment paper liners. Do not use regular liners, gluten-free muffins tend to stick to the paper.
In a large bowl whisk together flours, baking powder, salt and xanthan gum
In a separate bowl whisk together, eggs, milk and olive oil. Add wet mixture to dry ingredients and mix to combine
Combine mozzarella, bacon and onions. Stir half of the mixture into the batter. Pour batter evenly into the prepared muffin pan and top with remaining cheese mixture. Using your fingers press the mixture slightly into the batter
Bake for 33 - 35 minutes until the tops are golden brown. Cool in the pan for 10 minutes, then transfer the muffins onto a rack to cool
Similar Recipes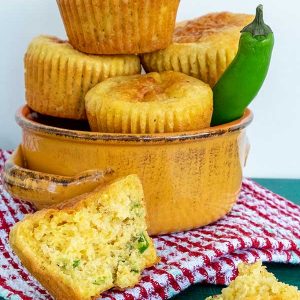 Best Gluten-Free Jalapeño Cheese Corn Muffins
I am pleased to say that I have mastered a corn muffin that is fluffy, moist, cheesy and lightly spiced with fresh jalapeño peppers. After you try this recipe, I promise you will call this the best gluten-free jalapeño cheese corn muffin. Experimenting with different ingredients over and over, I finally got it right! Serve […] Read More
Prep Time
10 Minutes
Difficulty
Easy
Cook Time
20 Minutes
Serves
12 muffins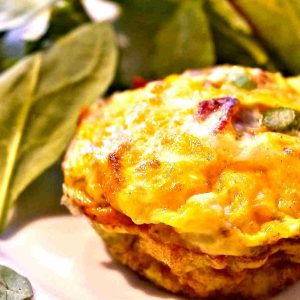 Gluten Free Mini Quiche Muffins
Thinking of a healthy breakfast, brunch or just a snack? Try these grain free mini muffins filled with tasty ham, asparagus and cheese. This is a high protein muffin and will keep you energized for hours Read More
Prep Time
10 Minutes
Difficulty
Beginner
Cook Time
15 Minutes
Serves
2
Gluten-Free Cheese and Onion Muffins
These savoury gluten-free muffins are light, flavoured with sweet onions and melted cheese throughout. Savoury muffins are a wonderful replacement for bread. Serve for breakfast or for lunch with a light green salad or cup of soup Read More
Prep Time
15 Minutes
Difficulty
Beginner
Cook Time
20 Minutes
Serves
6 muffins