Gluten-Free Alfredo & Spinach Buckwheat Pizza
Published on Apr 13, 2019
by
Kristina Stosek
Prep Time:

10 minutes
Cook Time:

30 minutes
Serves:

10-inch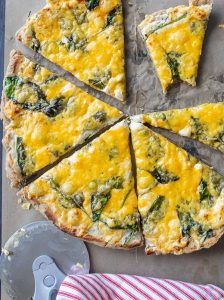 ​This post may contain affiliate links, please see our
privacy policy
for details
Gluten-Free Alfredo & Spinach Buckwheat Pizza is a yeast-free pizza made with three toppings. This Alfredo sauce topped version complete with fresh spinach and cheddar topping is always a favourite at our house. The Alfredo sauce is a replacement for classic tomato pizza sauce, adding a delicious twist to a traditional pizza.
♥

Friday night is pizza night!

Friday's are meant to be pizza days, but in our house, any day is a good day for a tasty pizza! I wanted a pizza crust that is quick and simple to make without using yeast. In this recipe, the crust is leavened with baking powder, so there is no waiting for the dough to rise. How wonderful is that?
♥

Why use buckwheat in pizza crust recipe?

I wanted to make this a healthier version of a simple Italian pizza crust, so I added buckwheat flour. Buckwheat is a grain-like seed that is naturally gluten-free and is rich in healthy nutrients. It also made the crust heartier and tastier than a traditional white flour pizza crust. By replacing pizza sauce with alfredo sauce, it gave the pizza a deliciously creamy cheesy topping, which goes beautifully with fresh spinach. For the finish, I used cheddar cheese. The cheese has more flavour than mozzarella and made this gluten-free buckwheat pizza extra flavourful.

Honestly, these three layers make an outstanding pizza, especially when they are piled on top of a crispy buckwheat crust. I already know you love the gluten-free sesame pizza with shave asparagus and the gluten-free artichoke dip pizza. However, both these pizzas are made with a dough that requires yeast, so they take longer to make. Because I used buckwheat flour, the pizza crust has a rustic flare and a crispy crust…so good!

What I love most about this gluten-free pizza recipe is, the crust is super easy to make. The best part is, you can use this gluten-free buckwheat pizza crust recipe to create your version of pizza with the toppings you love most. The crust is strong enough to hold plenty of toppings 🙂

Want to host an evening serving Italian food? Check out the gluten-free Italian recipes for ideas and inspirations.
Gluten-Free Alfredo & Spinach Buckwheat Pizza
Published on Apr 13, 2019
by
Kristina Stosek
Instructions
1.

Preheat oven to 400 F and line a baking sheet or pizza pan with parchment paper

2.

For the crust, in a large bowl whisk together flours, baking powder, oregano, salt and garlic powder

3.

In a separate bowl whisk together water and olive oil, then add to dry ingredients. Using a spatula mix until smooth

4.

Spread the batter onto prepared baking sheet/pizza pan into a 10-inch circle and bake for 20 minutes

5.

While the crust is baking prepare the Alfredo sauce. Place cream cheese, milk, butter, garlic, basil and black pepper into a small saucepan and while stirring cook over medium-low heat until cheese has melted and the sauce is creamy. About 5 minutes. Set aside

6.

Once the crust is done baking, using the parchment paper flip the crust over. Spread the Alfredo sauce over the crust and scatter the spinach leaves, then top with cheddar cheese

7.

Bake for 8 - 10 more minutes until the cheese is bubbling. Serve hot